Myth turns romantic this season
There is no denying that the Filipinos are a very talented lot. Everywhere I go, whenever I wear something Filipino, whether it is a dress or a bag or an accessory, I get stopped and asked who designed what I am wearing. Even international fashion writer Robb Young, who works with Susy Menkes, gushed at my black deconstruct dress from a female Filipina designer friend when we sat side by side during a show at the most recent Tokyo Fashion Week.
With the somewhat perilous state of our local fashion industry though, what with the continuous influx of foreign brands and the persistent demand for fast fashion, it is of paramount importance that we support our Filipino designers and patronize stores that showcase them. One such establishment at the forefront is Myth.
Myth is a lifestyle store that houses veteran and celebrated Filipino designers like Randy Ortiz and Francis Libiran. Opened in December 2007 in the Filipino Zone of the Greenbelt 5 mall, Myth endeavors to showcase Filipino artists' creativity and ingenuity, bringing their designs within the reach of the buying public. The store's collection ranges from ready-to-wear short casual dresses to long formal gowns and are made by some of the finest Filipino designers today, in sizes and pricing that are appealing to just about everyone.
For this season, Filipino designers Joel Escober, Chris Diaz, Noel Crisostomo, Pablo Cabahug, Edwin Ao, Mark Tamayo and Myth creative director Randy Ortiz goes Organika with pieces that celebrate a woman's ethereality and innocence in a fast-changing world. Hopelessly romantic and very sophisticated, the exclusive and limited collection is a fashion trove of looks that suit the Filipina of today.
Joel Escober, one of Myth's in-house designers, took his design cue from the delicate cherry blossoms he saw on a trip to Japan a few months back. With his trademark application of heavy textures and bold embellishments, his masterful execution of pleating and appliqué work, Joel came up with a collection that is simply stunning. The mid-length dresses in lace and tulle, in blush pink and other dainty hues are utterly feminine, quietly sexy.
Chris Diaz, the Mega Young Designers Competition 2013 mentor designer/contestant and participant to the Concours International des Jeunes Creature de' Mode, Accessories Division 2005, turned to the mouthwatering colors of gelato for his collection. Predominantly in solid colors, Chris Diaz's simple silhouettes give a surprising style punch with lace detailing around the neckline or the waist, giving a woman the choice to accentuate the best part of her body. All the pieces are flattering, suitable for women of all ages and sizes.
Noel Crisostomo who was once voted "The Best New Canadian Designer" before he successfully re-established his name and brand in the Philippines in 2007, went the traditional route, creating dresses with a mature appeal in bright, vivid colors like tangerine, a favorite of stylish American socialite and fashion plate, Olivia Palermo. The loose-fitting, slightly girlie short dresses combine fabric and color in a most appealing way, minimalist with a twist. His orange halter gown is structured to provide comfort and style and a freedom to move with confidence sometimes lacking in long gowns.
Pablo Cabahug, the one-time apprentice of Randy Ortiz came up with pieces that can go from a daytime to nighttime look with the most minimal accessorizing. A designer who loves to celebrate the female form, Pablo chose a silhouette that hugs the torso but flows fluidly from the waist down. A recipient of the 2011 SM Global Pinoy and "Look of Style Designer of the Year" awards, Pablo's pieces in soft monochromatic fabrics with hints of lace, a touch of embellishment and appliqués are versatile with a touch of flirty.
Edwin Ao, the only menswear designer of the group, hails from Cebu and is a graduate of University of San Carlos. Chosen by the Fashion Grand Prix chairman of Japan to represent the Philippines in the 2nd Asian Designers Collection in Tokyo, Edwin took chambray fabric and turned it into an austere collection of graphic and geometrically patterned long-sleeved shirts. Inspired by the Russian artist Kazimir Malevich, his menswear is both clean and somber, a nod to the minimalist no-fuss demands of today's man on the go.
Mark Tamayo, former stylist, is the youngest of the set and is making his debut in Myth this season. An interior design enthusiast, he translates his love for architectural details in his clothes by expertly using handmade appliqués of leaves and vines in pale green and integrating intricate embroidery where it counts. He uses the beauty of nature as a theme with his simple, wearable and cutting edge designs in his favorite stretch fabric and shredded organdy. With a very solid and cohesive first collection for Myth, Mark Tamayo is one designer to watch out for.
Last but certainly not the least is one of the original designers and co-founder of Myth, Randy Ortiz. A favorite of celebrities and well-known personalities, the iconic designer is best known for his masterful play of prints and colors and his treatment of minute details as seen in his easy-breezy tunics in earth tones for this season. Understated elegance meets a whiff of nonchalance is Randy's peg for his figure-friendly designs for Organika. Not one to follow trends, Randy Ortiz instead designs what he feels suits women well and this latest collection for Myth proves he is right on the money.
Myth is serious about its mission to promote Filipino design and is in the business of doing so for the long haul. Ruby Gan, chief operating officer of Shopmanila, Inc., the proprietor of Myth along with Randy Ortiz and the rest of the creative team, scour the local fashion design competitions tirelessly to tap new and upcoming talents to join their rotating roster of established designers. Myth maintains a well-curated quality collection of reasonably priced outfits from twelve designers at a time that includes bags, shoes and other accessories. Alterations come free and clients are treated just like they would be in the privacy and exclusivity of designers' ateliers. Given all these compelling reasons, don't you think Myth offers a sweetheart of a Filipino fashion deal?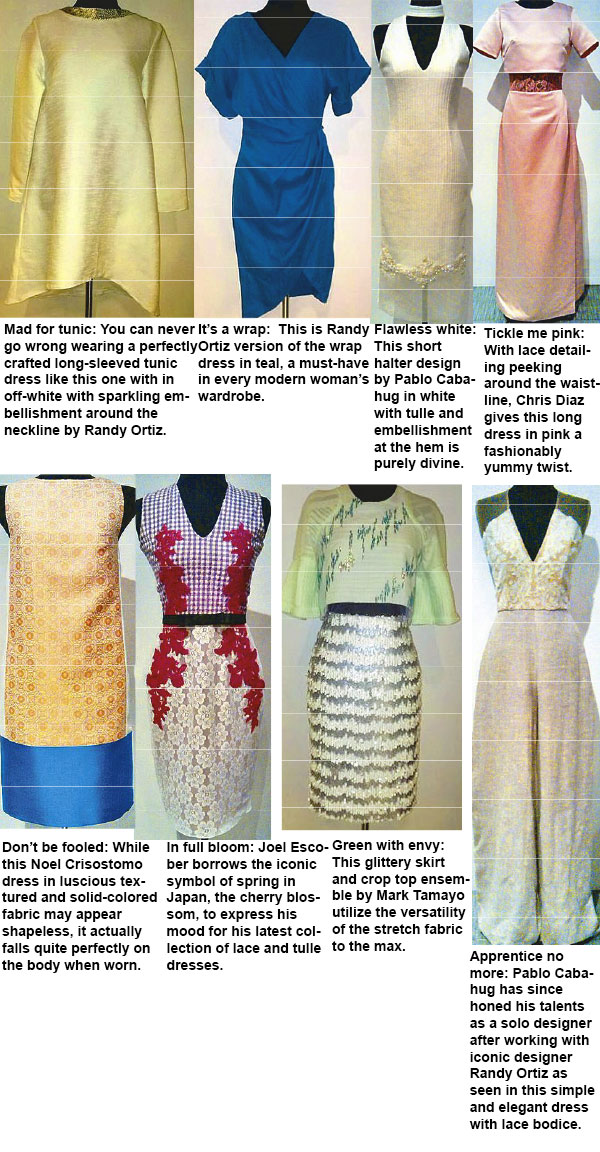 * * *
Myth is located in the Filipino Zone, second floor, Greenbelt 5, Ayala Center, Makati City; visit their site at http://mythlifestyle.wix.com/myth.
Follow me on Twitter and Instagram @tettaortiz.