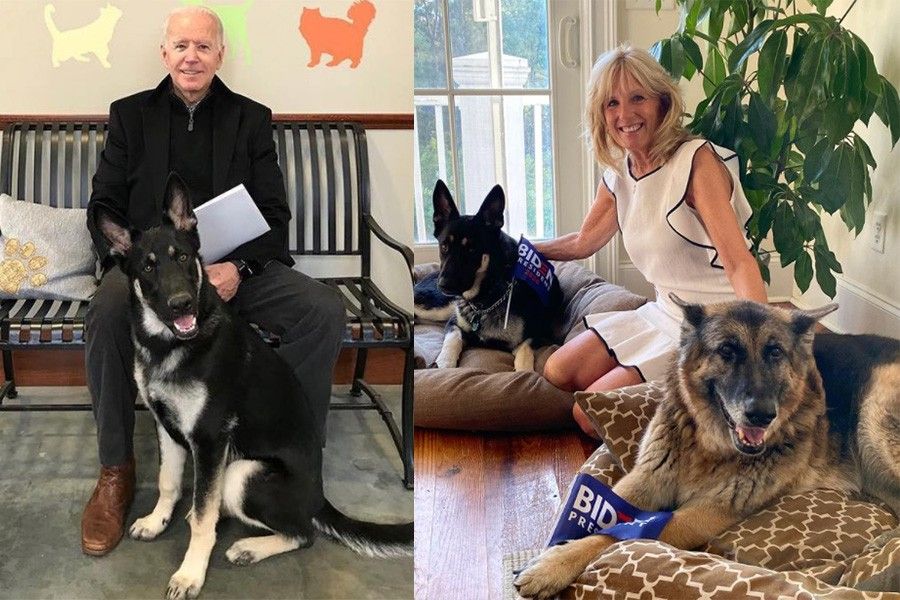 The Bidens' German shepherds, Champ and Major.
Instagram/joebiden and drbiden
Meet Champ and Major: America's new 'first pets'
(Agence France-Presse) - January 21, 2021 - 10:41am
WASHINGTON, United States — After Donald Trump was the first president in more than a century not to have a dog, the Bidens are bringing two with them.
The German shepherds -- Champ and Major -- as well as a cat, whose breed and name have not yet been revealed, will move into the White House on January 20.
Champ has been with the Bidens since 2008. The family fostered and then adopted Major in 2018. According to Biden's team, Major will be the first foster dog to live in the White House.
The canine companions featured in one of Biden's campaign ads that warned voters to "choose your humans wisely," highlighting clips of Trump scoffing at the idea of a presidential pet.
The two good boys also starred in the Bidens' holiday message. A video cut between shots of Champ, relaxing by a Christmas tree with a sedate instrumental version of "We Wish You A Merry Christmas" playing in the background, and clips of Major playing and zooming around the house to an electric guitar version of the holiday carol.
Here are more photos of the duo.
Happy Valentine's Day, @JoeBiden. See you in Las Vegas for early vote! pic.twitter.com/ZtRkt4uSmv

— Dr. Jill Biden (@DrBiden) February 14, 2020
Happy Easter! Love, Champ and Major Biden pic.twitter.com/hvfGRZPdGf

— Dr. Jill Biden (@DrBiden) April 12, 2020