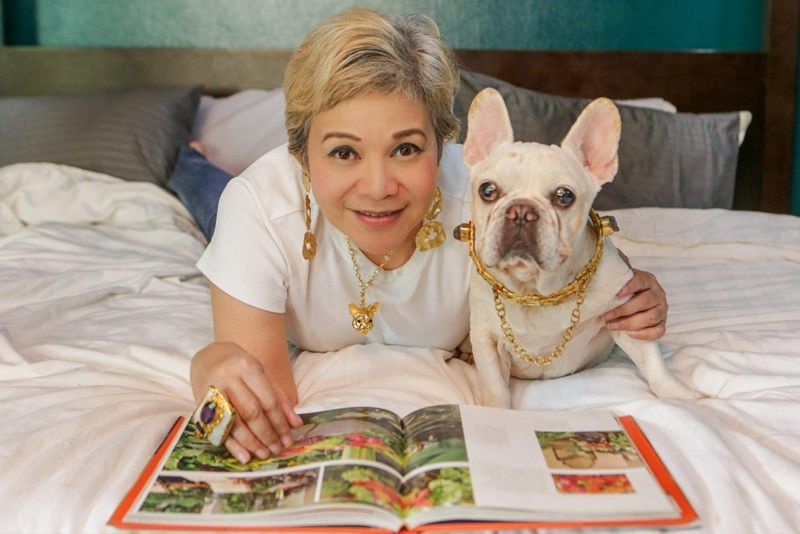 One for the books: Ann wears a French Bulldog necklace and earrings; Bob is in a high-fashion amethyst dog choker.
Photos by Geremy Pintolo
The jewel of Ann Ong: Bob the french bulldog
Ann Ong has made jewelry using her French Bulldog's head as model. She used to make really large dog heads for bag closures, but now she wants to make jewelry of different dogs and other animals as well, attuned to her sustainability theme and love for animals.
It was a humid afternoon the day we went to visit Ann Ong, but she looked cool as a cucumber as she fussed over how Bob, her 11-year-old French bulldog, was feeling.
"My dogs complete my day," says the award-winning jewelry designer and dog lover. "We live in a different world when we work. But at the end of the day my dogs — Bob, a French Bulldog in particular — are my security blankets."
Ong, whose bold, nature-inspired jewelry designs have distinguished her here and abroad, was her own best advertisement as she wore a handcrafted dog pendant that did not escape my eye.
"When you create a brand you have to be glamorous and be with high society to sell, but at the end of the day my other soul is very simple," Ong said. "I stay home most days and I watch over Bob, who suffered a seizure recently."
Bob sits in his stroller as he listens to Ong speak of her jewelry creations.
"The imperfections in my jewelry make them special," she said. "The only way I can compete in the global market is to do handcrafting."
But Ong's accomplishments are many. After seven years as a global accessory designer, she has won three Manila FAME Katha Awards for product design excellence and innovation, and best product design for sustainability in New York.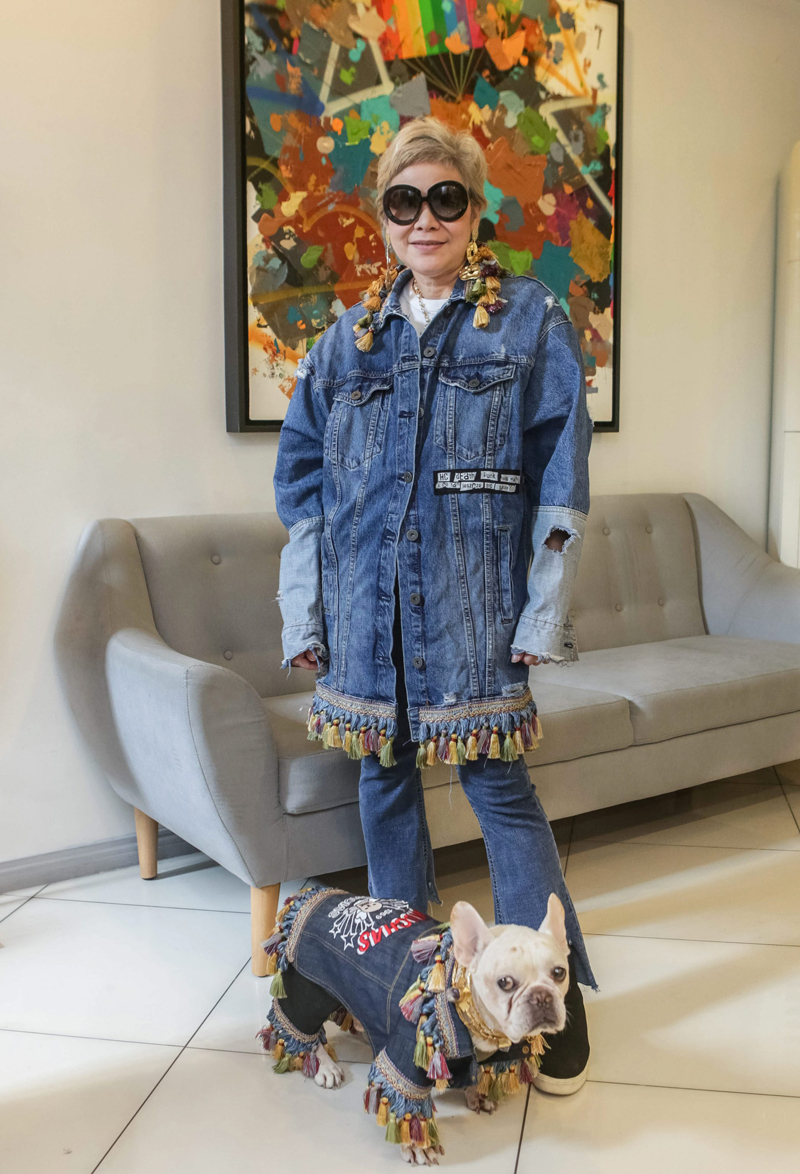 Denim rules: Ann in a denim jacket from Prague and pearl earrings; Bob is in a denim jacket from Osaka, Japan.
"When you create something you don't just think of yourself but also the market, the culture," Ong said. "Before, I just wanted my designs to be beautiful. When I got deeper into it, now I design for a purpose. I am a nature-inspired person because nature has much to offer."
It is no wonder Ong has made the same connection with her dogs, whom she refers to as her spirit animals. She says there is something unexplainable about her bond with her dogs but that animals have power that they willingly share with us.
"When I am with my dogs and all my attention is on them, I relax," she said. "It is when I am relaxed that I radiate good energy."
Iris Apfel and good energy
Fashion icon Iris Apfel is one of Ong's clients and has bought a lot of jewelry from her over the years. "She first liked the dog bag — it had the head of a French Bulldog for a lock — that dog was Bob."
Apfel gushed about the bag to Ong: "Amazing, it is very creative," she said. "I have never seen anything like this."
It was the 90-plus-year-old Apfel who validated Ong as a jewelry maker.
"She is my style icon and when an icon says that you are good, it gives you confidence," said Ong. "For Apfel it is not about the brand; she wears what makes her happy. And she chose Bob."
Ong waxes sentimental when she speaks about Bob, who has had health problems of late. "They say that we have to take care of our dogs, but for me it is the opposite; it is the dogs that take care of us."
Ann takes Bob to the vet with his three other dog siblings, but she bathes him herself and is watchful over his every move. "Bob, where as you going?" she lovingly calls out when he wanders off for a bit. "Baka madulas ka."
So deep is their connection that her husband has started calling her "crazy dog lady." They recently had a scare when Bob had a seizure and had to be hospitalized for three days. Yes, famous jeweler Ann Ong stayed staunchly by his side, sleeping in a cramped space for the duration of the stay.
So, today, whenever Bob or any of their fur babies is hospitalized, Ong makes sure that her husband stays with the other dogs.
"I have taken to the habit of Viber, calling the vet to make sure my husband is there," she laughed. " I warned him that if anything happens to the dogs, I will leave him."
Her husband understands Ong, and perhaps that's why they complement each other. It was he who gifted Ong with Bob 11 years ago. Although she recalled that she did not immediately get Bob, she knew that Bob was the dog for her when he looked at her.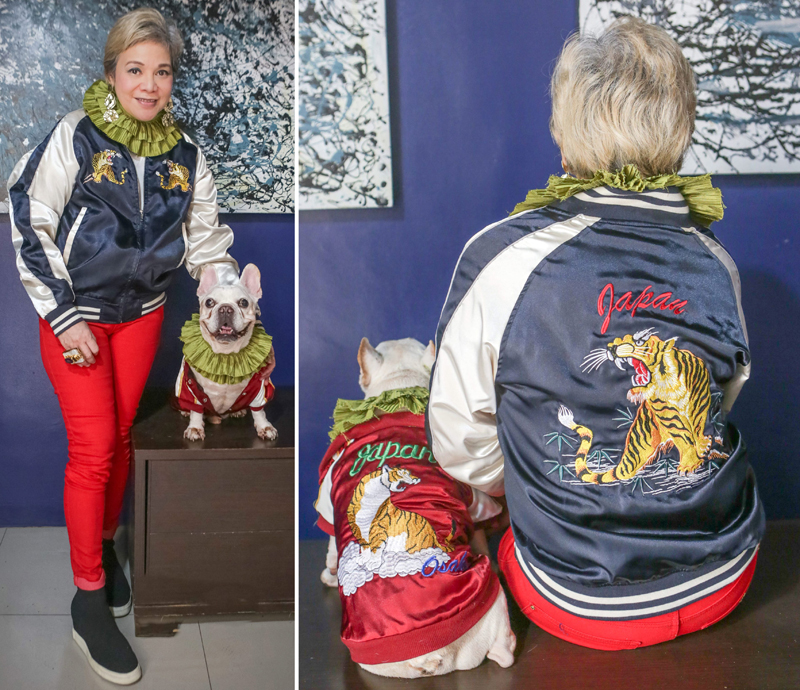 Back-to-back: Ann and Bob are wearing jackets from Osaka and the green cloth choker is a work of Ann's.
Her kids John, 32; Neil, 29; Anna, 26; and Paulo, 24, are all dog lovers who each have a dog or two that they share their homes with.
"Who was easier to discipline," I ask, "the dogs or the kids?"
"My dogs know when I am angry and they behave," Ong shared. "Kids are pasaway; they do what they want. But they are old enough now, so I let them."
Ong got her first dog when she was eight years old: a black poodle. "That was the same time I got interested in my mom's jewelry pieces. I was excited to be home and be with my poodle, as I was happy to see my mom in her gigantic jewelry."
Today Ong travels every year to New York City and other fashion capitals to build a name for her jewelry globally, but Bob misses her when she's away.
"Bob is very needy," she says. "As soon as I get home he will be glued to me. Bob also makes puyat when I am abroad. I have been told he is sad when I am gone."
That is why Ong has made pillowcases out of her old clothes so he can smell her and feel she is near.
A jewelry line inspired by pets
Ann has made jewelry using Bob's head as a model: "Ever since I started doing French Bulldogs, I always dedicate them to Bob." She says she used to make really large dog heads for bag closures, but now wants to make jewelry of different dogs and other animals as well, attuned to her sustainability theme and love for animals.
"Bob has made me more compassionate," she says. "If you are compassionate you are very sensitive; if you are sensitive your creativity increases; you become a grateful person."
While perhaps only fellow dog lovers would understand this "crazy dog lady," her level of devotion is commendable. "I take care of Bob and take him to the vet," Ong revealed. "He is old and gets stressed. Since Bob had a seizure two weeks ago he wakes up at 2 a.m. to eat food with his meds. I give him fruits at 6 a.m. and then vegetables at noon. By 6 p.m. he has his cardio food with heart meds again."
If you peek in her bag you'll see — not a kikay kit but Bob's meds — injectables that she has to give him if he should need it. He also has an oxygen tank and nebulizer.
"I love Bob because he is a people dog," Ann says. "He is a clown and he knows how to make me laugh. Now he needs me more because he is sick and I will be there for him always."