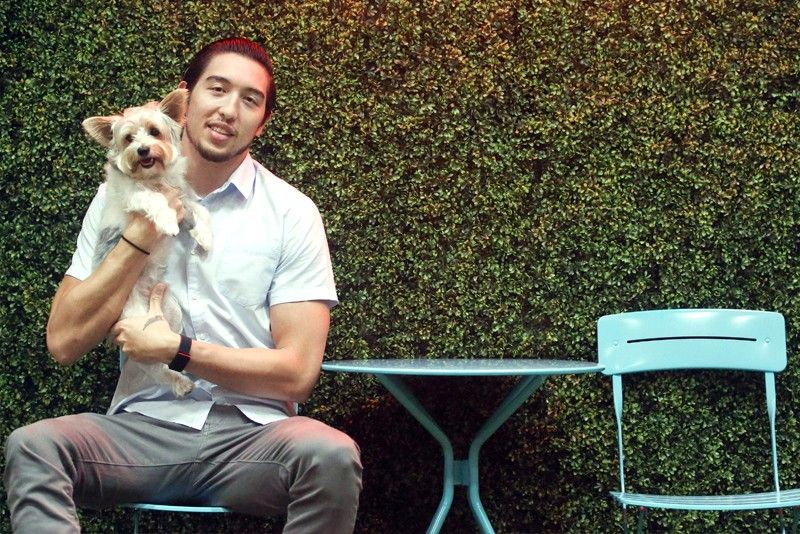 "My favorite thing about DJ is he is super-loving — he likes to cuddle with me," says Cliff Hodge as he sat for this photo. "He is always giving everyone kisses. He is a very caring dog. And, best of all, like me he is kind of clingy, which is sweet."
Photos by KJ Rosales
Yorkies DJ and Whiskey bolt into the heart of Meralco star Cliff Hodge
T' was a stormy weekend when we met up with Meralco Bolts Fil-Am star Cliff Hodge and his three year-old DJ, a Biewer Yorkie, and Whiskey, a Yorkie, at Bark Central in Eastwood, recently.
Hodge was on crutches and hobbling into Bark Central, which he owns with his family, and DJ was running along beside him.
"We can do this," whispered the aggressive and hard-hitting power forward to DJ.
"I had surgery for foot spurs, so I will take it slow. But DJ and Whiskey are ready to play."
Hodge is Filipino-American, born and raised in Florida to an American dad and Filipino mom. "I graduated college in Hawaii and then I got an opportunity to play out here," he says. "I have been with the Meralco Bolts for the last seven years."
Hodge said that he has a role to play on the team — and that is making sure that the ball is safe all the time.
"On the team I do the dirty work as far as getting rebounds, playing defense and doing all the little things that don't show up on stat sheets — these are not going to get me popular, " smiled Hodge. "A lot of people like scoring and all the flashy stuff. I am an unflashy person."
Hodge mused that what really matters is the win. He added that he is really a chill guy off the court — but on it he does anything and everything to win. He is also a "sore loser."
I caught their last game on TV and watched an interview with Meralco coach Norman Black.
"He is just being Cliff Hodge. He loves the floor," said Black. "I keep telling Cliff he is already 31. The older you get, the more the floor does not become your friend. The floor becomes your enemy. You don't want to hit that too often. But he is still hitting it every chance he gets."
The power forward felt bad about the loss because he wanted and still wants to do everything he can to help Meralco get a championship.
"Just got to do what I got to do just to get a win," says Hodge. "Right now I'm getting older and trying not to fall as much. But if it takes that to get a win for our team, then I just got to do it."
A dog's life with aircon
"I have always wanted a Yorkie," said Hodge when I asked him what occupied his time off the court. "So, my wife, Bea, (we were not yet married then) searched for a breeder and found one that raises them."
DJ, a three year-old Biewer Yorkie, was a ball of energy who loved playing with Hodge on the playground of Bark Central. Whiskey, a three year-old standard Yorkie, was the shyer one.
"DJ is a cute, chunky Yorkie," I said.
"The Biewer Yorkie is a German breed," Hodge said. "I guess that is why he is more athletic."
Playing ball and growing up with animals are the two best memories Hodge has of Florida and Hawaii. Today, he is blessed with a wife whose family loves animals, too. Hodge shared that they have eight cats that his mother-in-law adopted, and nine dogs — more animals than people.
"We decided on setting up Bark Central two years ago because we felt that dogs needed a place to play," he said. "It was raining hard and we couldn't take DJ outside. It was then that they thought of Bark Central."
Located on the fourth floor of Eastwood Mall behind the theaters, Book Central is Manila's first indoor dog park and café where dog lovers and their fur babies can go to play, socialize and unwind.
It has a small obstacle course where dogs can run freely, stay in cages if they don't feel like socializing, get a good grooming (if that is what their humans want), and eat a doggie snack.
"At Bark Central we want dog owners to be free from muddy paws, hot and rainy days and to spend the time with their furry babies in our climate-controlled, fully attended indoor dog playground," said Hodge. "It is fun to go off-leash with their dogs and play with toys, agility equipment and other dogs."
Humans can enjoy play and good, everyday comfort food, too. Bring your dog in for a run then enjoy good food with an ice-cold beer at the cafe.
"We have been here for two years and are doing quite well," he added. "It started off slow because of the location, but once we were able to get the word out there started getting got a lot of repeat customers. They love it and their dogs love it, too."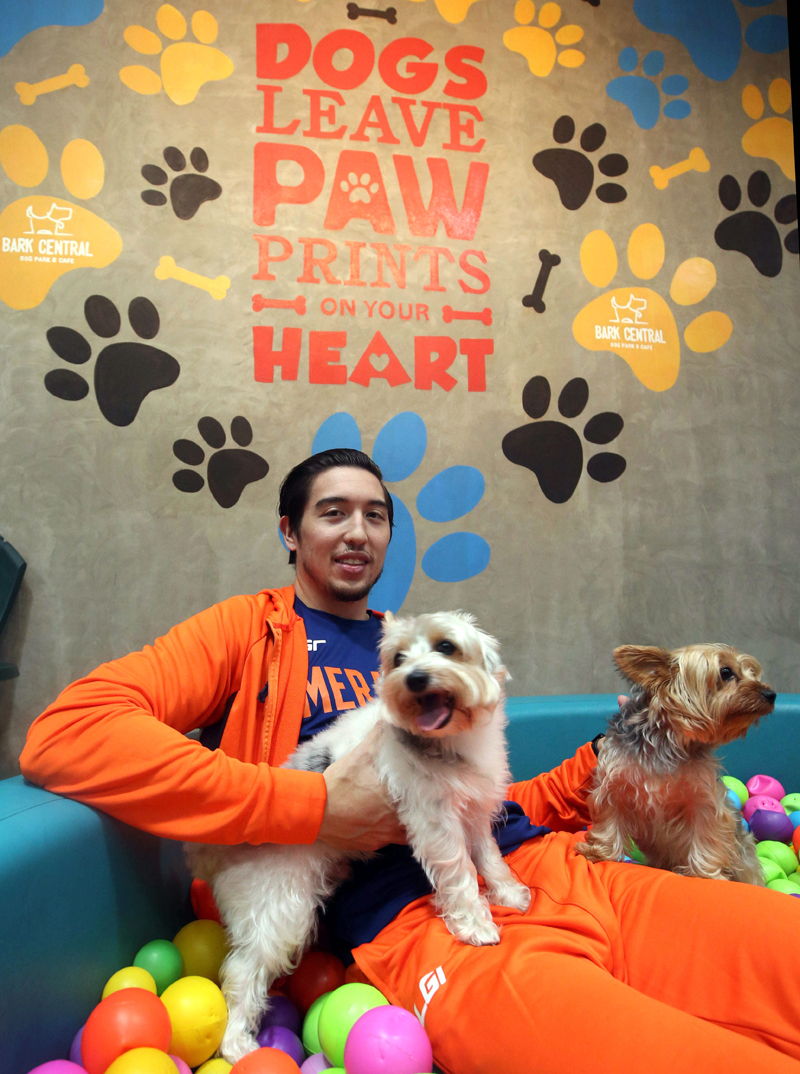 Must love dogs: Yorkies DJ and Whiskey have a ball with Cliff.
Cliff, DJ and Whiskey
DJ started to get restless with all our talk. And Cliff said it was time to play because DJ is just like him: they both have a lot of energy that they need to let loose.
"Aside from coming to Bark Central, I really like to take him with me on walks," said Cliff. "We live in McKinley East at the backside of the Fort. So we take him out whenever we can so he can run and play with other dogs."
"Have you taught DJ a few moves on the court?" I asked.
"I haven't because the way I play is real hard," said Hodge. "I end up getting hurt and I wouldn't want that for DJ."
"What moves would you teach him if you could?" I pressed him.
"I would teach him to be more flashy and more of a shooter," he said after pondering. "I would teach him to be a Stephen Curry, not like LeBron James or any of the big guys that have to go down in the paint and hurt each other."
Our dogs, our kids
Hodge loves DJ and Whiskey like kids. And he said that even when he has kids of his own, he will teach them to love the dogs like brothers.
"My favorite thing about DJ is he is super-loving — he likes to cuddle with me," he smiled, and gave DJ a loving look. "He is always giving everyone kisses. He is a very caring dog, you can tell. If he sees a random person he will go up to him and let him pat him. And, best of all, like me he is kind of clingy, which is sweet."
When he has a bad practice or, worse, lost a game, Hodge gets grumpy. But he can't help but smile when DJ greets him because he is there to love him, no matter what.
"People think that I am an aggressive player and a mean person, but off the court I'm a fun-loving, carefree and go-with-the-flow kind of guy," he said (and that was the person I met at Bark Central on that rainy day). "I love DJ and Whiskey because they let me be the cool guy and accept me even if I am grumpy."
DJ was panting from the running he had done, but he sat by Hodge and listened to our conversation.
"I took DJ to the beach once," Hodge said. "He has been to almost all the places around Metro Manila where dogs are allowed. This is how we relax as a family."
It was getting late and DJ and Whiskey, like the kids they are, were jumping on Hodge as if telling him to let me go.
"He stays with me in bed when I watch Netflix. He likes to sleep a lot," added Hodge.
"Enjoy your time with your dog; they love you sooo much. Take them out on walks. Play with them. Love them all you can."
* * *
Bark Central is on the fourth level of Eastwood Mall, Libis, Quezon City. Operating hours are Monday to Sunday, 11 a.m. to 10 p.m.