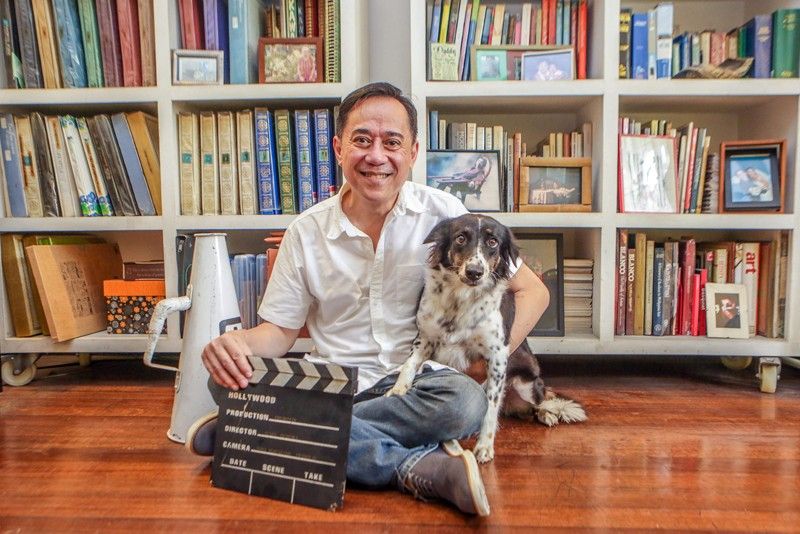 Lights, camera, action: "Taking care of animals teaches you empathy. You are putting yourself where they are and that is one thing that has absolutely contributed to my being a good actor." Audie Gemora with adopted Aspin Chanel
Photos by Geremy Pintolo
Audie Gemora: 'Having a dog teaches us to be humane, Gives us the heart'
'If the first important element to being a good actor is having truth, the second one is empathy. Taking care of animals teaches you empathy.'
It is a warm Saturday morning when we visit theater actor Audie Gemora at his home in Makati. He greets us at the gate dressed in sneakers, a T-shirt and looking fresh as the morning.
Audie's house was built in 1971 by his parents. Typical of homes owned by the well-heeled of the era, its grandness is in the materials and spaces.
It has narra flooring and other hardwoods, a grand staircase from which to descend with dramatic flair, dark wood paneling and wide spaces in which to entertain guests and spacious bedrooms.
"Has having a pet made you an even better actor?" I ask.
"Absolutely," he replies. "There are two important elements to being a good actor. You must have truth. If you play a particular character, you must believe it."
Before Audie can tell me the second element, out pops Chanel, an Aspin (Asong Pinoy) who, Audie shares with me, he adopted from the Philippine Animal Welfare Society (PAWS) last year.
The conversation is put on hold as Chanel wags her tail and gives me welcome licks.
"I think that they might be easier to photograph if we take a walk," shares Audie.
Out we go into the village streets. Yuki, another Aspin, joins us, and the dogs are clearly at home in their territory.
"They can walk the whole day," Audie says. "They really love this."
I ask Audie about playing the role of the young Vice President Osmeña in the movie Quezon's Game.
"I had to audition for that role," he shares, as we continue to walk with the dogs. "I rarely do movies, much less television now because my job at Solaire as entertainment director is a full time job. So landing the part was a treat. I had to take leaves to shoot but it was so worth it. "
A history of theater acting
"I stumbled into the theater when I was a student at the International School," he recalls. "(I really didn't know what I liked.) I wasn't very good with academics, I wasn't sporty. I didn't really know how to fit in." In his junior year in high school he was asked if he could be part of the musical Oklahoma. "I joined the cast not really knowing what to expect. I remember the day we performed in the Meralco theater, I was like a fish in water," he said. "I just felt like I belonged." He says that it was like overnight success — from a nobody in school, he became very popular. From then on he decided to pursue acting.
"The first professional production I did was A Chorus Line with Repertory Philippines, which I joined in 1978," he says. "I quickly rose from chorus to leads. It was at Repertory where I learned everything about the performing arts. We were taught every facet of the theater. "
By the early '80s, Gemora was already established in Rep, under the leadership of Zeneida "Bibot" Amador and Baby Barredo. "The most important lesson I learned from them was passion for the craft."
He left both Repertory and the country in 1983 to study in the US. When he came back he did a few more shows with Rep, then acted with other groups like Tanghalang Pilipino, PETA.
A group of his friends underwent spiritual renewal and Audie went through it as well.
"We decided to band together and formed Trumpets," he shares. "Trumpets became the first professional Christian theater company in the country. Trumpets has produced a lot of wonderful family musicals like Joseph the Dreamer, The Lion, the Witch and the Wardrobe, Little Mermaid, NOAH, Bluebird of Happiness. "
One thing Audie's most proud of is having established a summer workshop called Playshop, which is already celebrating its 26th year.
"Playshop was groundbreaking because when we came into the field in 1993, established groups like Repertory were already known for their acting classes," he shares. "We were a new theater company with no real track record, so Trumpets co-founder Butch Jimenez said, 'Why don't we just offer other courses?' A friend, Sophia Zobel-Elizalde who had just started Steps Dance Studio suggested we instead offer a musical theater class. Then we introduced courses like street dancing, voice, radio newscasting, writing for TV, stage management, scene study, photography, modeling to name a few." Playshop evolved into a multi-media workshop and, now in its 26th year, has developed generations of young artists. "I stumbled into my calling accidentally. Providing arts education to kids early has become a mission. Nothing gives me more fulfillment than knowing that we have helped generations discover and hone their God-given talents. "
Roles he plays
The heat outside is getting to all of us — including the dogs — so we return to Audie's house and talk about his other roles in life.
What is your favorite role? I ask.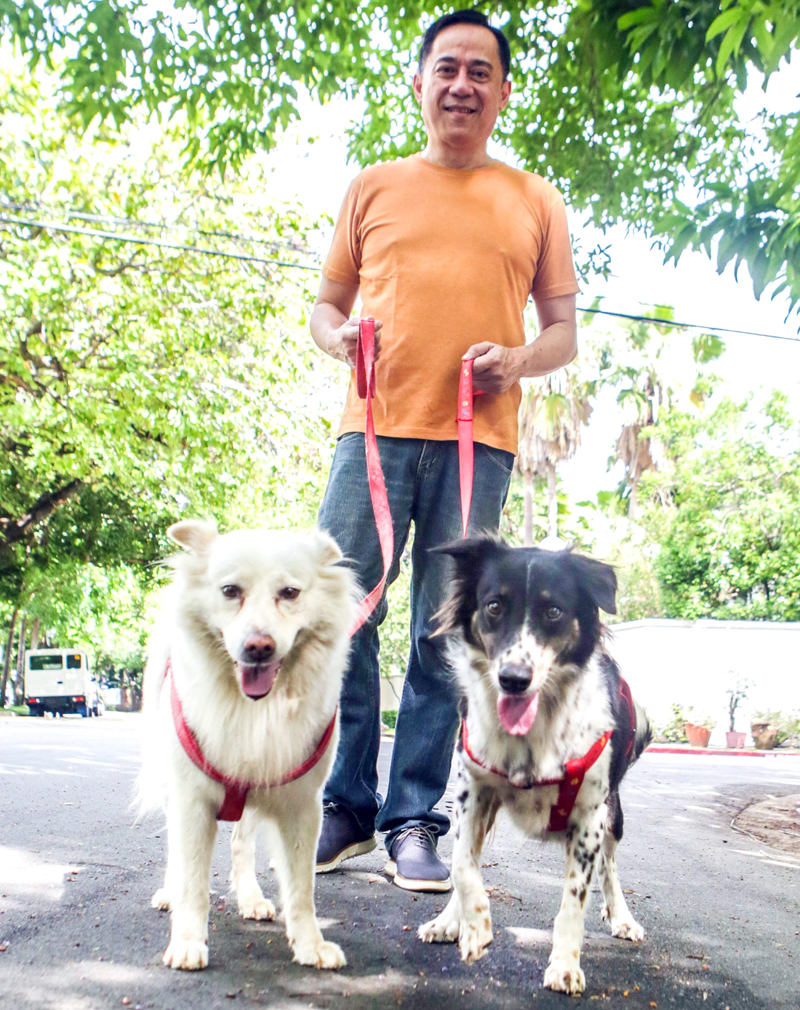 Shake a leg: Chanel and Yuki with Audie
"Fatherhood. It was God-given," he says, meaning his adopted son, Richard, whom he's raised since age two; he's now 19. Audie thinks fatherhood is wonderful. "Actors are among the most self-centered people in the world. Parenthood teaches you to be other-centered — that was life-changing. I am so blessed. I raised him around my type of music so he likes the oldies but goodies like standards, retro music from the '70s, opera and, of course, Broadway."
Richard is slowly getting into theater himself. "I tell him there is no money in theater so he needs to finish college. But there is no denying that he has a beautiful voice. He did his first audition for a local musical and got the romantic lead."
Back to the start
I ask Audie how being a pet parent has made him a better actor.
"I grew up with animals in my home province of Iloilo," he shares. "My father was a farmer, so we were always surrounded by farm animals."
But when they moved to Makati, he was into fish, and even used to rescue cats. But as he got older and was always moving around, he had to give up his life with pets.
"It was really heartbreaking," he says.
In 2009 he moved back into his family's home in Makati because he wanted Richard to grow up in the house he'd grown up in.
"When I was living in Quezon City I had a neighbor who took in a dog and put it in a cage. I asked my driver to tell the neighbor to free the dog so that it would stop barking. He went to the neighbor and came back with the cage. I told my driver that he should take care of that dog — that was his, not mine," Audie recalled.
Little by little, the dog started to enter the house — and Audie's heart as well. That was Audie's first Aspin, Skipper.
"I loved her because she was such a loving dog," he says. "They say that rescued dogs love (you) more. I eventually lost my driver, but Skipper stayed with me."
Skipper passed last year. She developed cancer of the gums and it just kept growing. The vet tried to save her but it kept progressing.
"I was told that I needed to put her down. I could not deal with that concept. I could deal with the concept of losing a loved one, but I couldn't deal with putting to sleep someone I loved," Audie shares. "It was even more grueling for me to do that because I had to witness the death of someone I really loved."
Audie was depressed for many months and would sit down with Yuki, who was Skipper's daughter, and weep. It was the most painful thing he has experienced thus far.
"I think I mourned for Skipper more than I did my parents," he admits. "I think it was the euthanasia. It was the most difficult thing I have had to do."
Audie shares that he asked PAWS director Rich Ilustre how one gets over the pain of losing a dog.
"Mag-adopt ka ulit," was Rich's advice. "That is the only way you will lose the pain, if you take on another dog."
"But their lives are so short," Audie said. "I will go through this all the time."
"That is the blessing and the curse," said Rich. "But it shouldn't stop you from loving dogs."
He then adopted Chanel.
As I'm about to return to my first question, as if on cue, Audie says, "To answer your question about how loving an Aspin has improved my acting, I can say this: Having dogs or pets teaches us to be humane. Gives us the heart."
If, as Audie said at the beginning, the first important element to being a good actor is finding truth, the second one is empathy. "It is the ability to feel what the other person is feeling. Taking care of animals teaches you empathy. You are putting yourself where they are and that is one thing that has absolutely contributed to my being a good actor."