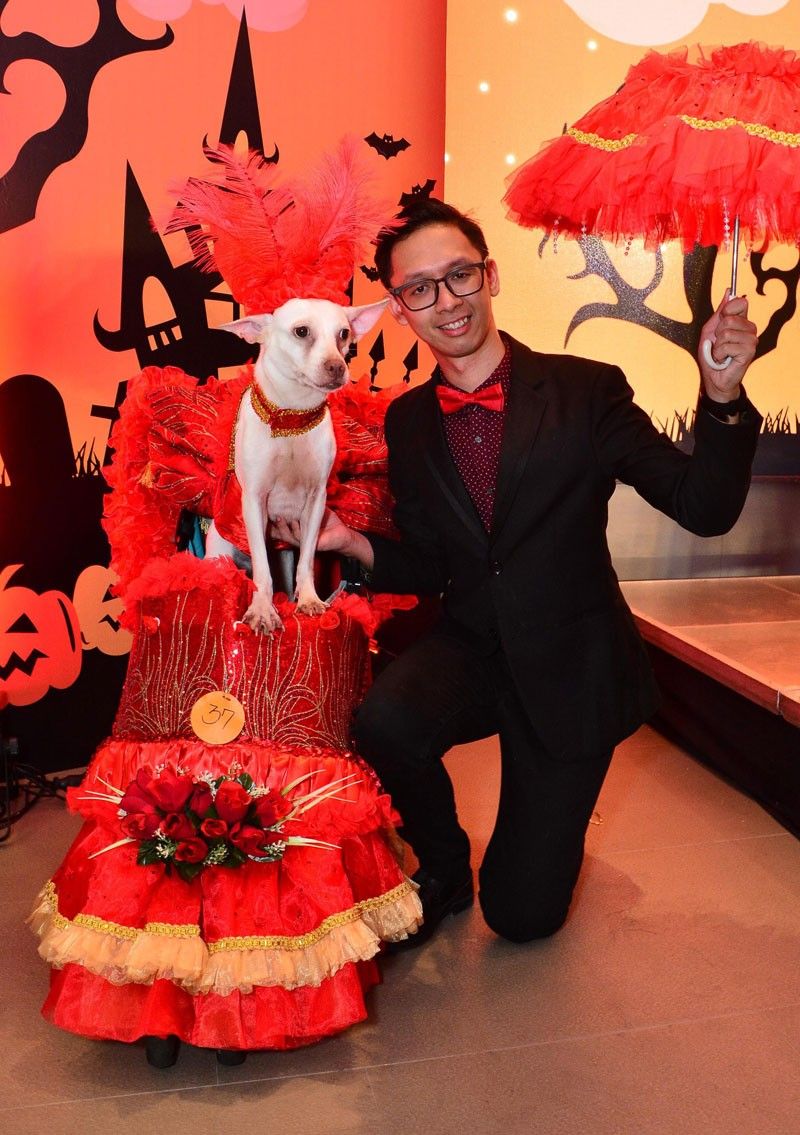 The 2018 Transylvanian Star (Best Pet in Costume) is Aspin Cassie as Reyna Elena with owner Michael Feria
Scaredy Cats and Dogs Year 15: Not scary — just cute
Only at a Philippine Animal Welfare Society (PAWS) Halloween event do you see all kinds of people like artists from rival networks and their pets come together for a good cause.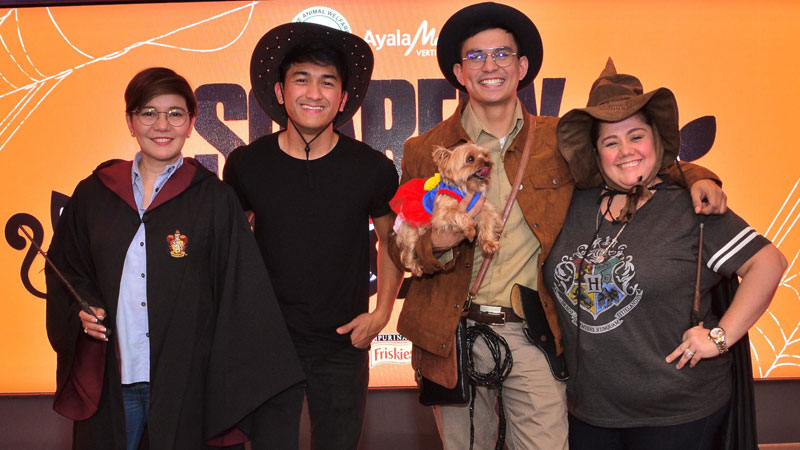 The judges are PAWS celebrity supporters Amy Perez, Makisig Morales, Tom Rodriguez and Ruby Rodriguez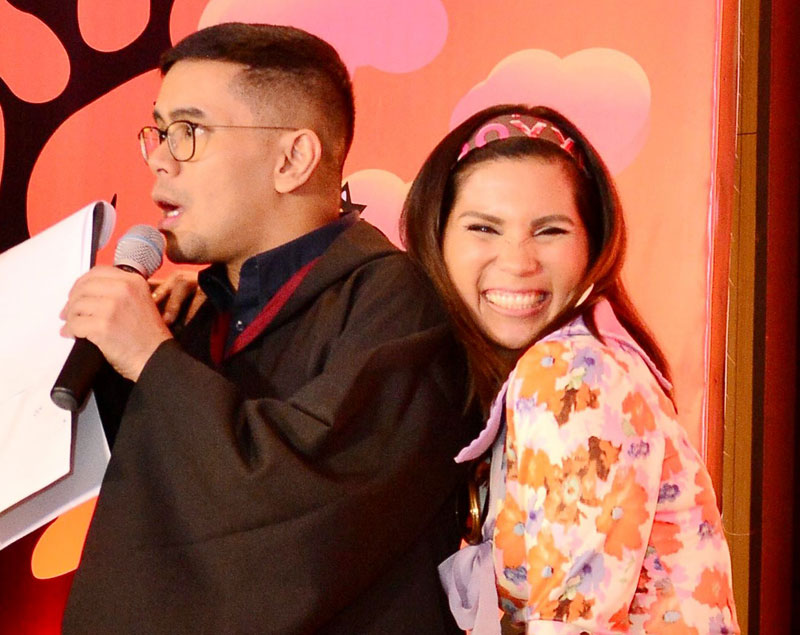 Event hosts Tonipet Gaba and Patricia Hizon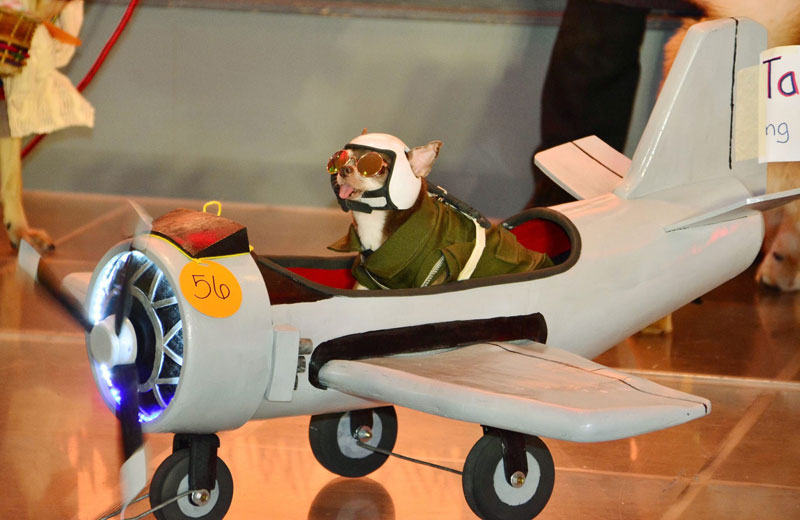 Peekachoo as the Pilot of the Trojan Plane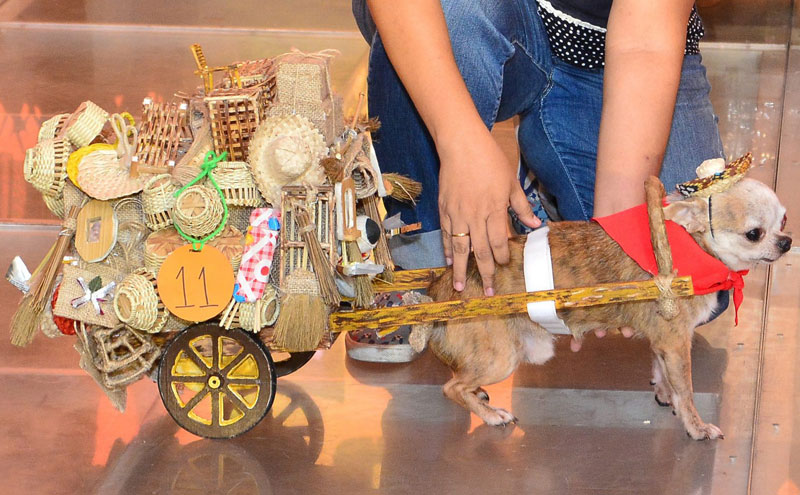 Tiny Hydro created as the Caravan ni Juan is Phantom's Pick Award (Most Creative Pet Costume)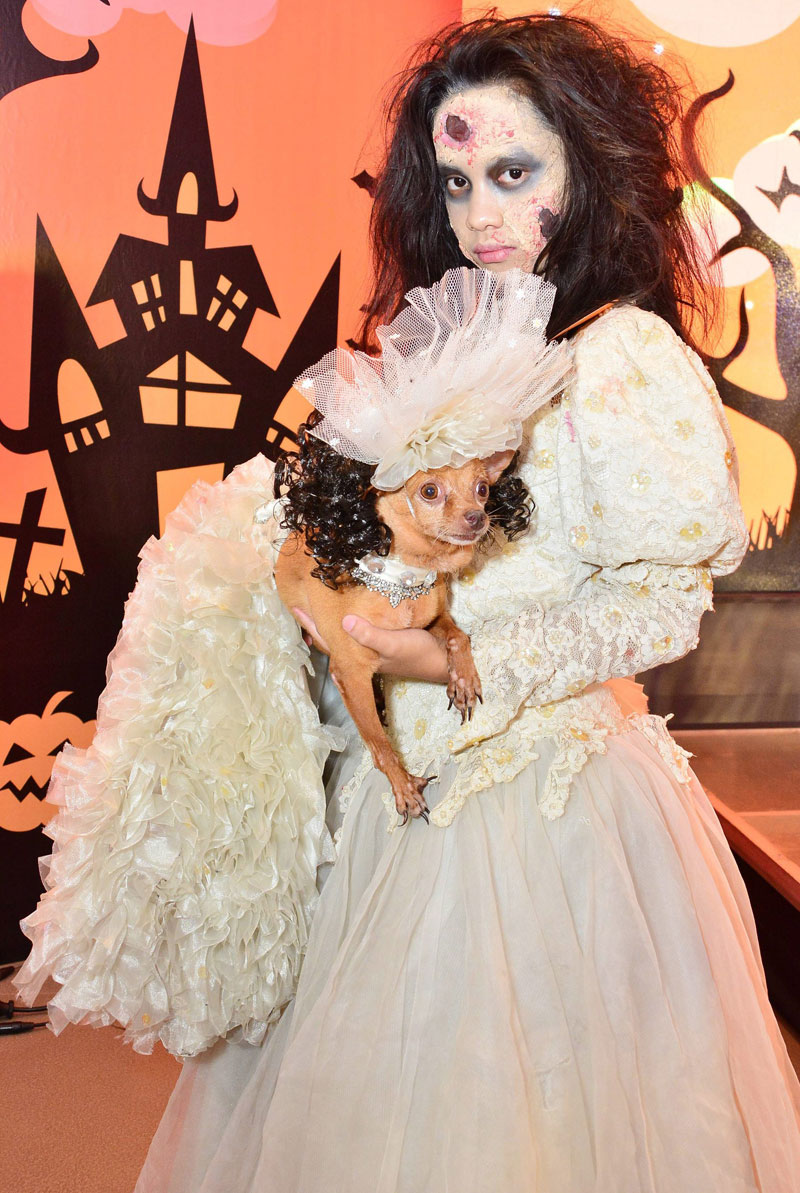 Sherilyn Latayan and Ayen the Chihuahua made a creepy pair for the Best Ghoulish Partners
Love for animals is what bound Tom Rodriguez, Amy Perez, Ruby Rodriguez and Makisig Morales as they sat at the judging panel for Scaredy Cats & Dogs (SCAD), the grandest pet costume and Halloween competition.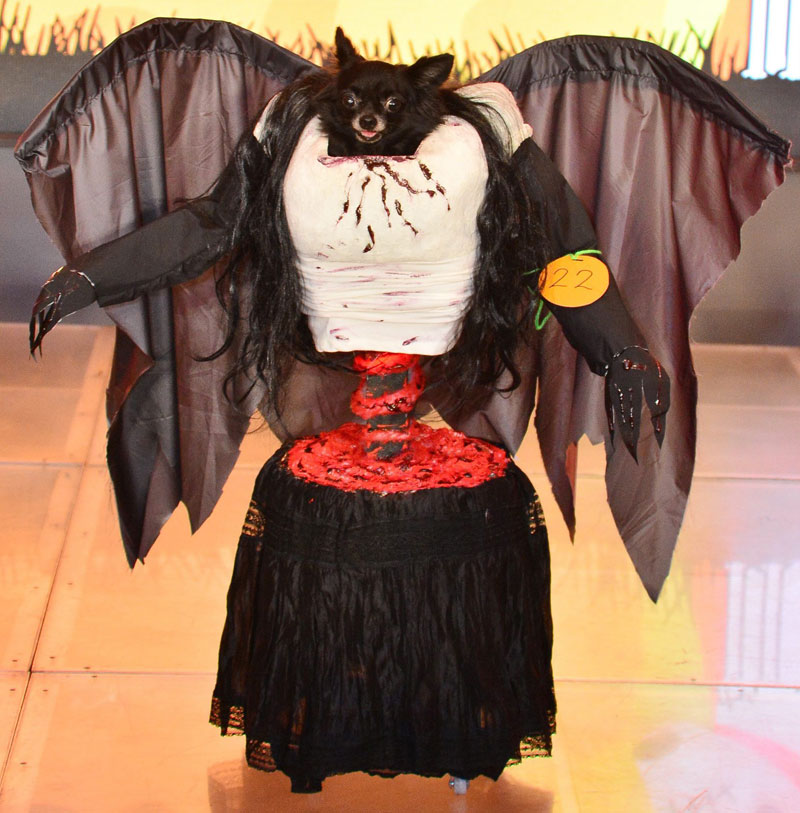 Tyra Barks as Mananang-Aw was the judge's unanimous choice for Scream of the Crop. Tyra Barks who created quite a stir as the frightening Mananang-Aw was the judge's unanimous choice for Scream of the Crop (Scariest Pet Costume)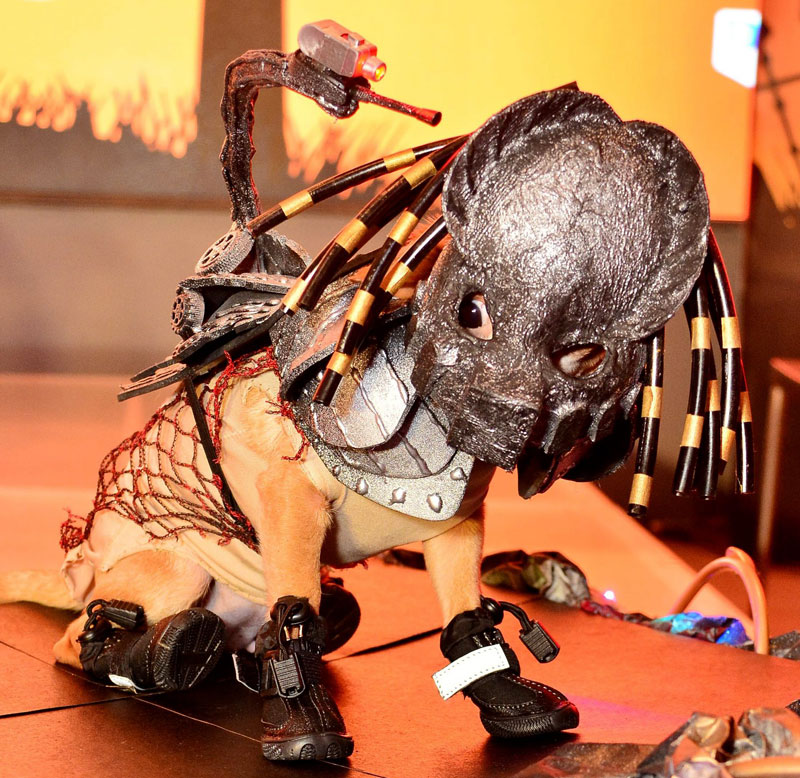 Venice as The Predator won Crypt Keeper's Choice (Most Original Pet Costume)
Burgoo as a caged circus lion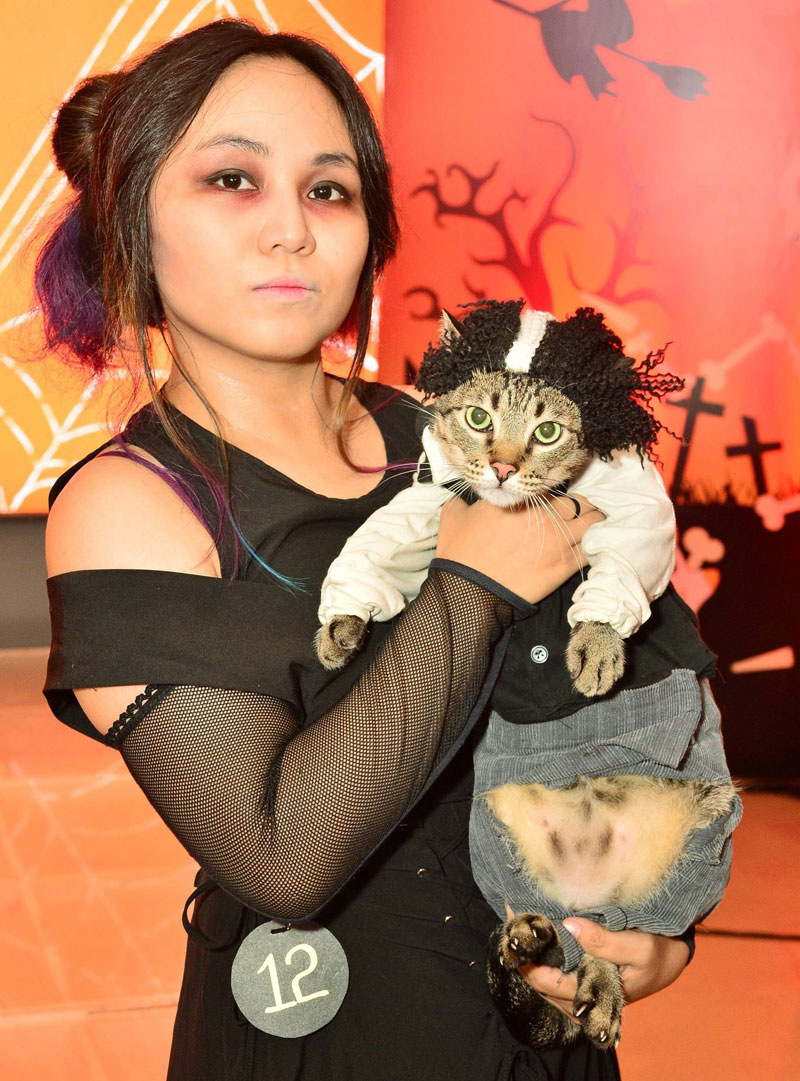 Puspin Luke as Sweeney Todd with Arrah Miranda as his accomplice Mrs. Lovett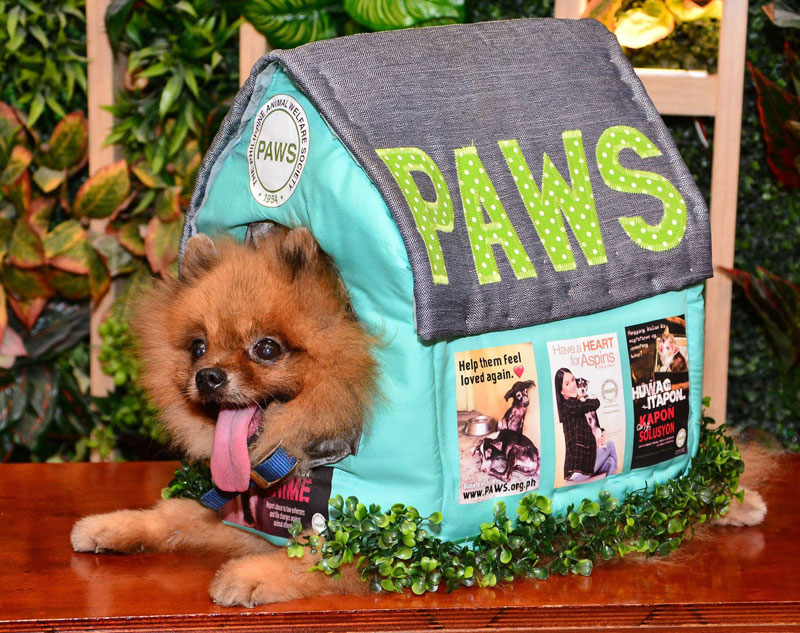 Prince promotes the PAWS Animal Shelter
As has been the case for past 15 years, contestants wowed the judges with their elaborate costumes that they lovingly made for their pets. This year's costumes that I liked included dogs as Star Wars characters on board a moving spaceship and an owner and dog as a pair of undead brides in full wedding gowns.
This is the trademark PAWS event for me because it always has rescued native dogs and cats (Aspins and Puspins) competing alongside purebred pets and holding their own.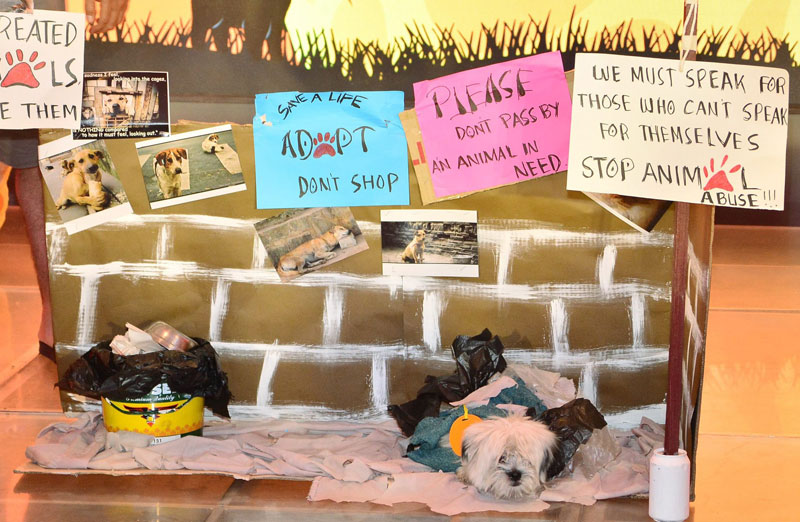 Pem-Pem as a hapless street dog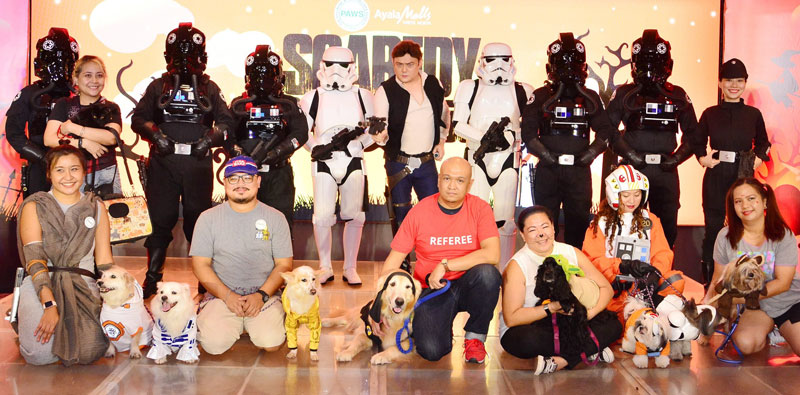 The 501st Legion (Philippine Garrison) and The Rebel Legion (Bagong Pag-Asa Base) teamed up with the PAWS Dr. Dogs as Star Wars characters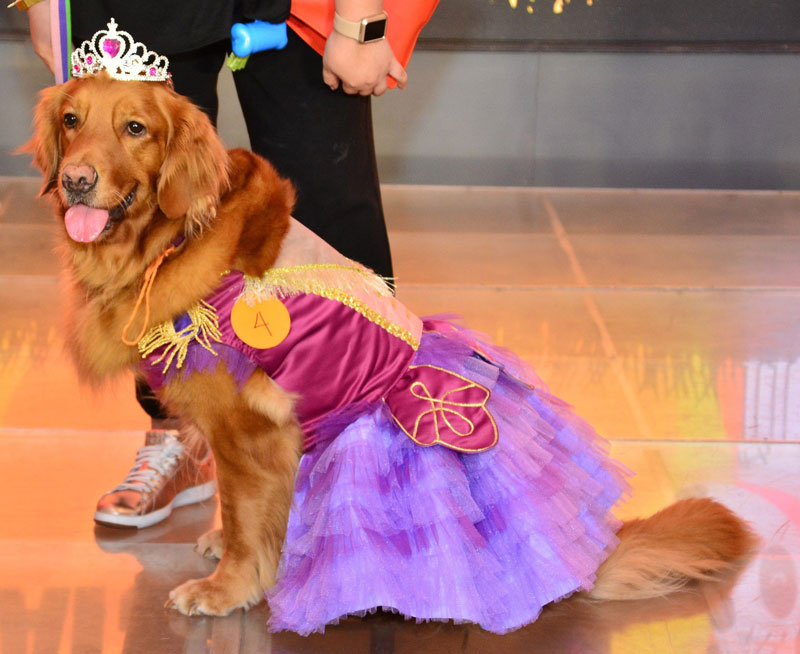 Casper's Choice (Cutest Pet Costume) was awarded to Tweetie as the Sugar Plum Fairy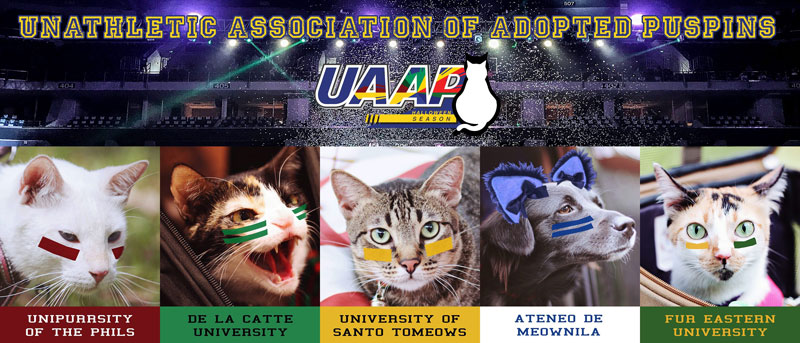 UAAP rules: Poster made of pets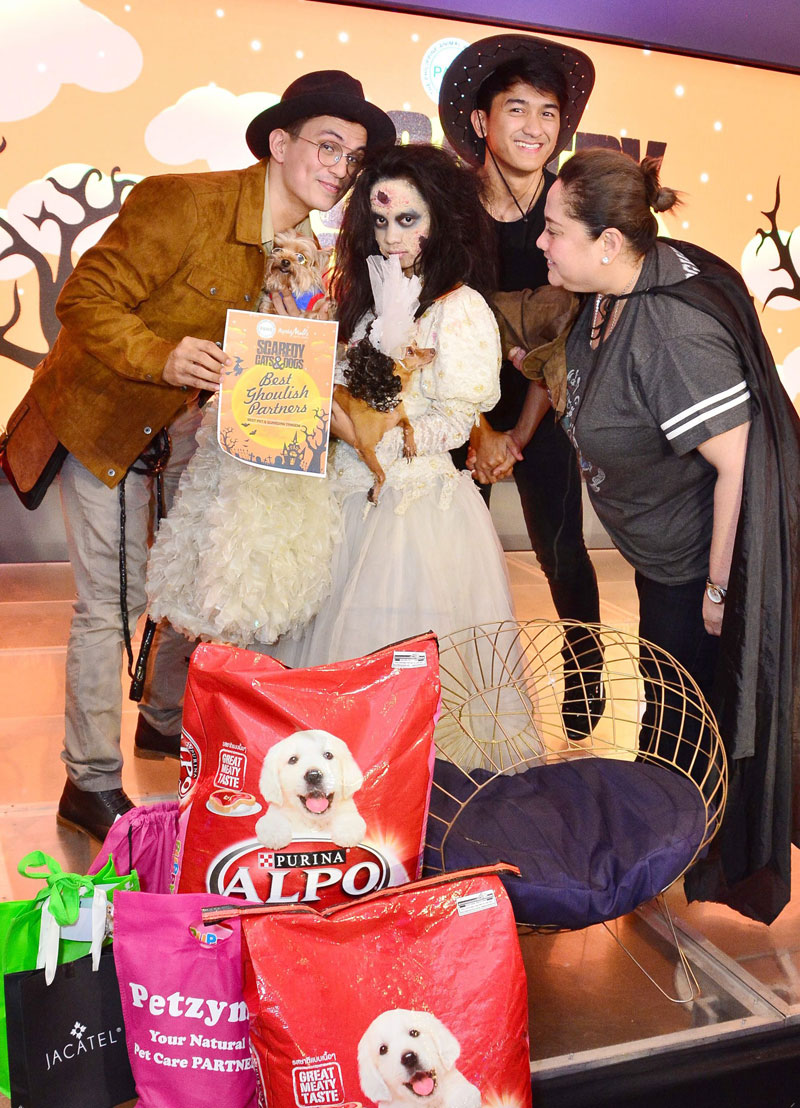 The top winners won a P20,000 prize package that includes three months of Alpo, Bow House dome home, overnight at AcuaVerde Beach Resort, a grooming package from Be t te rdog, Japanese dinner for two and GAOC treatment.
Five dogs from the Mandaluyong City Pound came as the Spice Girls. The MAS-cots seek sponsorship to enable them to bring pound dogs to the event and promote their adoption. A group from Cat Care Philippines came onstage with their cats in cheerleading outfits as the UAAP (Unathletic Association of Adopted Puspins).
For the first time in the 15 years of SCAD, an Aspin went home with the top award. In a striking red Filipiniana ensemble complete with umbrella escorts, Cassie was named the 2018 Transylvanian Star (Best Pet in Costume) besting all the other entries and went home with a prize package worth P20,000.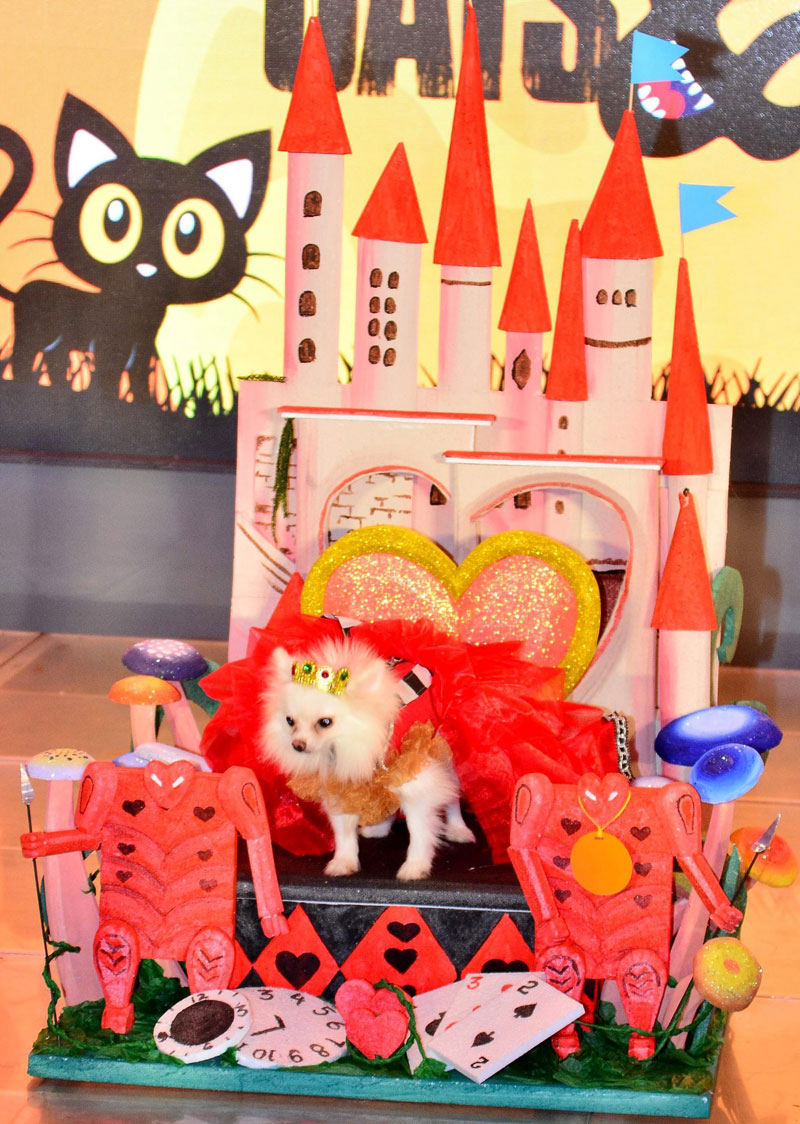 Khaleesi as the Queen of Hearts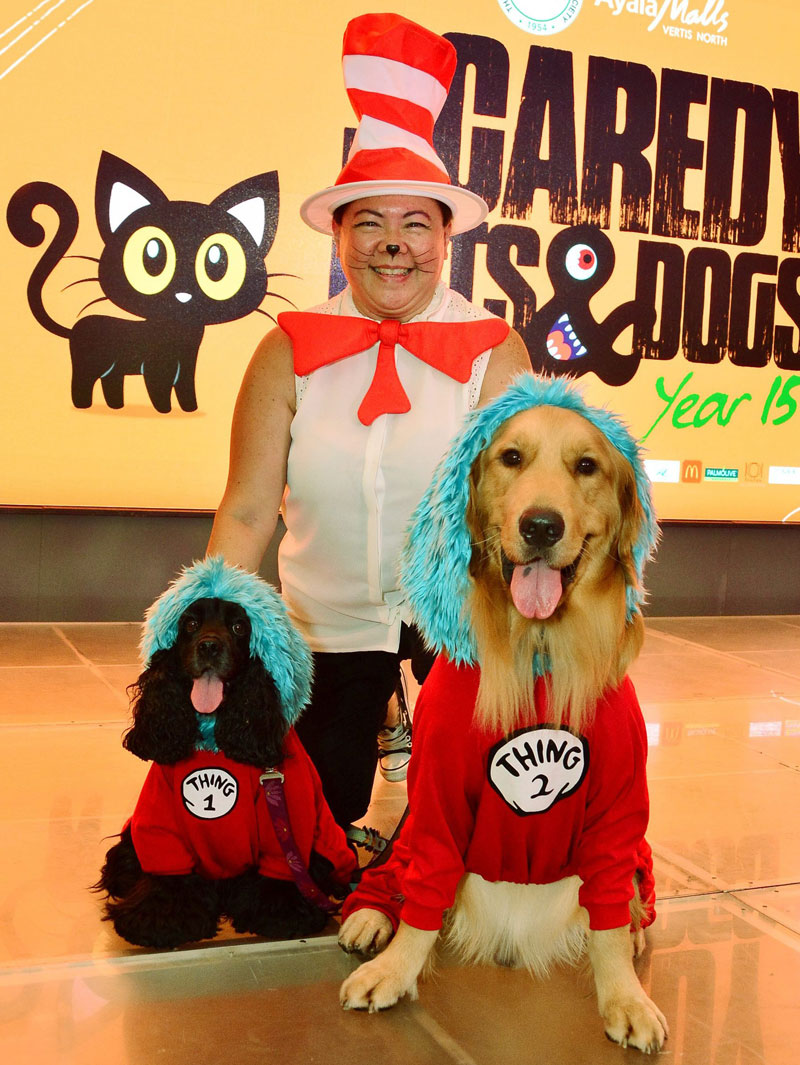 Jennie Cerrada as The Cat in the Hat with her pets India and Ryder as Thing 1 and Thing 2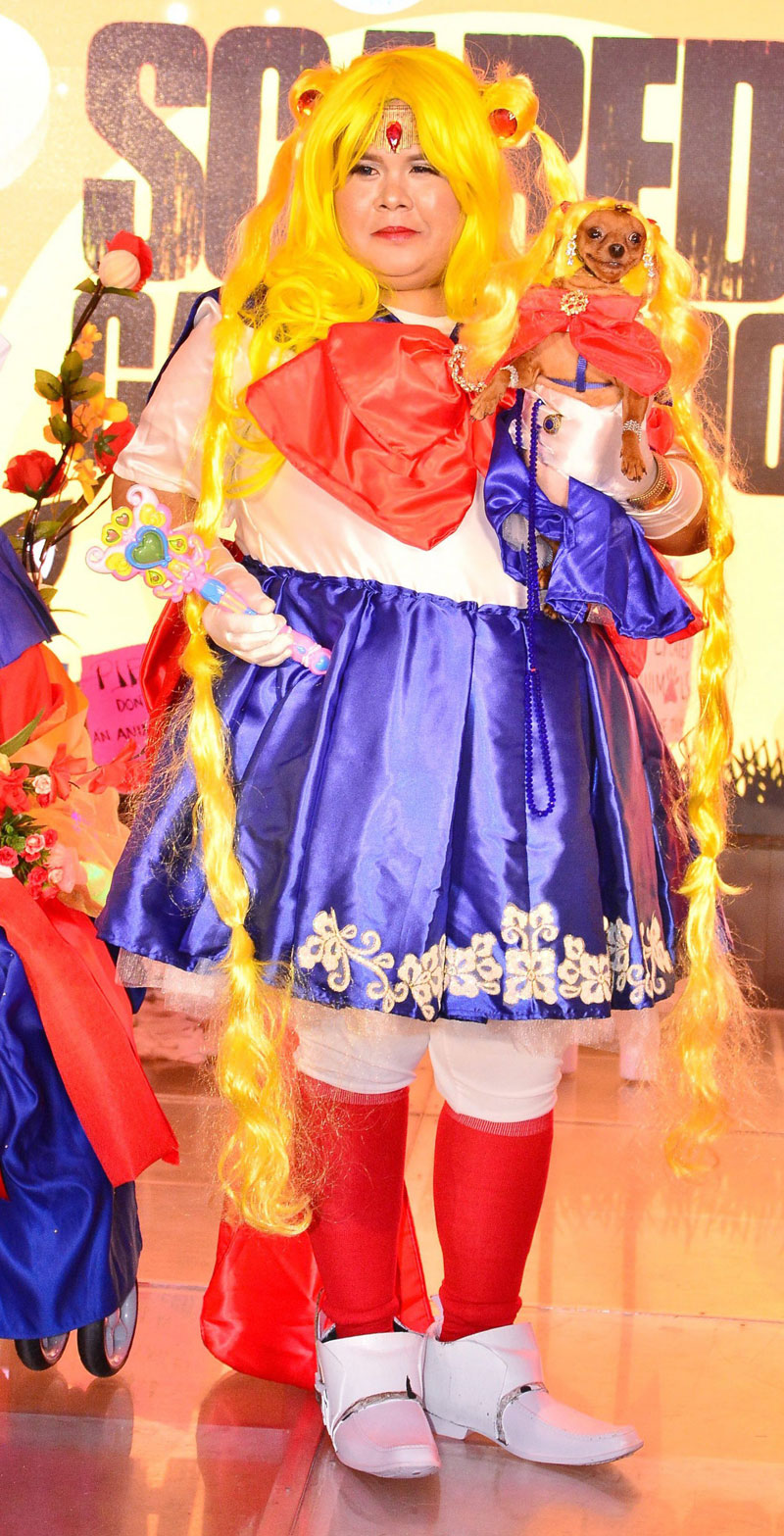 Monching Austria and Chloe wore matching Sailor Moon outfits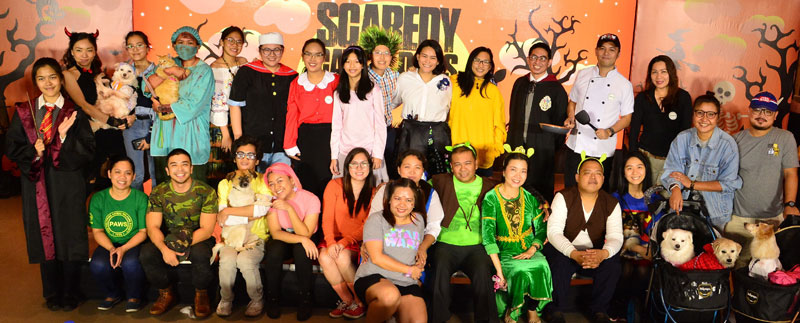 PAWS mounts this yearly Halloween event to raise funds for the PAWS Animal Shelter. (fifth from right, seated) Anna Cabrera, PAWS executive director and directors Chet Martinez and Rich Ilustre (standing, first and second from right)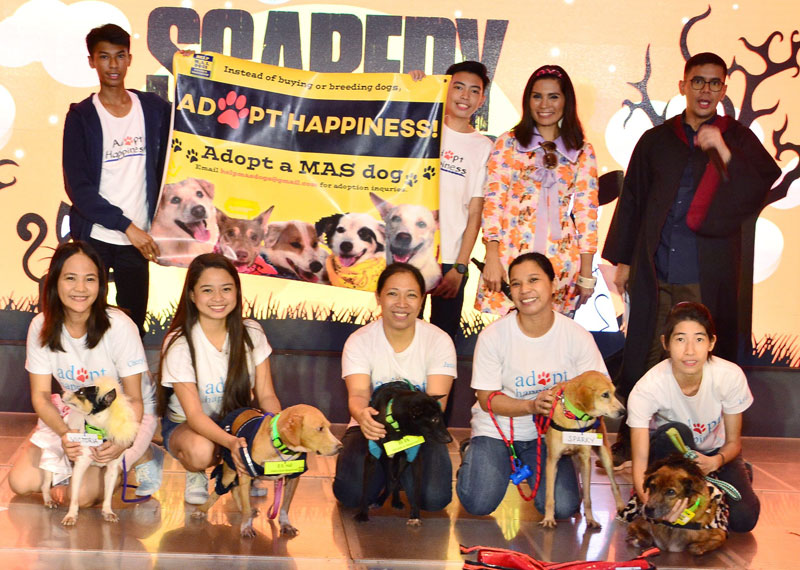 The Mandaluyong Animal Shelter was Canine Midnight Society (Best Dog Group in Costume)
Scared Cats & Dogs was made possible through the generous support of Ayala Malls Vertis North, Alpo, Friskies, Saint Roche, Betterdog Canine Behavior Center, Tick Buster, Bow House, Petzyme, McDonald's, Happy Skin, TenTen Nail Philippines, GAOC, Jacatel, Miyoko Pet Products, Acuaverde Beach Resort, Palmolive Naturals, Swell Sweets Cake Lab, Regine's Boutique and STAR Pet Life Section.