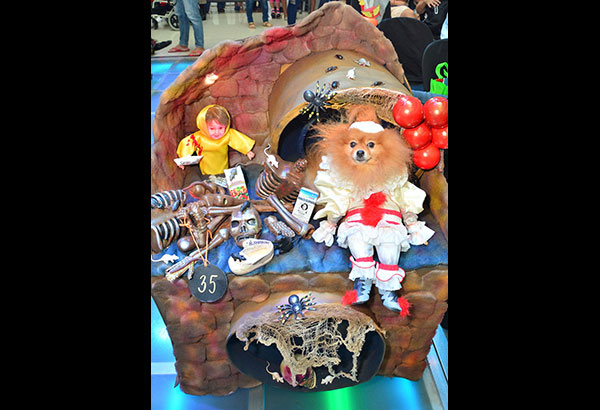 Jacks the Pomeranian came in fighting form as Pennywise from the movie It. He wins Scream of the Crop (Scariest Pet Costume).
It was Cha-Cha the Chihuahua dressed as a small Pet Rescue ambulance who won the hearts of the judges and audience, too, among the over 70 dogs and cats competing for the title of Transylvania Star (best pet in costume) at the 14th Scaredy Cats & Dogs of the Philippine Animal Welfare Society (PAWS) recently. The Halloween fundraiser event was held at the Fisher Mall Event Center.
Celebrity judges Agot Isidro, Marc Nelson, Ruby Rodriguez and author Kathy Moran declared that the amazing details of Cha-Cha's crocheted outfit were the deciding factor in naming her the grand winner.
PAWS' annual competition has attracted some of the most unique, innovative and extravagant Halloween pet costumes in the country — and this year was no different.
Some of the costumes that I liked were the one on a cat dressed as The Little Mermaid sitting in a gigantic blue clam, a dog dressed as Pennywise the Clown coming out of a miniature sewer, and the day's scene-stealer — a dog named Ayen dressed as a showgirl on a lighted Moulin Rouge revolving stage.
This year, I noticed more homemade (crocheted) costumes for pets. The Sunday Parkday Gang wore crocheted caps in the shape of local vegetables from the Filipino folk song Bahay Kubo. The Puspins were declared the Feline Midnight Society (Best Cat Group in Costume).
Five friendly and adoptable Aspins from the Mandaluyong Animal Shelter in denim outfits wowed the crowd with their own version of the Hagibis song, Katawan. Their revised lyrics encouraged people to spay-neuter their pets and to adopt from shelters instead of buying from pet shops and breeders. The group romped away with the Canine Midnight Society Award (Best Dog Group in Costume).
The 501st Legion also attended the event to announce its partnership with the PAWS Doctor Dogs therapy animals. In celebration of the 40th anniversary of Star Wars: A New Hope and the 20th anniversary of Dr. Dog Philippines, the two groups have banded together and plan visits to hospitals and institutions dressed as Star Wars characters. Their mission is to bring joy to sick kids, especially those in pediatric cancer wards.
"We mount Scaredy Cats & Dogs primarily to raise funds for our animal shelter and it remains one of the most-awaited and most fun events that you could bring your pet to," shared PAWS director Rich Ilustre. "We will be celebrating SCAD's 15th year milestone next year so expect an even bigger competition with lots of surprises."
Scaredy Cats & Dogs sponsors included Samsung Galaxy J7+, Alpo, Friskies, Mentos, Chupa Chups, Fisher Mall, Betterdog, NexGard Spectra, Tick Buster, Acuaverde Beach Resort, GAOC, McDonald's, Gerry's, Swell Sweets, Vita-E, Bow House, Bath & Buddy, Fluffy Butt, Petzyme, Nippon, Jacatel, Fetch, Pawfect Plate, Aromapet, D-Luxe Pet Hotel, Happy Skin, L'Sirene Boutique Resort, Lee Cooper, Air Optix, FreshLook Contact Lenses, Pet Discounts, Fisher Box Office and STAR Pet Life Section. - Photos by Joey Viduya and Erwin Barleta