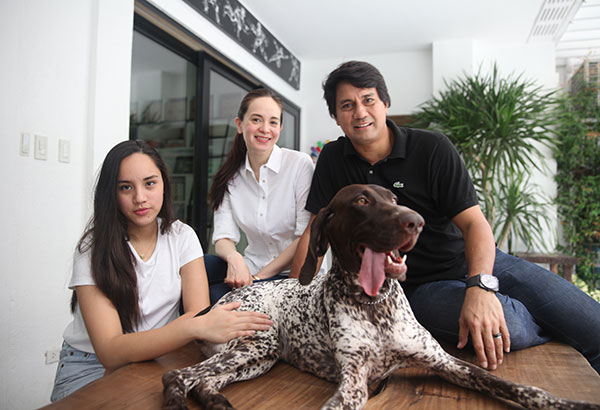 A family affair: "Vanilla, my German Short-Haired Pointer, is a Philippine champion," says Richard Gomez. "Next season, she will get enough points to be a grand champion." Lucy and Juliana share Richard's love for dogs. Photos by JOEY VIDUYA
Richard loves Lucy — and his dogs, too
We all know that Richard Gomez loves Lucy Torres-Gomez, but do you know Richard's other loves — aside from lovely daughter Juliana? Why, it's dogs and fish.
Richard — actor, model, athlete, director, and now mayor of Ormoc City — grew up with dogs, well into his student days at UP Open University, where he graduated with an Associate in Arts in 2009 and at the University of Perpetual Help System, where he completed his master's degree in Business Administration in 2016. Not only does he dote on his dogs, he also makes sure they are always at the top of their class.
"I've had dogs all my life," shares Richard "Goma" Gomez. "My first dog was a white Poodle named Princess (laughs). That was the dog we had in the house."
As we start this interview, 4th district of Leyte Congresswoman Lucy Torres-Gomez and the couple's daughter Juliana join us for the pictorial.
"My next dog was a German Shepherd, which was used in my first Bench ad — I was 19 or 20 years old at the time," he adds. "The dog was seated beside me in the ad, called 'Man's Best Friend.'"
There are quite a few other dogs that have come and gone in Goma's life. He had Brutus, a Boxer, when he was about 22 years old, until he was 31. "I like dogs that are muscular and good-looking," he says. " I also like to bring them to shows. Brutus was part of obedience training shows."
Goma also had a Golden Retriever named Lala and a black Lab he called Coke. Add to these a Boxer and a Mini Pin, too.
"Brutus used to sleep with me," he shares. " He would snuggle close pag malamig."
Who Does Goma Kiss First When He Comes Home?
"Does Lucy like dogs?" we ask.
"Yes, she does," Goma replies. "Just not inside the house."
"When Richard arrives, the dogs get restless," says Lucy. "They don't do that for me. He kisses all of the dogs first and then he comes inside and kisses me (laughs)."
Vanilla, Moritz, and Alexander are German Shorthaired Pointers (GSP) who live in the Makati home of Richard and Lucy. Natascha, Amanda, and Adonis are in Ormoc and Alexandra is in their Greenhills home.
"How did you get into GSP?" we ask.
Goma tells us he loves going hunting in the mountains — and it came to a point where he noticed that his Labrador could not keep up with the Aspins in the area.
So, he asked around what would be a good hunting dog. He was told the GSP would be perfect. He found the best of the GSP in Romania — he got in touch with a reputable breeder there and thus, Moritz and Natascha were flown in.
"In the past, a dog was a dog was a dog," shares Lucy. "But now, because Richard has introduced me to many dogs, I can tell by the way they stand, the way they move, if a dog is good or not."
"More so with this breed," adds Goma. "I have joined my dogs in the Philippine Canine Club Inc. (PCCI) dog shows (the top dog show in the country). Natascha is a Philippine Grand Champion, Hall of Famer, and Asia-Pacific Grand Champion. Moritz is a Philippine Grand Champion."
It is the passion in Goma that makes him excel at everything he does.
As an athlete, he competed for the Philippines in fencing, shooting, rowing and volleyball. When he shows his dogs, they have to be at the top of the circuit.
"He never does anything half-baked," says a proud Lucy.
"Every time I enter anything, I always want to be the best," asserts Goma. "As an athlete, when I enter my dogs in the show ring and also my fish, ganun din — manalo."
Goma recently joined the Fighting Fish shows — no, he clarifies, the fish don't fight, they are judged for their beauty.
Goma grew up with a passion for Fighting Fish, which he would buy outside his school. So successful is Goma with his Fighting Fish that he's been named Breeder of the Year 2016 and Grand Champion 2016 in the Beta (Fighting Fish) competition.
"The Fighting Fish are beautiful creatures," Goma gushes. "May hinahabol na form. The breed has to conform. The breeding season is from January to February."
Goma sources his fish from Singapore, Indonesia, and Thailand.
What does he like about fish?
"He says it relaxes him," says Lucy. "When he comes home from work, I know he has arrived because of the dogs barking. But it takes so long before he comes up to the room, and I would catch him downstairs just watching the fish swim."
Mr. Mayor
"As a mayor I want to be known as the best mayor of Ormoc City," Goma muses.
"Richard is a workaholic, anything he sets his mind to, it's like he has blinders on and he has to do it. He gives it his all."
Our talk then shifts to the latest issue on drugs and Goma.
"We were on vacation in London and at about 2 a.m., my phone kept ringing," Goma recounts. "I was told that my name was included in the drug list. I found out later that the policeman who submitted the names on the drug list was somebody na kalaban namin sa politics."
Goma adds he was linked to the illegal drugs operation by chief inspector Jovie Espenido.
"When Kerwin Espinosa testified during the Senate hearing, he said that the policeman was really allied with our political opponent — that was established during the hearing," Lucy adds. "We know of many good cops who uphold the truth. But there are also the bad eggs, so we take the good with the bad."
The couple is quick to point out that it has reached a narco politics level in Ormoc. "The number of drug-user surrenders we have right now is over 2,700," Goma informs us. "Wala pa dun yung di nag surrender. It is a good thing that President Digong won, otherwise down the drain na tayo — in terms of the drug problem."
Dragged Into The Drug War
"I like that we have a president who is very serious about the drug war. The war is real in Ormoc," says Lucy. "There is no perfect war; in every war there are always casualties. Maybe the process can be better — I believe in human rights, but the problem is bad. There are so many children involved in drugs. There are barangay officials who peddle drugs."
Goma has directed TV ads in the past — at least 10 of them — which were part of his advocacy against drugs.
In 1998, Goma was among those who formed MAD (Mamayan Ayaw sa Droga). And as an athlete on the Philippine national team, he was often tested for doping — which he passed each time.
"Ayoko uminom ng pain reliever," Goma swears. "I know it is bawal. If there is a doping test and I drank pain reliever, I will be disqualified. And that has never happened."
"There is a measure of comfort when we know that the truth will eventually come out," Lucy rationalizes. "But until that happens, the process can be stressful. I am happy that if Richard's name was maliciously dragged into this on national TV, he was also absolved on national TV."
"Maybe you should train your dogs to be drug-sniffing dogs," I suggest.
"I will look into it," Goma says. "They are hunting dogs and their noses are very sensitive."
It is getting late on this Sunday afternoon, so we cap the interview with one last question: If you could have another pet, what would it be?
"No more pets," replies a firm Lucy. "Anak na lang."
"Baby boy naman," Goma chimes in. "If there is no baby boy, I will be the last Gomez in my family line."
With their good genes, we would love for our favorite royal showbiz couple to breed more little Gomezes!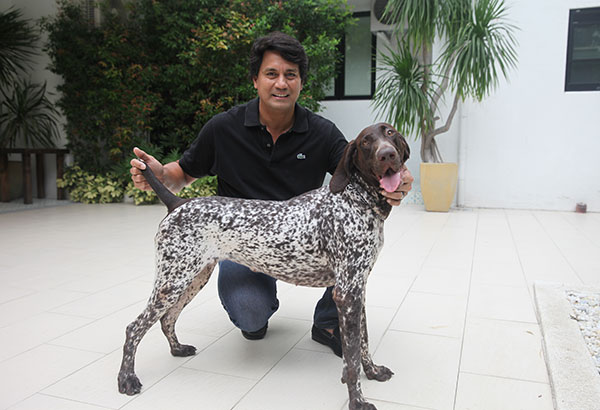 Mayor and his best friend: Richard's love of hunting in the mountains pointed him to GSPs.