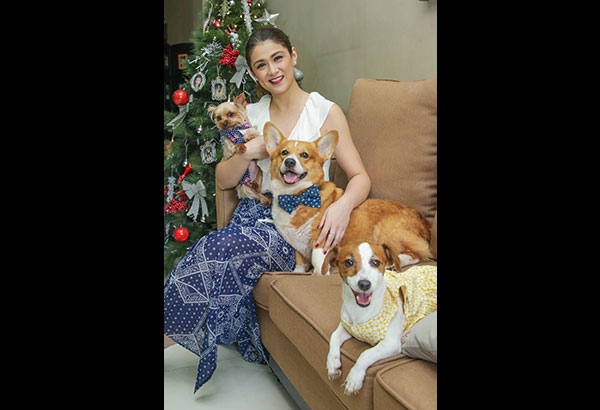 Carla Abellana with Bubbly, Sunny the Welsh Corgi and Patches the Jack Russell
Carla Abellana would love to raise a houseful of pets — and kids with Tom Rodriguez
When we ask Carla Abellana's boyfriend Tom Rodriguez if we can take a photo of Bubbly the Yorkie with Carla and him, he says, "Nakakahiya. Galing ako sa gym."
"Wash ka nalang ng face," Carla lovingly tells him. "And then tie your hair, tapos change ka nalang ng T-shirt — that's fine."
Carla, actress, TV commercial model, dog lover and animal welfare advocate, shares that Bubbly is Tom's dog.
"He got her four years ago," she says. "But Tom always tells me that it is the dog that picks you — not the other way around. So it was Bubbly who chose him."
Tom and Carla have been a couple for almost two years now. Since they are both animal lovers, they treat Bubbly like their child. Carla also has two of her own dogs, Sunny the Welsh Corgi, and Patches the Jack Russell — both of them are four years old.
Animals have rights, too
Carla grew up with her lola, movie actress Delia Razon (mother of Carla's mother, Rea Reyes), who was the first animal lover she ever knew — and who taught her about love for animals. There was a time when there were over 20 dogs in the house of her lola, who was a breeder of Fox Terriers.
Starting her love affair with animals early has made Carla adamant that animals should be treated right.
It is no wonder that Carla is one of the animal ambassadors of the Philippine Animal Welfare Society (PAWS), where she started out as a volunteer when she was a college student at De La Salle University.
One of the animal causes close to her heart is the spaying and neutering of animals. There are plans for her to be part of PAWS' campaign for this.
"There is a need to create greater awareness of the importance of spaying and neutering our pets," says Carla. "I believe that this is the answer to putting a stop to the number of strays out there. There are so many cases of abandonment and even abuse, because there are so many unwanted pets."
Carla is sad that not many people know that, through spaying and neutering of dogs, one is able to prevent unwanted kittens and puppies.
Carla is also quick to point out that protecting the rights of animals is not only something she likes to talk about, she makes sure to do her part in her everyday life.
As an actress she is very cooperative with her directors, never complaining or questioning them — unless the rights of an animal are violated.
She recalls being part of the horror movie Third Eye, where a scene required the killing of a goat — and the director really wanted to kill the goat.
"This was one time when I texted Anna Cabrera of PAWS and asked her what I could do to stop the killing of the goat since it was not necessary," she says. "Anna would explain that there are written provisions when it comes to using animals for TV or movies, but these are not specific and, unfortunately, producers don't follow them, either."
There was a dummy goat on the set but the director wanted to kill a live goat so the scene would look realistic. There was nothing Carla could do to stop it, but she made sure to let the director know she felt that killing the goat was unnecessary.
Carla is not keen on more Filipino movies or TV shows with animals. She shares that, until the there are laws that protect the rights of the animals — just like there are laws that protect the rights of people — it is better to leave animals off the set.
"In my seven-year career, I have seen animals being maltreated and abused on the set," she adds. "Just because they have to be part of the movie or the TV show. Ako pa naman, my eyes and ears are really open kapag alam ko na may animals involved."
There was another movie where a scene required the use of frogs — getting a video of the frog on a certain spot of the table, says Carla. But as soon as the frog was put on the table, it would hop, making it almost impossible to shoot the scene needed.
"Sabihin natin to a lot of people it's just a frog — a pest. But it is still an animal and it has rights," she says. So to be able to shoot the scene, the crew tried many things: they slammed the frog on the table so it would get dizzy, which didn't work. So they tried to grab the frog's legs and hold it down, also with no luck.
The other option was to staple the legs of the frog on the table," she says. "I was crying — I asked if it was necessary. I was so stressed and I kept asking the director whether it was possible to do away with the scene with the frog."
Carla also uses the same animal-rights barometer when making choices in the makeup she uses.?"I would never use any product that does animal testing," she shares. "If I find out that a product, especially makeup, does animal testing, I don't use it."
Recently, Happy Skin chose her to be Princess Belle of Beauty and the Beast when Disney collaborated with Happy Skin.
"I accepted it because I am a fan of the Disney Princesses. I really love the brand and I use it every day," she says. "More importantly, Happy Skin does not do animal testing and I was allowed to pick a charity to which a portion of the sales would go. I chose PAWS."
Pets, career and marriage
As a celebrity, Carla knows that she can influence her followers and fans. She makes sure she picks the causes she fights for.
"I use my influence with the campaigns with dogs," she says. "I use my status and career to influence young people to do good to animals."
Carla, who entered show business in 2009, graduated with a degree in AB Psychology and her first job was teaching nursery-school kids. The stint didn't last very long and soon, she found herself working as an HR associate in Rockwell Land.
In 2009, she auditioned for the part of Richard Gutierrez's leading lady in Zoro, but she ended up becoming the lead in the remake of the Mexican telenovela Rosalinda instead.
For the first five years of her career, Carla was given dramatic roles, but recently, she has been able to do more comedy roles, which she welcomes.
"What is important to me is that I have been able to make people laugh and happy with all the comedy roles I have played," she adds. "Making them cry when they watch me in drama roles — kahit papano I touched their hearts."
As a child who didn't grow up watching the movies of her lola or her dad, PJ Abellana, she is grateful for the life she is living now.
"Acting was never part of the plan. I just wanted to work in an office and climb the corporate ladder," Carla says. When I was younger, I pushed to study hard and get a degree."
Carla has been in show business for the last seven years, yet she is well aware of the fact that her career won't last forever.
I know that when I have my own family and children, my career might change," she says. "I always think of a fallback, so when I am not as busy anymore earning as much as I do now, I would like to venture into a different kind of business, like open my own dog hotel or clinic. Or maybe even open a grooming center — I would love to have one of my own."
There is still one more pet that Carla would like to have: a pot-bellied pig.
"I have had a pet chicken, duck, lizard, and even guinea pigs… and rats," she adds. "I read that pigs are very intelligent animals. I have a house in Tagaytay, which I wouldn't mind turning into a farm. Who knows, maybe one day I can open my own shelter for all animals."
Carla also looks forward to raising a family with Tom in the future.
"Hopefully one day soon — just a little bit more savings," she adds. "Then we will have human kids who will grow up with our dogs and become animal lovers, too."
Carla Abellena's five tips for pet owners
1. Give them their basic needs — proper shelter, food and water.
2. Spay or neuter if you have plans to breed. This prevents the birth of unwanted puppies or kittens.
3. Make sure you don't treat your pets like a bantay lang. I always tell people that cats and dogs are not just bantay, they should be part of the family so give them love and affection. Let them in the house and let them play with the kids.
4. If you are not fully committed, don't get a pet. Cats and dogs live for 12 to 15 years so before you get a pet, keep that in mind. Having a pet is a lifetime commitment, just like having a baby.
5. If you are a pet owner, do research on how to care for them and what their rights are, and then spread the word.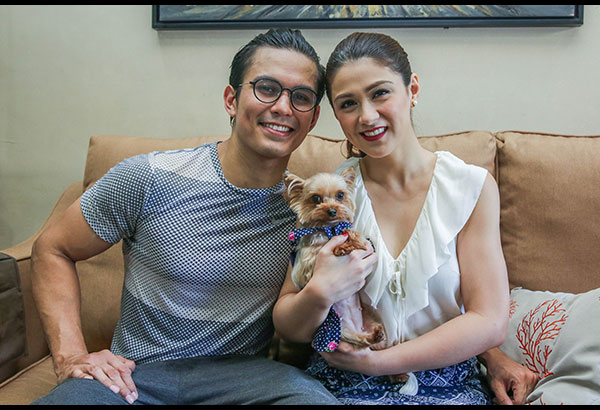 Tom Rodriguez with his dog Bubby the Yorkie and Carla Photos by GEREMY PINTOLO