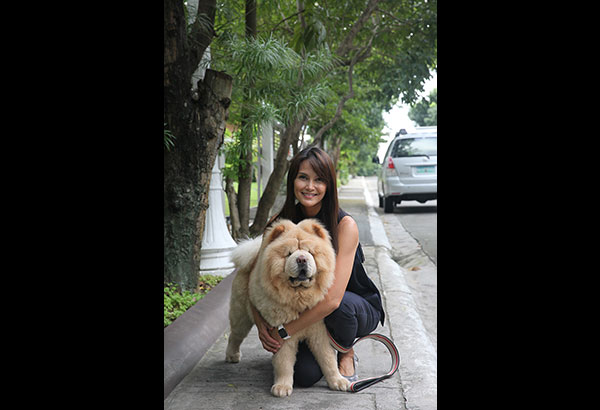 Just the two of us: Okay Ka Fairy Ko star Tweetie de Leon-Gonzalez and Chow Chow Simba
Okay ka, Tweetie Gonzalez??
Mom, can you send me the pictures later?" asks Alfonzo Gonzalez, 11, youngest son of Tweetie Gonzalez, after we finished the family pictorial in their lovely Alabang home. "I want to see how the dogs look."??
"I guess my love for dogs must have rubbed off on my kids," laughs Tweetie, who grew up caring for dogs. "I have four children: Sabina, 20; Lorenzo, 19; Nicolas, 16; and Alfonzo, and three fur kids: Simba the Chow Chow, 5; Tyson the Boxer, 1 1/2; and Bowie the Siberian Husky, six months."??
Tweetie, who is married to Jose Ramon "Mon" Gonzalez, president of Conmech Construction, says that being a mom is her priority in life today. And, yes, this also means being mom to her three fur kids.??
Super model and actress?
It is Tweetie's down-to-earth personality and unassuming nature that makes her such a delight to share pet love stories with.?
"Not too many people know that I love dogs," she says. "And that I have had a dog almost all my life — at every stage of my life."?
Although Tweetie's mom, Lourdes De Leon, was not a big dog lover, her late dad Tito de Leon and sister Lilith de Leon were. Lilith was a flight attendant so she would leave her dog with Tweetie and their dad.??
"Little Pepper, the Pekingese, gave birth to 13 pups (in two years)," shares Tweetie. " All of a sudden we had 14 dogs and thus began my love affair with dogs. I was 12 years old at the time."??
Tweetie's first dog was given to her by her dad. It was a mixed breed that she named Ginger. Ginger was her first dog love, but sadly Tweetie did not have her for long as the aso was run over — it broke her heart so badly. It was then that she knew dogs had to be a part of her life.??
Fast-forward to Tweetie starting her modeling career when she was in college. At the age of 20, she was named the first Ford Supermodel of the World-Philippines. This established her in the modeling world and also opened other doors for her.??
"I was already modeling at the time Okay ka Fairy Ko was offered to me," shares Tweetie. "I had broken into modeling, and I did a few projects that may have caught the attention of the producer of the show. I was offered the role of Faye (the love interest of the main character played by Vic Sotto), which was why I was very hesitant to take it because I had already fallen in love with my career and I didn't want it to be disrupted."??
Tweetie recalls that when she started modeling, she was part of a group that was trying to professionalize the industry. They wanted to revolutionize modeling so that being a model would be a career and not just a hobby.?But, as fate would have it, the show's producer, Tony Tuviera, and Vic Sotto convinced her to try out showbiz for just two months, "and then if you really don't like it, we'll accept your decision to leave," Tweetie recalls.??"I eventually agreed and extended my stay from two months to six years," she laughs. "I bid the show goodbye when I got pregnant with my first child."??
"Did you have a dog at that time of your life?" I ask.??
"Yes," is her quick response. She got a Chow Chow she named China.??"I was already working when I got China," she shares. "I always dreamed of having a Chow because I found the breed so cute. She was the gentlest Chow I have ever had. She was very feminine, very sweet. As you know, Chows can be very fierce because they are guard dogs by nature."??
Did she think that a Chow was a good breed for a model???
"No, not really. Even to this day I don't correlate my personal life with my career. Those are two very different identities," she shares.??
Is there a perfect dog breed for a model???
"I really don't know, but if we stereotype it, I think it would be a Poodle," she laughs. "Because Poodles are usually fashioned, groomed, dressed. They are known to be aristocratic and have a lot of elan."??
Yet, Tweetie was and is still partial to Chow Chows. And she makes sure that she cares for her dogs in a very personal way.??"China was with me almost all the time — during shooting for the TV show or rehearsals for modeling," she shares. "All my friends knew her."??
When China was about three years old she became very ill and it made Tweetie sick with worry. After all, China was like her first child. China being ill meant several trips to the vet for Tweetie. But her health deteriorated fast, so Tweetie had her confined at the veterinary clinic.??
"I left her in the hospital because I had work early the next day," shares Tweetie. "The next morning, I got a call from the vet apologizing that China had (passed)."??Tweetie recalls the incident like it happened yesterday. China spent three years with Tweetie and her death was something Tweetie could not handle. She had to beg off from work that day — a shoot for a show. Looking back, she says she was lucky she had a director who allowed her to grieve. She was 25 at the time.??
Another chapter, another dog??
How does a supermodel and TV personality have time to care for a dog??
"A model or even someone who comes out on TV can be stereotyped as someone who is always so poised," Tweetie says. "But in reality, most models are down-to-earth, funny, crazy, the most matakaw and most caring people one could ever meet, at least from my generation. Yet, no matter where my life took me — and what I got involved in — caring for dogs is always something I have to do, I want to do."??
Tweetie married Mon Gonzalez in 1995, and they lived with Mon's parents for the next nine years. At this time in her life she did not have a dog of her own as they were busy raising a family. But Mon's family is a dog-loving one and there were a few dogs in their home at that time.??
"They had a Rottweiler and a Boxer," shares Tweetie. "I had babies so I didn't have time to think about dogs as the kids came one after the other."??
Nine years and three kids later, Mon and Tweetie moved into their home in Alabang.??She was pregnant with Alfonso when she got a Chow Chow as a gift from her good friend Midas Marquez. At that time, Tweetie had also officially retired from modeling — and knew that is would be a good time to have another dog.??
"I named my Chow Chow Bruce," she shares. "By this time, I already knew exactly how to take care of a Chow Chow."??Bruce stayed with them for four years, but how she lost Bruce was very traumatic for her and made her vow never to have another dog again.??
"We went on a trip to the US for two weeks," she says. "When we were gone, Bruce got a cold and became very ill before we came back. When we got back, he had become very weak and we had to put him down. Bruce was four years old at the time."??
She recalls that on the day it was decided that Bruce be put down, she had to wait for the vet to get to their home. She was at home with Alfonso and it seemed like hours before the vet arrived.??
"I was sobbing so hard and Alfonso was following me all over," she shares. "We buried Bruce in the yard of this house — the place where he used to do his business."??
On to the next chapter and three dogs??
"After we buried Bruce I told my kids, my husband and my sister that I would never get a dog again," she recalls. "I will never, never get a dog again. I am not going to put myself through the agony."?
But Tweetie's sister, who knew her better, wanted to console her because she seemed inconsolable after Bruce's death.??After a few weeks of seeing Tweetie sad, her sister suggested that she meet a Chow-breeder friend who had pups. In the beginning Tweetie wasn't receptive to the idea because Bruce was like her fifth child and losing him was very hard.?
"My sister showed me a picture of the Chow pup," she says. "So, I took my whole family to Rockwell to meet with the breeder. 'Naku, patay na, hinawakan na ng mommy mo,' my husband Mon said."?
It seemed as if Simba knew that he had found his fur-ever mommy as he fell asleep in Tweetie's arms. That was in October 2011.??While raising a family, Simba included, Tweetie went on to become a host for seasons 3 and 4 of Project Runway. The last season was in 2014.?
"I don't consider myself a model anymore. Maybe there are a few times that I enjoy the privilege of being asked to be a fashion influencer, which I am grateful for," she says. "But what I am pursuing now is my design career for my jewelry. "?
Meanwhile, her husband said he wanted a Boxer because he had always had a boxer. "I said no because I am the one who is going to take care of the dog."??Enter Tyson the Boxer.??"After Tyson, I said no more. We have two dogs," Tweetie laughs.?
Now the family has three dogs: Simba, Tyson and Bowie.??As for her jewelry endeavor, she opened a store in Ayala Alabang called TDLG three years ago. She is also part of a group of designers called Manila Design Collective with Rhett Eala, Joey Samson, Rita Nazareno of Zazarias 1925 and Malou Romero of Joanique and a couple of Japanese designers, Sayoko Hokazano and Tsutomu Akamine. The group was formed in June this year.?
As for her jewelry designing, Tweetie shares that she likes working with natural materials, her trademark being kamagong wood.?"I put together things that I like," she quips. "I don't subscribe to trends so whatever raw materials I am able to purchase and source, I use. I prefer classic or timeless designs."?
It is late and our conversation returns to her kids and her dogs.?Which is harder to raise, kids or dogs? I ask.?
"Maybe the kids, because they reason out. Dogs don't," she says. "But they all love me. I get a lot of fulfillment from both my kids and my dogs — just in different ways."?
Tweetie, who will be turning 50 next year, seems to have a professionally rewarding life, and, more importantly, a happy and loving family life, dogs included.? What has life taught her after all these years??
"I have learned not to take myself too seriously," she says. "People who know me know how goofy I can be."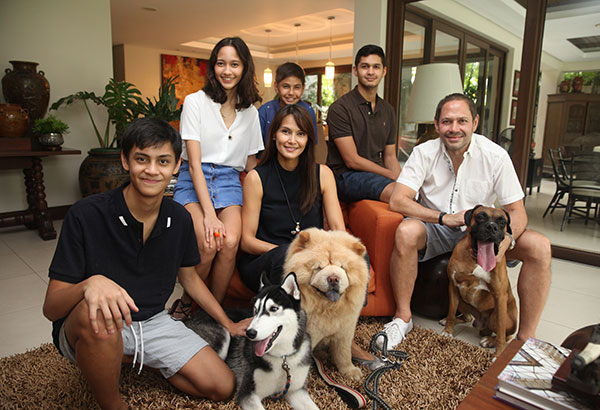 All together now (from left): Nicolas, Sabina, Tweetie, Alfonso, Lorenzo and Mon with Bowie the Siberian Husky, Simba the Chow Chow and Tyson the Boxer. Photos by JOEY VIDUYA