NAIA screener claims she swallowed chocolate not US dollars, Internet users react
September 25, 2023 | 3:39pm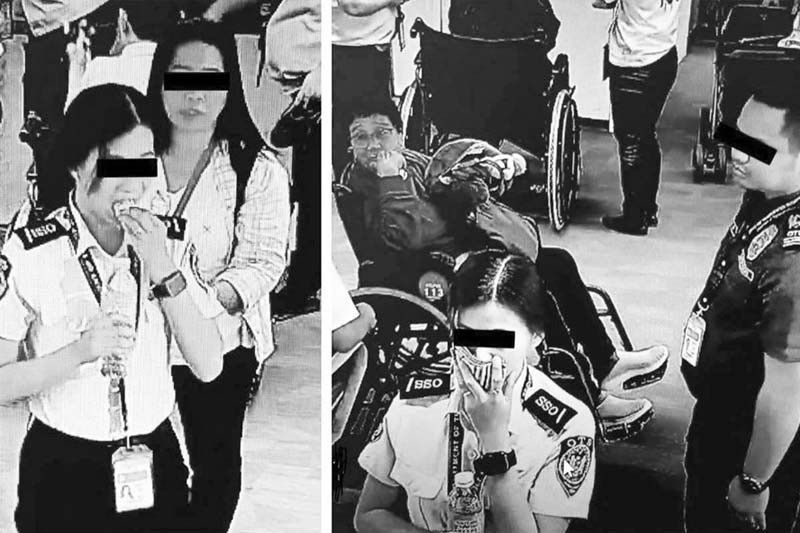 MANILA, Philippines — Social media users reacted on the viral video of an airport personnel allegedly swallowing US dollar bills.
Transportation Secretary Jaime Bautista recently called for a strong action against a security officer who was caught on closed-circuit television (CCTV) footage swallowing $300 in $100 bills allegedly stolen from a departing Chinese passenger at the Ninoy Aquino International Airport (NAIA).
The incident occurred on September 8 at NAIA Terminal 1 when a checkpoint supervisor reported the loss of $300 by a departing passenger named Mr. Cai.
Subsequent CCTV footage revealed a security screener taking money from Mr. Cai's bag during the security check.
Last Saturday, an Office for Transportation Security (OTS) screener accused of stealing and swallowing $300 filed a counter-affidavit claiming that what she was seen on CCTV putting into her mouth was chocolate.
Social media users posted on Twitter their reaction about the incident and her claim:
What does the vexing incident of the airport worker swallowing 300 dollars tell us?

We need leaders who actually have the moral authority to say "Thou shall not steal".

— Gideon Lasco (@gideonlasco) September 23, 2023
INVESTIGATORS FIND CONNIVANCE IN THE STEALING AND SWALLOWING OF $300 DOLLARS BY A SECURITY SCREENER, 2 MORE ALLEDGED COHORTS QUESTIONED, GM BRYAN CO & DOTR SEC JAIME BAUTISTA ASSURES PUBLIC SCALAWAGS HAS NO PLACE IN GOVERNMENT SERVICE @dwiz882newsroom, @dwiz882 , @agilapaliparan pic.twitter.com/5IcKZFYAcK

— raoul esperas (@raoulesperas) September 21, 2023
A female airport screening officer swallowing the 300 dollars that she stole from a Chinese tourist.

Sir Bing (Lao) would often talk about semiotics in filmmaking and jesus christ, this incident is full of tokens. pic.twitter.com/r6Sxva1ut1

— ardenrod (@ardenrod) September 21, 2023
she's seems have a hard life, isn't it

i think the effort to work to get same amout of dollar she's swallowed, is hardly as swallowing that dollars

— ?Carlito gurl? (@fifi_93x55) September 21, 2023
???? Dollar bills, dollar bills
Watch her swallowing it, that's the way she steals

She came here to grab some money, taking all your money
Grab some money, all these bills so yummy
Working in airports to steal all the things she likes
Dollar dollars dropping from her ass tonight???? https://t.co/8M9YvDzmFw

— reinna???? (@reinnabermudez) September 20, 2023