Viral baby celebrates first birthday with her favorite 'bee'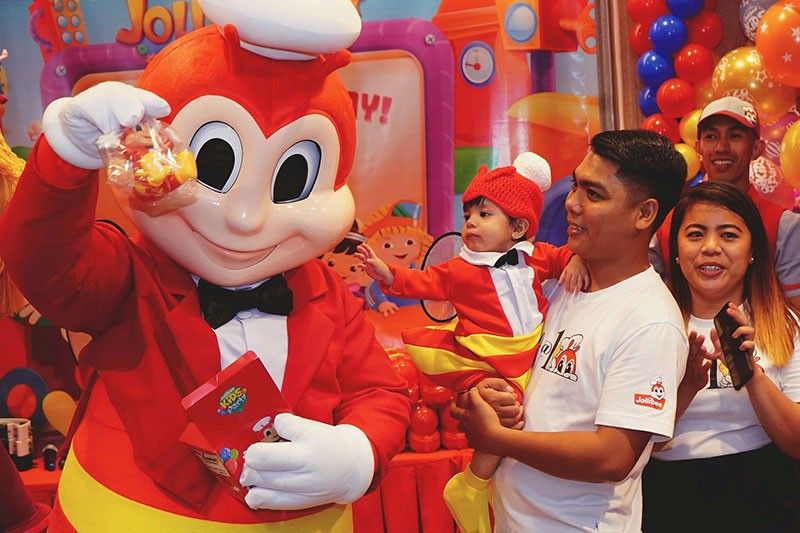 MANILA, Philippines — Over the past year, a baby, Kally Grae Formarejo, has received quite a buzz on social media — thanks to viral photos of her wearing different Jollibee-themed costumes.
Every month, photos of her showed the little one wearing a different Jollibee costume, as designed by her parents, Noriel and Jace Formarejo, both certified Jollibee fans, with Mommy Jace even sharing that she constantly craved for her comfort meals while she was pregnant with Kally Grae.
Small wonder she marked every month from her daughter's birth with a photo of her baby in a Jollibee costume — Crispy Fries, Cheesy Yumburger, Champ, Jolly Spaghetti, Chickenjoy.
With the Formarejo family documenting these adorable milestones, they are able to share the joy of their favorite fastfood chain with others, and it worked because those photos went viral.
To give back to the family, Kally Grae was gifted with her own Jollitown Theme Park Jollibee Kids Party for her first birthday. While the pandemic put a pause on the on its signature kids party for a few years, it has returned this year to once again share the joy with kids and kids-at-heart. The special first birthday for Kally Grae marks the comeback of this one-of-a-kind celebration.
During the party, Kally Grae dressed up in her own Jollibee costume. At the store was a photo gallery of her previous looks for every monthly milestone, including the most recent one for her first birthday — a photo of her standing inside a giant Chickenjoy bucket.
The party team made sure that Kally Grae, her parents, and guests had a joyful and memorable afternoon. She was sung a Jolly birthday song, treated to an energetic dance number, and she also received a lamp personally handed to her by its famous mascot, Jollibee. Friends and family had a great time joining in the fun with exciting programs and prizes and they also received special loot bags to bring home.
Apart from Jollibee, the party also got a special surprise from Hetty, Twirlie, Popo, and Yum, who all dropped by to celebrate with Kally Grae and her guests.
"On behalf of the team, I would like to express our biggest thanks to Kally Grae's family for making Jollibee a part of their long-lasting memories — may this Jollibee Kids Party be the first of many life occasions that you celebrate with us," said Kat Facun, Brand Manager of Jollibee Kids Marketing.
Facun added that their popular kids party is now officially back in stores nationwide.
RELATED: From crewmate to soulmate: Real-life love stories to watch