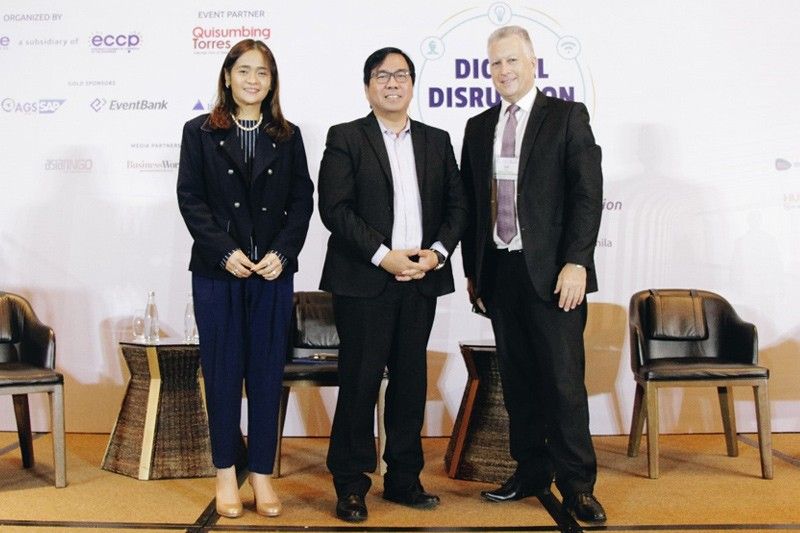 (From left) Atty. Divina Ilas-Panganiban, co-head from Technology, Media & Telecommunications Partner and Intellectual Property Practice Group of Quisumbing Torres; Rey Untal, president of IT & Business Process Association of the Philippines; and Erik Moller Nielsen, chairman committee at European Chamber of Commerce of the Philippines.
Photo Release
ECCP forum tackles importance of innovation to digitalization of businesses
(Philstar.com) - October 3, 2019 - 9:00am
MANILA, Philippines — To accelerate innovation in the business sector and evolve with the country's digital transformation, the European Chamber of Commerce of the Philippines (ECCP) brought together key stakeholders and decision makers both from the private and public sector at the recent Digital Disruption 2.0 Forum at Hilton Manila.
Themed "Harnessing Digital Transformation in Driving Business Growth," the forum tackled the initiatives necessary for organizations to realize the full potential of digitalization. With this, businesses can benefit and create an impact in the economy and society at an aggregate level.
According to a joint 2018 study conducted by the World Bank and International Data Corporation (IDC), approximately 40% of the country's GDP (gross domestic products) will be derived from digital products or services by 2020, imparted ECCP president Nabil Francis in his welcome remarks.
"In providing a platform for business leaders, digital experts, policy makers, and academe to converge, we are confident that today's discussions will help organizations be ready for digital impacts and bridge the gaps in digital skills," Francis said.
Organized together with law firm Quisumbing Torres, the Digital Disruption 2.0 aims to aid the government's digital journey through sessions, panel discussions, and open forums on Global and Local Digital Landscape and Philippine Competitiveness, FinTech, E-Commerce, Digital Factory and Smart Logistics, as well as E-Health and EdTech.
In his keynote speech, Department of Information and Communications Technology (DICT) Assistant Secretary for Administration Ivin Ronald Alzona encouraged individuals and businesses to harness the benefits of the fourth industrial revolution.
"We encourage businesses to partner with digital workers and entrepreneurs to ensure that there is inclusive growth, not only in the countryside but also in the ICT sector," Alzona said.
Atty. Divina Ilas-Panganiban, partner from Quisumbing Torres and co-head of Technology, Media & Telecommunications and Partner of Intellectual Property Practice Group also weighed in during the Forum's keynote session and discussed how the industry perceives global digital landscape.
"It is clear that we are at a turning point now, and it is imperative that we realize our role in fostering socially beneficial innovation and nurturing competition, but at the same time, preserving our human values," Atty. Panganiban said in closing.
"We need to only remember that we are rearing a generation of digital natives, those who grew up in the information age, who have the potential to usher in a new way of digital disruption. Our plans and priorities should reflect their aspirations and address their needs," added Alzona.
Led by ECCP Executive Director Florian Gottein, the event welcomed over 200 guests and speakers including Brig. Gen. Charito Plaza, director general of the Philippine Economic Zone Authority; Rey Untal, president of the IT and Business Process Association of the Philippines; Henry Aguda, senior executive vice president and chief transformation officer of UnionBank of the Philippines; Wee Tee Hsien, country general manager and vice president of Digital Services Asia from Iron Mountain; JP Palpallatoc, managing director for Digital Lead and Intelligent Data and Analytics Group of Accenture Philippines; Gabriel Lorenzo Santos, solutions advisor of SAP Asia PTE Ltd.; and Carlos Otermin Barrera, country chief operating officer of Lazada Philippines.