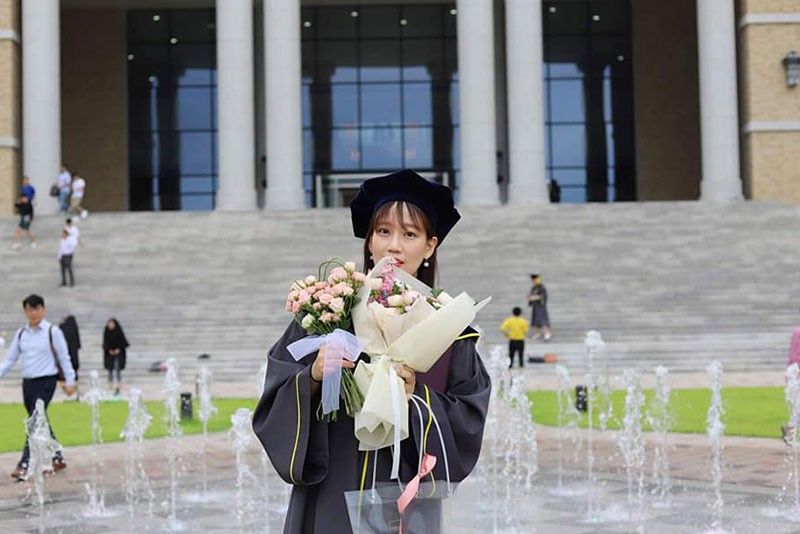 Jiyoon Kim
Facebook/Jovy Peregrino
'Mabuhay ka': Korean proudly graduates with degree in Filipino
MANILA, Philippines — A Korean recently graduated with a degree in Filipino from the Busan University of Foreign Studies in South Korea.
A Filipino professor, Jovy Peregrino of University of the Philippines Diliman, recently shared graduation photos of his student, Jiyoon Kim, also known as Kim Jeeyoon or by her nickname, Michelle.
"Pagbati… Kim Jeeyoon sa iyong pagtatapos sa Busan University of Foreign Studies major sa Filipino. Ikinararangal kita. Mabuhay ka," the professor told Michelle on Facebook.
In an interview with ABS-CBN News, Michelle said it is "a great honor" to have completed a course majoring in Filipino.
"I received lots of celebration from (people in the) Philippines who don't know about me before. It is (a) great honor to me," ABS-CBN quoted Michelle as saying.
Michelle recalled that when she was a freshman at the university's Division of Southeast Asian Studies, she had the opportunity to study various Southeast Asian countries, including the Philippines.
But it was in 2015, when she stayed for two months in Bulacan, that convinced her to major in Filipino.
In 2018, Michelle returned to the Philippines as a UP visiting student.
"My Filipino professor, Jovy, was super nice. He showed various sides of (the) Philippines to us," Michelle shared.
Last August 23, during the Buwan ng Wika, Michelle graduated with a Bachelor of Arts degree in Filipino.
"Mabuhay ka Kim Jeeyoon!" one of the many Filipino Internet users commented on Michelle's graduation photos.
"Salamat sa pagmamahal sa aming wika!" said another.
Michelle said that given the chance, she would love to work in the Philippines.
"I was so happy to study Filipino culture and language during my university days. All people I met in the Philippines are so nice and kind," she added.