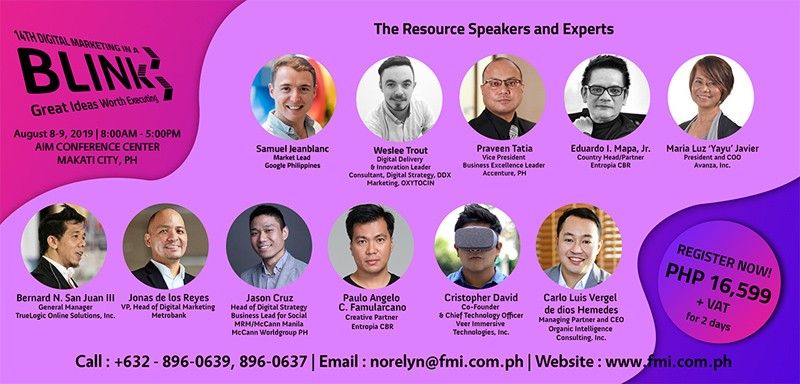 Catch meaningful and relevant insights on digital marketing during the 14th Digital Marketing In A Blink Seminar 2019.
Photo Release
BLINK Seminar 2019 offers updates, trends in digital marketing
(Philstar.com) - August 5, 2019 - 6:45pm
Manila, Philippines — This August, leading industry experts in digital marketing will gather to present thought leadership, trends, industry best practices and techniques during the 14th Digital Marketing In A Blink Seminar 2019!
To guide you in your digital strategies, catch these meaningful and relevant learning sessions on August 8 to 9 at the AIM Conference Center in Makati City.

Organized by Fiera de Manila, Inc., BLINK Seminar is designed and carefully crafted for CMOs, brand marketers, category managers, social media marketers, consultants, solopreneurs, network marketers, corporate marketers, advertising managers, digital directors, agencies, publishers, media, telcos, content providers, bloggers, e-commerce entrepreneurs, start-ups, digital marketing service providers, suppliers, government, academe, those involved in digital marketing and advertising, and those who want to establish relationships and network with fellow marketers.
Attendees can keep up with important trends that matter and know exactly how to successfully implement the latest techniques that will help in attaining the desired ROI in campaigns and ad creations, as well as in starting work on a new platform.
This year, the BLINK Seminar is focused on the following subjects:
Beyond Millennials: Connecting with Gen Z
How to Plan Your Content Marketing
How to Make Your Website a Lead Generation Machine
Automated Web Push Notifications - The Latest Secret Weapon of eCommerce
How Effective is Your Brand on Social Media
Video is a Must to Boost Traffic and Drive Conversions
Using Virtual Reality (VR), Chatbots, Voice Search
Determine Your Digital Marketing Maturity Stage and Level-Up
And many more!
Learn more about the 14th Digital Marketing in a BLINK Seminar 2019 by watching this video:
Don't be left out! Don't miss the latest trends in BLINK!
For more information, check out the website at https://www.fmi.com.ph/events/blink-seminar-august-2019/