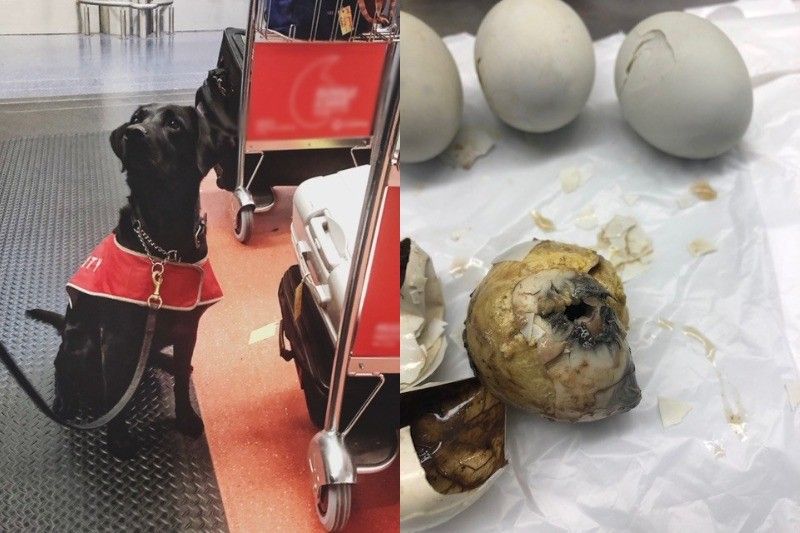 Eggs containing formed embryos locally called "balut" were detected by Australian Biosecurity's detector dog Tyla from the luggage of a Filipino passenger.
Australian Biosecurity/Facebook
'Eggs-tremely risky luggage:' Australian 'deteggtor' dog detects Filipino passenger's balut
MANILA, Philippines— Australian Biosecurity, the biosecurity team of Australian government's Department of Agriculture, recently reminded travelers of things that they cannot bring to the country.
The team made the reminder after a passenger from the Philippines arrived in Sydney airport with some "eggs-tremely risky luggage."
Last July 25, Australian security officers found "chicken eggs containing formed embryos concealed within a bag of peanuts, unknown fruit, green mangoes and fish stuffed with pork meat" brought by the Filipino passenger.
"Balut" is actually a fertilized duck egg and the photo posted by Australian authorities looked like duck eggs.
The eggs were detected not by machines but by a security detector dog named "Tyla."
Bringing in poultry products is prohibited by the Australian government.
"Safe to say biosecurity officers were shell-ebrating this great find by Tyla," Australian Biosecurity said.
Australian Biosecurity reminded the public that "eggs pose risk because they could be carrying diseases of concern."
"Most notably avian influenza. Also known as bird flu, this disease could significantly impact the health of Australia's poultry species and decimate our $2.9 billion poultry meat industry," the biosecurity team said.
"Meat products also pose a huge risk to our agricultural sector with the threat of foot-and-mouth disease (FMD) and African swine fever (ASF) currently spreading through other countries. Biosecurity is no yolking matter," it added.
The Australian Biosecurity keeps Australia free from pests and diseases present in other parts of the world.
It reminded passengers to visit the website of the Australian government's Department of Agriculture to learn more on what they can bring and mail to the country.
'Certain items could introduce serious pests and diseases into Australia'
"Certain food, plant material and animal items from overseas could introduce serious pests and diseases into Australia, devastating our valuable agriculture and tourism industries and unique environment," the Australian Department of Agriculture said.
"Before you bring or mail goods to Australia for your use or the use of family and friends check that it is allowed into Australia," it added.
The agency also reminded passengers that food, plans and animal items should be declared in the Incoming Passenger Card during their arrival.
"You can take these declared goods with you to the clearance point where they will be assessed by a Department of Agriculture biosecurity officer and may be inspected. Alternatively, you can voluntarily dispose of food, plant material or animal items in bins located in the terminal," the agriculture department said.
"When you send mail to Australia, you must accurately declare the contents of your package on the postal declaration label," it added.