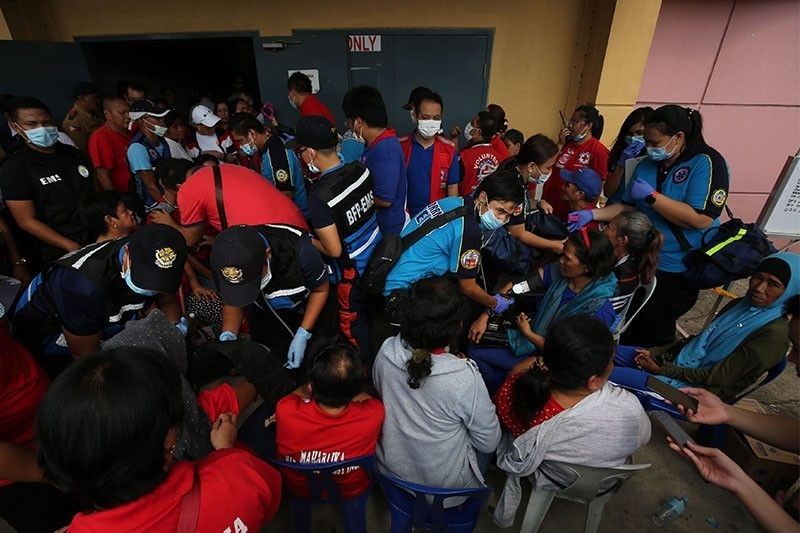 Eight Philippine Red Cross ambulances responded to an alleged food poisoning in a private celebration at the Ynares Sports Complex on Wednesday afternoon.
The STAR/Michael Varcas
Party pooper: Imelda's birthday celeb isn't the first time food poisoning spoiled a Marcos bash
(Philstar.com) - July 3, 2019 - 2:02pm
MANILA, Philippines — Hundreds of Marcos supporters fell sick at the birthday celebration of former First Lady Imelda Marcos on Wednesday, but it was not the first time food poisoning spoiled guests' festivity—as the family apparently are unscathed—in a Marcos-led revelry.
After news broke out that ambulances were sent to the Marcos matriarch's party Wednesday due to a "food poisoning" emergency, the anonymous social media page "Did a Marcos Lie Today?" pointed out that the same thing happened at an event of the late dictator's family years ago.
Masusuka at matatae ka talaga sa mga Marcos. Hindi ito ang una at malamang hindi rin ito ang huli. Noong June 11, 1983, sa kasal ni Irene Marcos kay Greggy Araneta, sa kabila ng milyong pera ng bayan na nilustay para sa "wedding of the century," ganito rin ang nangyari. pic.twitter.com/sHkor2tft2

— DID A MARCOS LIE TODAY? (@did_lie) July 3, 2019
Imelda's birthday
Lawyer Larry Gadon, a known loyalist of the family, claimed that the event on June 4 was organized by some 2,500 supporters.
At past noon, Red Cross Philippines reported it sent eight ambulances to respond to a "food poisoning" emergency at the Ynares Sports Complex in Pasig City.
Gadon claimed that the family matriarch was unaware of what happened to hundreds of her guests.
Food regulatory agencies, as well as hospitals, have already taken food samples at the event—supposedly prepared by caterers picked by the organizers—to determine what specific food was spoiled.
Health Secretary Francisco Duque III said the Rizal Medical Center is expected to release test results Friday afternoon.
READ: 306 still in hospital due to suspected food poisoning from Imelda Marcos' birthday event
Marcos-Araneta wedding
Quoting from Carmen Navarro Pedrosa's "Imelda Marcos: The Rise and Fall of the World's Most Powerful Women," the social media page said several guests also fell ill during Irene Marcos' wedding to Gregorio Benitez Araneta in 1981 due to food poisoning.
Social historian Augusto "Toto" M.R. Gonzalez III corroborated this story in his Sept. 19, 2009 blog post titled "Remembrance of Things Awry."
Pedrosa, in her 1987 book, said: "People came away from the wedding revolted by the bacchanalian feast, and some vomited not just with disgust but also because the food was rotten."
"A news item later reported there had been large-scale food poisoning at the wedding, caused by salmonella from food that had traveled too long from Manila to Sarrat," she added.
Gonzalez, in his blog post, recalled the lavishness of what was dubbed as the "wedding of the century" meant to rival the "superproduction on the scale of British royal weddings."
Gonzalez said that among those who left the event with an upset stomach were industrialist Enrique "Enzo" Zobel and couturier Pitoy Moreno. News of Zobel's suffering from bad stomach, in particular, quickly made rounds in business, political and social circles, the post added.
He said: "The guests remembered that drinking that purified drinking water had run out during the reception so they conjectured that the local, mineralized water of Sarrat could have caused the upset stomachs of the Manilans." — Kristine Joy Patag