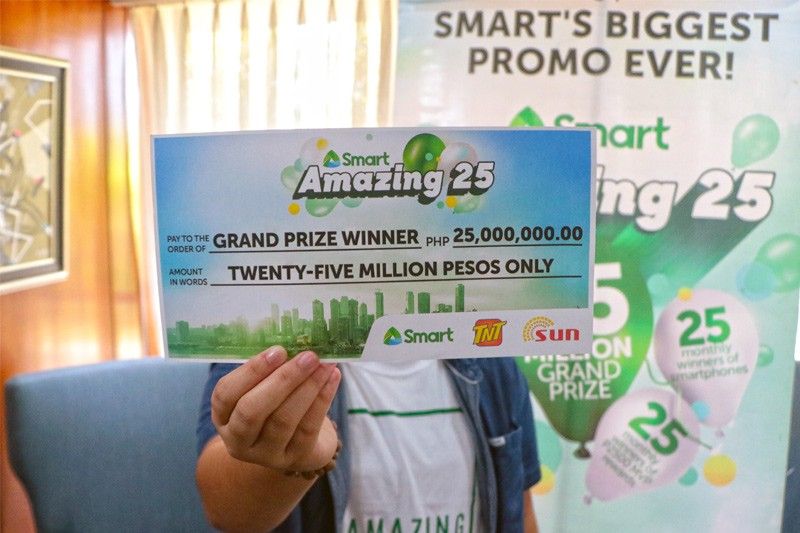 Grand prize winner, whose identity has been withheld for privacy and security reasons, claimed the check at the PLDT headquarters in Makati City.
Photo Release
Smart subscriber from Leyte wins P25M raffle grand prize
(The Philippine Star) - April 29, 2019 - 12:00am
LEYTE, Philippines — An amazing thing has happened to a 27-year-old Smart subscriber from Leyte, but until recently she had no idea about it.
She became the grand prize winner of the Smart Amazing 25 raffle promo, which culminates the 25th anniversary celebration of PLDT wireless unit Smart Communications.
The check for the P25 million grand prize was presented by Manuel V. Pangilinan, president and chief executive officer of PLDT-Smart, to the lucky subscriber at the PLDT headquarters in Makati City.
The winner, whose identity has been withheld for privacy and security reasons, is a working woman who bagged the prize among the millions of Smart subscribers who joined the raffle. She simply dialed *121#, chose AMAZING 25 on the menu, and followed the steps to confirm their registration.
She was at work when she received the notification of her win. Earlier that day, she was worrying about her employment status because of impending organizational changes at her workplace.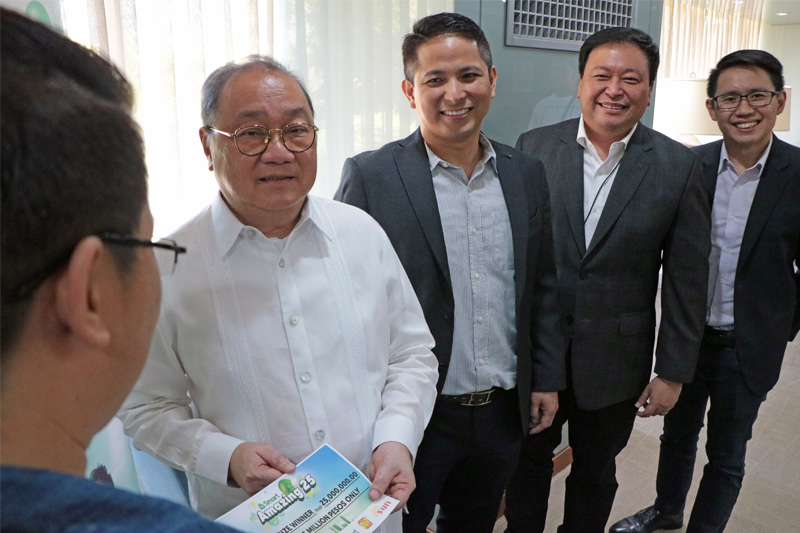 Manuel V. Pangilinan, along with PLDT-Smart executives Oscar Reyes, Andrew Santos and Carlo Endaya, awards the check to the grand winner of Smart Amazing 25 raffle. Photo Release
"I was sitting in a corner wondering if I'll be absorbed by the new management. Where will I find a new job? Those were my thoughts before the letter from Smart arrived," she recalled.
"There were times I would just look at my parents and think, when can I give them a better life?" said the Leyteño, who lives with her parents, two siblings and their partners, as well as their children.
She plans to use her winnings to rebuild their house which was hit by Super Typhoon Yolanda in 2013.
"We lost everything after Yolanda and we haven't gotten around to fixing our house since," she said. They just picked up leftover scraps of metal and wood to restore what was left of their home.
She will also use the money for her sister's school expenses and for a farming and piggery business she intends to start. The rest of the funds will go to her savings account.
The winner has been a subscriber of Smart brands for 14 years. A frequent data user, she avails of the GIGA 50 data bundle every two days. She uses mobile data for messaging, video calls, internet surfing, social media, and streaming videos and music.
She leads hundreds of winners from previous draws which began last December. These lucky Smart users won brand-new smartphones, MVP Rewards points worth P2,500, and 25 GB data.
They came from all over the Philippines, from as far as Isabela, Nueva Ecija, Tarlac and Pangasinan in the north, to Cebu, Iloilo, Leyte and Zamboanga in the south. There were also winners from Metro Manila, Batangas, Bulacan, Cavite, Laguna, Pampanga, and Palawan, among other provinces.
"Through the Smart Amazing 25 raffle promo, we want to show our customers that being a Smart subscriber is rewarding in many ways. Not only do they get the Philippines' fastest mobile data network and a reliable connection, they can also win amazing prizes," said Andrew Santos , first vice president and consumer marketing head for PLDT-Smart.
Santos also said the raffle was one of the ways Smart gives thanks to its customers: "We want to thank our subscribers for their loyalty over the years. Congratulations to our big winner and everyone else who received amazing rewards!"
"Thank you Smart because this will really change our life. I prayed hard for this opportunity," the Leyteño said. "I hope Smart will be able to help more people."
Find the complete list of winners here: https://smart.com.ph/Corporate/amazing25.
To know more about Smart and its latest offerings, visit smart.com.ph and follow the official accounts on Facebook (www.facebook.com/SmartCommunications), Twitter, and Instagram (@livesmart).