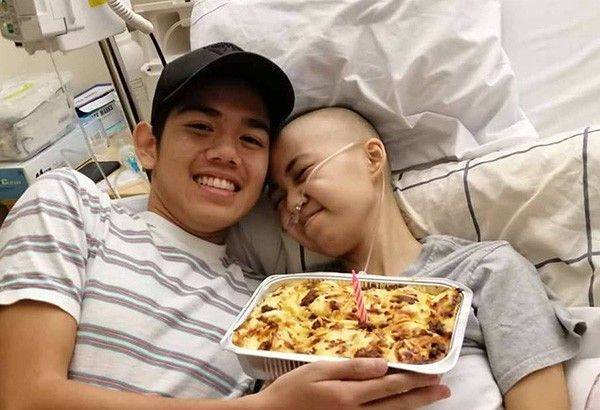 Gab Sta. Ana and Maxine Blanco
Facebook/Gab Sta. Ana
Girl with cancer in viral love story passes away
MANILA, Philippines — Maxine Blanco, the 19-year-old University of Santo Tomas student who recently became viral on social media for her story of love, succumbed to cancer last Saturday.
In his Facebook account, boyfriend Gab Sta. Ana announced Maxine's passing.
"Max fought hard and I'm thankful for everything. No more pain, no more suffering. She might left us, but her spirit will always be here. I love you Maxine," Gab wrote.
Live Life To The MAX, a fan page dedicated to Maxine, also announced the death of the UST student. The page is moderated by Maxine's relatives.
"3pm...the hour of the divine mercy. Maxine earned her angel wings and slowly going up in heaven. For sure all the other angels are thrilled in welcoming her. No more pain Baby Girl. We love you very much Maxine," the page declared.
Gab posted photos of him and Max last March 20, which become viral last week. In the post, Gab shared how he met Maxine when he was only 14 and the ups-and-downs of their relationship, including how they fought for each other and what they did upon learning Max had stage 4 bone cancer.
The post now has 108,000 reactions, 141,000 shares and 14,000 comments.
In a "Rated K" feature, Gab described Maxine his "one great love" that he was keen to marry.
Max's remains lie in a chapel in Christ the King Parish in Green Meadows, Quezon City. She was supposed to turn 20 on March 31.