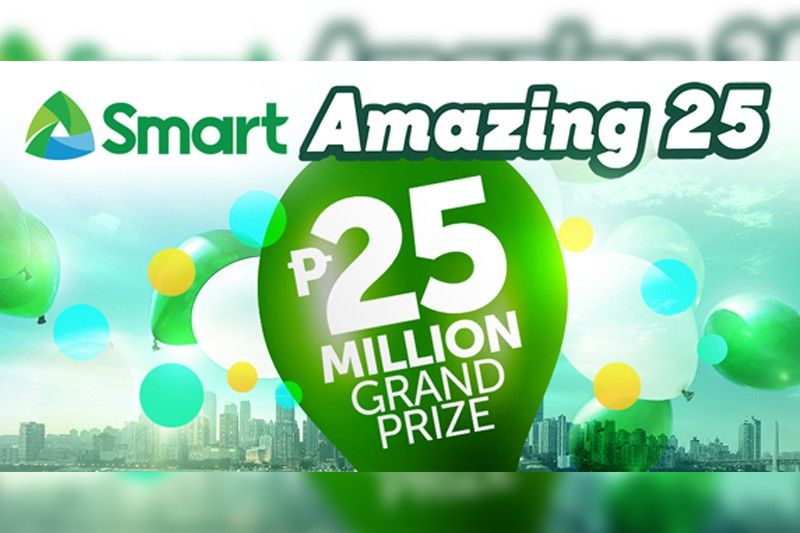 Smart Communciations celebrates its anniversary with its biggest raffle promo yet.
Released
Now's the last chance for Smart subscribers to be P25 million richer!
(Philstar.com) - February 22, 2019 - 7:23pm
MANILA, Philippines — The big countdown to the "Smart Amazing 25" grand raffle is on, and it's time to grab your last chance to win P25 million cash and other exciting prizes!
Smart Amazing 25 is part of the 25th anniversary celebration of Smart Communications, the mobile arm of leading and trusted digital services provider, PLDT.
"It's our way of rewarding our customers all over the country, who continue to inspire us in our mission to deliver services and solutions that help improve their lives and give them amazing experiences," said Andrew Santos, first vice president and consumer marketing head for PLDT-Smart.
"What better way to celebrate this milestone than with a P25-million cash grand prize - our biggest raffle prize ever that will surely change the life of one lucky subscriber! In addition to the grand prize, we've also lined up other exciting raffle prizes and instant bonuses for the rest of our customers," Santos said.
The Smart Amazing 25 raffle promo is open to all Smart Prepaid and Smart Postpaid subscribers; Sun and TNT subscribers are also eligible.
To join, Smart, TNT and Sun subscribers must first complete the one-time registration: Simply dial *121#, choose AMAZING 25 on the menu, and follow the steps to confirm the sign-up. Once registered, subscribers can start earning and accumulating raffle entries for a shot at winning amazing prizes.
Better chances of winning
All prepaid subscribers can earn raffle entries with whenever they register to prepaid promos via retailers or text registration. As a bonus, subscribers using *121# to register to prepaid promos can earn more entries.
The select prepaid promos include Giga Surf, Giga Surf Plus, All Out Surf, and Game Time for Smart; Surf Saya, Gaan Surf, Panalo Combo, Panalo Data, Giga Surf and All Out Surf for TNT; and Sulit Surf Plus, Big Time Data, Non-Stop Surf, Giga Surf and All Out Surf for Sun.
Meanwhile, all postpaid customers with active accounts that do not have outstanding balances can earn raffle entries by paying their bills in full and on time. Every P1,000 worth of payment is equivalent to 100 entries.
Postpaid customers who purchase select add-ons such as Giga Surf offers for Smart; Social Bundle 199, Chat Bundle 249, and Non-Stop 450 for Sun, can also earn additional raffle entries.
All raffle entries accumulated within the promo period are qualified for the grand draw. On the other hand, raffle entries earned for monthly draws for brand new smartphones, MVP Rewards points, and mobile data will reset every month.
Amazing monthly bonuses
As an added treat, all Smart, Sun and TNT prepaid subscribers will also enjoy a Smart Amazing 25 instant bonus in the form of texts, calls, or data every month until February!

To redeem your Smart Amazing 25 instant bonus, simply dial *121#, choose 'Celebrate Smart Amazing 25,' then choose 'Get My Bonus Now.'

What are you waiting for? Give Smart Amazing 25 your best shot by registering to the promo and accumulating as many entries as you can!

To know more about Smart Amazing 25 raffle promo, visit www.smart.com.ph/amazing25 and follow Smart's official accounts on Facebook (www.facebook.com/SmartCommunications), Twitter and Instagram (@livesmart).