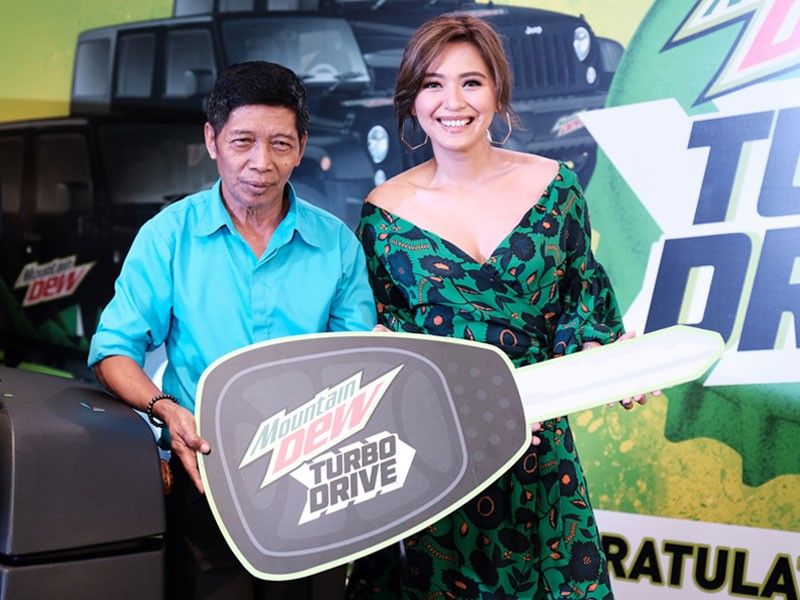 Lucky winner Carmelino Modequillo went home with a brand-new Jeepney Wrangler.
Released
Mountain Dew announces its first grand winner in 'Turbo Drive' promo
(philstar.com) - July 7, 2018 - 9:28am
Have you ever imagined cruising down the highway in a Jeep Wrangler? For lucky winner, Carmelino Modequillo, this dream just turned into reality with just Php8 because of Mountain Dew's Turbo Drive promo.
Recently, Mountain Dew announced Mr. Modequillo as the first grand winner of the Jeep. Built to take on even the roughest terrains with its all-new features, it will surely elevate and turbocharge the fun in his next adventures. Until July 31, thrill seekers like you still get a chance to win more than 1 million pesos worth of prizes. With every purchase of Mountain Dew, you can win all-day data and all-day text, a Honda Wave 110R motorcycle daily, and even a Jeep Wrangler Unlimited Sport!
Simply buy specially marked Mountain Dew bottles, and check under the crown or label for an eight-digit code. To register your entry into the raffle, just text the following:

Hurry and head to the nearest sari-sari or convenience store to get a chance to grab those prizes! You can be the next lucky turbocharged thrill seeker as Mountain Dew is announcing more winners of 30 Major Prizes daily, and two Grand Prizes to be drawn on July 10 and August 1, 2018.
For the full terms and conditions, and more information on the Mountain Dew Turbo Drive promo, visit www.facebook.com/MountainDewPH.