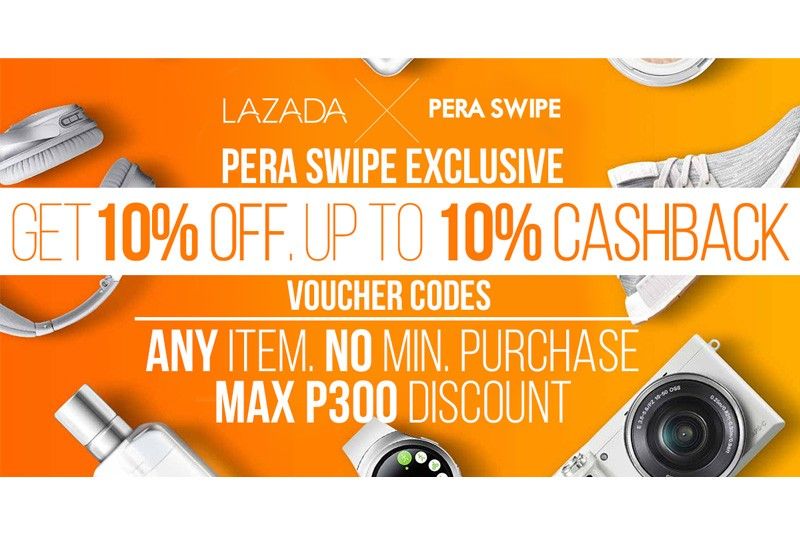 Pera Swipe users can now enjoy 10-percent off on their Lazada purchases using exclusive voucher codes that are available on the rewards app until end of June.
Released
Pera Swipe makes mark in online shopping market with unbeatable deals
(Philstar.com) - June 15, 2018 - 10:56am
MANILA, Philippines — Pera Swipe, a patented lock screen rewards app exclusively available in the Philippines, and Lazada, the top online shopping mall in the country, have officially formed a partnership to unlock greater benefits for the Filipino online shopper.
Pera Swipe users can now enjoy 10-percent off on their Lazada purchases using exclusive voucher codes that are available on the rewards app until end of June. The discount gives customers up to P300 off on their purchase, with no minimum spend required.
To add to this, for each Lazada voucher redeemed, Pera Swipe users will get a 5-percent cashback that will be credited to the users' Lazada e-Wallet account.
Through its patented technology, Pera Swipe is the first and only app in the country that will be providing Lazada perks in as easy as a lock-screen swipe. This is definitely the best way for users to get their favorite Lazada products at their doorstep and save money at the same time!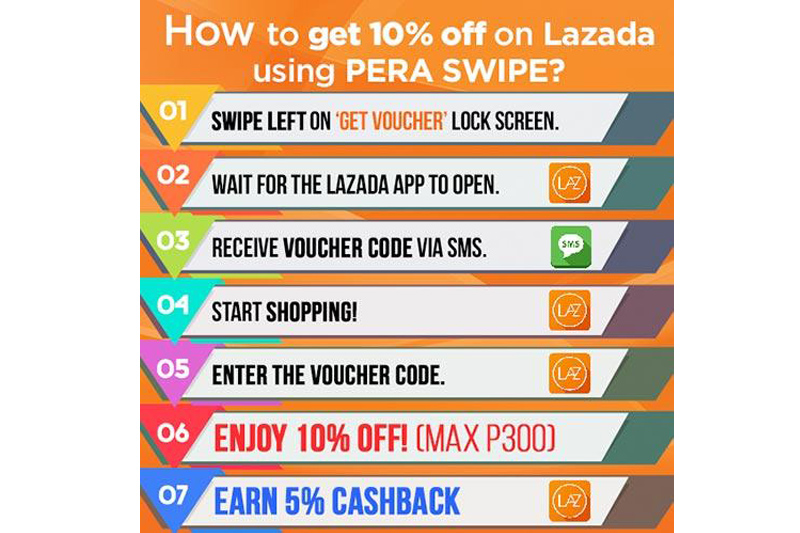 The Rewards of rewards-based ads
In the two-year long study of Tapjoy and comScore (2016), 25,000 participants examined the 14 campaigns across a wide variety of industries, including brands such as Olive Garden, Dodge, LEGO, and Sephora.
According to the study, incentivizing users to view ads results in a more than seven-fold increase in awareness, twice the ad recall, and four times the message association. It also asserts that the method of advertising leads to triple the brand favorability, 1.4 times the likelihood to recommend, and more than double the purchase or consideration intent.
In line with this, more global companies go for a digital platform with an online rewards system. Certainly, it implies vast market reach at a more rapid rate. It eminently captures the audience's attention and emotions given its absolute contents and benefits.
A game changer for brands
In this fast-paced world, new digital platforms are constantly evolving, and it is actually a challenge to choose the right one that will strengthen your brand's overall presence to attain a great turning point into the digital realm.
Today, Pera Swipe of Mobino Inc. has innovated the course of digital marketing of various brands in the country.
According to Mobino Inc. COO Andre Kwon, the Android mobile app has already reached more than 1,500,000 downloads in just one year and is the very first commercial app supported by Facebook's FbStart program in the Philippines.
The app has also partnered with top companies such as Lazada, 7-Eleven and Sodexo, as well as with leading ad agencies namely GroupM, OMD, 5d and Havas.
Likewise, the mobile app has helped push successful promotions for prominent brands, including SM Supermalls, Globe, Smart, LG, Coca-Cola, McDonald's and Maxicare to name a few. This is a testament to the fact that diverse industries are becoming more and more dynamic in terms of promotional strategy with digital rewards platform solutions.
Through Pera Swipe, any kind of business can promote its brands competently and efficiently. It does not just display full screen promotional contents on every user's lock screen, but also engages the market to patronize and connect to each brand by giving away free points and rewards to avail the products or services of their partnered clients.
Furthermore, such digital integration allows Filipinos to be up-to-date and to learn from the latest trends.
With a mobile app that fosters user-friendliness and learning encapsulated by its unique functionality, this is the ultimate digital platform to opt for in bringing advancement for different brands.