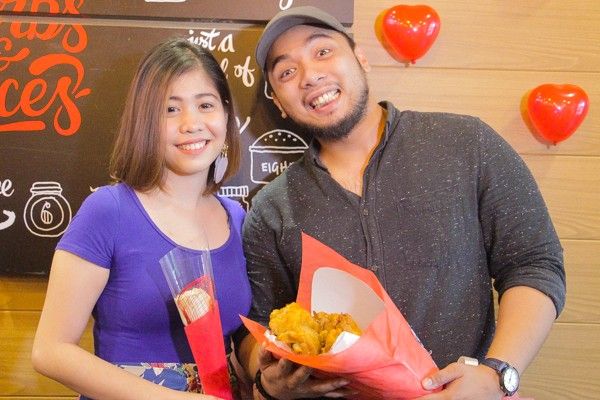 It was an unforgettable Valentine's Day for Kraig Lazarte as he got surprised by his wife Guia with a Valentine's bouquet but not of flowers!
Philstar.com/Erwin Cadagas
LOOK: Husband receives a Valentine's bouquet – of fried chicken!
MANILA, Philippines — It's not every Valentine's Day that men receive gifts and surprises from their partners — after all, they are usually the ones on the giving end.
But today was different for Kraig Lazarte, who was surprised by his wife Guia with a Valentine's bouquet but not of flowers! What's the special "ingredient"?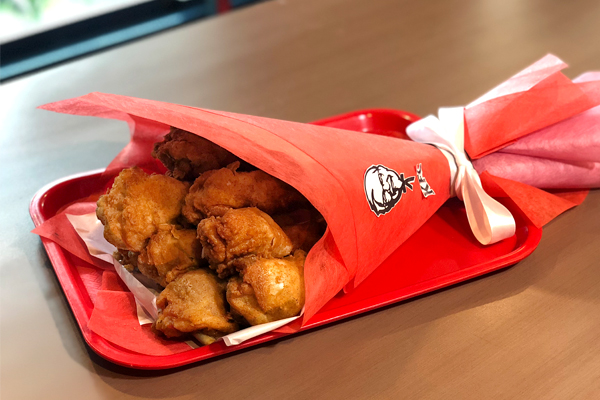 A bouquet of KFC fried chicken? Yes!
"Kraig is really a good husband and he deserves nothing less. So, I really thought about something that he would really love, something unique, and not just a gift that anyone can buy in the mall," Guia told Philstar.com.
The result: a bouquet of KFC fried chicken, which her husband loves eating. Guia knows well that the way to a man's heart is through the tummy.
First Valentine's as husband and wife
According to Guia, she decided to surprise Kraig because it's their first Valentine's Day as husband and wife. They wed in August 2017.
"It's our first Valentine's Day as husband and wife and I really wanted to make it special," she said. "It may be rare for a woman to initiate a sweet surprise but I am blessed with my husband, I love him so much and he deserves this, so why not? Being a woman should not stop us from expressing love to our husbands even if it's not the norm."
Helping Guia express her love further was an unexpected supporter, KFC. At first, she just called the food company's customer service and emailed her request. What happened next was beyond her expectation.
"I thought I will be doing the chicken bouquet alone but I'm so happy that KFC decided to support me all the way!" Guia recalled.
As a fan, Kraig even arranged a pre-nuptial pictorial with KFC in the background. He also celebrated his 25th birthday in KFC in 2016, which was also a surprise organized by his family. The successful Valentine surprise today would be the latest in his unforgettable KFC moments.
It started with a crush
Kraig and Guia's love story was for the books. In her interview with Philstar.com, Guia shared that they both worked for an international bank, and shared the same office floor.
"I see him in our, lobby, breakout area and car park until he became my crush. I just smile every time I see him but I make sure he won't notice me looking or smiling at him," Guia said, not knowing that Kraig too had a crush on her.
One time, Kraig opened the door for Guia. "I looked at him, smiled and thanked him. He just looked down and said 'Sure.' I thought he would not be interested at me or even notice me. But, little did I know. I was his crush too!" she gushed, feeling the "kilig" all over again.
The two finally got introduced by a mutual friend, and from there, started talking frequently and going out together.
"Our friendship blossomed naturally. We were just happy and better together. He really made an effort to see and spend time with me," said Guia.
"I could tell you a lot of stories on how we really fell in love with each other and still those are not enough to explain it. You just know it when you know it," she added.
Seven months into their relationship, Kraig proposed, and Guia gave her yes. It was her answered prayer.
"He's more than what I've been praying for. He loved the Lord more than he loves me. Finally, I met a man who will not just hold my hand in this life's journey but also a man who wants God to be the center of our lives and relationship," she said.
The married life
Six months into their marriage, Guia said that living together has been nothing but great despite some adjustments. She now works at home and freely manages her time for future business ventures. She gets to learn more about cooking, read books about interior design, and prepare for their dream home.
Every day, the couple gets to express their love for each other even through simple and little things. She shared, "I cook and prepare his packed lunch for work. Kiss and greet him happily every time he comes home from work. I also make him coffee whenever I can. On the other hand, he helps me with the chores, and even tries to cook for me too. It could be as simple as spending time with each other even if we're doing nothing."
Lastly, the doting wife knows that they will face challenges along the way, but with God at the center of their marriage, she also believes that they will overcome.
"Always choose to love each other even in those times when you struggle to like each other. In every argument, always speak to restore and not to destroy, don't sleep on it and most importantly, pray. We try to hold each other's hand too in the argument even if it's a bit hard. Holding each other keeps us calm and we pray to start and end our day," said Guia.