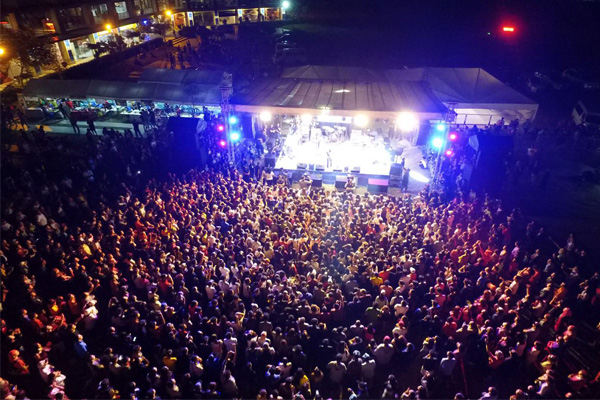 About 7,000 concertgoers were treated to a rock concert featuring local rock acts like 6cyclemind, Gracenote and more! Lancaster New City/Released
Rock concert in Cavite welcomes New Year with a bang
(philstar.com) - January 30, 2018 - 4:55pm
MANILA, Philippines — The young and young at heart welcomed the New Year with a bang at The Square's "Happy New Year Music Fest."
Held at the Central Greens in Lancaster New City, Cavite last January 13, the free concert welcomed about 7,000 attendees who rocked to the tunes of popular OPM rock acts such as 6cyclemind, Imago, Gracenote, Stellar, Banda ni Kleggy and Better Days.
The concert-goers enjoyed almost five hours of non-stop good music. Some lucky fans were even chosen to join the bands for a meet and greet and photo opportunities.
Capping the night was an amazing pyromusical display. Needless to say, everyone went home happy!
Also watch The Square's live Facebook footages from the concert like Gracenote's cover of "When I Dream About You" and more!
More festivities to come
Located inside Lancaster New City, The Square is a community mall and lifestyle hub with dining, shopping and entertainment establishments. It is home to the Central Greens, an events area where the Happy New Year Music Fest took place.
And the concert is just the first from The Square's line-up of events for 2018. It is looking at bringing bigger and brighter activities for the residents of Cavite — and everyone else — to enjoy.
As we await these exciting events, we can also visit The Square for some fresh air at Central Greens where we can relax and unwind away from the hustle and bustle of the metro.
READ MORE:
Lancaster New City celebrates Christmas, the charm of Cavite