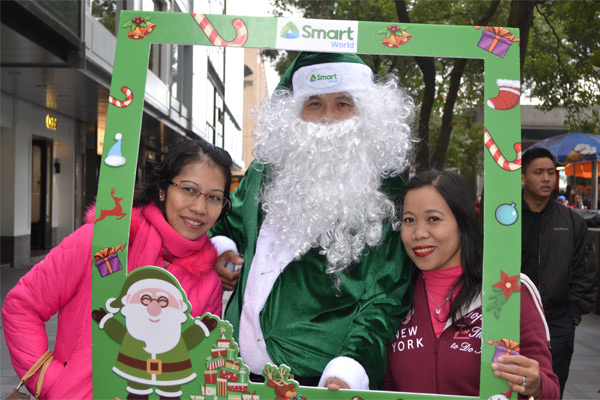 This series of Christmas activities is part of a broader effort of PLDT Global and Smart World to make fun and memorable experiences for OFWs and their families. Smart/Released
Overseas Filipinos, families receive Christmas surprises from Smart World, PLDT Global
(philstar.com) - December 22, 2017 - 3:30pm
Overseas Filipino workers (OFWs) sacrifice and work hard all year round for their families back in the Philippines.
To recognize their efforts, Smart World and PLDT Global came up with a Christmas Campaign celebrating the dedication, resilience and love for family of OFWs through a series of Christmas activities and surprises both here and abroad.
"This is one way of paying tribute to the many sacrifices that our countrymen overseas have to endure to provide a better life for their families. Christmas is a season of giving back, and this year, we thought of making it extra special for them, to hopefully make them feel that they are not alone in their journey," PLDT Global President and CEO Kat Luna-Abelarde said.
Pamaskong Hatid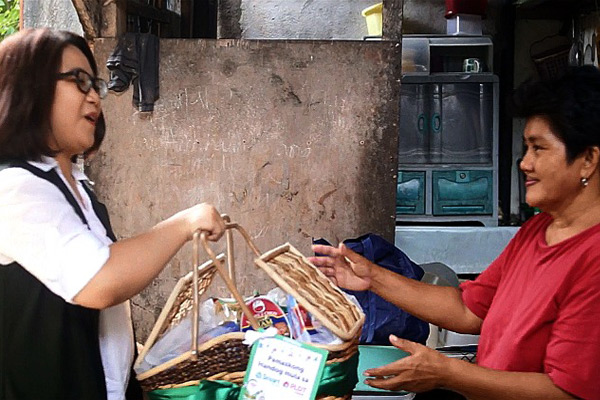 A Smart World ambassador delivered a Noche Buena basket to Luisa Hinagpis at their residence in Cabuyao Laguna, granting the wish of her daughter Aireen Hinagpis in Hong Kong. Smart/Released
As early as October, Smart World surveyed OFWs on what they would like to give their families this Christmas. The wishes of 10 OFWs were granted, surprising their families in the Philippines with Noche Buena gift packages — even if they could not come home.
One of those who received the Christmas basket is Emma Villacrusis. Her sister Marites has been a domestic helper in Hong Kong for four years, and so Emma is left to care for her six-year-old nephew, Marites' son. With the Noche Buena package delivered, Marites' wish for her sister Emma and son Ace to have a festive Christmas Eve dinner is granted.
A Smart World ambassador also delivered a Noche Buena basket to Luisa Hinagpis at their residence in Cabuyao Laguna. This granted the wish of her daughter, Aireen Hinagpis who is an overseas Filipino in Hong Kong.
Pamaskong Salubong
Meanwhile, OFWs who came home last December 15 were greeted with surprises from the Smart World Christmas Tree.
Those who arrived at NAIA Terminals 1 and 3 all had the chance to pick prize envelopes from the Christmas tree. The prizes included Smart World phone stands, snack packs, gift certificates and Christmas baskets, with four lucky winners taking home iPhone 6 units.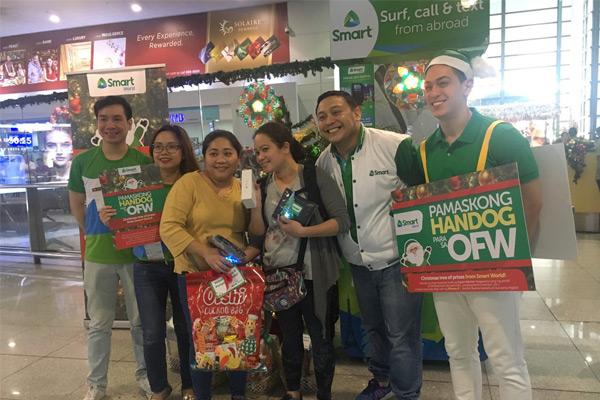 OFWs who came home last Decemeber 15 were greeted by Smart World Ambassadors with surprises, which included gift baskets, gift certificates, snack bags, phone stands, and iPhone 6 units. Smart/Released
Lynnie Oclarit had been working as a factory worker in Taiwan for 10 years and had come home for first time to spend Christmas in Camiguin. So imagine her surprise when she picked a prize envelope, to find "iPhone 6" written on the slip of paper inside.
"Maraming salamat talaga sa Smart! Ito talaga ang unang beses kong magkaroon ng ganitong klaseng phone," Oclarit said. "Hindi ko na kailangan bumili ng pamalit sa basag-basag kong unit. Merry Christmas talaga!"
Other overseas Filipinos and arriving passengers also received Christmas lighted decors distributed by Smart's Community Team, as part of their Christmas Delights campaign. Travel kits were also given to arriving passengers who topped-up at least P1,000.
Gift-giving in Hong Kong
Unsuspecting OFWs hanging out at World Wide House and Chater Road in Hong Kong last December 17 were surprised by the Green Santa and his helpers.
The OFWs enjoying their rest day milled around the Green Santa as he distributed goodie bags containing treats, reload vouchers and Smart World gift items. For those who could not make it home this Christmas, the Green Santa and his helpers made sure to spread some Christmas cheer to them.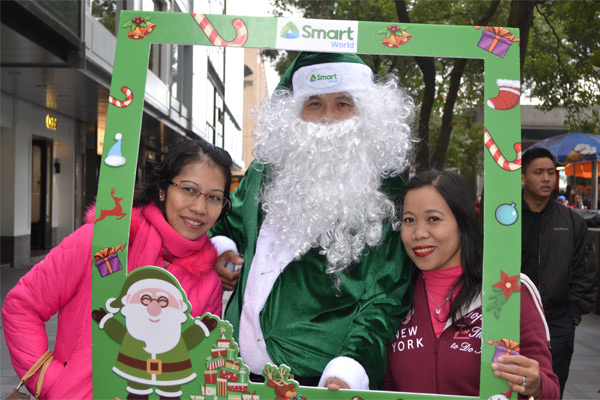 OFWs who were hanging out at Chater Road and World Wide House in Hong Kong last December 17 were given goodie bags and prizes by Green Santa and his elves. Smart/Released
Cheer for the modern-day heroes
This series of Christmas activities is part of a broader effort of PLDT Global and Smart World to make fun and memorable experiences for OFWs and their families, to recognize the sacrifices they make for family and country.
"Our mission is to empower and uplift the lives of our Overseas Filipinos — and we will endeavor to provide value throughout their journey - from the time they decide to leave, while they are away, until the time comes for them to come back home and retire," Luna-Abelarde said.
"Sa lahat ng ating kababayan, maraming maraming salamat sa inyong dedikasyon, may the good Lord continue to Bless you and your families. Maligayang Paskosa inyong lahat," she added, as a message for all the hardworking OFWs.