Outraged Chinese netizens urge Philippine mango boycott
(Philstar.com) - July 15, 2016 - 12:07pm
MANILA, Philippines - On July 12, the Permanent Court of Arbitration (PCA) ruled in favor of the Philippines in its historic case against China over the West Philippine Sea.
While Filipinos all over the world were ecstatic with the victory, Chinese nationals were devastated with the loss.
Through China's social media platform, Weibo, Chinese netizens reportedly urged for a boycott of Philippine products, specifically the iconic mango, which is loved in almost every part of the world.
A report of BBC said aside from slogans such as "If you want to eat mango, buy Thailand's" and "Starve the Filipinos to death" memes, the topics #SouthChinaSeaResult and #ChinaDoesn'tCareAboutYou have been among the top trending topics on the microblogging site since the ruling.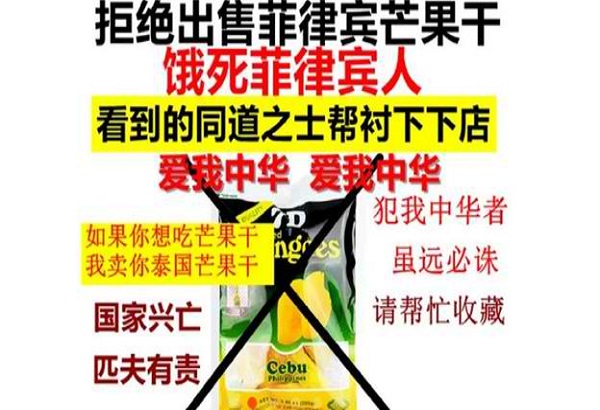 Photo above shows screenshot of anti-mango slogan of Chinese netizens. Screenshot taken by BBC
Meanwhile, Filipinos have also coined a hashtag #CHExit –"China" and "Exit" – to voice out their reactions on the favorable ruling.
Today's fortune cookie says #CHexit: pic.twitter.com/U5jmEjndQk

— Tonyo Cruz (@tonyocruz) July 12, 2016
We fight for what is ours. #CHexit pic.twitter.com/lpEA58a0cg

— WYD (@R0YALTIES) July 12, 2016
China has strongly refused to accept the decision of the international court regarding the South China Sea dispute, saying that the decision was illogical and simply null and void.
- Alixandra Caole Vila