Who you gonna call for your digital lifestyle needs?
November 5, 2022 | 12:00am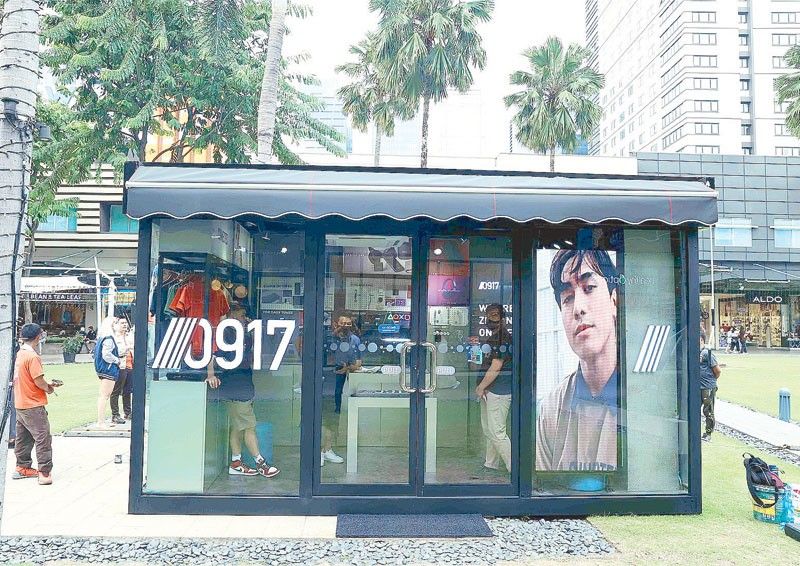 MANILA, Philippines — Who you gonna call for your digital lifestyle needs? 0917, of course.
That's Globe's lifestyle brand, a young urban brand that offers tech-driven products and retail merchandise, bridging consumers' online and offline experiences.
And now they've got a pop-up store smack down in Bonifacio High Street (near Italianni's and Figaro). The 0917 shop has got a variety of stuff that, let's face it, digital lovers need. Powerpacks, on-the-go chargers, gaming microphones, headsets, sound docks; not to mention fashion apparel that sports the "0917" brand (a new line of tees was done by Distort Monsters, the popular street artist). There are caps, jackets, totes, and even a "0917" skateboard.
This is the tip of the iceberg, since you can expand your experience to the online shopping destination (0917lifestyle.com) for more items.
The pop-up had a high-style rollout last week at High Street with drinks and DJing through the night after Globe Telecoms CEO Ernest L. Cu gave short intro comments via video and 0917 Lifestyle head Gladys Roxas opened up the evening's events.
"We have brought different people together and have started to define a new kind of digital lifestyle," Cu said. "It is this lifestyle that 0917 aims to complement. With a roster of up-and-coming brand ambassadors, we look forward to connecting to a broader spectrum of digital natives. With the rise of subcultures, such as fashion, gaming, photography and music, we want to make sure that new 0917 connections provide an accurate image of what it truly means to be part of this."
Introduced were four new brand ambassadors to represent 0917's different "passion points," namely model, actress and host Lauren Reid for Fashion; DJ Mike Lavarez for Music; photographer Andrei Suleik for Art and Photography; and Renzie Barcelo, also known as Doc Z Gaming, for Streaming and Gaming. (Are there other "passion points" for this digital generation? We'll keep an eye out for further developments.)
As Distort Monsters stood nearby with a spray can in one hand and a beer in the other, finishing up a large canvas that will be auctioned for Globe's outreach projects, the party revved up with selfies and group shots by the 0917 photo wall; food was served, and lots of beers. And it all felt like a meshing of the digital world in a real physical space.
While 0917 traces its roots back to Globe (there were some merch launches years back), it has since expanded. Aside from offering high-quality products in tech and fashion, 0917 also focuses on empowering individuals to pursue their passions, cultivate self-expression, and nurture their life connections. "We believe that 0917 can be the brand that represents our digital lifestyle," says Rojas.
Added 0917 head of marketing Rocko Ogsimer: "We asked how could we bring the brand from more than just gadgets and apparel to something that could help bridge inclusivity and diversity." The product of that "manifesto" is its latest collection: 0917 Connected. Says Heinritzh Sales, head of Creatives for 0917 Lifestyle: "Connected is an ode to our evolution from an analog to a digital lifestyle, something that we want to show is an integral part of 0917's core being."
Among the products offered by 0917 are basic gadgets for everyday living, portable tech for people on the go, and upgraded gadgets catering to professionals and casual gamers. Aside from devices, 0917 also offers apparel, from collections under the 0917 house brand to collaborations made with top partners and talented artists. 0917 has already collaborated with some of the world's most recognizable brands like SM Entertainment, Disney, Marvel, Nickelodeon, MTV, and more.
We're told that Globe Lifestyle will tie up for more big-name concerts and events in the coming months, so keep your ears and eyes open.
* * *
Visit the 0917 pop-up store at Bonifacio High Steet Aside and also visit 0917lifestyle.com, Shopee, Lazada, Zalora, Globe stores and other retail channels that the brand continues to open.
For more information about 0917 Lifestyle, visit their pages on Facebook, Instagram, Tiktok, Twitter and use their official hashtag #0917lifestyle #WeAre0917.