50, 25, 12 days of Christmas: Home decorating ideas as Ikea Philippines opens Christmas Shop
October 15, 2022 | 12:56am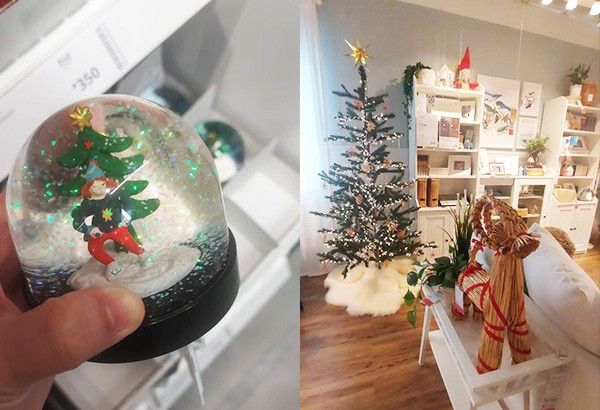 MANILA, Philippines — Apart from Manny Pacquiao, balut and hospitality, the Philippines has been known the world over for starting Christmas as early as September.
With Christmas beats jiggling and Jose Mari Chan's songs and memes filling the air and cyberspace, many Filipinos have been asking: Do I have to decorate for Christmas this early?
Here are some decorating ideas to make you feel the holiday spirit at home – and as Christmas draws nearer, you can just layer and add more elements to hype up the festivities!
50 days 'til Christmas: Start a Winter Wonderland
During this time, you might feel the urge to shop early to take advantage of lower introductory prices and fresh stocks, and to avoid queues and heavy holiday traffic. But also, it might feel a little awkward because you still have to decorate for a more immediate holiday: Halloween!
The key is to create a base or a foundation starting with year-round ornaments that have subtle Christmas tones – the same accents that you can probably retain even after Christmas is over because they can blend well with other timeless pieces. This is also a more economical way than buying accessories you can only use at Christmas.
Since there is no winter in the Philippines, start building up the excitement with a winter fantasy! Here are some ways:
1. Build a terrarium with plants in subtle shades of red and green.
Feel like it's too early to have a Christmas tree or there's no space for it? A less "Christmasy" way is to build a terrarium first using a combination of artificial and live plants — live ones for freshness and it gives happiness to see something grow; and artificial ones as backdrop and replacement for dried live ones.
Alternatively, you can add plants with hints of red into your existing garden, like Pink Starlight and Red Forest mini potted plants from Ikea Philippines' gardening section, for a subtle touch of Christmas all year round.
WATCH: Do-it-yourself terrarium
2. Dress up your treats.
3. It's beginning to smell like Christmas!
25 days 'til Christmas: Spice it up!
By this time, Halloween has passed and there is no more need to blend your subtle reds and greens and wood elements with cobwebs and skulls.
As an appetizer to your Christmas festivities, you can add another layer of merriment through more lights and subtle Christmas-themed ornaments.
12 days of Christmas: Santa is here!
Wake your interiors up — it's Christmas time!
By now, you can go all-out with Christmas-themed linens, decors, and bright red and green combinations!
RELATED: Season's savings: P99 airfare, other deals for maximum holiday 'budol'