A lifetime of friendship
October 1, 2022 | 12:00am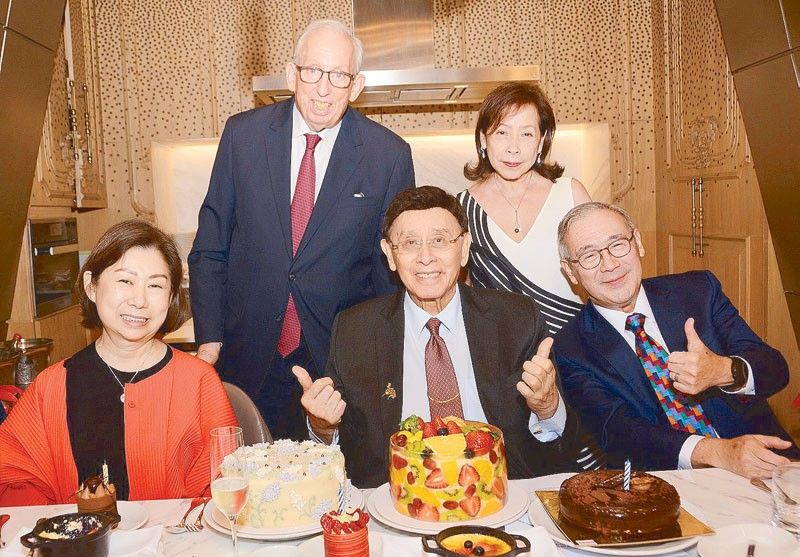 Every year, my longtime friends from the diplomatic, business, and social circles never fail to make your columnist feel special, as it has become our tradition for us to celebrate my birthday.
Our intimate gathering was held in Speakeasy at the renowned dining hotspot The Peak of five-star luxury hotel Grand Hyatt Manila in Bonifacio Global City, Taguig, and attended by people I hold dear to my heart. Together, we partook of the wonderful dinner prepared by The Peak's talented chefs and paired with sparkling wines and pours. We all enjoyed the elegant and cozy ambiance of Speakeasy, an upcoming, in-demand dining venue in the metro, while we reminisced about fond memories and experiences we shared with each other in the past.
A memorable part of the dinner was a "cupcake ceremony" where my guests each had a cupcake with a lighted candle, sang Happy Birthday to me, and we blew out the candles all together. Overall, it was truly one for the books and an evening I will treasure for the rest of my life. Thank you to all my gracious friends who came to celebrate my birthday!
All the happiness for Howie
Devoted husband and hardworking businessman Howie Go was feted with a fun and unforgettable party in celebration of his birthday. Organized and hosted by his loving wife, Maru, and attended by their family members and loyal friends, the event was held at Vu's Sky Bar and Lounge in Marco Polo Ortigas, Manila, in Pasig City. The celebrator and his guests enjoyed a delicious buffet, overflowing drinks, and live band entertainment — a wonderful evening altogether befitting a man loved by many.
A special day for Brenda and Carolyn
Statuesque stunners and beloved ladies Brenda Ngo and Carolyn Tan had a wonderful double-birthday celebration at Canton Road in Shangri-La The Fort, Manila, in Bonifacio Global City, Taguig. The remarkable ladies had a lovely time as they, together with their guests, enjoyed the mouthwatering Chinese dishes, refreshing drinks, rounds of laughter, and an incredible time among friends.
* * *
You may email me at [email protected] Follow me on Facebook and YouTube: Johnny Litton by Jayelles PH and on Instagram: @jayellesph.