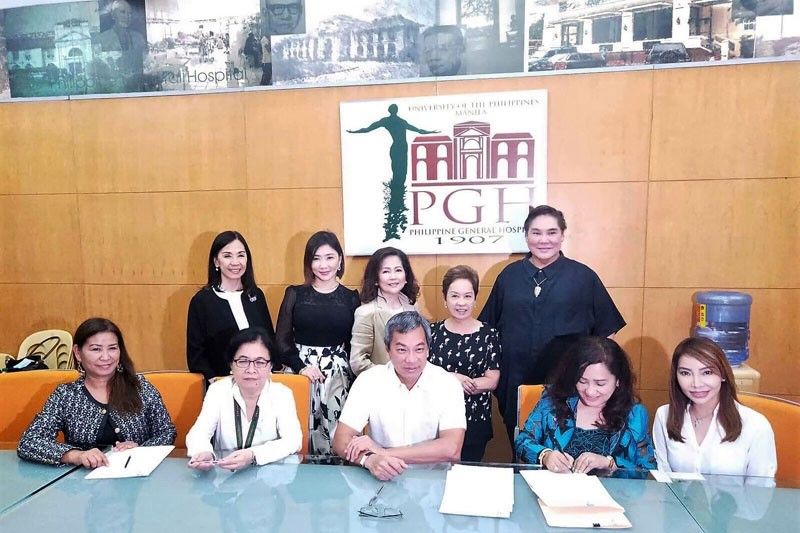 (Seated, from left) D3830 PDG Edna Sutter, PGH Neurosciences Department former chair Dr. Leonor Cabral-Lim and director Dr. Gerardo D. Legaspi, past president (PP) and primary host contact Rinah Garcia and Rotary Club of Makati Century City (RCMCC) immediate past president (IPP) Imelda "Mhel" Pechera with (standing, from left) RCFBGC PP Mary Bea Tan, IPP and DMARK Beauty Corporation CEO Nikki Tang, RCMPD CP Carol Mercado, Let's Save the Brain Foundation Inc. executive director Dr. Lourdes "Wally" Ledesma and RCMPD's Dr. Jonathan Dizon at the signing of the MOU with PGH to help save the stroke patients in the hospital's Department of Neurosciences Ward 5
Rotary helps save the lives of stroke patients
Helping marginalized patients since 1910, the Philippine General Hospital (PGH) is one of the oldest institutions and is known as the best hospital in the Philippines. The host club, Rotary Club of Makati Century City (RCMCC), alongside co-host clubs Makati Premier District (RCMPD) and Fort Bonifacio Global City (RCFBGC), joined forces for a successful global grant with The Rotary Foundation of Rotary International to donate 13 bedside monitors, which are vital to saving the lives of stroke patients in Ward 5 of PGH. The total cost of project is P2,745,600.
The major movers and donors of this grant were project proponent, the hardworking District 3830 Grants Sub Committee chair charter president (CP) Carol Mercado, RCMCC past president (PP) Rinah Garcia and RCFBGC PP Mary Bea Tan with their respective club past presidents, RCMCC's Mhel Pechera and RCMPD's DMARK Beauty Corporation CEO Nikki Tang. RCMPD's Dr. Hazel Zuellig also made some contributions to complete the funding source for the life-saving project.
Also notable are the contributions of past district governor (PDG) Edna Sutter, the support of Korean International partners, Rotary Club of Cheonan Chungnam (RCCC) and District 3620 South Korea and the support of District 3830 PDGs Ador Tolentino and Sid Garcia.
After witnessing the influx of patients daily, trusting PGH for medical treatment and medicine in the hope of saving their lives or the lives of their loved ones, CP Carol could not help but express her hope that more generous donors might help and support PGH more, as well as its modern-day heroes, the doctors and medical staff who selflessly devote their time and risk their lives to save others.
Known for the Rotary vision statement, "Together, we see a world where people unite and take action to create lasting change — across the globe, in our communities, and in ourselves," Rotary clubs in D3830 Manila Philippines continue to give back to society as the pandemic took the world by storm.