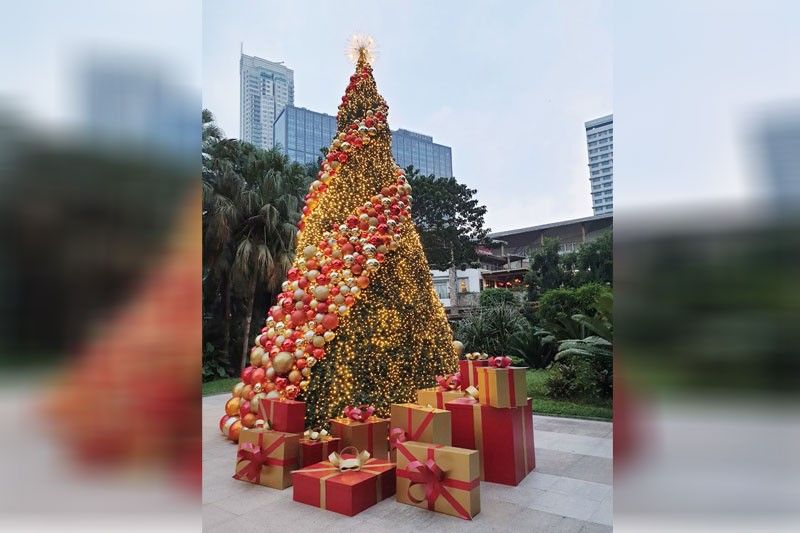 Christmas is in the air at Greenbelt in Ayala Center, Makati
The Zobels on love, empathy, joy, hope and being happy this Christmas
How do you define happiness? What really makes you happy?
I asked Bea Zobel Jr. and her answer was consistent with how I know her to be — an ebullient and warm person, full of passion:
"Happiness is being able to love others. Being able to help people going through hard times," Bea said.
Beside her was her sister, Sofia Zobel-Elizalde, giving a down-to-earth answer:
"What makes me happy? Being with family, having good health, and being able to breathe fresh air once in a while."
Bea's daughter, the restlessly creative Paloma Urquijo Zobel, answered: "Having a purpose makes me happy. And right now, supporting local artisans really makes me happy."
It was during a Zoom conference held by Ayala Malls with editors that we were talking about being happy. Especially this Christmas season.
It was easy to go into commercial things, but it was easier to get a bit emotional as we talked about happiness. Maybe because, right now, we are all looking for happiness. And the Christmas spirit. But we can't find it — yet.
Hopefully we will, this Christmas, as business leaders hold hands with everyone in the retail industry.
Jaime Augusto Zobel, chairman and CEO of Ayala Corporation, talked about the three hallmarks of the Christmas spirit.
"First is empathy, deeply understanding the needs of people. Providing support to economically vulnerable communities. Second is joy. Our employees, especially the frontliners, continue to have high spirits and a positive outlook. Third is hope. There is always a silver lining and we remain confident in people's collective energy and ingenuity that will see us through a new and better normal."
Fernando Zobel, president and COO of Ayala Corporation, talked about "the many stories of hope, kindness and resilience among our own employees, business partners and stakeholders whose lives we touch daily."
Jennylle Tupaz, president of Ayala Malls, and her two marketing officers, Eunice Velasco and Tintin Enriquez-Yabao, explained how Ayala Malls is bringing the Gift of Happy this season:
• Health and safety protocols for everyone.
• Rent support for merchants.
• Programs like Zing, ANA, Pasyal TV, curbside pickups so that if shoppers can't go to the mall, we will bring the mall to customers.
• Inspiration and appreciation through the Extra Mile Changemakers, celebrating ordinary people bringing extraordinary contributions to the community.
• Collaboration with National Artist Ryan Cayabyab to compose It's Gonna Be a Happy Day, interpreted in a bouncy, feel-good style by singer Reese Lansangan. Ben&Ben will also do their unique versions of the song on social media.
• A dance music video of It's Gonna Be a Happy Day will be produced by Sofia Zobel-Elizalde and Steps Dance Studio in December. It will be shown in malls and on social media.
• A Designers' Holiday Bazaar will be launched on Nov. 18 by Bea, Sofia and Paloma featuring the works of 30 Filipino designers and artisans. Twenty percent of the proceeds will go to Ayala Foundation's APEC School and Steps Scholarship Foundation for underprivileged children.
• A Philippine Fashion Coalition trunk show with designers like Vittorio Barba, Noel Crisostomo, Rhett Eala, Tweetie de Leon-Gonzalez, Amina Aranaz-Alunan, Randy Ortiz, Carissa-Cruz-Evangelista, Gina Nebrida-Ty, Jor El Espina, Dexter Alazas, Jun Escario, Philip Rodriguez, Tatah Costales, Aztec Barba, Benjie Panizalez, Emi Englis, Dodgie Batu, Windel Mira, Egay Ayag and Edgar Bulan.
• Fresh Drops — the latest news and first dibs on coveted items like the iPhone 12 or Shake Shack.
• Food discounts with Klook for restaurants like Italianni's, Ramen Nagi, Fat Fook, TGI Friday's, California Pizza Kitchen, Buffalo Wild Wings and Mama Lou's.
• Community shows on ground, fireworks and lights shows.
• "Kain Na" featuring mobile food trucks with Kulinarya Pampanga Chefs with the Department of Tourism led by Sec. Berna Romulo Puyat.
• Lifestyle webinars on Coffee, Cocktails and Craft Beer (Nov. 7); Jewelry, Pearl and Diamonds (Nov. 28); All About Watches (Dec.5); Christmas Cooking with Margarita Fores (Dec. 19).
• Mall-wide holiday sales in several Ayala Malls. Download the Ayala Mall app Zing and link your Mastercard credit card to earn bonus points.
I can hear you singing: It's gonna be a happy day.
1.Christmas is in the air at Greenbelt in Ayala Center, Makati
2.Ayala Corporation chairman and CEO Jaime Augusto Zobel De Ayala
3.Ayala Corporation president and COO Fernando Zobel de Ayala
4.Bea Zobel, Jr. and Sofia Zobel-Elizalde
5.Piopio founder Paloma Urquijo Zobel
6.Ayala Malls president Jennylle Tupaz
7.Ryan Cayabyab, the man behind the music and lyrics of It's Gonna Be a Happy Day
* * *
Follow the author on Instagram and Facebook @milletmartinezmananquil. Email her at mmmananquil@philstarmedia.com.