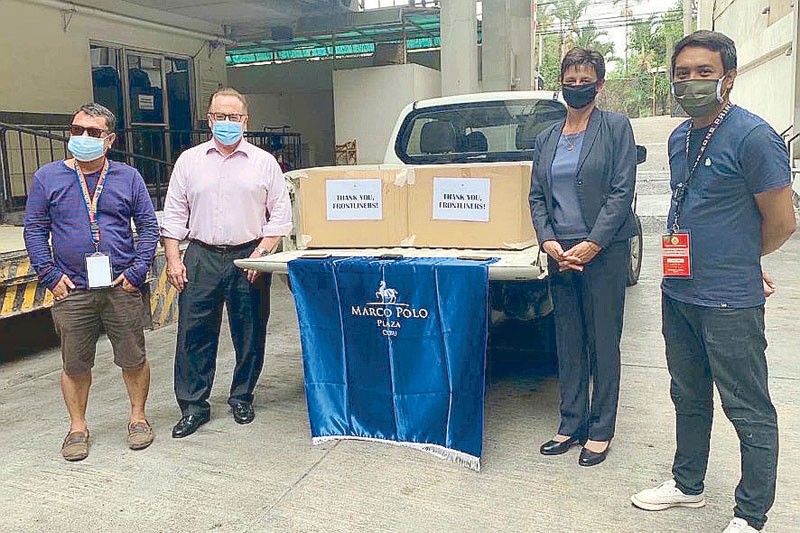 Barangay Command Center's Cyril Bringcola, Brian Connelly, MPPC resident manager Michaela Priesner and Brgy. Apas, Cebu City councilor Jan Nichol Verzosa during the distribution of food packs to frontliners
Marco Polo Plaza Cebu endorses safe travels
Top-notch five-star hotel in the Queen City of the South, Marco Polo Plaza Cebu (MPPC) is implementing new protocols and endorsing safer travels in light of the COVID-19 pandemic.
Led by hardworking MPPC general manager Brian Connelly, the hotel has started adhering to the new biosecurity protocols endorsed by the World Travel and Tourism Council.
"Our strength as a hotel will rely on our ability to adapt to the new normal," Connelly said. "Right now we are focusing our efforts in ensuring preventive measures are in place at the hotel because the health and safety of our guests and associates is our utmost priority."
They are also at the forefront of providing support to frontliners in Cebu, one of the hardest-hit areas of the virus.
The indefatigable general manager adds, "One of the core values of Marco Polo Hotels is corporate citizenship, and this pandemic truly calls for us to rise to the occasion and do our part in the community. At the end of the day, we are all affected, regardless of what industry you are in. It is important that you live out the role that you are called to do when crisis hits your community."