Casa A. Gamboa: The Negros ancestral house with a culinary pedigree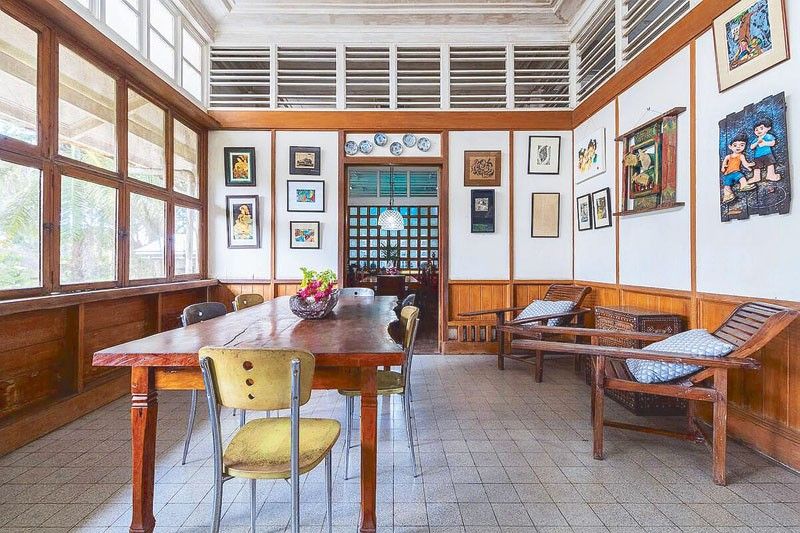 It was a gastronomic experience that Doreen Gamboa Fernandez herself would have gushed over. "Namit" and so many other ways to say "tasty" would never be enough to describe the food. In fact, the late writer and professor would always find the need to "dig deep into human experience, because tasting, eating and savoring are very intimate ventures," as she wrote in her book Tikim, Essays on Philippine Food and Culture, one of her many explorations that elevated Philippine cuisine to something Filipinos can be proud of aside from making it a source of innumerable pleasures and illuminating encounters.
The scholar and researcher that she was would also endeavor to know "its history, its setting, its meaning." To do this, she looked to her teachers: From market vendors and street sellers to cooks and chefs, restaurant and carinderia owners; farmers, tricycle drivers, gardeners and fishermen; as well as food critics and anthropologists. What she learned was told in an engaging style that made her world-renowned, earning the respect of former New York Times food editor Raymond Sokolov who called her "the most impressive food writer and historian I ever encountered," and garnering accolades at international conferences such as the Oxford Symposium on Food & Cookery and the American Folklore Society where she delivered a keynote address on the politics of Philippine foodways.
The feast could not get any more intimate than this, set in the 1930s house in Silay, Negros Occidental where she grew up. The daughter of Aguinaldo Severino Gamboa, a sugar haciendero and Alicia Guzman Lucero, a doctor in charge of the Puericulture Center clinic of the city, Fernandez had happy memories of childhood spent in Silay, dubbed the "Paris of Negros" because of its rich artistic and cultural life, which includes its much talked about cuisine that went hand in hand with legendary partying capped by the Kahirup, an annual ball hosted by sugar planters in Manila where women were supposed to have changed gowns up to 18 times and wore diamonds the size of quail eggs.
The parties may not be as grand as then, but the cuisine remains as sumptuous and the hospitality unmatched in what the house has become — now called Casa A. Gamboa — which Fernandez's sister-in-law, Lyn Besa Gamboa and her daughter, Reena Gamboa have transformed into a venue for celebrating Silay's culinary and entertaining heritage. We met Reena years ago at a CITEM Fame show where she showed these beautiful translucent place mats and lamps showcasing dried leaves and flowers from indigenous plants. She still creates pieces for the home through her atelier, Whimsy by Silay Export, but has found a new outlet for her creativity in Casa A. Gamboa, which is also the host for the upcoming Adobo Festival, now in its 22nd year, a highlight of the Negros Season of Culture in November.
Adobo, which is called the country's national dish, was the natural choice for a food festival. Although it popularly refers to the pork and/or chicken dish, it can also be any other ingredient cooked adobado or stewed in vinegar, garlic, bay leaf and peppercorns. The name was probably derived from Spain where adobado is a pickled dish or from Mexico, where adobo is a sauce. The Mexicans who came to the Philippines may have introduced it to the Filipinos who adapted it to their taste, according to Carmen Guerrero Nakpil, although Raymond Sokolov thinks that the Spaniards and Mexicans already saw what Filipinos were cooking, recognized it as similar to theirs and called it "adobo de los naturales."
Whatever its origins, adobo has evolved with many different versions and traveled the world with Filipino immigrants using ingredients in their adopted countries. Locally, every family is proud of its own heirloom recipe passed on from generations. "You'll be surprised at the adobos that we have," Lyn told us as we sat in their dining room where she also showed us the Adobo cookbook published every two years based on the previous years' award-winning entries to the festival, many from prominent families.
Now the festival's contest is open to public school students. "You can't believe how they have improved even with the styling – out of this world and unusual combinations." The enthusiasm made them do a lot of research and experimentation, "opening their eyes, ears and minds to everything Negrense including the pangasim (souring agents) like dahon ng labong and batuan which Doreen highlighted in her books."
To add to the excitement, Lyn brings the best celebrity chefs from Manila as judges. "Claude Tayag, Glenda Barretto, Robby Goco, you name it because they're my friends and they're so thrilled and impressed with these young probinsyanos who supposedly don't know how to cook but learned from their lolos and lolas, mamas and aunties to come up with some really good recipes including spaghetti, inadobo nila." For the public, the highlight of the event is getting to taste all the winning dishes, which will be available for dine-in and take out at the food court set up in the garden.
For us, the dinner spread that Lyn and Reena prepared gave us a taste of the festival with the adobong takway, which was the grand prize winner at the first Adobo Festival in 1998. It was a timely recipe created as a response to the sugar crisis by Elizabeth Vargas who called it "The Crisis Adobo." She used gabi shoots which are normally discarded but because of the times she made it the star of the dish. It was delightful in its simplicity with a tempered sourness and flavors that revealed themselves as one enjoyed the chewy texture of the stems.
Of course, they had to serve their family's chicken and pork adobo which lived up to the hype with its slow-cooked goodness. The adobos all went perfectly with crunchy ukoy and crab cakes using Saravia blue crabs. As counterpoint, there was a refreshing salad of singkamas and sotanghon noodles with banana heart.
After a creamy leche flan dessert and coffee, Reena gave us a tour of the house which was built in 1939 during the American colonial era, betraying traces of Beaux Arts and Art Deco. The architect was Edmundo Lucero, brother of Reena's grandmother, who based the design on her grandfather's specifications. It had a single story but was raised from the ground just like the earlier Spanish colonial era houses. "My grandfather was so practical, he wanted good circulation so there are around 40 doors! All the furnishings were imported from Sears and Roebuck in the US," she shared. "Because they bought almost everything from this mail order catalogue, Doreen and her sister Della would tease my Dad (Danilo Gamboa) that he was also ordered from Sears."
A framed photo on the front porch revealed that General Douglas MacArthur received a Silver Star Medal in the house when it was the headquarters of the 5th American Division during World War II. Before that, the Japanese had also occupied the chalet. "The reason our house remained well preserved was because the Japanese who 'borrowed' our house was a very well-educated Colonel who spoke perfect English and would invite my family to a Saturday sushi dinner with his staff," Danilo reminisced in an essay he wrote.
This was the time when the family evacuated to a farm where Doreen found joy in the simple things. They would eat boiled root crops dipped in sugar as well as wild berries and strange greens that grew among the sugar cane. Her mother then even managed to make butter from carabao's milk with an improvised churn and the children would make chorizos from the meat and intestine casings every time a pig was slaughtered.
The resourcefulness and creativity were qualities that have passed on to the present generation. If you check Reena's Instagram posts, she's always discovering new plants, herbs and vegetables, incorporating them in their menus as she experiments, together with her Mom and son, on novel ingredients and techniques in the kitchen. The spirit of Doreen does indeed live on at Casa A. Gamboa.
* * *
Casa A. Gamboa is at 5 Rizal St. Barangay 5, Silay City, Negros Occidental. Follow on IG casaa.gamboa, FB Casa A. Gamboa or call Fe at 0922-8541369 for Airbnb rooms, breakfast, lunch, dinner, cocktail party, weddings and private meeting bookings. Adobo Festival on Nov. 14 is one of the showcase heritage attractions featured in Negros Season of Culture, a festival from Nov. 4 to Dec. 19, highlighted by the Viva Excon Biennal; art exhibits; and food, theatre and film festivals among other events. Follow Negros Season of Culture on FB and IG.
Follow the authors on Instagram @rickytchitov; Twitter @RickyToledo23; Facebook — Ricky Toledo Chito Vijandre.