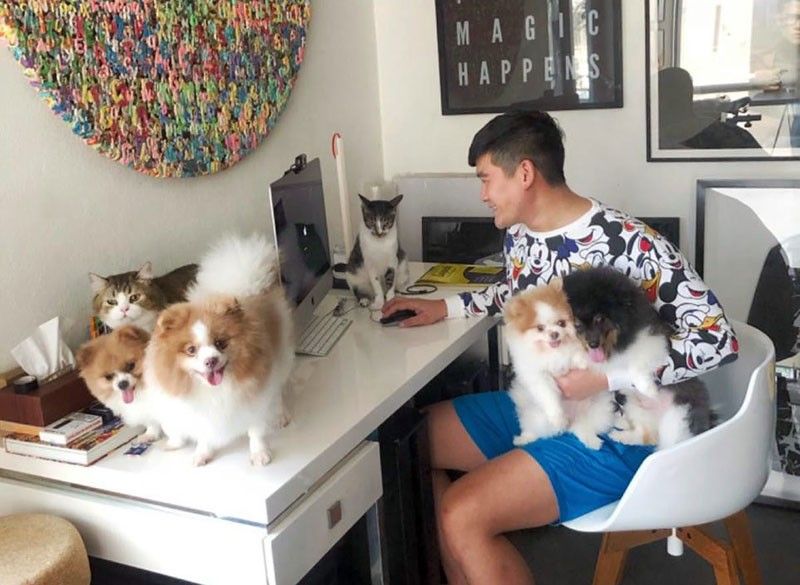 Where the magic happens: Host and eventologist Tim Yap and his fur posse
What is your fave spot in your home during quarantine?
MANILA, Philippines — When today's definition of "travel" is walking from room to room, home is definitely where the heart is during this lockdown period. We took a survey of people's latest go-to spots and what they consider the hot destinations in their home.
Tim Yap
"This is where the magic happens," says the Team Manila work on the wall beside my workstation, which has become the headquarters for my FB Live sessions with different personalities this quarantine season. This has been the backdrop of my conversations with Iza Calzado, Cristalle Belo, Nadine Lustre, Ellen Adarna, Solenn Heussaff, Divine Lee, Joey Concepcion, George Royeca and Toni Gonzaga, to name a few, as we all discuss the current situation and find ways to be part of the solution.
It was also here where we were able to finalize the planning of the food drive for the frontliners of 20 hospitals with Hayden Kho for the Belo Group and Cloud Eats. Almost right behind me is a Mark Nicdao portrait commissioned for Patrick Rosas' book and below that is a BenCab print suit I wore when I hosted our National Artist's 50th anniversary event at the CCP. He signed it, too!
In front is a work by Sam Penaso, which reminds me of the alphabet soup from my childhood. Wherever I am is where my beloved fur babies want to be. So here I am with all of them trying to get a piece of my time, while I do my best to become productive this entire lockdown season. I am surrounded by positivity and love by these unconditional creatures that I call my family. Art and animals — I am definitely home.
Berna Romulo-Puyat
After my 21 day room quarantine (since I was exposed four times), my new WFH set up is in my living room. Biggie always wants to be with me and this is her face when Mommy has one Zoom conference after another.
Karylle
This is our living room! We relocated my writing desk and the computer here because I shoot Showtime from this spot!
In the beginning of the lockdown, I started cleaning and rearranging the furniture and found our perfect set here. The sun hits it just right! I change the set up a little bit every day to feature one of our many photographs.
We have furniture on wheels, so it's easy to move it around. We also have keyboards, mics, mic stands, pop filters, baskets, and beach chairs for our perfect WFH set up. Clean your space; make it fun and playful, too!
I love this pic 'cause our dog Mini Me never used to join me on the bench, but now he knows to hang with me during work hours. But when it's done he knows it's playtime!
Whenever people ask me how Yael and I are doing, I always tell them Mini Me is taking great care of us!
Emma Estrada
My living room is a cool place to be because of the open space. This is where I sit around just to relax or do my yoga in the mornings. Usually on my laptop I am on Skype with my daughter Tanya, or WhatsApp communicating with the other flamenco teachers of EFA (Escuela de Flamenco de Andalucia), checking on my email and Facebook sometimes.
Myrza Sison and Andrej Wisniewski
The kitchen! It is not only where I write, but also where we (obviously) cook and eat. These quaran-times have brought forth major stress cooking and stress eating in our household of two. I leave up the grand production of complex dishes to Andrej, while I create mostly survival-level (and thankfully edible) meals. The mechanical aspects of food preparation — chopping, slicing, peeling, blending — have a calming, quieting effect on our overactive minds, and putting everything together makes for creative therapy. Also, I used to loathe dishwashing, but now I've actually gotten into the Zen of it! Cooking helps me feel like I'm productive, even if the overeating that ensues is counterproductive. So, we cook to calm our feelings, and then, we eat them! Hanging out in the kitchen reminds us to savor and enjoy normal life as we once knew it — and that we still have our senses of taste and smell, the lack of which are worrisome in the time of corona!
Raymund Marasigan
This is my basement studio. I call it the "Remuda Triangle." I spend most of the day here because it's cooler underground. I play and record music, shoot videos, read and work out here.