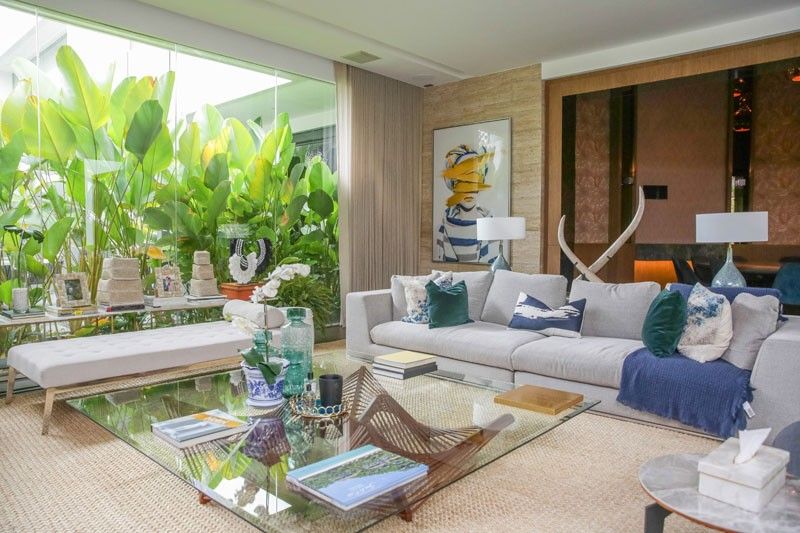 One of Jam's favorite spaces in the contemporary but cozy living room with accents of blue and emerald green faux stone tusks
Geremy Pintolo
Nesting with Jam Chan-Cua
Jam Chan Cua the bubbly entrepreneur and wife of businessman and restaurateur Erik Cua — is now finding herself with the delightful yet challenging task of balancing work and a newly minted motherhood. Stylish and driven, the 29-year-old is currently the marketing manager of her family's lighting business, Rockford Marketing Corp., and the managing director of House of Ital. She is also the president of her own online platform for all things home called The Nest Genie, which is now looking to expand its reach in the Southeast Asian market. Wait… did we mention that she also started a blog? Get to know more about her in this exclusive interview with The STAR as she takes us on a tour of her beautiful home.
Philippine Star: When did your love for all things home begin?
Jam Chan Cua: I think definitely it started when I started working with my family. They have always been in the home industry. My father is in lighting, and my mom was in the furniture business then. That's when it started. I didn't really liked it at first because I didn't have my own home, I never had an experience tiling or buying furniture, but while I was working there, purchasing and handling the furniture, I really began to appreciate how much effort goes into one piece and how it is so fun to put together things.
Describe your personal style.
I think my style would be more contemporary. Actually, I like old-world charm and the Victorian Era. But I do still like a little bit of modern… I would say contemporary with the mix of both.
Where do you source your items in your home?
Almost all the main furniture pieces are sourced from House of Ital. I go personally to the factory and source the products that my designer wants. But the other items, like all the other small things, I get from The Nest Genie. Most of our sellers from there are the ones I bought from, and I actually buy things from Dapitan, too.
So you actually don't mind mixing high and low?
Yes, you have to mix them. You can't really get everything in an expensive store or like a single brand like Pottery Barn. You have to mix everything, so it feels like it's you. Cause if you buy everything from Pottery Barn, for example, it feels like a showroom and in the end it's not really your style. That's why you should buy in Greenhills or in Dapitan, and then you mix them with something you got from Thailand, or from the States, and you'd really have pieces in your home that tell stories to your guests.
Let's talk about The Nest Genie — www.thenestgenie.com. Why did you decide to venture on your own in this space?
I was in the family business for like six years before I started Nest. The reason I started Nest is because the creative side of me wanted a release. I wanted a business that could be entirely my own, that could complement the work that I did for my family business. Also, when I was building my home, I realized how difficult it was to find specific home items that I liked. I ended up purchasing things I didn't like or running across town just to finish my shopping list. What a hassle. Then it hit me. There should be a space where you can find everything you need from the comfort of your own home.
You recently started a blog, www.jamchancua.com, what made you decide to join the influencer space?
I started my blog when I was pregnant and then I launched it right before giving birth. I wanted to do something while on my maternity leave and I wanted to share my experiences as a first-time mom and working mom to people. I just wanted to share and inspire other people to go for their dreams. It's hard to juggle everything that you want to do, but you can do it — and you are not alone. That there are people here who are also trying to do their best to be ideal moms and still have a little bit of themselves in life.
Being a new mom did you have to change your home a little bit to accommodate the baby?
Yes, definitely. Right now, all of our second floor is already baby-proof. She's so makulit, so likot and we have to put all the bumpers, all the glass, or all the railings have to be covered. So, there's a lot of changes. Actually, not only in the house, even our lives. Even my fashion — my baby pulls my earrings, even my studs, she pulls them out. So, I have to tie my hair, too. Everything changes but honestly when you come home, and you see that smile or the way the baby looks at you… it's all worth it.
What are your design inspirations for the nursery?
Actually, for our whole house, I really wanted a Parisian-Victorian vibe, but my husband didn't want (that aesthetic), because the design of the house is really super modern. He gave me a little bit of freedom to decorate the baby room with the old-world charm that I love. We entered a Baby Dior store in Singapore and I was like, "This is perfect for me." This feels like I'm in a Parisian apartment, but still a little bit of modern with the signature light-gray palette.
What are your favorite spaces in your home?
My favorite space in my house is this living room. So, I really like how open it is. Our ground floor is really open space. You can see from the door to the living room to the dining room. I like this space because it connects everything. From this chair I can see outside, I can see the pool. And also, I really like the way this was styled. It's not so studio, it's not so rustic either, it's a good balance.
Was it difficult? Designing as a couple?
Oh yeah, it was. I would say we never fought, but our first big fight was moving into this house. It was really stressful. Actually, it wasn't the design part, it was the moving in. I was rushing to move before I gave birth because of some Chinese beliefs. The design part we managed by accepting that we had different styles. His restaurants and bars are not my style, and he also knows the way I buy furniture is not his style. So, we got a designer and we told her, "Okay, this is my style, this is his style — can you blend them together, so that we won't fight?" So, we both agreed to listen to the designer. If she said it's ugly, then we'll forgo it.