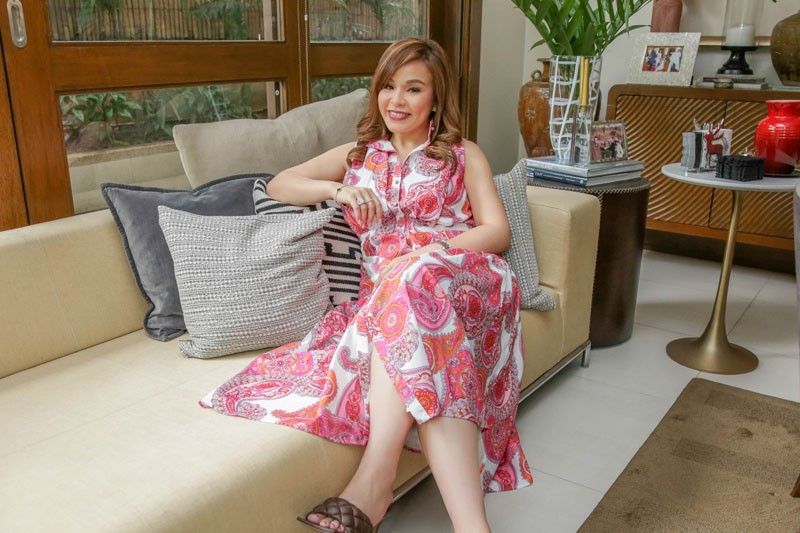 Businesswoman Grace Barbers-Baja in her home designed by Ramon Antonio. "I've always loved entertaining family and friends here," says the woman behind The Spoiled Mummy blog and Grace Home lifestyle brand.
Photos by GEREMY PINTOLO
Amazing grace in the home of Grace Barbers Baja
When Grace Barbers-Baja started her blog in 2012, she never expected how popular it would become and how, not long after, it would spin off into a lifestyle brand called Grace Home Manila. Under this label are Taste by Grace for her bottled food products, and Gatherings by Grace, which are events that she hosts.
Grace is a natural at hosting. She loves having friends over in the lovely home she shares with her husband, banker Lauro Baja III, and their three children. She also loves gatherings where she gets to spotlight inspiring women from different fields and moderates the conversation. After all, she grew up in a house that always welcomed people, being the daughter of Senator Robert Barbers, a bemedalled police officer and later a congressman and DILG Secretary.
"I love talking and interviewing people as well," she says. "I love chatting and bringing out the best in people. I think I've always been a sociable person."
The Baja home was built in 2005, three years after they were married, and designed by Ramon Antonio. It is indeed a great space to gather friends together. The large living room with double-height ceiling and glass wall overlooking the backyard garden is flanked by two dining rooms with sliding doors so the entire area can become one open space.
When she's entertaining Grace puts together a grazing table using her cheese pairing jams and dips, which include fig and almonds with truffle honey (my favorite), manchego tapenade and quattro formaggio spread, among other food (Taste by Grace currently has 12 products).
"I love preparing food for my friends," she says. "I usually put a grazing table in the living room, dining room or the kitchen — it really depends on my mood and the guest list. With the two dining rooms, we can have a maximum of 22, but typically it's smaller like 12. If it's my girlfriends, it's super casual and we're just in the kitchen."
Our parties here are very relaxed, very casual. The main thing that binds us together is food, which is very important to me. So when I created the food line it was like going full circle — from being a blogger or writer sharing her love of food. When I launched Taste, people said, you should have done that long ago! I'm such a foodie, I travel for food." When asked about her fave food destinations, she mentions Tokyo, New York, Paris.
The home combines the aesthetics of both Antonio and the couple — modern Filipino, abundant with natural light, wooden elements and a number of accessories in pairs.
"Fifteen years ago, we were one of his youngest, if not his youngest clients, and we liked his aesthetic. You can tell that a very vibrant young family lives here."
In the living room, a pair of paintings by Andres Barrioquinto are hung high on the wall, while a large BenCab dominates another wall. Throughout the ground floor are more artworks by HR Ocampo, Arturo Luz, Vicente Manansala, Joya and Ramon Orlina.
"We started the collection together," she says. "He won't buy without my approval and vice versa. The only common denominator of the paintings is that they bring or elicit happy feelings. I'm a very positive person and although I respect the taste of my friends who collect art with gory subjects and details, that style is not for me. I want my home to be as happy, welcoming and positive as much as possible, and I think paintings play a big role in that."
Grace has always loved the works of Barrioquinto, and he painted a portrait of her in his style — looking like a diwata with butterflies in her hair. That painting, along with other portraits that he did, was exhibited at the National Museum two years ago.
Throughout the house are mementos of the family's travels, including antique woodcarvings that they framed with a mirror to give it a different look; blue-and-white jars and lotus-shaped teacups from Istanbul; accessories from all over Asia; and an Ifugao rice containers.
The dining room where we do the interview has a beautiful table whose wooden base sorts of weaves and waves across its length. This is by Kenneth Cobonpue, as are several chairs scattered on the ground floor.
"This house gone through a lot of changes. I'm fortunate that my husband and I have the same eye. We both appreciate the same things."
Grace had just given birth to her third child when she felt the need to do something for herself. "I was sharing anything and everything on Facebook — our family travels, things we do with the kids — and I was reading blogs of other people. I remember Dessert Comes First by Lori Baltazar (a blog that ran from 2005 to 2017) and I loved her photos and the way she wrote. I got inspired reading it but I never thought I would one day have my own blog."
There was the side of Grace that wanted to keep things private, but there was also the other side that wanted to share the adventures in her life. In the end, the latter won and she started The Spoiled Mummy, a blog that encompasses food, travel, entrepreneurship and features on inspiring women.
In the beginning, she didn't reveal who she was and bylined her stories with the blog's name. Then a magazine writer asked her during an interview, "What keeps you busy?" And she said, "Oh I have a blog," and the rest is online history.
These days, Grace is on Instagram more with her 41,000 followers onboard, many of whom started with her blog.
"With the blog, there' so much work to do to produce a story — I need my thoughts to be clear, write a few times, edit and publish. I don't have time to process my thoughts for five days. Today everything is so fast-paced, people want instant gratification. When you don't put it right away on Instagram, luma na yan tomorrow. So I started focusing on Instagram — that's where I am now.
"Grace Home was born because I didn't want to be labeled as just a blogger. I wanted to be known as a businesswoman with a blog, someone who put up something on her own. It was born from my passion for entertaining and marketing (she worked at Ayala Malls after college). I always want something deeper, with more substance, so last year I gave birth to another passion of mine, Gatherings by Grace, because I like sharing my views, my opinions and telling stories. From 2017 to 2019, I guess people noticed and I was being asked to talk on different topics like the effects of social media and lifestyle topics. I know I can use my voice to reach more people and talk about something else that's not just purely lifestyle. My dad taught me to use my platform for something good, but I don't want to be a politician. So with Gatherings by Grace, I partnered with Raffles Makati and we did three events last year with women-centric topics. We had Dr. Aivee Teo, Joanna Presyler Francisco, Lucy Torres, Camille Villar and Rissa Trillo, among others."
When Filipino mothers gather together, you expect them to talk about their children and play matchmaker to the single ones. Cabinet secretaries' spouses are no different. Grace's and Lauro's mothers knew each other because her father was then DILG Secretary Robert Barbers and his father was DFA Undersecretary Lauro Baja Jr.
And yet Grace and her husband's first meeting was not by reto but because the Baja family driver was away and Lauro had to drive his mom to the Barbers home where the Cabinet spouses were having a Christmas party.
An investment banker in New York, Grace's husband was home for the holidays. They sat together during the dinner, surrounded by the titas of Manila of 1998, and got to know each other.
Every day after that party, they were hanging out — until it was time for him to go back to New York, which he kept putting off. What would have been a mere Christmas romance became a long-distance relationship.
Without smart phones and messaging apps back then, they burned the phone lines every day. "My dad 'killed' me whenever he would catch me making telebabad for an hour or two. Our phone bills were so high," Grace laughs.
Eventually Lauro asked to be assigned to the company's Hong Kong office and in the two years he was there, he did not spend a single weekend in Hong Kong — instead he would fly to Manila on Friday night and return Sunday night.
At their wedding in 2002, his father joked, "We saw how Lauro was so dedicated and in love with Grace that he would come home every weekend for two straight years until I told him, 'Lauro, makakamura ka kung mag-aasawa na lang kayo. Mas makakatipid na kayo, magkasama pa kayo.'"
To which, Senator Barbers replied, "Yan ang akala niyo! Mas mahal dahil inasawa mo na ang anak ko."
The newlyweds then moved to Singapore, where Grace gave birth to their eldest, Andres, and then back to Manila in 2003, Emilio and only daughter Alessi were born.
In 2020, Grace wants to expand her Gatherings by Grace by putting up more thought-provoking events. But she may just surprise you with more than that because the woman who didn't want to be labeled (whether as a blogger or influencer) will not be contained in or content with just one business either.
* * *
Visit the author's travel blog at www.findingmyway.net. Follow her on Instagram and Twitter @iamtanyalara.