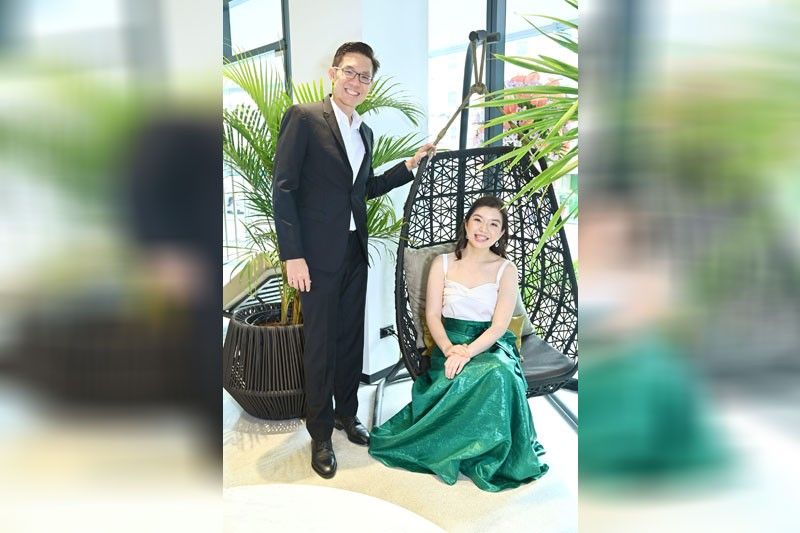 Joseph Tay and Stephanie Coyiuto-Tay at the new Casa Bella flagship showroom: Bringing some of the world's most iconic furniture pieces and brands to Manila.
KERVIN LUY
Casa Bella moves to its own beautiful casa
For the past 10 years, young couple Joseph Tay and Stephanie Coyiuto-Tay have furnished the most beautiful homes in Metro Manila with their store Casa Bella Home and Living.
Last week, Casa Bella moved its showroom to a new beautiful home — its own building on Jupiter Street, Makati.
Starting with just one brand from Italy, Casa Bella now has 10 in its portfolio: Moroso (its first), Cassina, Henge, Kettal, Cattelan Italia, Ditre, Novamobili, a new flower shop called Fig & Vine Floral Studio by Stephanie and her mom, artist Elena Coyiuto, and a flower school as well as an art school.
Casa Bella is a five-story building with the first two floors occupied by the showroom and a wine bar on the ground floor; the third floor will be Fig & Vine, Elena's art school and floral school; the fourth and fifth will be Contract World or office furniture business which Joseph handles.
For home, Casa Bella's flagship brands are Kettal and Cassina, two leading names that architects prefer to furnish their high-end projects' outdoor and indoor spaces, respectively.
"We are the market leader for home and commercial furniture," says Joseph. "In fact, we supplied the outdoor furniture for One Roxas' pool deck. For home, our bestselling is Cassina, which has a very rich heritage that goes all the way back to 1927 and established by the Cassina brothers. They're pioneers in furniture technology and design and the brand itself has gone through a lot of changes."
Indeed, Cassina has manufactured some of the most iconic pieces of our time — pieces by Le Corbusier, Gio Ponti, Mario Bellini and Philippe Starck, among many others. While Kettal has worked with design luminaries Patricia Urquiola, Konstantin Grcic, Rodolfo Dordoni, Jasper Morrison, Doshi Levien and Naoto Fukasawa who've designed gorgeous outdoor pieces that you'll find in upscale hotels and homes.
Cattelan Italia was established in 1979 and initially manufactured tables and coffee tables. It found immediate success in the export market, becoming a name in the US, Asia and the rest of Europe, and is now in 104 countries worldwide.
Ditre Italia's 40-year history "is tied to an artisan upholstery tradition by the De Marchi brothers, whose workshop became an increasingly tight ship in response to demand for customized products."
Novamobili is known for its modular systems, flexibility and the cross-functionality of its pieces. Its philosophy is to "set out to inspire personal concepts of domestic life… designing furniture that rewrites the rule book so that we can build spaces around the objects we want to add."
Henge, which Joseph says is one of their most expensive products because of the material it uses (brass and natural stone), "works with the expressiveness of the material in all its purity." They use the "experience of man and his desire to experiment, following ambitious paths that go beyond the use of technology. They choose materials individually: each piece of stone, each trunk is valued and treated with care, using a innovative approach that takes advantage of their flaws and imperfections."
Casa Bella's customers are mostly people in their 40s upward who are building or simply re-furnishing their second home.
Stephanie adds, "More and more people are into design now. Before, it was unheard of to buy (expensive) furniture, they would rather spend on cars and bags or watches. But now people entertain a lot at home, which is also why they buy good-quality design and art."
When asked what brands we would find in the couple's own home, Stephanie admits that her favorite is Moroso and not only because it was the first brand she and Joseph introduced to the country. "Joseph is more practical and likes Cassina better. We also have Kettal at home, and we do love to mix brands when we help our customers do their homes."
In addition to the furniture brands is the new flower shop Fig & Vine Floral Studio. Stephanie says, "That started because when my mom and I visited my sisters who were studying in the US — one in LA and the other in New York — she would take either art classes or floral workshops. Mom paints and she wanted to do an art school and asked me to help her. I said I was more into retail rather than art. So she's handling the art and floral schools and we're doing the flower shop together."
Arranging flowers for home and special occasions is something both mother and daughter have done for many years. Stephanie does it when she's asked by clients who are hosting parties at home, and Elena was in the build and sell business before and has worked with numerous architects and designers.
"For me, it was just for fun," says Stephanie of designing and decorating. "But then we said, we might as well do it (formally). I don't do weddings, just special events and small dinners, and special-occasion bouquets."
The holders and accoutrements that accompany Fig & Vine's arrangements — like twines and baskets — are made by the women in Elena's adopted community in Sta. Anna called Madame in Shades.
The art school in Casa Bella will be managed by Elena and will be taught by art professors. Elena made her debut as a painter in a group show in 2015. She was taught by Filipino artists who hold workshops for aspiring ones and attended the Kline Academy of Arts in LA to do an intensive painting program.
In a previous interview, she told me, "We were painting from 10 a.m. to 10 p.m.," she says. "When you're abroad, you don't want to waste your time. But showing your work also makes you feel vulnerable. When I paint, I pour everything into it. I didn't want to have a show at first because I'm painting just for self-expression, but then I thought, well, that's how I feel and that's how I express it.
She started painting "because of passion. I've always been into the arts but my line was more literature (she majored in literature, first at the University of Massachusetts and then at the University of San Francisco). I come from a very traditional family and they expected me to take up a course like accounting, business or law. Art for them was a no-no — you don't take art for a career."
Her father, visionary taipan Tan Yu, was livid at her wanting a career in the arts, so Elena compromised — she took up both literature and business.
Stephanie says, "My dad (First Life Financial president Peter Coyiuto) is super into finance and mom is very much into art and other creative pursuits."
That creative side of Elena rubbed off on her daughters Sofia (who's opening a dance studio in Manila soon) and Samantha (who's working in publishing in New York), while Alexander is now in the build and sell business. Stephanie, it seems, adopted both her parents' passions, which has brought the beautiful house that is Casa Bella where it is today.
* * *
Casa Bella is located at 8 Jupiter corner Canopus St., Bel-Air Village, Makati. Call Casa Bella at 8353-5437, 8282-7962, 8354-0685.
Visit the author's travel blog at www.findingmyway.net and follow her on Instagram and Twitter @iamtanyalara.