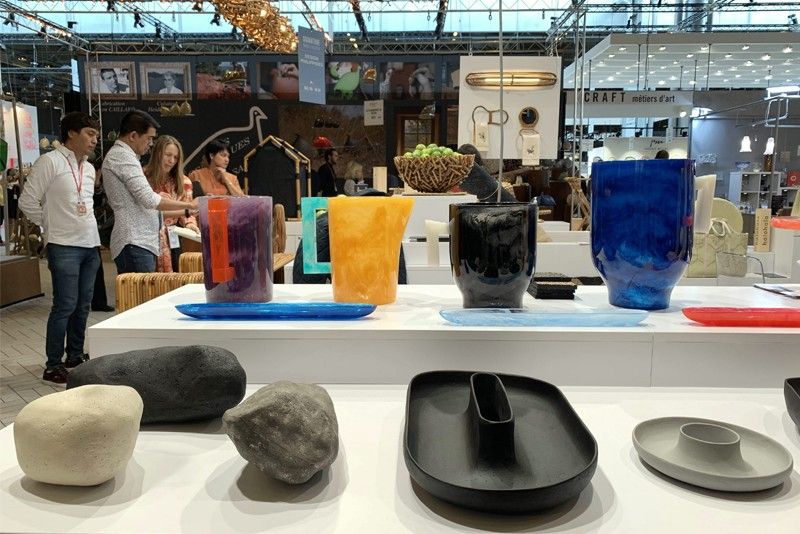 The Pure, The Artisanal & The Collaborative
Design Philippines' kindred at Maison & Objet Paris:
In the huge and busy design market that is Maison & Objet in Paris, a purity of line stands out and this was what the Design Philippines pavilion achieved at the recent edition of the premier show with its theme, "Kindred: A Design Collective," curated by Rita Nazareno and Gabby Lichauco.
Making the rounds at the fair, the Philippine booth was easy to spot with its clean, streamlined design that focused the spotlight on the objets created by a collective of 13 Filipino designers and manufacturers. Before leaving for Paris, we bumped into Rita at a cocktail opening in a Makati gallery where her Zacarias 1925 line of fashion accessories and art pieces were being exhibited and she had excitedly told us about the upcoming fair. Her co-curator, Gabby, is also one of the new breed of designers regularly featured in exhibits at Manila's art galleries as well as CITEM's Manila FAME.
CITEM executive director Pauline Juan had said before the fair that "the combined expertise of Rita and Gabby will surely give a different touch to our upcoming presentation at the M&O show. I am optimistic that we will further enhance our niche in the EU market as we showcase the evolving artistry and creativity of Philippine designers who create exquisite product lines for the world market."
Trust Pauline to get the right people for the job. As editor of Preview, the magazine was always on the cutting edge because of the creative people she discovered and nurtured. She also ran a tight ship which carries over in her new post: She was conspicuously absent in Paris, opting to forgo the junket and use the money instead for PR in the French media.
"We really wanted it to be different and Pauline was always on the same page with us," Rita told us at the fair. "We wanted to focus on objects and contemporary design with a specialist, simple, smaller, straightforward approach to both the booth and the design."
"Kindred highlights the craftsmanship and signature styles of each of the designers and manufacturers, but in a refreshing and innovative approach. We also wanted to show a wide range of specialized craft and materials," according to Gabby.
What unifies the collective is their "pursuit of the pure and commitment to handmade, organic creative techniques." Their modern take on traditional craftsmanship is realized through technical innovation and sustainably sourced materials.
To achieve the group's objectives, the curators provided guidance and direction to the manufacturers, developing new products together as well as modifying previous collections to make them more relevant to the market. Collaborations were also encouraged for an interesting cross-pollination of styles, materials and know-how.
Halo Halo, which recycles plastic into bags that easily sell out in Manila, teamed up with E. Murio, the heritage furniture maker which has produced 40 years' worth of finely crafted furniture, home interiors and accessories. They came up with pieces that combine woven recycled plastic with indigenous woods, like sleek vanity trays and folding tea trays which have stylized ethnic weave surfaces in elegant, muted colors that the French find so chic.
At their own section, Ruby Sumabat of Halo Halo showed us their pieces using a mix of weaves for totes, clutches and handbags. Ottoman cushions featured subtle, cream on cream embossed designs.
E. Murio creative director Tisha de Borja-Samson explained how their bamboo mirror tray has flexible handles that transform it into a wall mirror with various configurations. Their bamboo dog house in woven cane and denim versions are collaborations with artist Patty Eustaquio — so irresistible for dog lovers who would come to pat the display dog figures, imagining their own pets in one of those adorable houses.
Vito Selma, known for his iconic furniture pieces in wood with novel shapes, is a seasoned M&O exhibitor but faced this season's challenge by designing smaller pieces like lamps, trays and vases using a new process that gave unusual carved striations on the surfaces of the objects which made them quite special.
Finali, Cebu-based like Selma, also crafts wood and rattan furniture and is inevitably influenced by the sea which figures in the undulating rattan appliqués on their accent chairs and the flora and fauna in their decorative pieces.
From Pampanga, another center for furniture and woodworks, comes South Sea Veneer which is an offshoot of family business Betis Crafts known for their intricately carved furniture. Their expertise, however, is in marquetry and veneer inlay which they utilize to create eye-catching patterned and geometric trays, tables and cabinets.
JB Woodcraft, sister company to South Sea, is closer to the mother company in terms of intricacy of carving but done with a more contemporary feel. Wreath mirrors are festooned with carved foliage but done in a matte black finish. Side tables and bowls have ionic columns growing out of their corners.
At Schema, on the other hand, painstaking intricacy is achieved by weaving wires into sleek lamps, furniture and accent pieces. Their disc pendant lamps are resolutely modern but have a touch of old world luxe with a gold reflector finish that gives a hint of opulence and a warm glow.
Sustainability is a must in the European market, which puts Kindred's manufacturers on top of buyers' shopping lists. For CDO Handmade, filling people's homes with sustainable decor has been its raison d'être, developing tree-less handmade paper to produce lamps, decorative baskets and other curios.
For its woven carpets in geometrics and pop-art references, Bicol-based Weave Manila uses their region's indigenous abaca which is 100 percent sustainable and completely biodegradable, with even its waste products being used as organic fertilizer by farmers.
CSM, which produces bone china using the long and complex formula espoused by esteemed 18th c. English potter Josiah Spode, recycles bone ash to create fine pieces which have updated the technique to the present day like pastel-hued dinnerware and witty home decor.
Nature's Legacy in Cebu has always been at the forefront of material innovation and sustainable practices. When we curated a Manila FAME show a couple of years back, Pete Delantar, president of this export company, had already developed many products using Naturescast made from rescued agro-forest debris. For M&O he showcased Marmorcast, made of high-grade polymer and polyester resin to create brightly colored dinnerware that attracted many visitors to the booth.
Another magnet for fair goers were the bags and fashion pieces on show like those of Zacarias 1925 and Tali Handmade. Zacarias is an offshoot of Rita Nazareno's family fine crafts business, S.C. Vizcarra, which was established by her grandmother 94 years ago. Rita updated the weaving to produce luxury bags and home accessories which celebrates the unconventional through asymmetric shapes and art and film references.
Tali Handmade founders Liza Morales Crespo and Marielle de Leon-Lazaro, on the other hand, started their business inspired by a visit to a city jail of female inmates whom they taught to make their bags. It eventually turned into a social enterprise empowering women at the grassroots level while producing elevated fashion accessories made with raffia, plastic twine and leather.
* * *
The Philippine delegation at M&O is also part of the 70th edition of CITEM's Manila FAME show, the longest running event on design and lifestyle in the Philippines, to be held from Oct. 17 to 19, 2019 at the World Trade Centre, Manila. Follow the authors on Instagram @rickytchitov; Twitter @RickyToledo23; Facebook - Ricky Toledo Chito Vijandre.