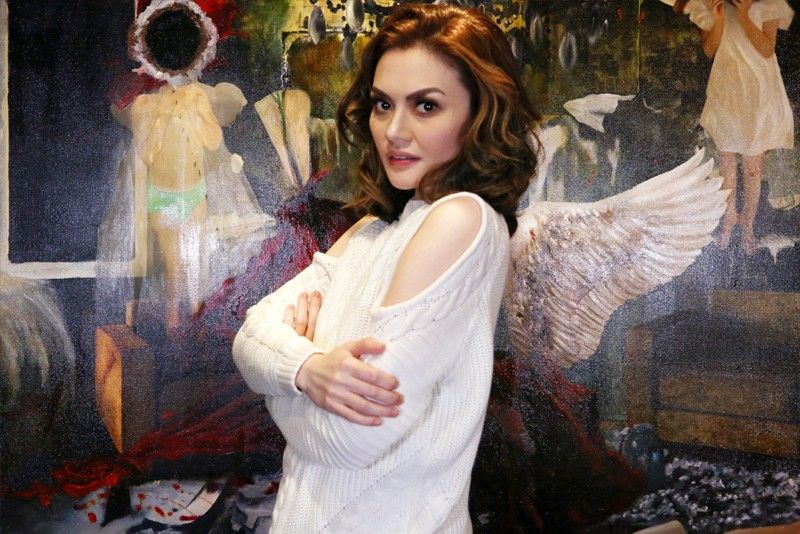 Portrait of the artist as a young woman: Maxine Syjuco in front of her painting "The Within (Part II)," oil on canvas, 5 x 6 feet
'I really have a penchant for things that are dark'
What is the first thing you do upon waking up?
I sleep beside my dog, Billie Holiday. She's a black Labrador. The first thing I do is I pull her, hug and squeeze her, and pull her in closer because she's my baby. And then I have a cigarette.
What is your favorite spot in your home and why?
It would have to be my studio, because I have all my books here. I love books; I collect lots and lots of books. My art is here and this is where
I am most myself, where all sides of me are free to come out and I feel most free.
I paint here. When I'm having a show, we bring in all the easels, all these things move out. This is a big mess when I'm working.
How would you describe your home?
It has a very introspective vibe. It's filled with things that force you to look inside of yourself: books, art, music — those are really my passions.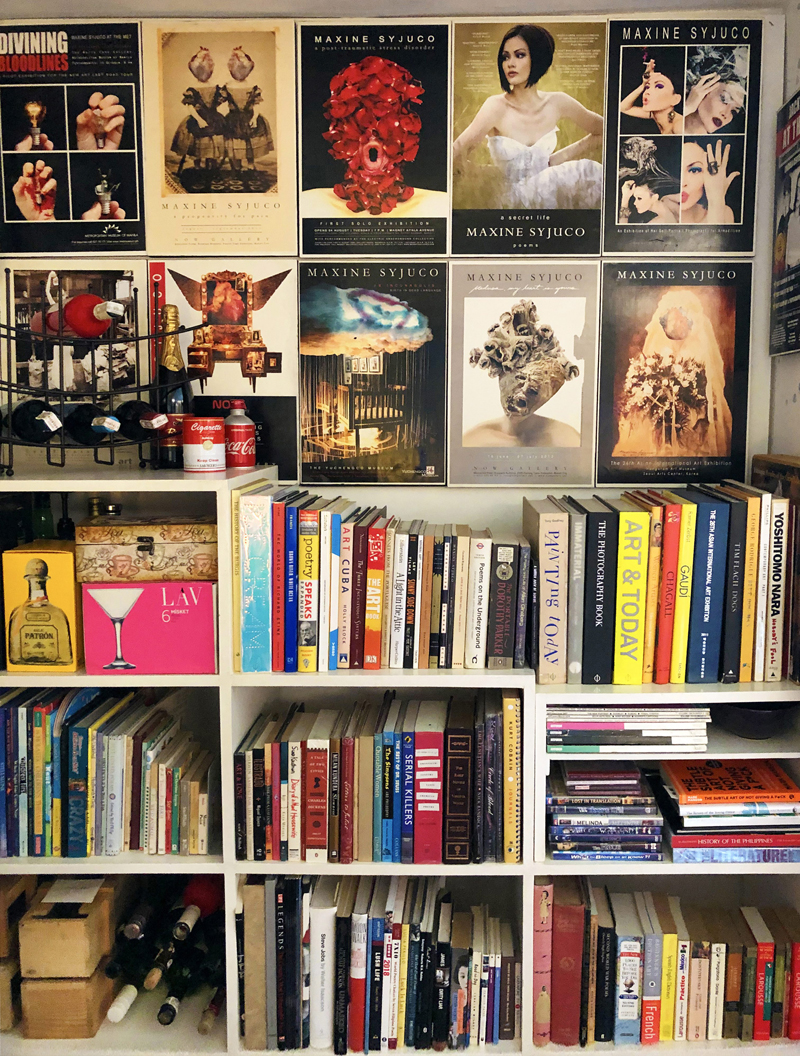 Book lover: The cover of Maxine's first book of poems, A Secret Life (top row, 4th from left) and posters from various shows decorate the studio library, with books from fave writers like Charles Bukowski, Virginia Woolf and Alain de Botton.
What about your homemaking style?
It's very OC. Quite neat, actually. But I really have a penchant for things that are dark. Like I love Igan (D'Bayan)'s art, and my own art and surrealism, dark films.
Which pieces of furniture or home accents have sentimental value to you and why?
This table, which I refurbished from old wood, then I topped it with photos from (Luis) Buñuel's Un Chien Andalou, a French film. I collaged them here and it's nice because when my friends and I are drinking, it's like someone's always watching.
In Art Lab we have these Rietveld chairs — he's a European designer who decided to make a chair that any layman could make.
So my mom and I worked on it together. We bought the wood from Port Area near your office, and we followed the specs online.
What do you collect?
I collect vinyl records. Jazz: Miles Davis, John Coltrane, Chick Corea. A few of my favorite musicians are Talking Heads, David Bowie, The Velvet Underground, Laurie Anderson, PJ Harvey, The Kills, Radiohead. I love Rage Against the Machine, Marilyn Manson… a lot, and it reaches up to Joni Mitchell. Pretty much anything but pop and country.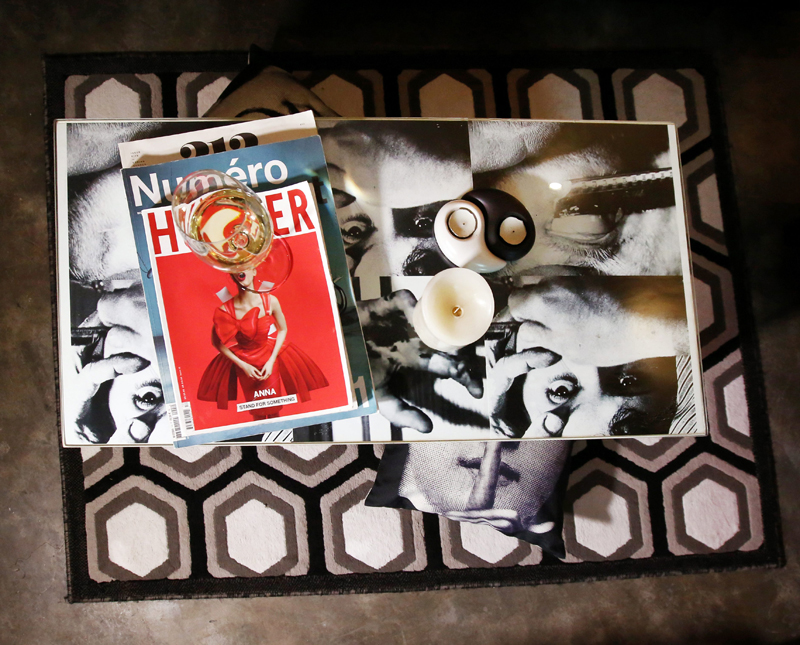 Eye spy: This table that Maxine refurbished from old wood and topped with photos from Luis Buñuel's film Un Chien Andalou holds the most sentimental value for her.
What books are on your night table? What are you currently reading?
The Subtle Art of Not Giving a F*ck, The Little Prince — eternally a favorite — this book on classical art called The Great Masters, Fuse by an Indian poet, Bina Sarkar Ellias. A few of my favorite authors are Charles Bukowski, Virginia Woolf, Wislawa Szymborksa, Billy Collins, Khalil Gibran, Bina Sarkar Ellias, Alain de Botton.
What books do you like to re-read?
Poetry books. I have a lot of favorite poets: Allen Ginsberg, Bukowski, Sylvia Plath… I have pretty much all of them there on the bookshelf.
Any visual artists you follow or like?
Well, my number-one visual artist is my dad, Cesare. I love everything he does. Of course I love the surrealists: Salvador Dali, Igan D'Bayan… there's a lot.
In case of fire, what's the first thing you would save?
That's a tough one. A box of love letters that I keep in my room.
What is the last thing you do before going to bed?
Kiss my mom and dad good night — still — then kiss my dog good night and have a cigarette.