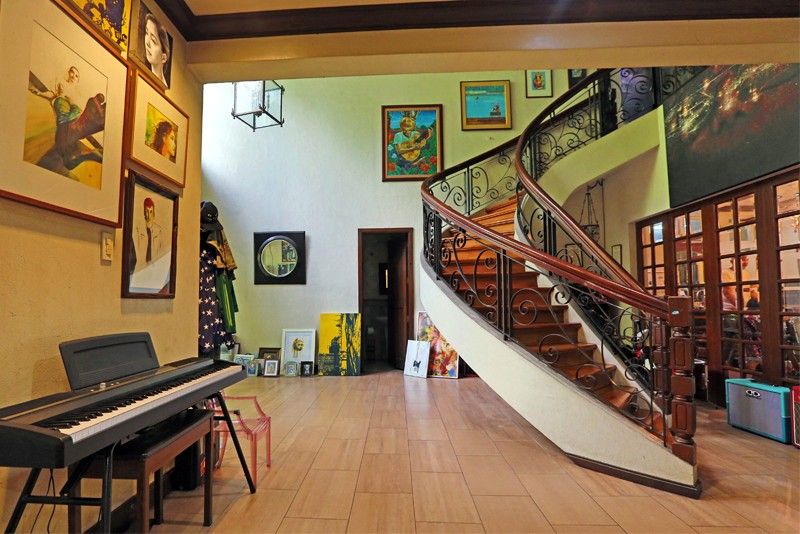 The house of Martin Honasan and Barbie Almalbis is well-lit, spacious and filled with paintings and musical instruments.
Photos by Walter Bollozos
At home with Martin Honasan & Barbie Almalbis: Cradle of art, love & a cat named after Vernie Varga
I've often wondered what it was like in the once-upon-a-time crib shared by Joni Mitchell and Graham Nash with sunshine in the morning, fireworks at night, and two cats in the yard. Two artists and one very, very fine house. In the case of visual artist Martin Honasan and musician Barbie Almalbis, they have also found a nest of their own — a house with no overarching theme or motif, but simply a place where Martin can create beautiful portraits emerging out of layers, cracked textures and distressed folds; where Barbie can write her effervescent songs of shiny red balloons and the ghost on the radio; where their kids can draw and play toys from a galaxy far, far away; and where one cat can imperiously survey the creative goings-on in the Honasan household and even become a muse for a song.
It is not just a house of branches, but also a house of roots.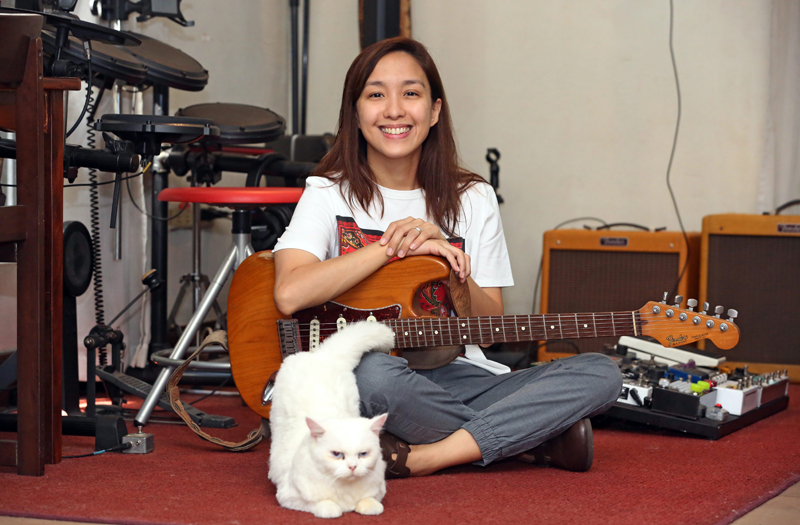 Barbie Almalbis with her 1989 Fender Strat and a Persian cat named Vernie, which was the inspiration behind one of her latest tracks called Tigre.
Martin shows me an easel made for him by his father, Senator Gringo Honasan, who gathered the pieces of wood from an old railyard. "It is one of his random gifts. My father also does sculptures," says Martin.
When Martin had his studio built, he made sure his floors were made of tiles to suit the materials he uses — which range from watercolor and acrylic to beach sand and burlap coir twine. He maintains a wall full of photos for reference. Cutout sheets of canvas are stacked upon the floor. Bible verses are written in conspicuous corners, post-its of wisdom from the divine. There is much overlapping in each piece of Honasan's oeuvre.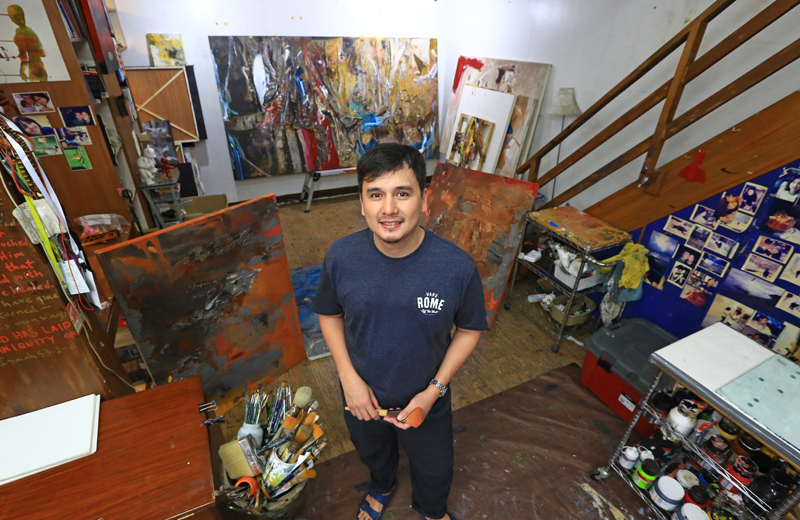 Martin Honasan explains, "As an artist, I want to be as free as possible." Originally, he wanted to be a comic-book artist like Jim Lee, but when Martin's mom started taking him to gallery openings, he took on a different path.
"I guess I just like to use layers," he explains. Whenever Martin looks at an abstract piece, a face seems to emerge from the soup of abstraction. If he sees, say, the face of Jose Rizal seemingly floating out of the crisscrossing splotches, the artist will work on it until it becomes a full-blown portrait of Rizal. In August 2018, he laid pieces of canvas on the roof of his parents' house. Heavy rains stained the canvas, creating interesting accidental patterns. After drying them out in the sun, he proceeded to paint over the weathered pieces. That is Martin's collaboration with weather.
As a kid, Martin originally wanted to become a comic-book artist (Jim Lee is the dude), but since his mom, Jane, started taking him to gallery openings, that sparked something in the mind of the young Honasan. "As an artist, I want to be as free as possible. To not be influenced by anything. I try to purge those influences (Chuck Close, Antony Gormley, Gus Albor) whenever I paint. But, for Barbie and me, everything we do is centered around our faith and our relationship with God."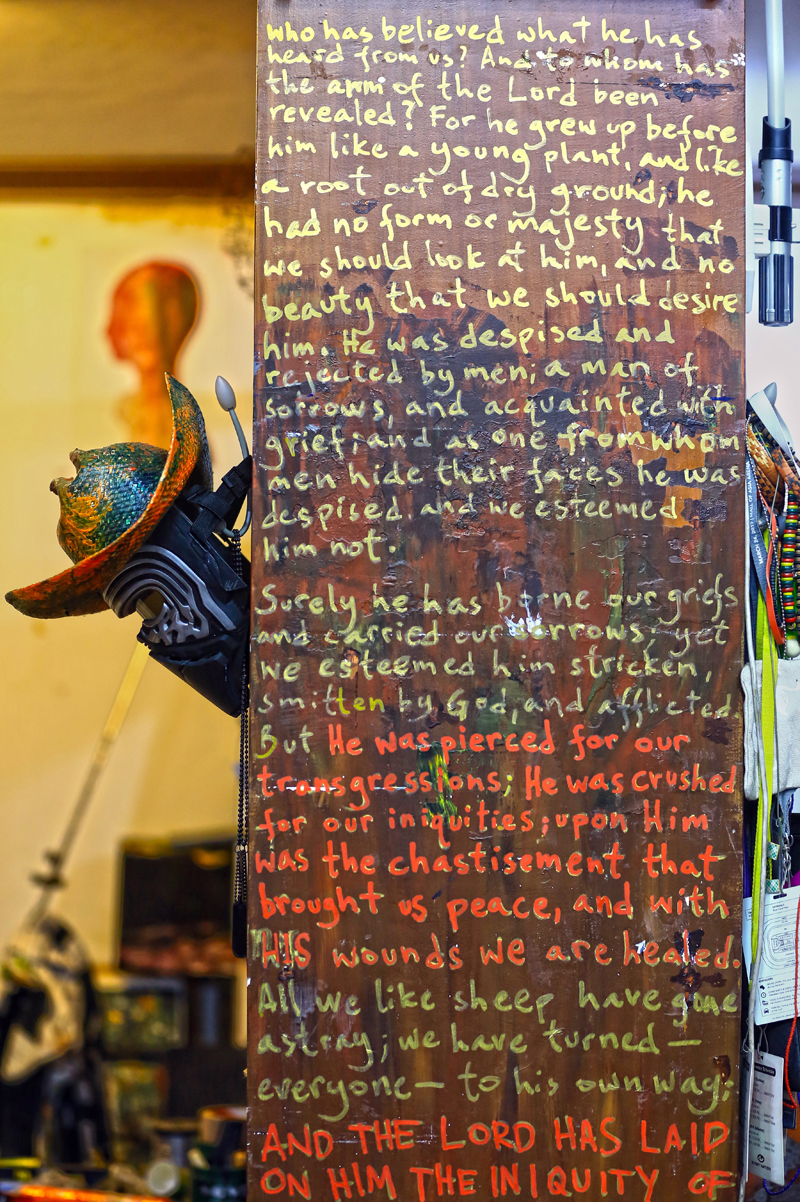 Words of wisdom
Martin works in the upstairs studio from late afternoon and until the small hours of the morning.
Barbie works in the living room where her guitars and gear occupy all corners of the space. She records her demos at home (setting up microphones, scouring YouTube for tips, etc.), with her kids nearby: Liam playing with Tie Fighters and Stormtroopers, and Stina (who has synesthesia) identifying the colors she sees in music. The white Persian cat named Vernie (Varga) sleeps beside the electronic drum kit.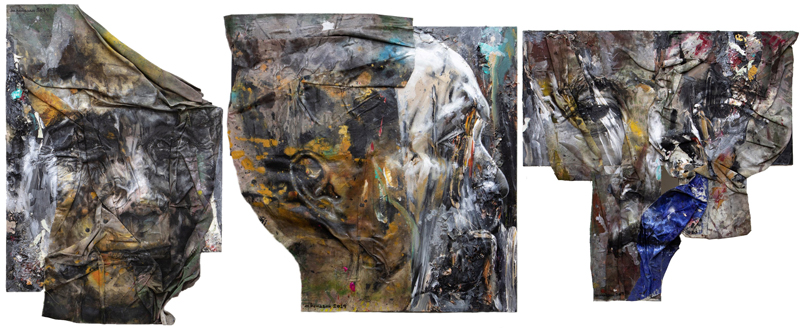 From Martin Honasan's "Bautismo" series
Barbie shows me an old '89 Fender Stratocaster. "My dad, Eleazar, bought it for me when I was in high school. He went to Manila and found it sa classified ads." She has played that Strat for almost all of her albums. "My mom, Teresa, paints, writes and sings. She taught me my first few chords. Nung una taga-lagay lang ako ng acetate sa church during Mass in (my hometown) Culasi, Roxas City." Pretty soon Barbie was part of the church choir along with her mom and grandma. Then she discovered hair metal.
"Guns N' Roses, Aerosmith and Skid Row (laughs)," shares Barbie. "Depeche Mode din." Later on, she would gravitate toward introspective singer-songwriters such as the aforementioned Joni as well as Rickie Lee Jones (with "The Magazine" as one of her favorite albums).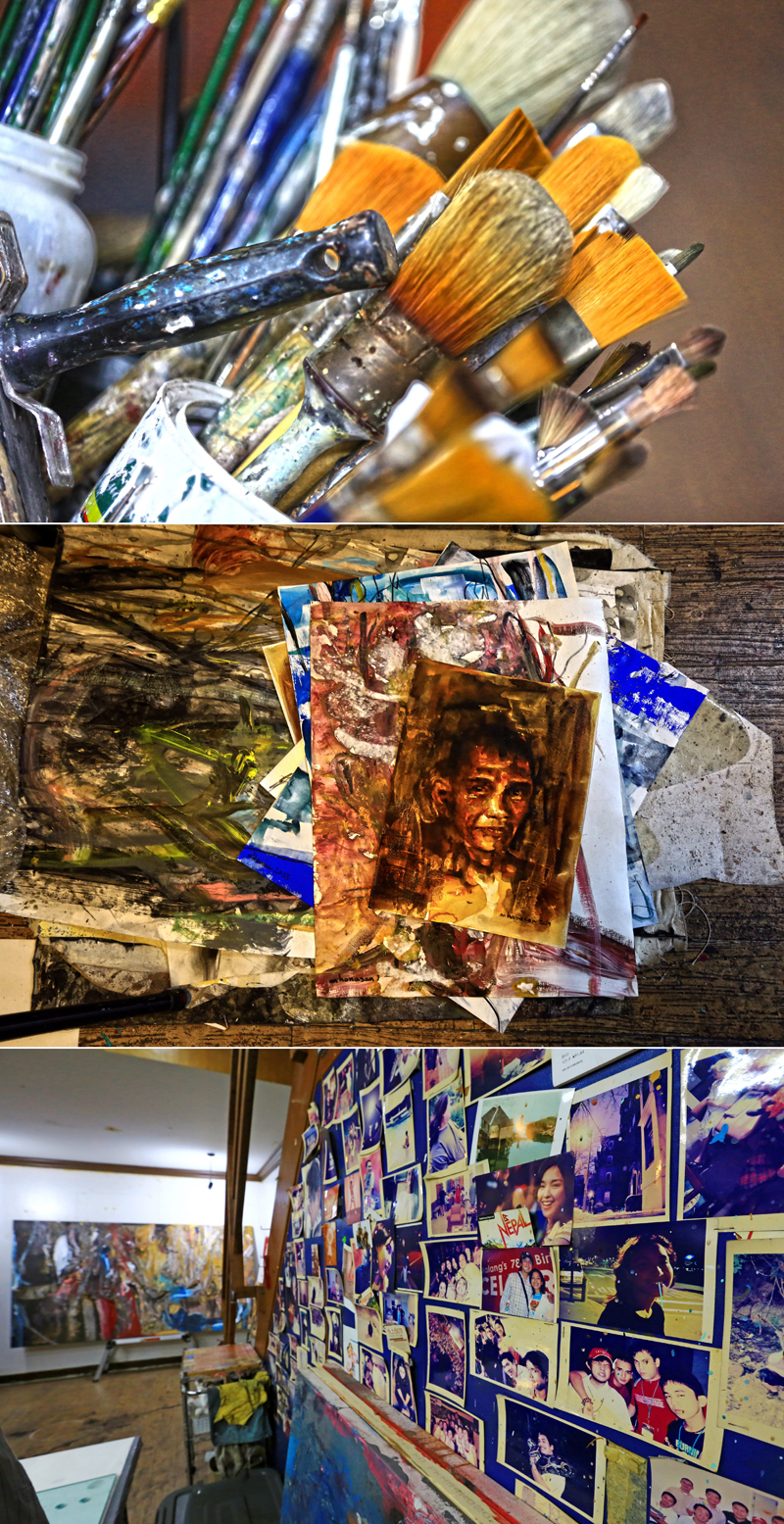 The studio is an example of controlled chaos.
Barbie went through a plethora of bands (school bands in La Salle, etc.) before forming Hungry Young Poets and Barbie's Cradle. After gigging with bassist Rommel de la Cruz, drummer Wendell Garcia and — towards the dissolution of the band in 2005 — guitarist Kakoi Legaspi in the Cradle, Barbie went solo.
Firewoman, Torpe, Money For Food, Shiny Red Balloon, Just A Smile are just a few of the songs that Barbie wrote, sang and popularized.
Currently, Barbie does gigs with an adventurous group of musos, including brilliant bass player (and Martin's brother) Karel Honasan.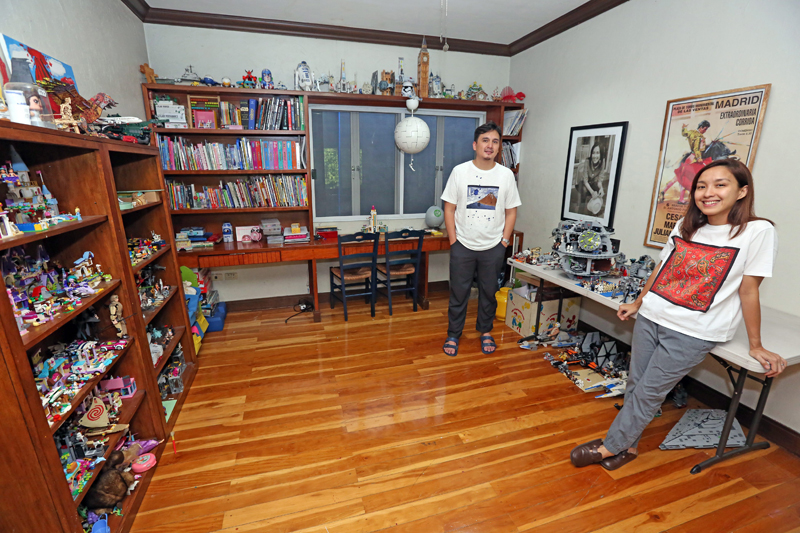 The kids' playroom has plenty of Star Wars collectibles.
"I write songs with an acoustic guitar, jam-jam on a few chords," explains Barbie. "Martin and I wrote a song together called Tigre — for our cat, Vernie." It is the lead track from Almalbis' recent EP.
"It's a blessing that Martin and I both love art and music, and whenever he gives me feedback, deep siya — he talks about the chords, the lyrics, tension and release (of emotion), creating interesting elements in the song. Very specific." When Barbie and Martin got married, they both had to learn the delicate dynamics of commenting on each other's work. Barbie recalls, "Kasi nung una, I would visit Martin sa studio and I'd tell him, 'Parang hindi yata pantay 'yung mata.' Pero hindi pa tapos 'yung painting (laughs). Nowadays, I give him more space whenever he is in his studio. (What's great is that) Martin and I love talking about art and creativity."
Fate, or more precisely faith, got them together.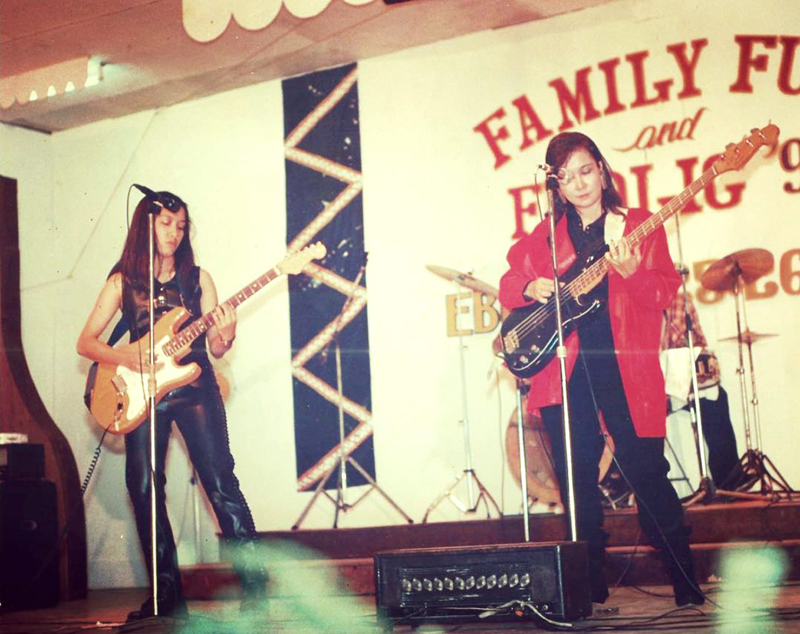 The young Barbie rocks out with her mom, Teresa.
Martin and Barbie were part of the same church community in Alabang. They knew each other for three years. "It was a taas-kilay type of acquaintance," points out Martin. "We like each other na, but there was no opportunity." One time, their common friends in the church group organized dinner in a restaurant in Alabang Town Center. "But our other friends suddenly had other engagements — dumating 'yung family, may biglaang gig, kanya-kanyang reasons," he shares.
The outcome: only Martin and Barbie showed up.
"Sobrang awkward," says Barbie. "We were forced to talk to each other. But that night broke the ice."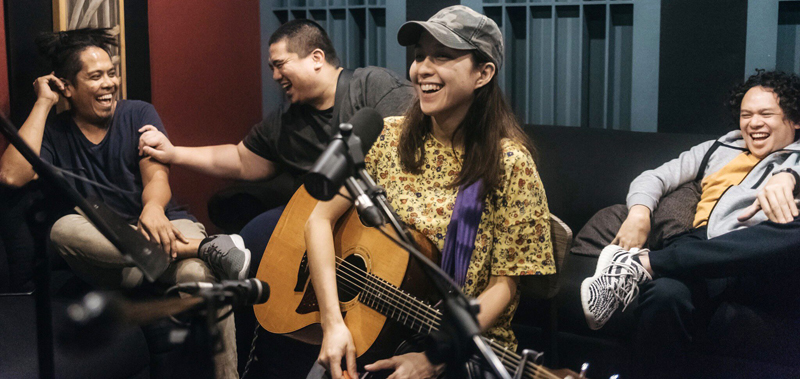 Barbie's current band is composed of bassist Karel Honasan, keyboardist Nikko Rivera and drummer Jonard Bolor. Photo by Ysmael Salvador .
That fateful (faithful) night led the couple into their current home where they live, work, raise their kids, and where — as the day is ending — husband and wife would watch Netflix shows about detectives, crime, espionage and solving mysteries.
How art is made, songs are written, and love is found — well, those are the greatest mysteries.
The couple from Coolsville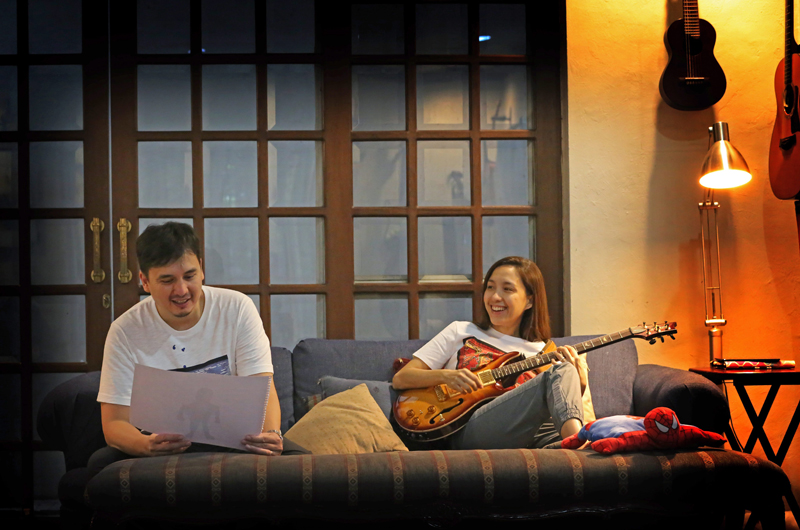 Martin and Barbie hanging out in their favorite spot in the house.
What is the first thing you do upon waking up?
Barbie: Say hello to the kids.
Martin: Ako, warm-up muna. Read. Tapos — pag-nagflo-flow na dugo ko — bababa na ako. Slow starter ako eh (laughs). Magtitimpla na ako ng kape.
Barbie: Ako kalamansi juice.
What is your favorite spot in your home and why?
Barbie: The living room because, here, I get to play music and play with the kids.
Martin: Same din, kasi nag-Marie Kondo kami sa area na 'to recently (laughs).
Barbie: Sparks joy na siya (laughs). Before, the television was here, so all you can do is watch TV instead of interact. We moved it to the corner.
Martin: We made it tambay-conducive. This is where we hang out.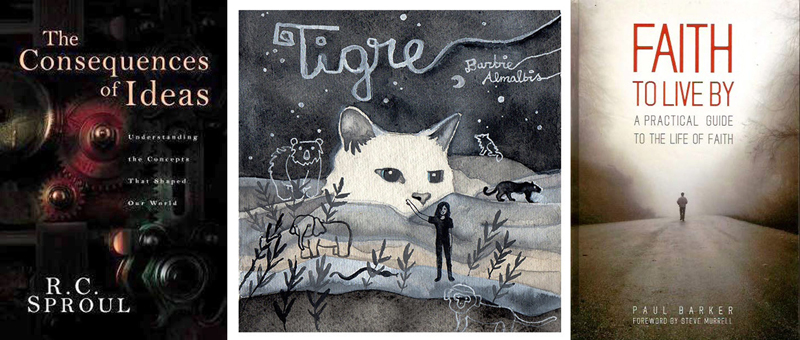 How do you describe your home? Your homemaking style?
Barbie: Our house — magulo siya na nakaka-inspire.
Martin: Sinong makalat sa aming dalawa? Magka-iba kasi 'yung idea namin ng makalat and malinis (laughs).
Barbie: But we want our house to be bright (and well-illuminated) because it affects our well-being.
Martin: Affects even our creative output.

A Paul Reed Smith Hollowbody guitar
Which pieces of furniture or home accents have a sentimental value to you and why?
Martin: This couch. Nung college pa lang ako tinutulugan ko na 'yan.
What books are on your night table (current reads)?
Barbie: Faith To Live By by Paul Barker.
Martin: The Consequences of Ideas by R.C. Sproul.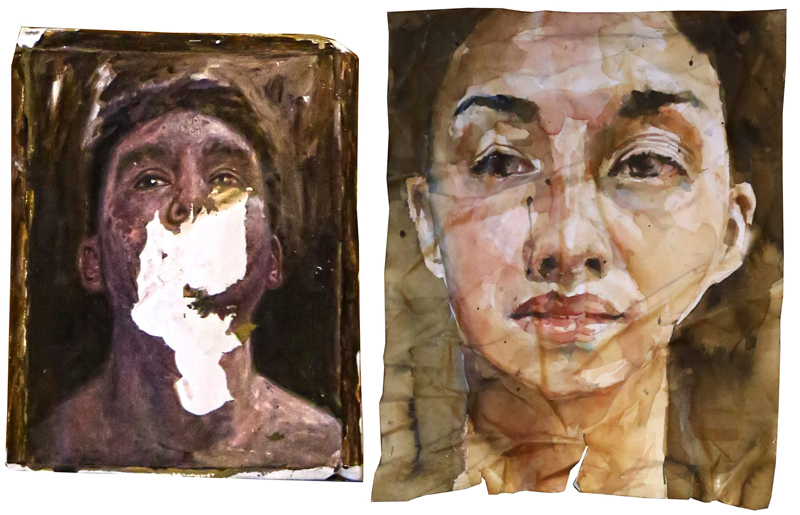 A self-portrait and a portrait of Barbie by Martin
In case of fire, what is the first thing you will save ?
Barbie: Aside from my family, my guitar na PRS (Paul Reed Smith), which was Martin's gift to me. It is a Hollowbody, my most dependable guitar.
Martin: My laptop. Our family pictures are there.
Barbie: He's very sentimental. He keeps everything — plane tickets, receipts, event IDs.
Martin: Hoarder ba 'yung ganun (laughs)?
Barbie: Not a hoarder. You're like a lola, you just box everything. Lahat ng keepsakes.