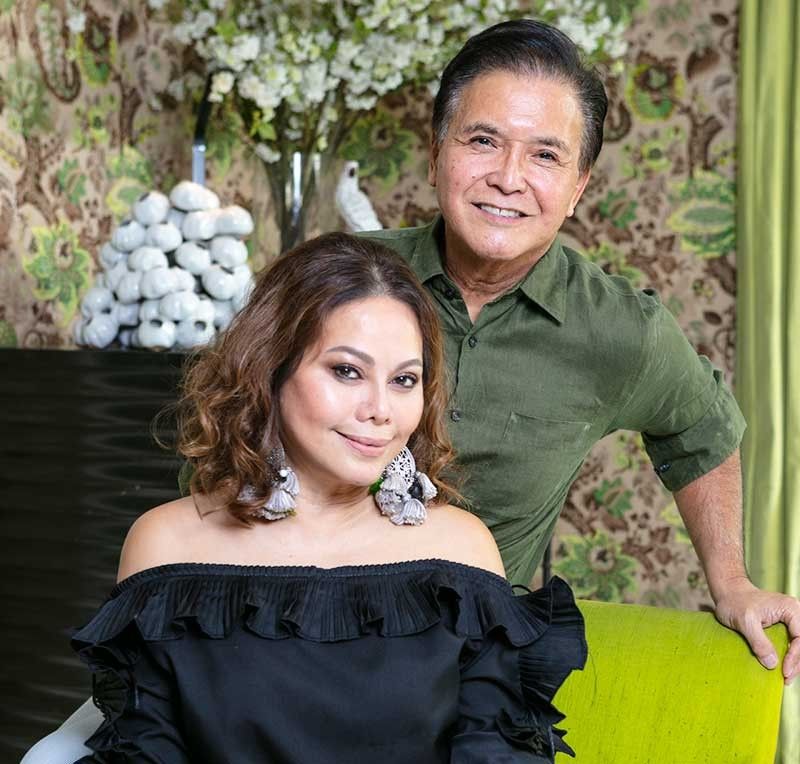 Designer Ivy Almario and businessman Yong Nieva: Celebrating their 20th anniversary this chillax na kayo.' year, the couple fills their two-story condo home with books, mementos, dancing and good times with friends. "We leave the house together because I don't want to be here either when she's not here," says Yong Nieva with a laugh.
Photos by JAR CONCENGCO
The look of love in Ivy Almario and Yong Nieva's home
'We're not very religious but we're spiritual,' Ivy Almario says. 'It's really nice to be married to a person who can be your friend because you have the same values, so then chillax na kayo.'
This is a home filled with love. You can feel it in the padded walls with Jacobean motifs, it floats in the living spaces that are closed to the world outside with matchstick blinds, it bounces off the light from lamps shaped like ginger jars, it wafts to the second floor where the bedrooms are, where the landing has framed photos and letters from the turn of the 20th century which are affixed with American colonial-era stamps.
This is the home of designer Ivy Almario and businessman Yong Nieva — everyone's marriage and relationship goals… and tango inspiration.
Located in the busy and noisy Makati central business district and surrounded by office and residential buildings, they've managed to create a love nest in this environment, a space enclosed unto itself, rich with textures and sensual with patterns.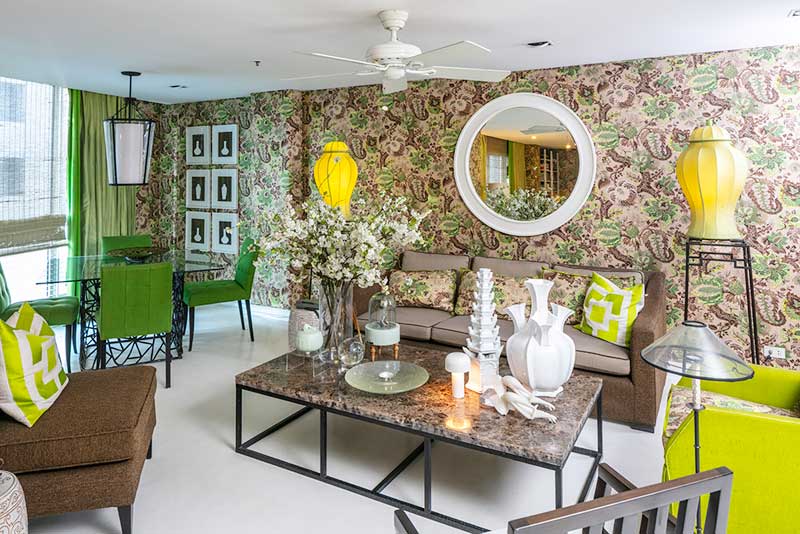 The living room, as is the rest of the space on the first level, is covered with padded walls covered in Jim Thompson fabric with the tree of life motif. All the furniture pieces were designed by Ivy, including the Chinese ginger jar-shaped lamps.
Ten years ago this two-story condominium unit looked very different, Ivy says. The walls were hand-painted murals of birds and plants, a very light and white background that matched the boat-finish white floors (the original was parquet when they bought the unit).
"When we first renovated it, it felt like a suite in Florida," says Ivy.
In the present iteration, what will immediately catch your eye are the walls — they're padded and covered with fabric from Jim Thompson. The print is a stylized, exotic "tree of life" in the Jacobean style from the 17th century, making the space look more like an English sitting room than a condo unit.
Had the Jim Thompson store in Bangkok had more of the fabric that she originally wanted, this home would look totally different. As it happened, they had two rolls of this green fabric that could cover all the walls, and only a few meters left of the other design which she also got and put in the master bedroom.
Ivy explains that the padding also works as sound insulation and the blinds to cover neighboring buildings.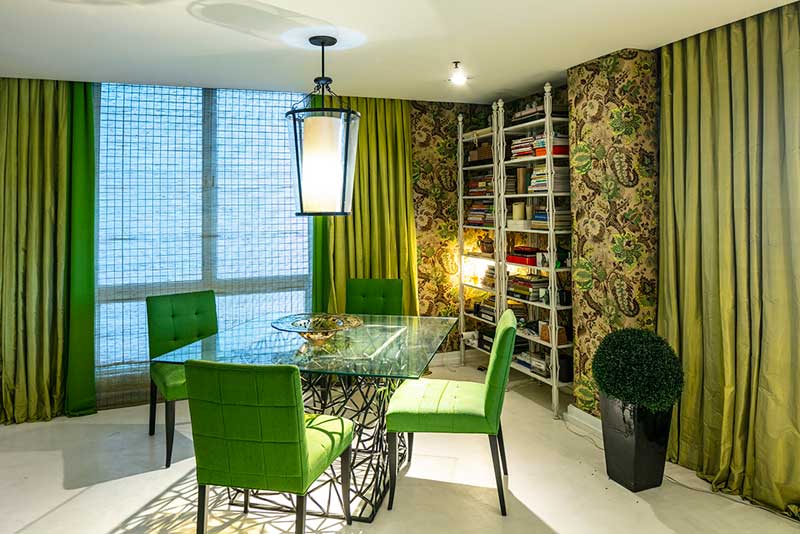 One of two dining tables in the living space: When Ivy is working at one table, dinner is served on the other.
"In an ideal world, I like to be very minimalist and modern but this is the place where I am right now. So I'm enjoying it," says Ivy. "The experience of what is a condo and what is a home is just separated by a door and a corridor right? I wanted this to be an oasis, that as soon as you enter you think instantly, yeah this is a home."
The living space on the first level is open and has two separate seating areas, two separate dining tables with all the furnishings designed by Ivy herself.
"The typical unit is that they cut up the spaces but we didn't. We have two dining areas because sometimes I'm working here at this table and so they set up the meal on the other table."
Does Yong have a say in his wife's design for their own home? He laughs and says, "She always asks me, 'What do you think?' But it segues into what she thinks."
Yong has his own space on the second floor. His man cave, also designed by Ivy of course, has a ratchet sofa in textured fabric with white resin deer heads above it.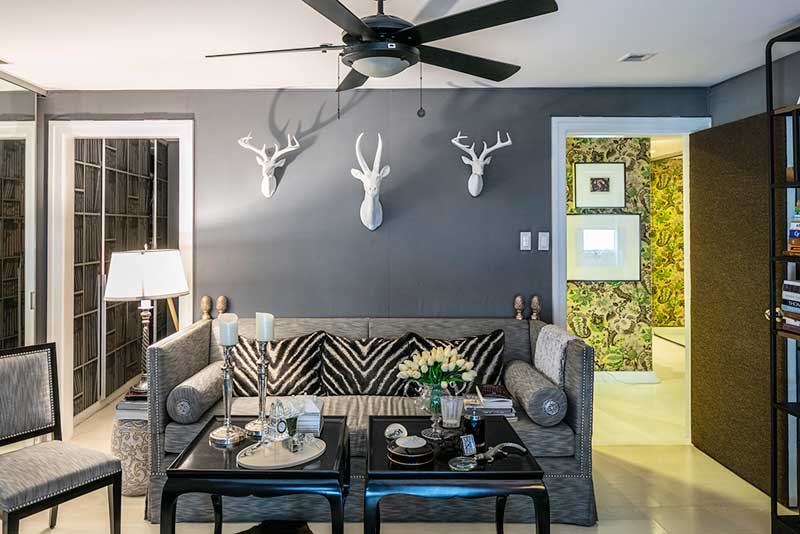 Yong Nieva's man cave features resin deer heads and a ratchet sofa in textured fabric. The couple also entertains here and, with furnishings pushed to the sides, they dance tango.
A bar from one of their restaurants is converted into a bookshelf and, for the first time in many years, they got a TV set. It is not entirely Yong's space, actually. Sometimes Ivy works on her drawings and designs here, too — standing up in front of a table by the window.
This space also coverts into an entertainment area when they have guests, like last Thanksgiving which they celebrated with four other couples. Sometimes, they practice their tango here, too.
The desk in the landing is Yong's "altar" of sorts. Here he displays framed letters his grandfather wrote to his mother in 1913.
"My grandfather was a doctor and they paid him with land. When he died at 39 my grandmother raised eight children by just selling land," he relates of his Kapampangan roots.
The guest room — unlike the rest of the house — is themed around blue and white and is occupied by Cherrie Atilano, co-founder and CEO of AGREA, an agro-social enterprise that aims to help eradicate poverty for farming and fishing families.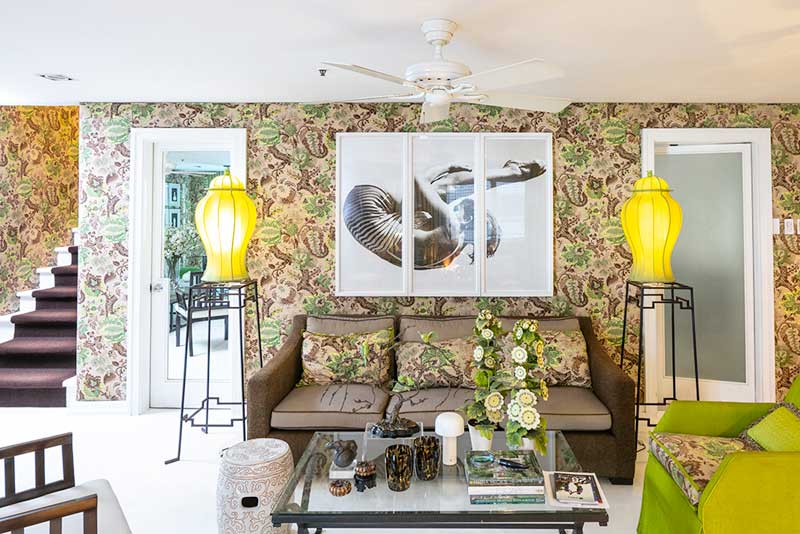 The second seating area on the first level is flanked by lamps that Ivy designed, accessories and a black and white photo from Shelter Manila, the home store that Ivy and her sister Cynthia Almario co-own, located at Shangri-La Plaza East Wing.
On the wall is a hand-painted blue and white rice bowl. "The rice bowl is there so that she will always remember her mandate," Ivy says of Cherrie, whom they treat like a daughter.
The room is a repository of the blue-and-white accessories the couple had in their previous home in the south.
The master bedroom is covered in white-and-gray fabric, still with plant and flower motif. The bed was originally canopied but that was the one thing Yong opposed — "I thought it was too girly" — and so the muslin bed curtains had to go.
Books, pictures, a Chinoiserie desk and lamps make this space a calming retreat. Yong points to a sofa and says, "That's our psychotherapy chair." A lot of friends have confided in and unloaded their heartaches to the couple on that sofa, which tells you that their space of love is not just for the two of them but for their circle of friends, too.
There are books spilling over shelves everywhere in this house. In the dining and living rooms, in their bedroom, the kitchen, in Yong's man cave, (his current reading is Homo Deus by Yuva Noah Harari).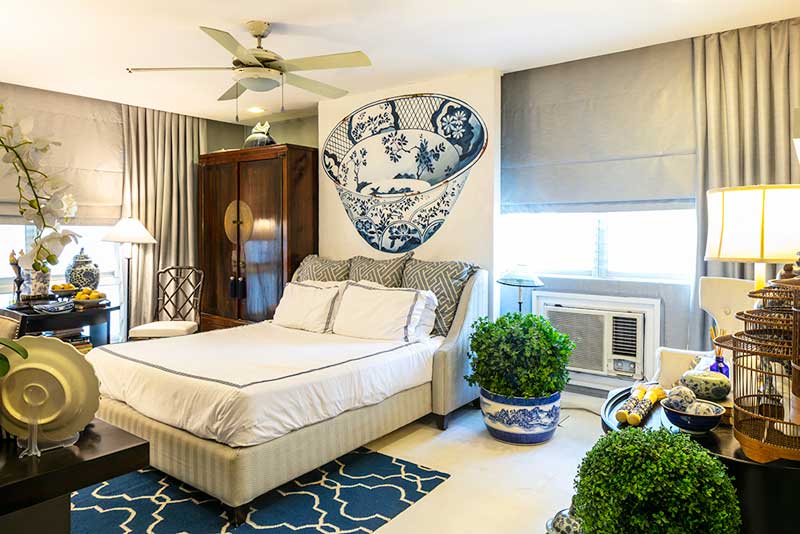 The guest room with a hand-painted rice bowl on the wall is a repository of their blue-and white collection from their previous home.
"We love to read," Yong says. "We sometimes read the same books because when she gets excited about a book, I'll get it and read it, and then we talk about it."
"I realized he was a keeper on the first weekend we spent together," Ivy says. "Reading was something he loved to do. So we spent an afternoon peacefully reading books. Also, he was a good father to the boys (Ivy has two sons from a previous marriage). Yeah, they practically grew up with him."
Another important thing they have in common is a deep spirituality, and they both practice meditation.
Yong says, "You have to treat your spirituality like a business appointment — it's something that you cannot miss. It's within you, the parameters of the soul are for real but when you find your comfort zone, where you're really alone to yourself, that's where I think you achieve equilibrium. She taught me centering prayer."
"We're not very religious but we're spiritual, even before we got together," Ivy adds. "It's really nice to be married to a person who can be your friend because you have the same values, so then chillax na kayo."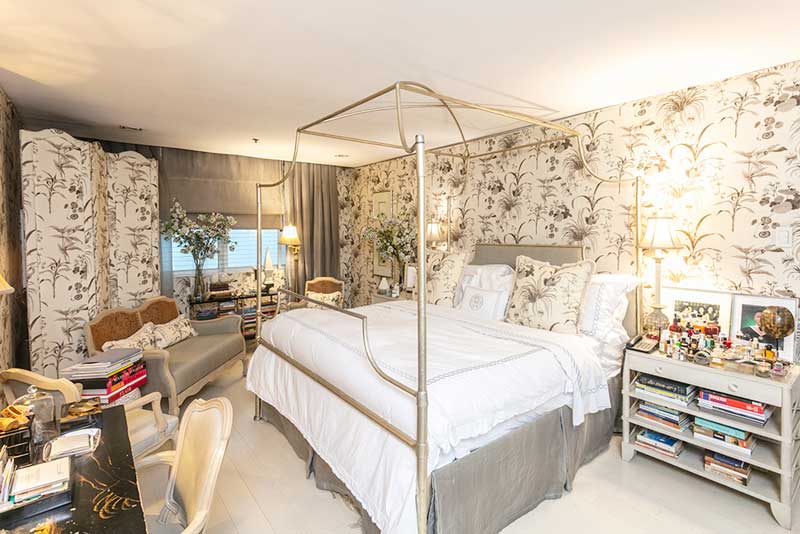 The master bedroom, also covered in Jim Thompson fabric, with a sofa (to the left) that Yong calls the "psychotherapy" sofa where their close friends unload their burdens.
Another secret to their successful and fun marriage is dancing. Yong passed on his love for tango to Ivy years ago, and last year the couple embarked on a month-long trip to Argentina where they danced their vacation away.
"Dancing helps, especially when you feel a bit estranged already," she says. "I have my schedule, he has his schedule, but the dancing and the physicality of being close to each other, it really is transformative."
"And it brings you energy and intimacy into your marriage," Yong says.
The closeness of the couple is something I've witnessed through years of knowing them. Ivy's soft voice and her measured words are only equaled in loveliness by her hearty laughter; Yong's mischief, his calmness and kindness are traits that make him a true friend.
Yong looks at Ivy with the usual twinkle in his eyes — as he has in the past 20 years since they had their civil wedding— and says, "I love being married. I love being married to you."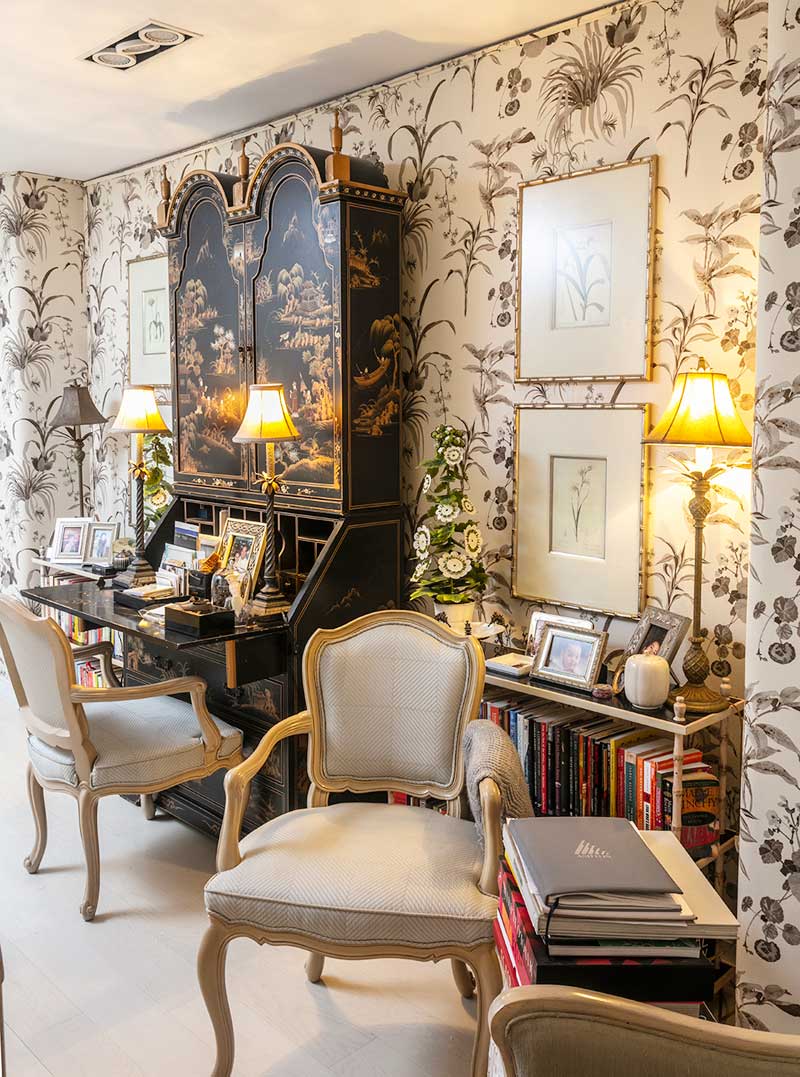 A Chinoiserie desk in the master bedroom.
* * *
Visit the author's travel blog at www.findingmyway.net and follow her on Twitter and Instagram @iamtanyalara.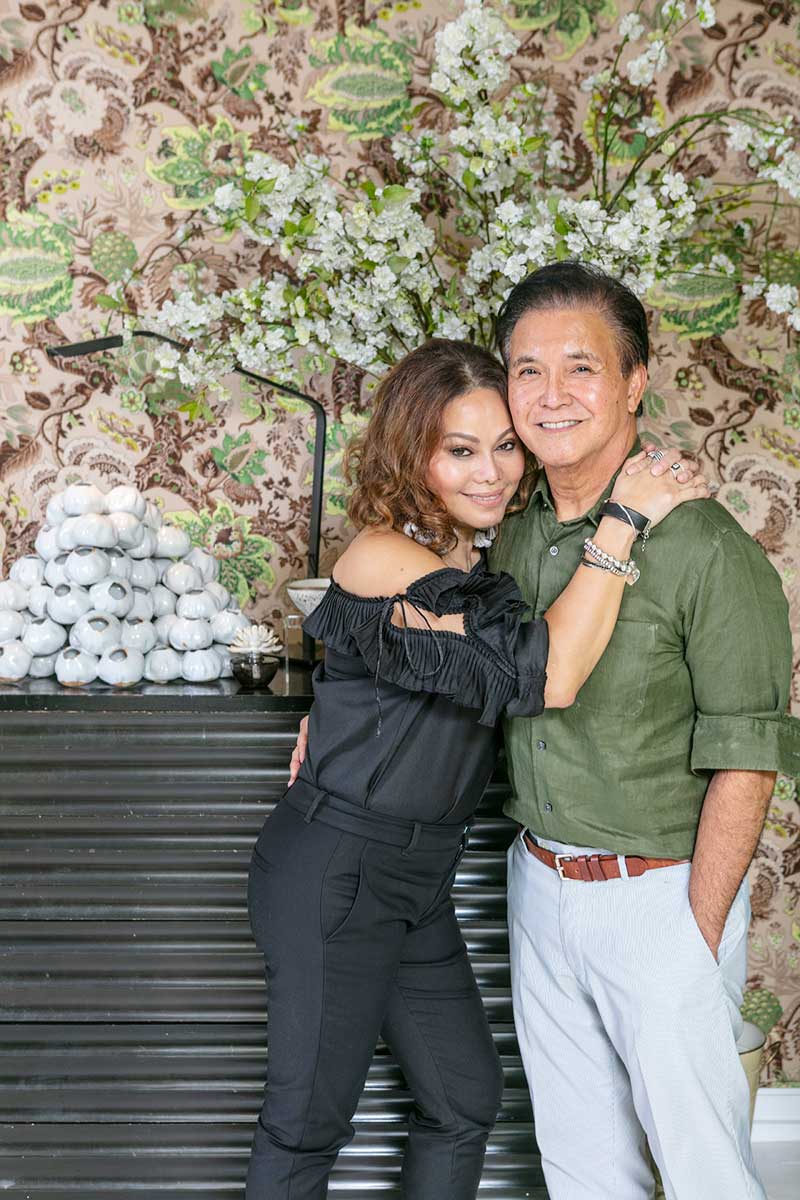 Ivy and Yong against the Jacobean fabric wall. Yong passed on his love for tango to Ivy years ago, and last year the couple embarked on a month-long trip to Argentina where they danced their vacation away.