Visita Laguna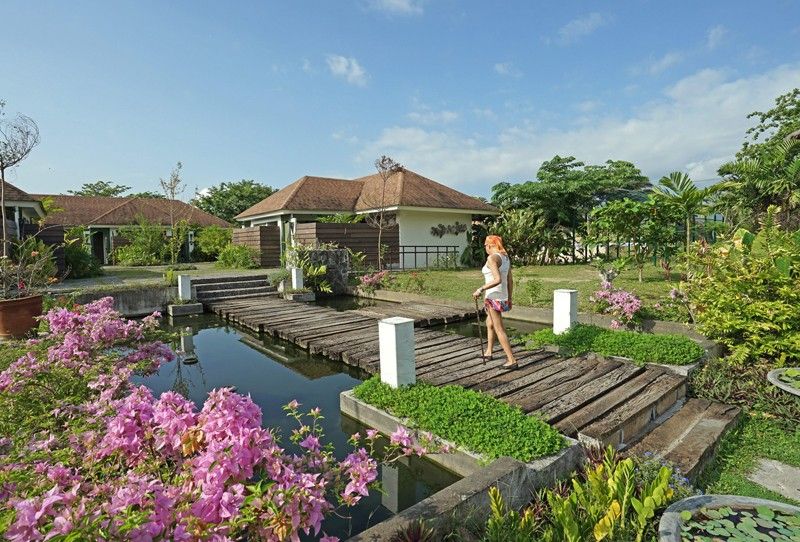 Last Holy Week, my wife Twink and I decided to do something different. Instead of journeying by plane to some distant resort destination, we decided drive to Laguna, mixing a resort stay with the traditional Visita Iglesia.
The traditional visita involves seven churches and started in the 16th century, but it being the 21st century, and choosing a province rather than a large city, we opted to do seven churches in a string of picturesque Laguna towns and one small city—Bay, Pila, Nagcarlan, Liliw, Majayjay, Calauan and San Pablo. All seven provided us with an abundance of riches in terms of religious content, heritage, shopping, and culinary delight.
Twink booked us, along with her BFF and husband, at Lotuspod Bed & Breakfast in Bay, Laguna, which we used as our base. Bay is the town located just after Los Baños. Both are now more accessible via a shortcut that Waze pointed us to, skirting traffic from SLEX to Los Baños.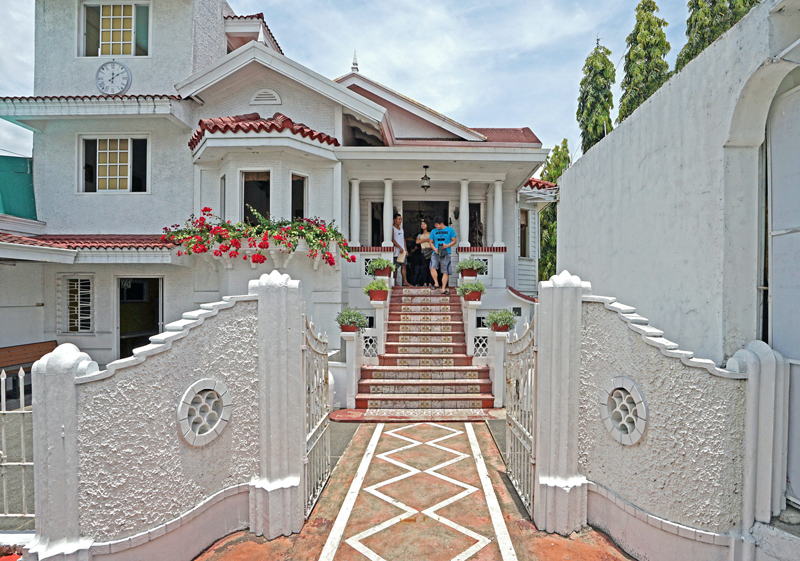 Liliw Laguna hosts this fascinating art-deco restaurant called 1938.
Lotuspod started as media icon Cheche Lazaro's weekend farm, which she expanded, converting it into a wonderful tropical oasis. Styled by Cheche herself, in fusion Filipino/Balinese style, the resort offers eight casitas tucked between rice paddies and tranquil lotus ponds, hence the name.
The resort's casitas (a number of which are PWD-friendly) are a short walk from the resort's pool, a children's playground and treehouse, a spa pavilion, and commodious dining pavilion. Each casita has its own hot-spring plunge pool.
The large lounging and dining pavilion serves sumptuous home-cooked Filipino food. Meal options extend to "dining under the stars" in one corner of the resort that magically transforms for your evening repast.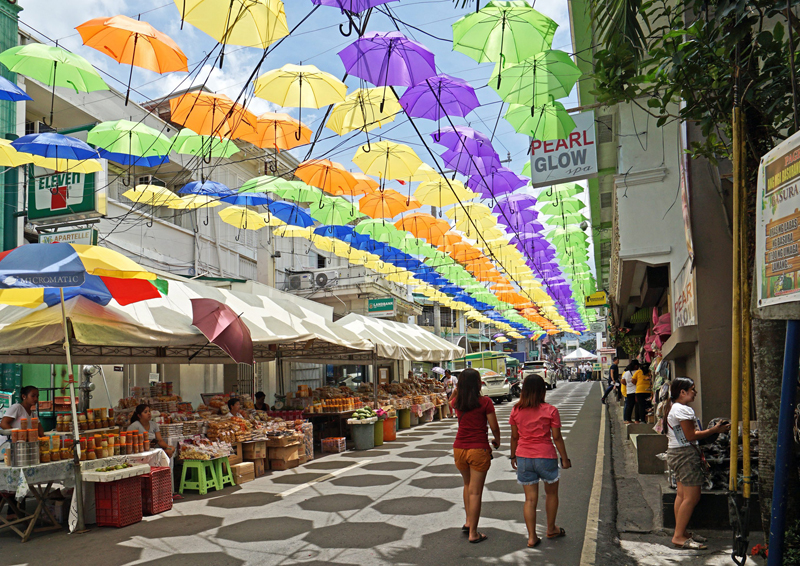 Visit colorful Liliw not only for the slippers they make.
Our first stop on the seven-church tour was Pila, a half-hour east of Bay. I'd visited Pila and several Laguna and Rizal churches over four decades ago as a college sophomore. I was eager to see what had changed.
Fortunately Pila, and a number of other towns nearby, have applied commendable effort in conserving their churches, heritage residences, and plazas. Pila's plaza is a sizeable three quarters of a hectare, which is the standard size of the town's blocks. The Spanish-era legacy of these blocks or cuadricula is clearly evident in Laguna towns.
Pila's two main landmarks, its municipal hall and church, anchor either end of the town's plaza. The San Antonio de Padua de Pila church occupies the southern end and was recently declared a National Shrine by the CBCP just this January. The church is of brick and stone with wooden interiors and is one of Laguna's oldest, being originally built in the mid 1600s.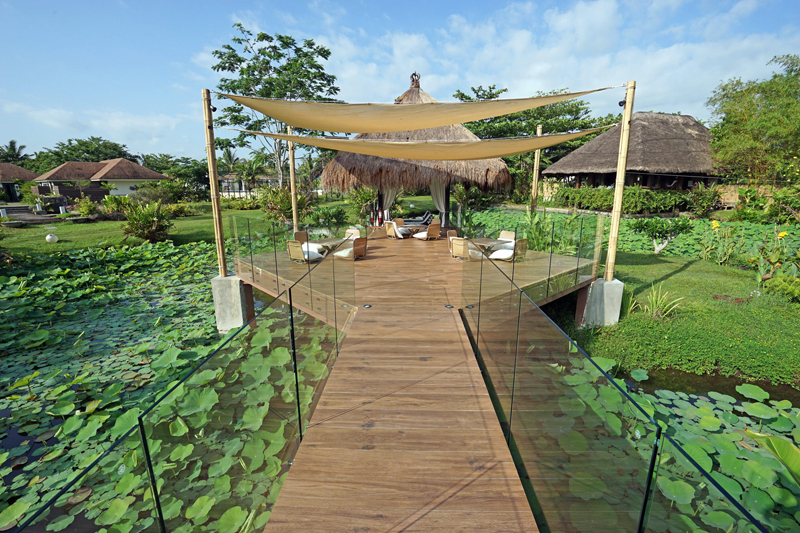 This is the chill pod in the middle of the main lotus pond in Cheche Lazaro's Lotuspod Bed & Breakfast.
The municipal hall is from the American-colonial period. The elegant two-story structure is well conserved with its gabled façade intact. A smallish statue of Rizal sits across the hall at the corner of the plaza. Thankfully, the church, hall and the town itself were untouched by the devastation of World War II. The town therefore has retained many of its heritage homes and is considered as well endowed as Vigan.
The Pila church and plaza combination was declared a "National Historical Landmark" by the NHCP in 2000 and together with the ancestral homes is a must-visit even if it's not Holy Week.
Liliw, an elevated town at the foot of Mt. Banahaw, was our next stop. It was my first visit to a town I've always associated with Tide commercials, because its photogenic mountain water streams were supposed to be good for laundering in (although we now know today that detergents pollute streams).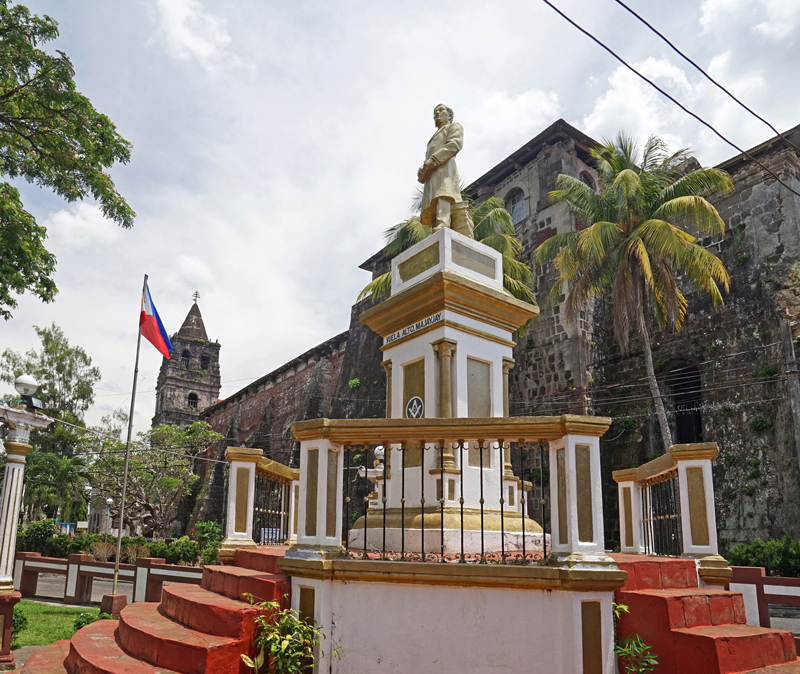 Majayjay town was the summer capital of early Spanish colonial Philippines.
The St. John the Baptist church and plaza sit at the highest point of what essentially is a plateau on which the town was built. The plaza is half a hectare in area and occupies two town blocks. This town also uses a clearly defined grid, albeit a third of the size of Pila's because of the narrowness of the plateau. The church is a masterpiece in brick and has classic Philippine baroque proportions and detailing.
The town hall sits to one side of the plaza, although it is now covered from the plaza by a row of footwear shops. Slippers are what the town is famous for. The main shopping streets for these items as well as local sweets have been festooned with colorful umbrellas in lieu of bunting, a practice that apparently started in Agueda, Portugal. This made shopping in the hot summer sun actually pleasant.
After a short lunch in Liliw, we motored to the next town, Majayjay, to continue our visita. Like Liliw, the town sits at an elevation (about a thousand meters above sea level). It is noted for its waterfalls and the St. Gregory the Great church.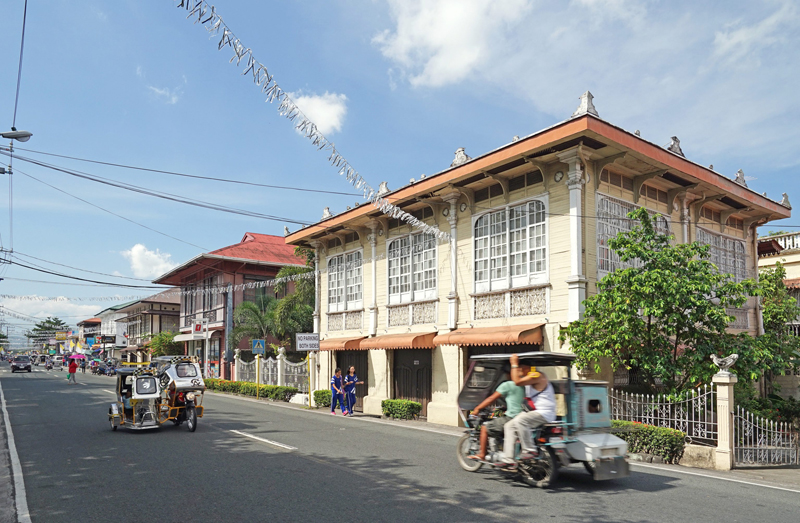 Pila compares with Vigan in the beauty of its heritage houses, albeit mostly from the American colonial period.
The church and convent are reasonably conserved and sit above a quarter-hectare plaza. The Municipal hall is to one side and from the air it seems that the original plaza was twice the present size, losing real estate to a school and market, a regular happenstance of many Philippine plazas.
Majayjay is also noted for the Puente de Capriccio, a Spanish-era bridge, as well as for Lambanog, which apparently braces visitors against the cold mountain water at its falls.
Nagcarlan was next on our itinerary. It is larger than Liliw or Majayjay and features the amazing Nagcarlan Underground Cemetery, declared an ICP (Important Cultural Property) by the NHCP. A small museum beside it tells the cemetery's history and its contribution to the Katipunan cause.
The well-conserved Nagcarlan Underground Cemetery ensures that a key cultural treasure will be appreciated by generations to come.
Its town plaza and St. Bartholomew Church are also of architectural note, with a crypt that also served as meeting place for Katipuneros. Like the other two towns nearby, Nagcarlan has a popular waterfall. One wishes, though, that these waterfalls had better designed amenities for visitors. The three towns are, however, easy to string for a whole day's tour, or covered in less than half a day if you're rushing to complete your seven-church run.
We will continue our Visita Laguna next week, with the balance of the requisite seven churches in San Pablo, Calauan and finally the historic town of Bay.
* * *
Feedback is welcome. Please email the writer at [email protected].