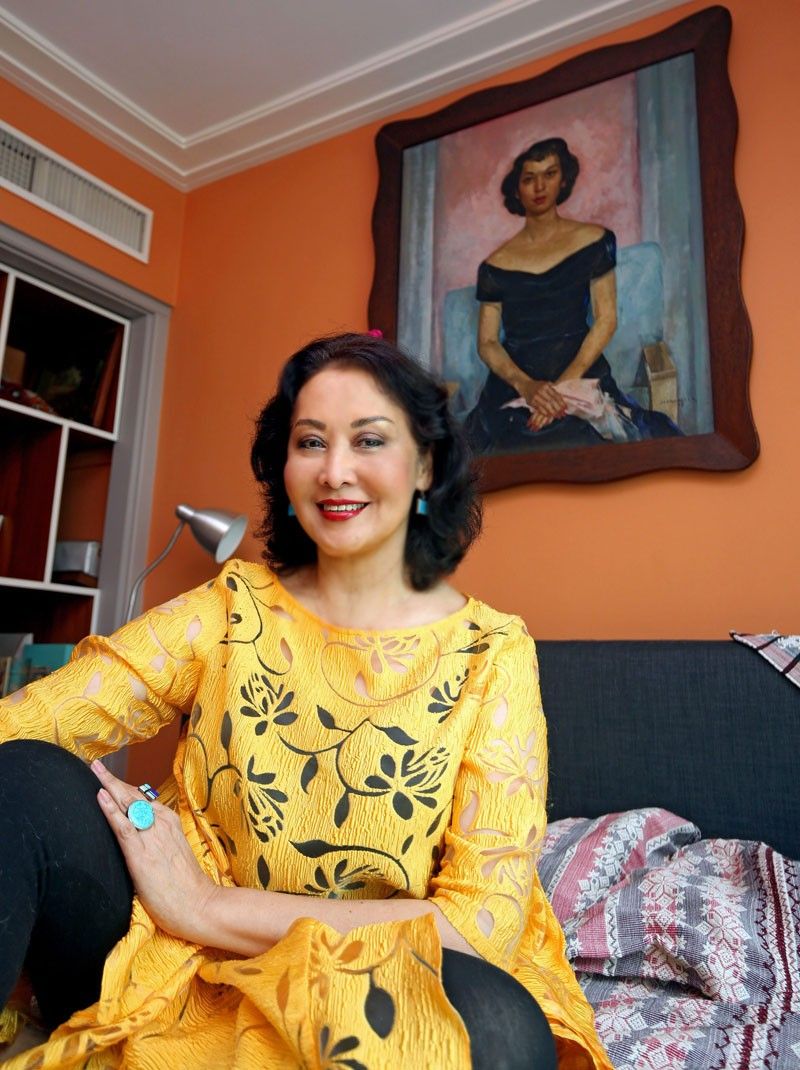 Gemma Cruz Araneta beside the portrait of her mom Carmen Guerrero Nakpil by Manansala. ''I watched while Mang Enteng painted her, I was terribly envious.''
Photos by KJ Rosales
Art, history, books and cats reign in the home of Gemma Cruz Araneta
'I chose this place because it has a view — even if just a sliver ­— of the Pasig River,' says the history writer and cultural activist.
In the home of Gemma Cruz Araneta, you feel the warm embrace of everything close to her heart.
Nothing branded and breakable in this place which is marked by a sincere love for family, history, art and culture. Breakable, her treasures are not—but they do show signs of being faded and torn.
There are photographs of people who occupy high places in her life on one bookshelf— husband Tonypet Araneta, still looking handsome, with the couple's goodlooking family: daughter Fatimah with their Mexican son-in-law Gaspar Tellez and their grandchildren Tekwani and Aurora; son Leon with their daughter-in-law Karla Delgado and their granddaughter Uma Leona. Then of course, Gemma's mother, historian and writer Carmen Guerrero Nakpil, who passed away last year. On another bookshelf, there is a small unframed portrait of Philippine national hero Jose Rizal, brother of Gemma's paternal great-grandmother Maria Mercado.
Bookshelves, in fact, occupy six walls of Gemma's two-bedroom enclave, and you feel that books, mostly old, form the essence of her daily existence. They are not wrapped in plastic for display. Most are dog-eared and have post-its attached to pages.
At the foyer, the bookshelf on the left has a stairway design. "That's designed like a ladder for my cats Milonga, Jarocho and Merengue (Si, señor, they're named after dances)." You notice that all doors in this condominium have a catdoor. In the dining room is what Gemma calls a "cat condo," a four-storey fur-lined ''tree'' for her felines. "I've always been a cat lover since childhood,"she says.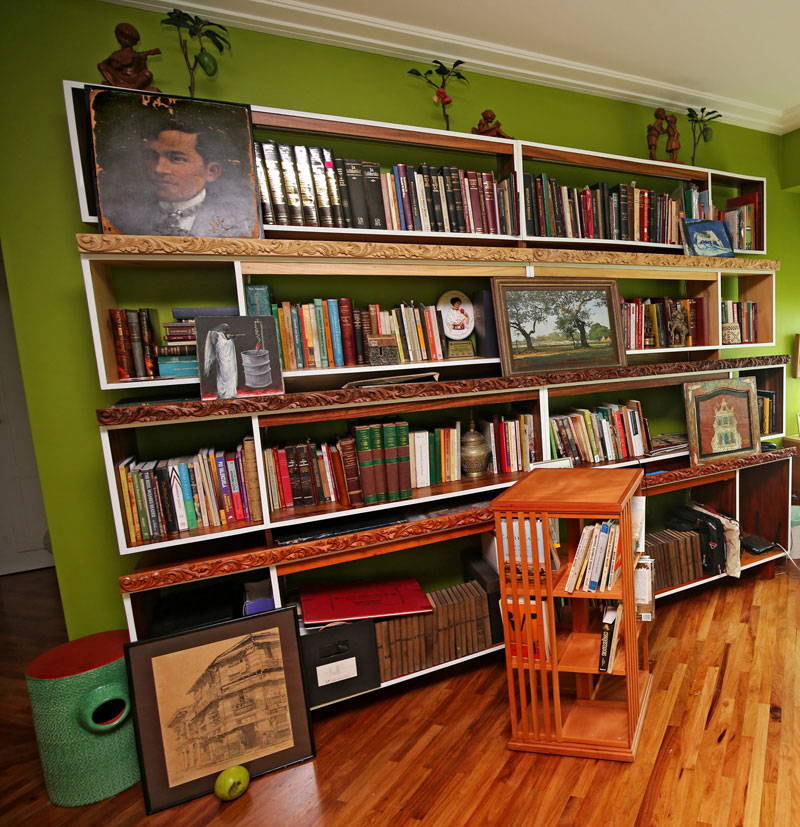 The revolving bookshelf on the floor made by her grandson Tekwani is Gemma's favorite. The carved ledges on the bookshelves are the idea of son Leon. A portrait of Jose Rizal (top left) and surreal paintings by Benjamin Mendoza find their places amid books.
Leon and Karla are cat lovers as well, and they live in the 'hood.You see Leon's hand in the carved ledges to hold photographs on one bookshelf. "It was also Leon who took care of putting those cute cat doors in this home," Gemma proudly adds.
The center of the receiving area has only one piece of furniture: a carabao-shaped settee she found in Eric Paras's shop at the Henry Hotel compound. The dining room set is "rescued" furniture from the 1970s, illuminated by a ceiling lamp by Olivia D'Aboville.
Near the study table, on the floor, is a revolving shelf which she loves, made by her half-Mexican grandson Tekwani. All walls are covered by paintings, if not by books. These include artworks by Manansala, Sanso and Benjamin Mendoza, the Bolivian surrealist painter who tried to assassinate Pope Paul VI in Manila in 1970. Every object in this home has a story behind it.
A painting on one wall and a book commemorate "Hocus," an art exhibit at the National Museum curated two years ago by Gemma — a collab between historian Saul Hofilena Jr. and artist Guy Custodio showing provocative views of colonial Philippines.
There is not a single TV set here. "For news, I listen to AM radio in Tagalog. Quite interesting, I get a feel of what people think. Callers phone in their views."
Not a single memento displayed at home from her beauty queen days as Miss International 1964. But the traces of beauty are still so visible on her naturally lovely face and statuesque poise, matched with a genteel, if archaic, kind of grace. Archaic because it's vanishing, you rarely see this trait anymore these days.
During your conversation with this former Miss Philippines who has so much under the crown on her head, you discuss everything and anything, from the Philippine colonial era to the present government. Never a boring moment with this beautiful woman who lives amid slices of history. And a catty sense of humor.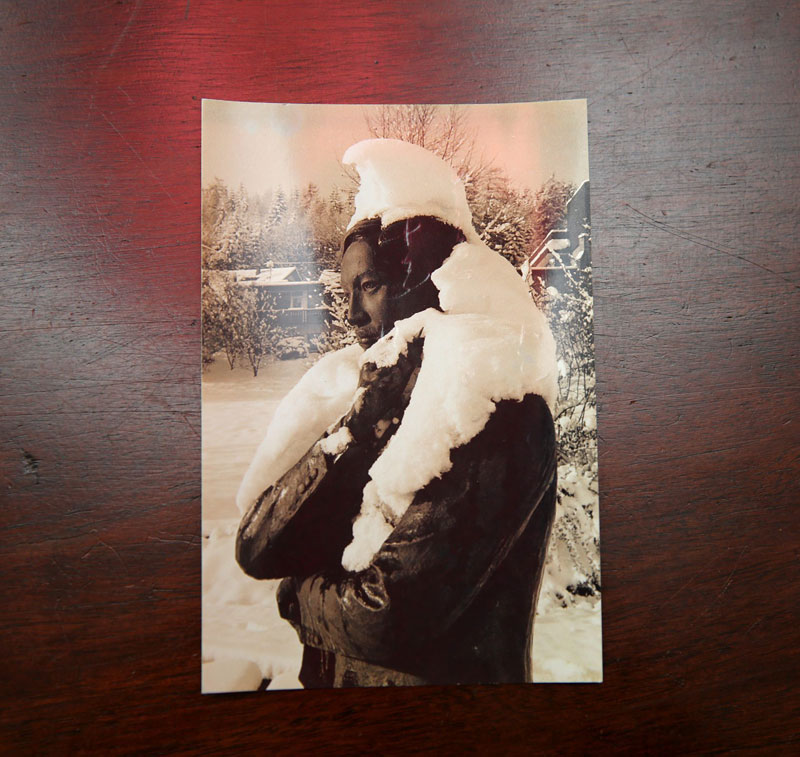 The snow-covered statue of Jose Rizal in Heidelberg. The photos came from Fretz and Hans Hack who donated the bed Rizal used in the home of their great-grandfather Pastor Karl Willmer.
Excerpts:
What is the first thing you do upon waking up?
I look out the window and pray to the Almighty, thanking Him for all the blessings He has showered on me and my family; I thank Him for another day and implore Him to help our country.
What is your favorite spot in your home, and why?
It is not big enough to have a favourite spot, I like every nook but I spend most of the time at my desk writing or reading.
How would you describe your home?
It is my lair! Mi guarida, as we say in Mexico.
Your homemaking style?
No need for homemaking, not anymore. I have no one to take care of anymore, except myself, Milonga, Jarocho and Merengue, my three felines. My grandson Tekwani, my half-Mexican, is coming next month to spend a few years here in the Philippines. He was here last year with his sister, Aurora, I took them to Batanes and Singapore. The loved it! Tekwani said he wants to stay with me; he has a job offer from IGC Securities. He is 20 already, so very loose reins until he discovers his roots.
Which pieces of furniture or home accents have a sentimental value to you and why?
I have very few things of sentimental value in my lair, most of them are in my house in Mexico—artifacts from Cotabalo, the horse of Indarapatra, Burac the mythical bird that flew the prophet Mohammed, a small santos collection, two oil paintings by Jaime de Guzman, a lacquered mirror Leon bought when he went to Ecuador with Tonypet, Fatimah's early architectural sketches…Today, in my lair –my mother's portrait painted by Manansala in 1949.. She bequeathed it to me because I watched while Mang Enteng painted her, I was so terribly envious, I remember, so upset that I wasn't included. I have an Ateneo yearbook with my father's photo and signature!
What made you choose your present home location?
I used to live in a nearby village, but then I wanted a bigger place where my grandkids can stay over. But I said it has to have a view—even if just a sliver—of the Pasig River. And Leon found this.
You love the Pasig River.
Yes, and I wish Erap would stop reclaiming lands near the Manila Bay.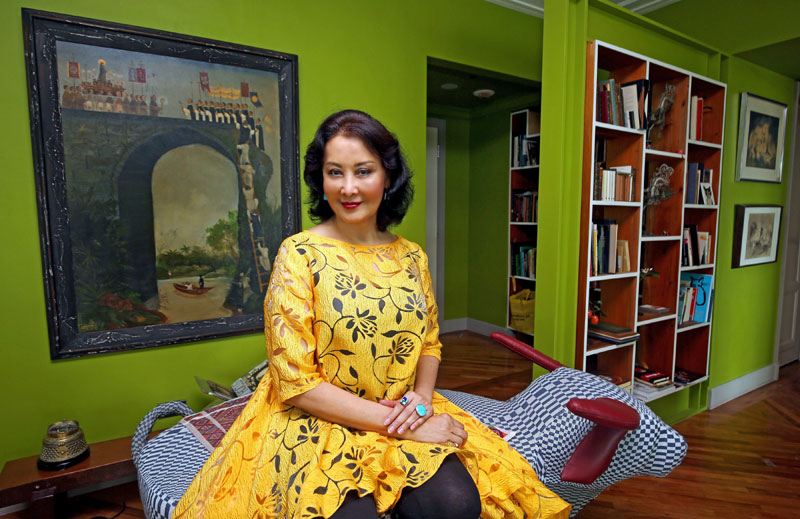 Wearing one of her favorite Criselda Lontok tops from Rustan's, Gemma relaxes on the settee she found in Eric Paras' shop. Behind is an artwork from Hocus, the Saul Hofileña-Guy Custodio exhibit which she curated. At far right is a pair of paintings by Benjamin Mendoza, the Bolivian artist who tried to assassinate Pope Paul VI in Manila.
Why do you love cats? Compared to dogs, cats are so snobbish.
That's why I like them! But when I arrive home, they do greet me and show their belly.Right now, they're hiding because they're terrified of visitors.
Any interior design/architect you follow or like.?
I like architect Dom Galicia because he knows how to make heritage and modernity engage in a perpetual dialogue; for example, the National Museum of Natural History which used to be the Department of Agriculture and then the Department of Tourism where I used to work. He also designed a fantastic church on the ruins of architec Lindy Locsin's structure in Magallanes Village. I also admire architect Paulo Alcazaren for his landscapes. As for my lair, my private preserve, I left it in the hands of Leon Araneta who knows exactly what his mother needs and wants.
What books are on your nigiht table? Current reads?
No night table but you will see a built-in shelf beside my bed. I am preparing for the quincentennial of the Spanish conquest of the Philippiines, so at the moment, I am reading about Magellan and Lapulapu (book of Danilo M. Gerona), Lapulapu, a novel by Vicente Gullas with annotations by my idol, Resil Mojares. I don't know if I should plow through Stefan Zweig's book on Magellan, lots of other materials written by the early Spanish missionaries, things I didn't learn in school, fascinating!
But you are plowing through the Magellan book, you are holding it right now.
Well yes, because we are celebrating the 500th year in 2021 not only of Magellan's landing in the Philippines and the start of Christianization here, but also Magellan's being the first circumnavigator of the world, although Tonypet insists it was not Magellan, but his slave Enrique de Malvar.
What's the story behind that photo of Rizal's statue in Heidelberg covered with snow?
That came from Fritz Hack. He and his brother Hans donated to the Philippine government the bed that Rizal used in the Heildelberg home of their great- grandfather Pastor Karl Ullmer where Rizal stayed.
If you had to establish home in another country, which one would it be?
Mexico . My daughter Fatimah has her own place there, which was the wedding gift from her father. It is really enormous, she has her own forest,a cornfield and a garden with lots of trees. She plants her own vegetables, collects rainwater from the roof and it goes down to a cistern under the house. She has solar panels and dry toilets. The place is really eco-friendly. She took two years of architecture and switched to urban planning, and she designed the place herself.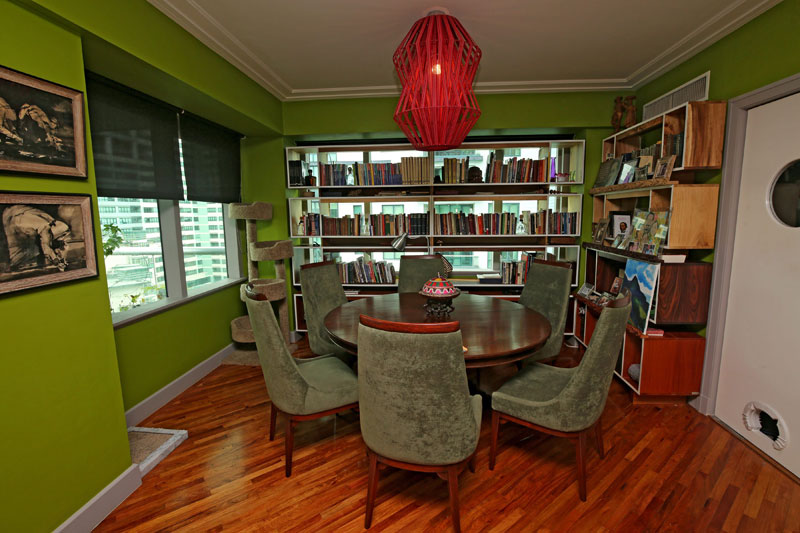 In the dining room is a pair of Manansala artworks dated 1967, gifts from Gemma's father-in-law, Don J. Antonio Araneta. The condo for her three cats are on the left corner. The dining set consists of ''rescued'' furniture from the 1970s, lit up by a ceiling lamp by Olivia D' Aboville. Leon made sure that every door in the house has a cat door (below right).
You lived in Mexico for quite sometime, right?
Yes, for about 18 years. In 1975, my kids and I visited Mexico where my uncle Leon Ma. Guerrero was our ambassador.With his help, we were granted resident visas which allowed my children to study, and me, to work.
I got my first job as a teacher of conversational English to executives. After three years, I was offered a job as a fashion model which I accepted not only because it gave me more time to spend with my children,but also because it offered higher pay. What I earned from one pictorial or ramp show was the equivalent of one week's pay as an English teacher. At that time, there was an oil boom in Mexico, so foreign designers like Karl Lagerfeld and Oscar de la Renta would present their collections in Mexico.
You met Karl Lagerfeld?
Yes, I remember one time, he was holding two pads and he approached me. And I thought, oh no, he finds me flat-chested ! He put the pads, not on my chest, but on my shoulders! It was the era of padded shoulders and power dressing.
A glamorous and financially rewarding job.
Yes, but I didn't really find fulfilment there. What I loved most was my next job at the Third World Study Center which was a project of former President Luis Echeverria. I was in charge of the Asian desk, and we had to research and write about Asian countries. Most memorable was when I was able to go to Nicaragua and meet the members of the junta led by Daniel Ortega. I really enjoyed that job for six years. My next job before returning to the Philippines was at the UNDP (United Nations Development Programme) where I supervised projects of government officials. I did this for about four years.
What made you come back to Manila?
My children had finished schooling and already had lives of their own. And I felt the motherland calling. I worked with a garment factory and I also set up my own jewelry line called Simoun ( after the jeweler in Noli me Tangere) , opened a gift shop at Shangri-La and Rustan's. Then came an offer from President Erap to be his Secretary of Tourism.
What was your focus as Tourism Secretary?
I promoted domestic tourism. I also created programs for balikbayans, including one helping the younger generation discover their roots. This included sports activities like surfing competitions in Siargao. After holding an informal survey among tourists, I also raised a fuss about the need for clean restrooms. To which Shell president Oscar Reyes responded by upgrading Shell's restrooms along the tourism highway, followed by Philtranco which even built a museum in Bicol.
After Erap's term was cut short, I was appointed chairperson of the Heritage Conservation Society which was a project of the Department of Education. Among other things, we were able to restore Gabaldon schoolhouses and then Camiguin schoolhouses with their Moorish designs, as well as schoolhouses in Rizal, Baguio and Angeles.
It was fascinating that Gabaldon schoolhouses had cross-ventilation and were even designed with light coming from the left side of the classroom so that there would be no shadows on notebooks.
Next, I worked with my mom at the Manila Historical Commission, under Mayor Alfredo Lim. Fulfilling because Lim was a lover of history.
A selfie with Jarocho, the only cat who was in a meowing mood.
Right now, what makes you happy?
I have my life back! The last person I took care of was my mom who passed away in July 2018. I am happy visiting Fatimah in Mexico every year, around September. Because that's when the red pomegranate fruit used for my favorite dish, Chiles en Nogada , is in season. The dish uses a big green bell pepper filled with ground meat and the crystallized fruit. Then almond is poured on it, creating the colors of the Mexican flag—white, green and red. The dish was concocted by nuns during the revolution led by Vicente Guerrero, hero of the Mexican fight for independence from Spain.
What's on your wish list?
To visit Turkey and Morocco. And revisit Angkor Wat, India, Peru and Uruguay.
What is the first thing you'll save in case of fire?
I will save the year books of my dad (Ysmael Arguelles Cruz) and grandpa (Dr. Alfredo Leon Guerrero), the student memorial against the Philippine-American war signed by my grandma (Filomena Francisco, the first lady pharmacist); Gabriel Beato Francisco's novels, my grandma's diamond art deco set, the silver medal of the Amigos del Pais Tonypet gave me when I was appointed DOT secretary, I will put all that in the carriers of my three felines, needless to say, I will save them too.
What is the last thing you do before going to bed?
I drink an enormous glass of water after which I pray to the Almighty, thanking Him for another fruitful day, I pray for the dearly departed and for those who are sick and have asked for my prayers.
* * *
Follow the author on Instagram and Facebook @milletmartinezmananquil. Email her at mmmananquil@philstarmedia.com.