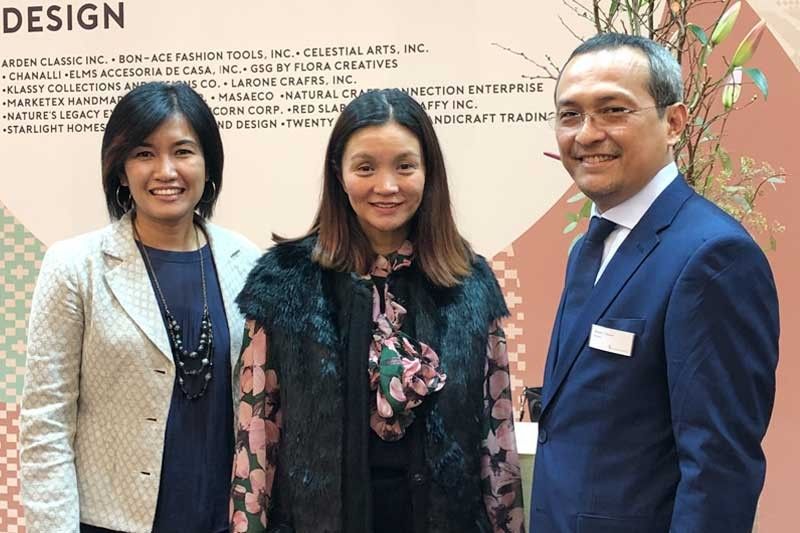 CITEM executive director Pauline Juan is flanked by commercial counselor at the Philippine Embassy in Berlin Althea Karen Antonio and We-Link GM Wilbert Novero at the Philippine booth in Ambiente, Frankfurt.
Filipino design tells the narrative of our culture at Ambiente
All these beautiful products by companies from across the Philippines — shaped by our culture and made by our hands — stood out in the huge exhibition halls in Frankfurt.
In a huge exhibition hall where beautiful home accessories are fighting to grab buyers' attention, one wall stands out for its nine cylindrical wall décor made of shells and barnacles in their raw and processed forms; in another hall, it's a wooden chandelier shaped like giant light bulb that stops me in my tracks; and in another space, it's black vases with designs inspired by a tribal tradition of engraving their tattoo designs on their clay pots.
These are just three of 42 Philippine exporters that participated at Ambiente in Frankfurt last month. Dubbed the show, Ambiente is the biggest consumer goods fair in the world with 4,451 exhibitors from 92 countries and 136,000 trade visitors from 166 countries.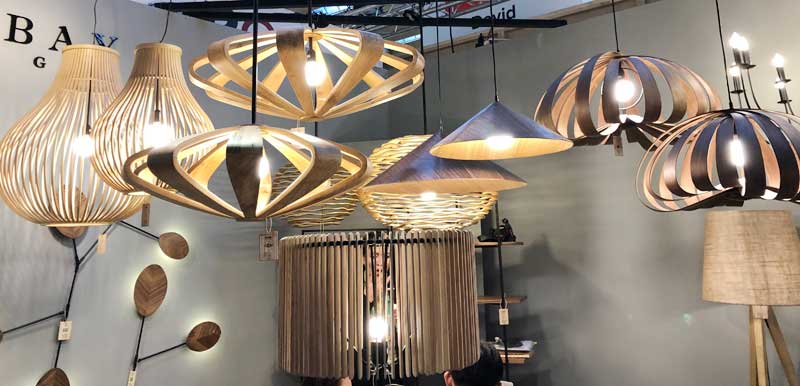 Triboa Bay wooden lighting: A casual, laid-back approach to lifestyle. The brand was named after a bay in Subic "where the mountain meets the sea."
For sellers, it's a huge potential to do business with new buyers but the competition is also so great that they must stand out from thousands of exhibitors.
Worldwide Exhibitions Linkage Services (WE-LINK ) general manager Wilbert Novero says, "Starting this year, Messe Frankfurt categorized the halls by sectors, it's more specific now and it makes sense. I talked to other companies that are not in this hall (Global Sourcing) and they say they've been meeting the new buyers."
Wilbert's company helps Filipino exporters participating in Ambiente by providing project management services, such as booth design and consolidation of shipment. "WE-Link makes the logistics easier for them. Frankfurt is also studying more ways to benefit buyers and exhibitors. We're going to do an online B2B platform that's a great complement to the show."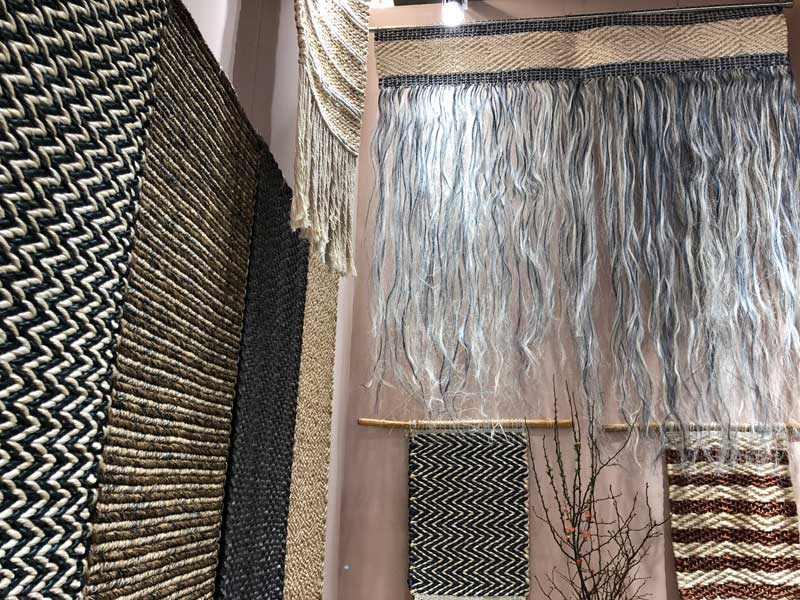 Natural Craft Connection's abaca carpets.
Apart from independent exporters that participate in Ambiente, CITEM was able to have a bigger participation with additional funding from Senator Loren Legarda, who allotted P12 million for CITEM exhibits in Germany, of which the Ambiente participation got P7 million.
CITEM executive director Pauline Juan says, "Initially we were supposed to have 18 small booths for our space here, but we got additional space for six more companies because of the higher budget."
Starting in April last year, CITEM began accepting applicants whose participation in Frankfurt it partly subsidizes. "We accept them on a first-come, first-served basis. We help them with product development starting in June." They also underwent market coaching by designer Tony Gonzales who was tapped as creative director for Ambiente.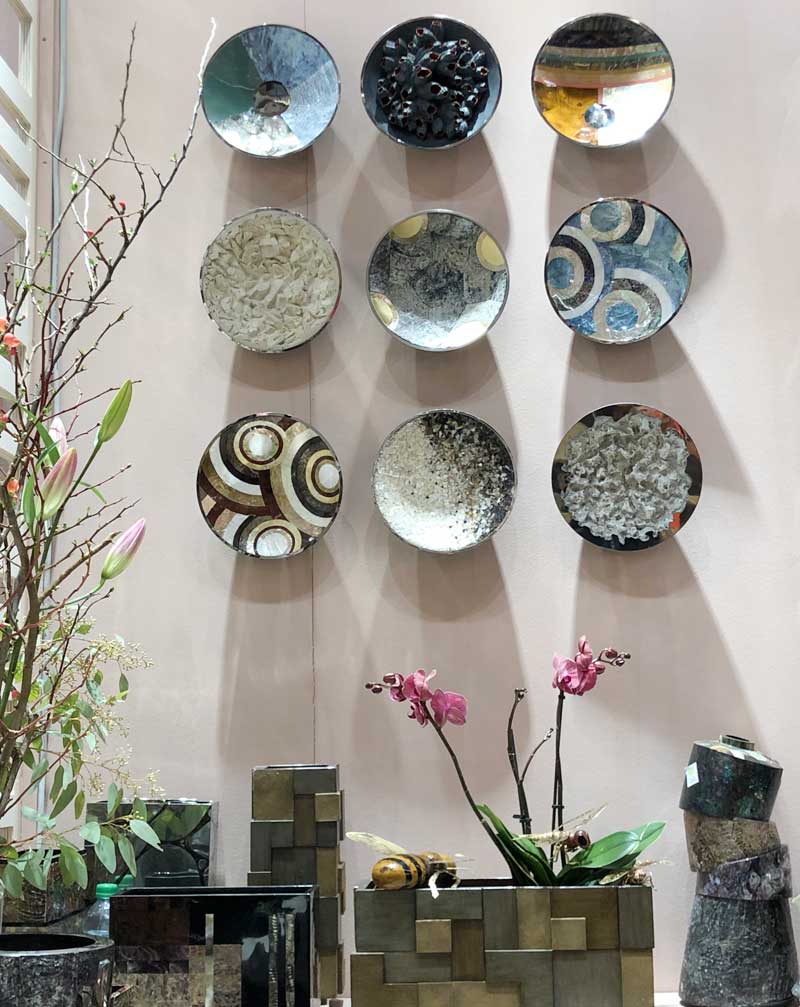 Bon Ace's wall décor and home accessories are inspired by their own minaudiere collection: Endless possibilities in design with Cebu's natural resources like shells, barnacles and sand decorating these resin plates.
Filipino exporters got a boost as well from the DTI offices in our embassies around Europe. Commercial counselor of the Philippine Embassy in Berlin Althea Karen Antonio says, "We conducted telemarketing Europe-wide leading to Ambiente. We have seven, Philippine trade and investment centers in Berlin, Stockholm, London, Brussels, Paris, Geneva and Moscow. All these DTI posts hired telemarketers to promote the Philippine companies in Ambiente and we did social media. For us at Berlin, out of the buyers and companies that we called — whether they're in our existing database or new contacts — 15 said they would come to the Philippine booths; in Scandinavia, 30; in Brussels, 15 and so on. We did this because we have the budget this year and because Ambiente has the most number of Philippine companies participating."
Even with the thousands of exhibitors at Ambiente, our exporters are a standout with their products. "The Philippines has always drawn visitors because we put a premium on the curation and design of our booth," Pauline says. "We're better at synthesizing things and presenting products."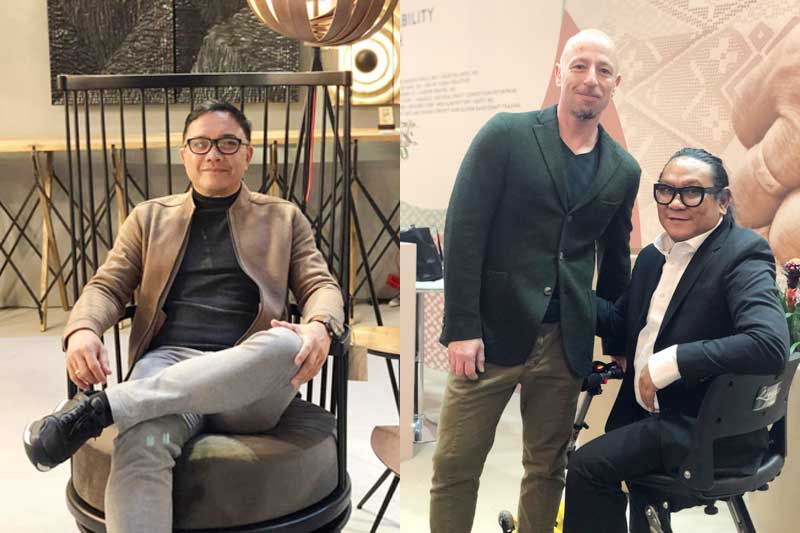 (Left) Randy Viray of Triboa Bay. (Right) Tony Gonzales, creative director for CITEM's Ambiente participation, and designer Detlef Klat.
Indeed, if you look at the exporters' products, they tell the story of our country and our culture — the wall décor using shells are made by Bon Ace, which is based in Cebu, whose rich resources from the sea have sustained industries. The wooden chandelier with sinuous bent wooden slats is by Triboa Bay, which employs craftsmen in Angeles City, Pampanga. The pottery with engraved patterns derived from Kalinga tattoos is by Red Slab Pottery, which gets its material from Victoria, Tarlac and turns it into export products.
Gifts and decorative accessories manufacturer Chrysara, which was founded by National Artist for Dance Alice Reyes, has that sense of nostalgia and Filipino humor in its designs.
Alice's daughter Sara Upton shows me a product based on the old Filipino toy shaped like a bird and made with tin sheets that flap when you walk them with the stick attached to the toy. You never see them around anymore, but I remember seeing vendors outside churches selling them on Sundays.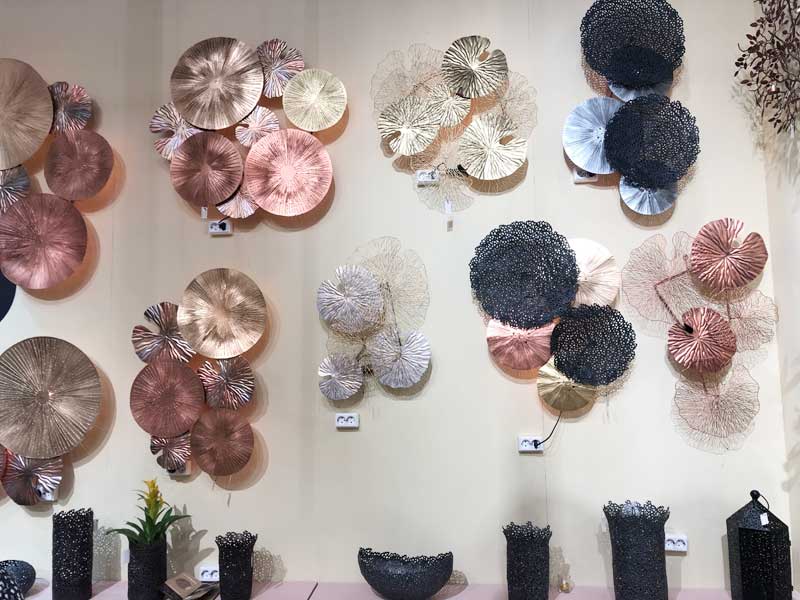 Pradora wall décor.
The company Natural Craft Connection also tells the story of a place: Bicol, a region rich in abaca, which is the strongest of all natural fibers. Their first factory was located within the seven-km. danger zone of Mt. Mayon. An eruption wiped their factory — twice! Then they eventually moved their factory to Cavite, where they built housing for their workers.
Their brand of abaca carpets Samoya, which means "sa amin" or ours in Bicolano, are displayed on the walls with half of them unwoven to show buyers how abaca looks unwoven.
GSG by Flora Creatives is handmade paper out of Legazpi, providing jobs to housewives. Started in 1993, their products are made for gift-wrapping, packaging and lampshade and are a hit with buyers from Italy, Germany and Belgium.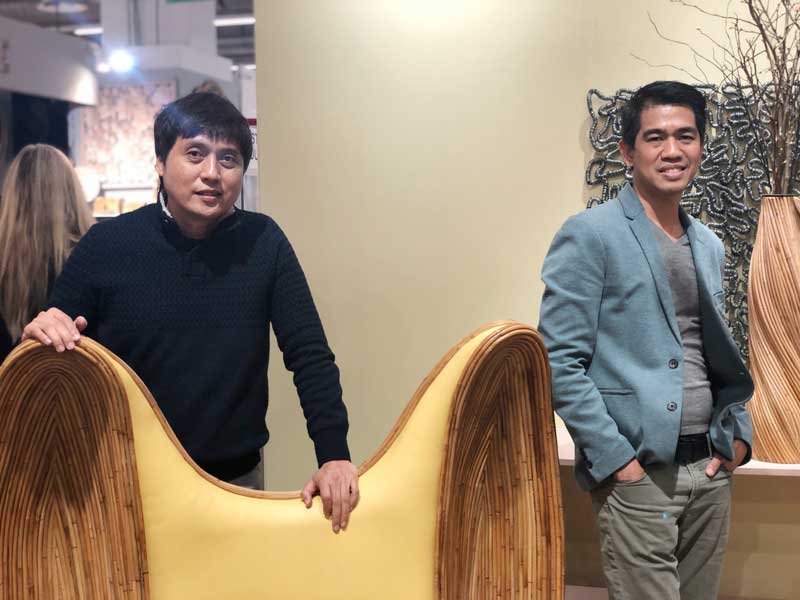 Finali's Angelo Cadungog and Bong Salazar.
Gigi Gonzales, creative and marketing director, is the sister of Tony Gonzales. She says Tony "was the one designing paper in 1993. If you think about handmade paper you think of the Japanese paper washi, it's so perfect. He said, that's already perfect from their centuries of tradition. So he started paper with textures. It's like saying, 'Ito kami, Pinoy kami.' We use banana bark and leaves, bamboo and abaca. Even agricultural waste we use — we put rice hull on paper."
All these beautiful products by companies from across the Philippines — shaped by our culture and made by our hands — caught the buyers' attention in the huge exhibition halls in Frankfurt.
Pauline says, "The greater story we'd like to tell, which has driven our participation in Ambiente for the past three years, is our heritage of design. We have it in our blood and we have a design archive and history that prove this."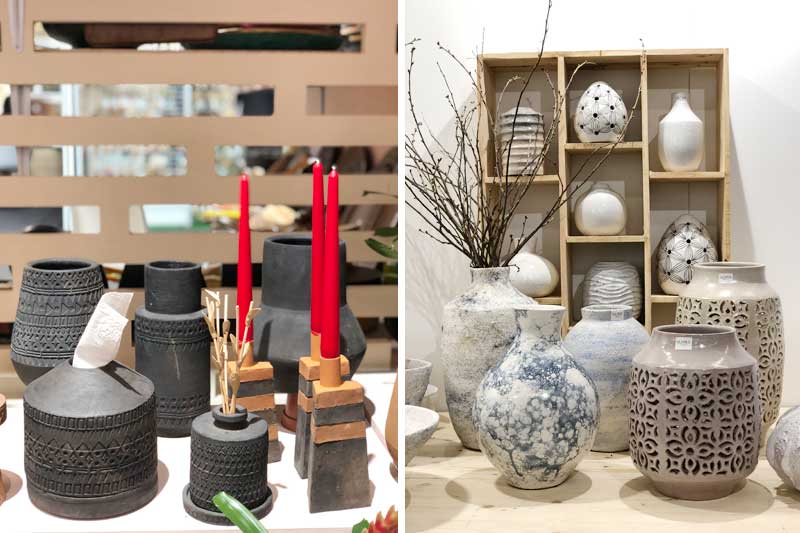 (Left) Red Slab Pottery's containers are etched with patterns inspired by the Kalingas. (Right) Anastacio Ceramics.
* * *
For more information on Ambiente exhibits, write or call Worldwide Exhibitions Linkage Services (We-Link ), the official sales and marketing partner of Messe Frankfurt in the Philippines, at 893-7973 and look for Wilbert Novero; email wilbert.novero@we-link.gesi.com.ph.
Visit the author's travel blog at www.findingmyway.net. Follow her on Instagram and Twitter @iamtanyalara.