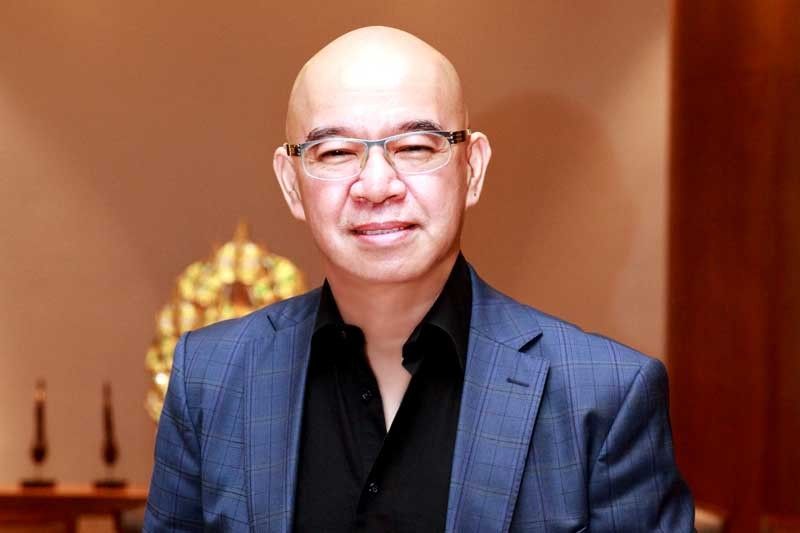 Renaissance man: Events stylist and floral architect Jerry Sibal.
Photo by BENING BATUIGAS
Creator of spectacles Jerry Sibal brings his magical touch to CCP
Lavish weddings, charity balls and talk-of-the-town corporate events — these are just of some of the projects Jerry Sibal has done in his more than 25 years as celebrity events stylist and as a floral architect.
The New York-based designer is in town with his partner/husband Edwin Josue for the re-staging of National Artists Guillermo Tolentino and Felipe Padilla De Leon's Noli Me Tangere, The Opera at the Cultural Center of the Philippines (CCP) from March 8 to 10, two years after the opera's return to the CCP stage.
The sought-after designer will not only share directorial reins with co-director Jose Jeffrey Camanag, Sibal is also in charge of set and costume design — tasked in realistically capturing the scenes with moving images that would allow the audience to immerse themselves on what's happening on stage.
"Blending the actual set pieces with the LED images is tough but definitely worth it," Jerry enthuses.
For the costumes, Philippine fabrics like abaca and pineapple fibers are mixed with Italian damask to create pieces heavily influenced by European fashion at the time.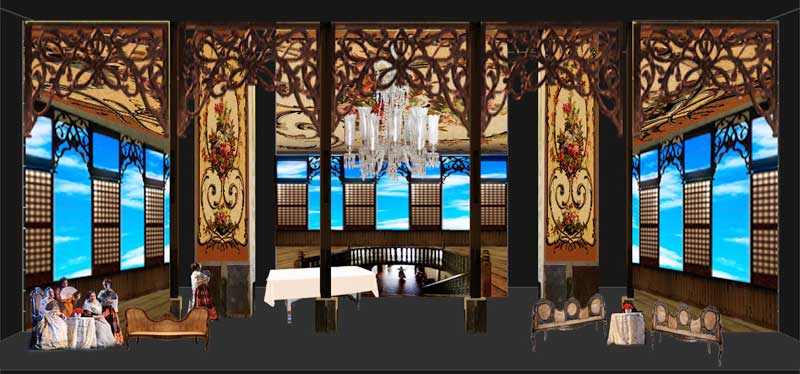 For Noli Me Tangere, The Opera, Jerry Sibal keeps architectural details from antique Philippine houses "so the audience will understand our rich history and culture."
In partnership with the CCP in time for its golden anniversary, with support from Senator Loren Legarda, Noli Me Tangere, The Opera is spearhead by Jerry and Edwin.
"It's our commitment to keep this masterpiece alive for the young Filipino audiences to experience and enjoy," Edwin says with a grin.
Jerry is no stranger to the theater world. Trained in Chinese and folk dances and classical ballet, he has traveled to China, US and Europe as the artistic director of a local Filipino-Chinese dance company. Moreover, he was also invited as an adviser to the world-renowned Philippine Bayanihan Dance Company.
In October 2013, Jerry (together with Edwin) produced the first Filipino opera Noli Me Tangere, The Opera, which was staged for three days at the Kaye Playhouse, NYC.
On Aug. 8 and 9, 2014, Jerry and Edwin brought the opera to The Kennedy Center for Performing Arts, Eisenhower Theater for two successful shows under his New York production and event management company, JS Productions Inc.
I met Jerry last Tuesday for a one-on-one interview at Benjarong Restaurant in Dusit Thani Hotel, where he will also hold a four-day seminar and workshop about floral and event design.
Rookies can join the beginners class on March 20 to learn about the basics and fundamental skills needed for floral and event design. The nitty gritty details like tools and products needed will be discussed alongside flower care and design elements for arrangements.
Master Classes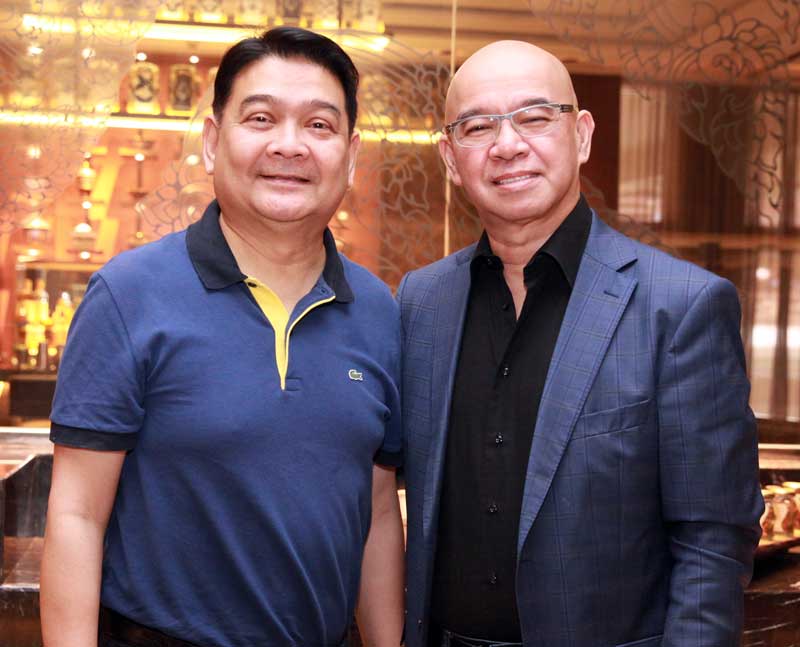 Edwin Josue with partner/husband Jerry Sibal.
Advanced classes are slated from March 21 to 23. For three days, participants will learn styling and designing techniques for arrangements and designs. Know what it takes to create truly memorable events by recreating Jerry's elaborate designs from the past. Top off the workshop with TESDA certification for both classes and a gala dinner with Sibal himself.
To this day, Jerry admits that he still couldn't believe how far he has gone in terms of his career.
His Humble Beginnings
It was a series of unfortunate events that led Sibal to give up his flourishing career as an architect and leave the country for good.
With only $300 in his pocket and a suitcase filled with "hope and faith," he flew to New York City to start anew.
"I almost got kidnapped twice in Manila in 1992, the height of kidnap-for-ransom incidents among Chinese nationals," relates Jerry. "I was dragged out of my car by my abductors on Banawe St. in Quezon City. Thank goodness it happened in broad daylight and the bystanders helped me."
The second one involved a breathtaking car chase.
"I knew that my car was being followed so I made a stop at the nearest police station," he adds.
The threat in his life was enough reason for Jerry to give up everything and try his luck in the Big Apple — where doors opened for this creative soul.
"Two days after I arrived in New York, I was already broke," laments Jerry.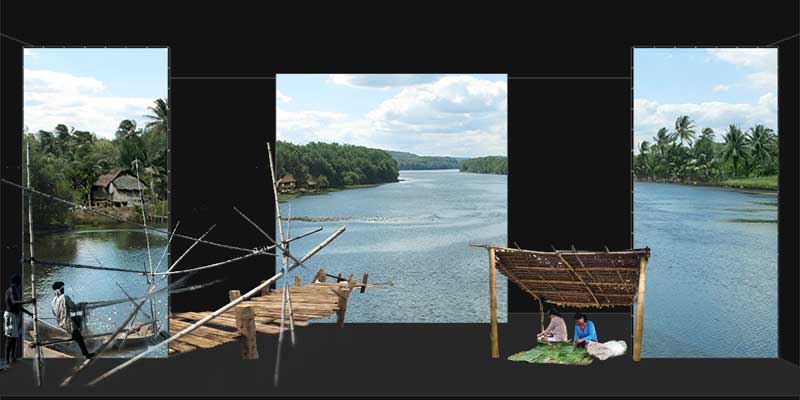 Stage design for the river scene.
Rachy Cuna, one of Jerry's students in Chinese painting, advised him to give his friend and classmate, Edwin Josue, a call as soon as he arrived in New York. Edwin took him in — no questions asked. Together, they built a good and solid partnership that lasts to this day.
Jerry and Edwin's close friends and family members refer to them as "Home" and "Garden," respectively.
"Edwin and I bring out the best in each other," says Jerry.
Events Stylist For The Stars
Edwin is a real estate broker in New York, so he is well-connected. And it was in one of the exclusive parties Edwin and Jerry attended where they met events stylist Preston Bailey who offered Jerry a job in his design firm.
"I did odd jobs for Preston," shares Jerry. "The life I was used to in the Philippines wasn't relevant at that time anymore."
His biggest break came when Preston's design team almost gave up on one of their projects.
"The lead artist had no idea how to spruce up the dance floor. It was already crunch-time so I stepped in and did the job in less than two hours," relates Jerry. "I painted the stage decoupage style. Put varnish on it after and voila! Preston was so impressed. I got a pay raise, and later he offered me to be his business partner, which I politely declined. A few years later, Edwin and I decided to put up our own design firm — Jerry Sibal Design."
At that time, the couple didn't have budget or advertisements so they would knock on doors, got doors slammed upon them, and most of the time felt insulted.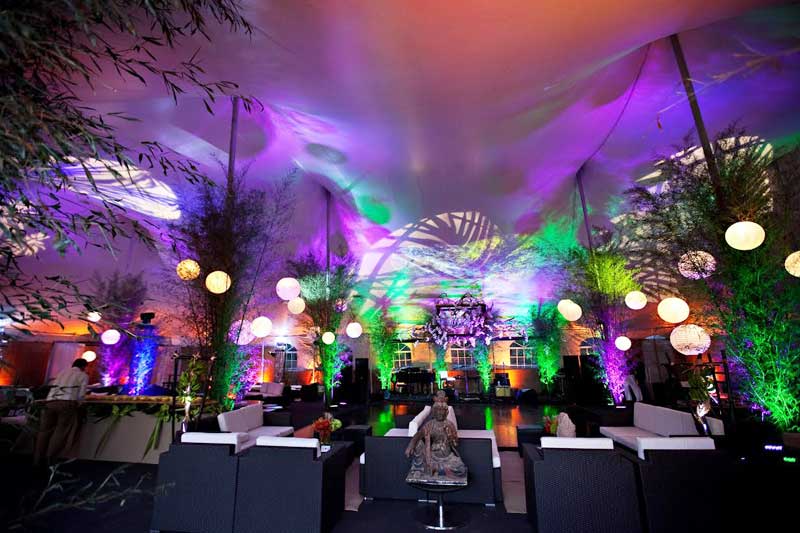 Tropical tent.
A friend advised Jerry to try his luck at The Plaza Hotels. And so he went and met up with the hotel manager who belittled him and told him: "Who do you think you are? You're no Preston Bailey."
Jerry looked him in the eye and muttered: "I would be, someday."
In spring and summer of 2015, Jerry was invited to work at Wynn Design and Development as floral director at the new Wynn Palace in Macau. He collaborated with celebrity event/floral designers Preston Bailey and Jeff Leatham, as well as renowned interior design Roger Thomas in creating a unique design on fresh flower arrangements for the luxury resort casino.
To date, Jerry's clients include Sir Richard Branson, Celine Dion, Marilyn Horne, Gloria Vanderbilt, the Princess of Qatar, and a plethora of celebrity clients and friends.
"The most memorable was the project I did with Sir Richard Branson for his company Virgin Atlantic. He chose me over 10 other top stylists. He flew me to Chicago," Jerry enthuses.
Another milestone was when Jerry and his team was asked to do a synchronized event for 22 casinos.
"It was a one-day event with Harrah's and Caesars Palace and everything should happen at the same time across their properties from east to west coast. Whew!" Jerry says with a hearty laugh.
In corporate circles, Jerry has designed events for The New York Yankees, Virgin Atlantic, Citigroup, Verizon, the Frick Collection, the Museum of Modern Art, Metropolitan Museum, and many other well-known corporations and charities.
"I also served as the executive director of Wynn Palace in Macau. Being a Fil-Chi-American has worked to my advantage as I understand the culture and way of life there," adds Jerry.
Stop And Smell The Flowers
"I didn't have formal training in floral arrangements," Jerry admits. "In fact, the only flowers I knew then were roses and Birds of Paradise."
However, Jerry shares that a strange thing happened before he left Manila for New York.
"I was part of the renovation team of Binondo Church. I was very close to Fr. Sonny Ramirez. And as soon as I entered the church, I would always smell fresh flowers even if there was not a stem inside," adds Jerry.
The same thing happened during his first week in New York.
"The hotel where I stayed in in Times Square was near a church. Whenever I hear Mass, I would smell fresh roses," Jerry says. "Could it be that God was trying to send me a message?"
Jerry admits that he learned a lot with his stint with Preston Bailey, who he considers as his mentor and friend.
"Slowly, I began to inject my own design ideas. My architectural, theater and visual arts background allowed me to come up with extraordinary-theatrical designs which my clients love," he adds.
Because with Jerry Sibal, no two events are the same.
* * *
For inquiries on Noli Me Tangere, The Opera and the masterclass at Dusit, visit www.jerrysibal.com.