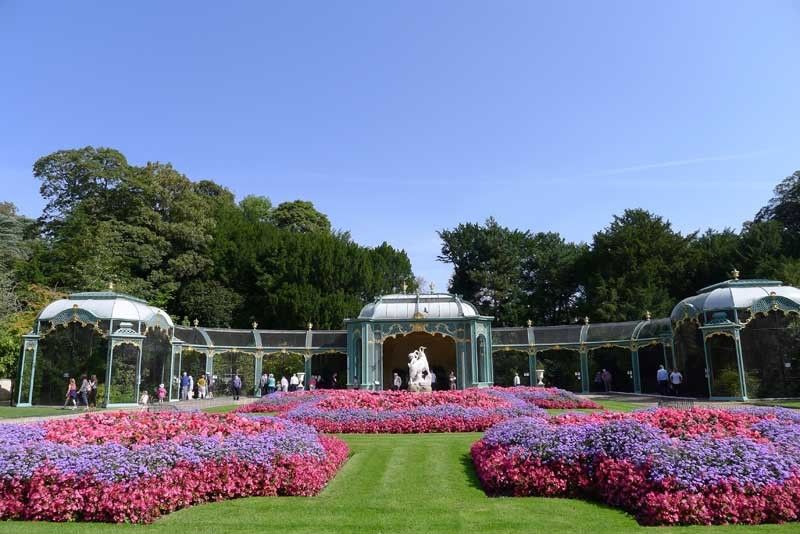 The aviary with a colorful raised bedding of flowers.
Photos by Ricky Toledo
The Gilded (But Lonely) Life of Baron Ferdinand Rothschild
No expense was spared in making the house luxurious, delighting guests like Queen Victoria and Albert Edward, the Prince of Wales who stayed for the Baron's Saturday to Monday parties.
"I am a lonely, suffering and occasionally a very miserable individual despite the gilded and marble rooms in which I live," wrote Baron Ferdinand Rothschild to his great friend, the Earl of Rosebery. This from a man who had created a most lavish château housing a superlative collection of royal treasures, set in rooms clad in antique paneling from venerable Parisian mansions — the perfect venue for entertaining the fashionable world who marveled at his extraordinary Kunstkammer.
Although he was famous for his hospitality, Ferdinand was quite sickly and while serving the most sumptuous food prepared by a French chef and Italian pasticcere, he dined on cold toast and water, surrounded by medicine bottles. While the chateau's cellars had some of the finest vintages, he considered wine "poison" and never drank it.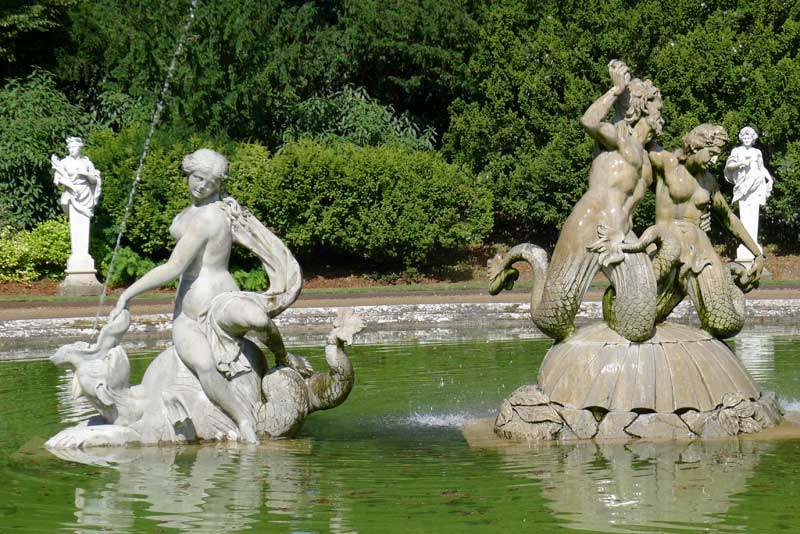 Fountains and statues made for the ducal Palace at Colorno, near Parma, by Giuliano Mozani in 1700 were reinstalled in the gardens at Waddesdon Manor.
His taste for fine things was channeled elsewhere, particularly in the visual arts, decorating and collecting, and this is nowhere as gloriously experienced as in Waddesdon Manor which he built in the 1870s on a hilltop in rural Buckinghamshire in the English countryside. His family, of course, was already internationally known for their style of collecting and elaborate interior decoration, known as the "goût Rothschild." Deriving their name from the house of their 16th-century forefathers — zum roten Schild (at the sign of the red shield), in Frankfurt's Jewish ghetto — they became one of the richest and most powerful European families of the 19th century, bankers to monarchs and governments, builders of palaces and castles. The Rothschilds were the greatest collectors of that century, amassing pieces from medieval to modern, reflecting the highest quality of workmanship as well as historical importance. Choosing the most exceptional pieces, they enhanced their power and status through discernment.
Baron Ferdinand's pan-European background helped cultivate his sophisticated taste: Born in Paris, raised in Frankfurt and Vienna and settled in England where his father, Anselm, married a first cousin, Charlotte, from the English Rothschild branch. It was more or less agreed to never marry outside the family, not to mention that daughters and daughters-in-law were excluded from being partners in the business so as to keep the wealth intact.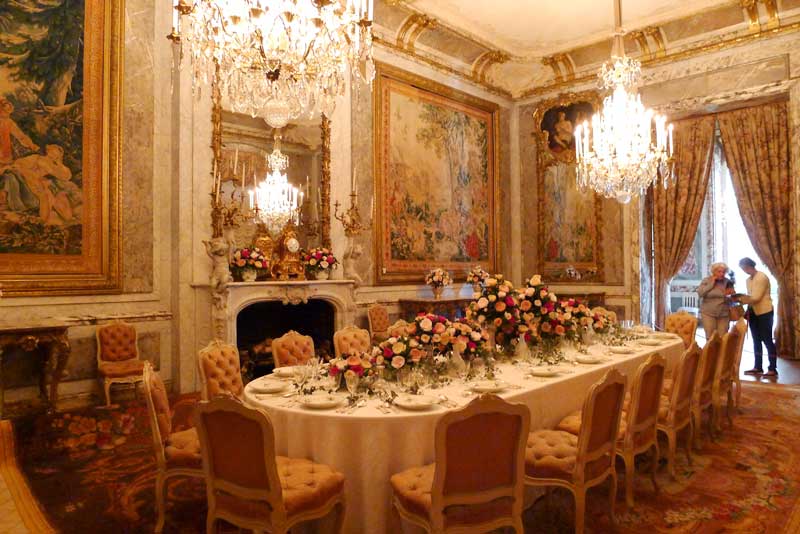 The marble-clad dining room inspired by Louis XIV's state apartments at Versailles, with French rococo mirror frames by Nicolas Pineau from the Paris house of the duc de Villars and Beauvais tapestries by François Boucher. The food was legendary – the confectioner Arthur Chategner had worked for the Tsar of Russia and Queen Victoria sent her chef to Waddesdon just to learn the recipes of her favorite dishes.
Ferdinand himself married a cousin, Evelina, his mother's niece, in 1865, and bought a London house together in Piccadilly. Evelina died the following December, however, leaving Ferdinand devastated. He never married again, devoting his life to a passion for the arts.
It was actually a preoccupation even before his marriage. His mother-in-law would describe him as always being engaged in "curiosity hunting." He would help his father-in-law in buying works of art to furnish their home, travelling to Paris to hunt for treasures, often in competition with the other Rothschilds.
He also inherited pieces from his father who was drawn to German medieval and Renaissance goldsmiths' work. As a child, helping to pack up his father's acquisitions and objets d'art already caught his fancy. "Merely to touch them sent a thrill of delight through my small frame."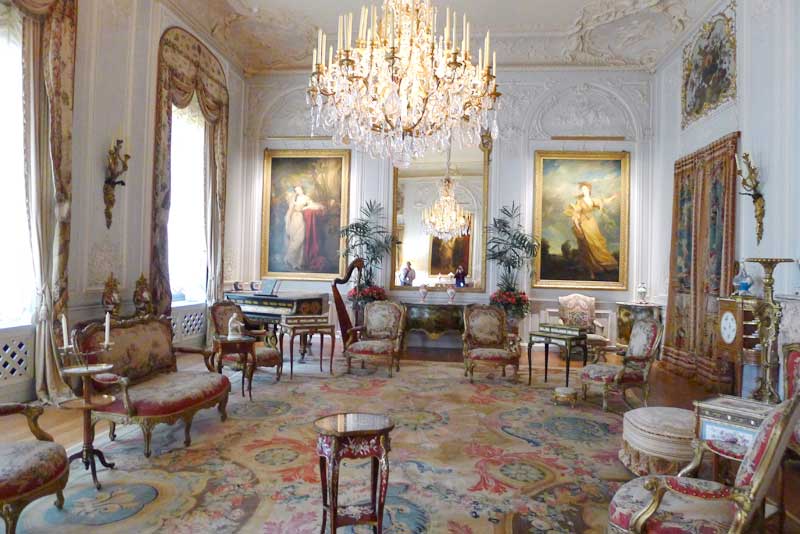 The Grey Drawing Room with 18th-century paneling from the large salon of the Paris town house built for the wealthy financier Abraham Peyrenc de Moras (now the Rodin museum). Portraits are by Sir Joshua Reynolds.
From his mother, Ferdinand received his artistic education, learning how to create interiors, gardens, aviaries and model farms which were showcased in the Grüneburg villa near Frankfurt and their estate at Schillersdorf in Silesia. Everything seemed to be in preparation for the greatest project of his life.
It was destiny when the Waddesdon estate, owned by the Duke of Marlborough, came on the market in 1874 when Ferdinand's father died. Having never been interested in the bank, he began negotiations to sell his shares and from his father's deathbed instructed agents to buy the Duke's land. He found it ideal for a weekend retreat from London to entertain family and friends during the summer months.
A farm with a 600-foot high misshapen cone, the property had no house, park or garden so he had to create everything from the ground up. Fascinated by the châteaux of the Valois kings, particularly the residences of François I in the Loire valley, he engaged Gabrielle-Hippolyte Destailleur, the French architect who had recently adopted the Château de Mouchy near Beauvais. After laying the foundation stone in August 1877, work on the palatial Renaissance mansion dragged on for the next six years. It was a Herculean task of great expense as there was no water, so 11 miles of pipe had to be laid from the nearest village; a new gasworks built, for which a branch railway was constructed; the entire 600-foot cone top of the property had to be leveled off, the foundations dug down through 30 feet of clay to find solid ground and create the impressive approach to the house; and the bare landscape transformed with trees transported by specially imported mares from Normandy.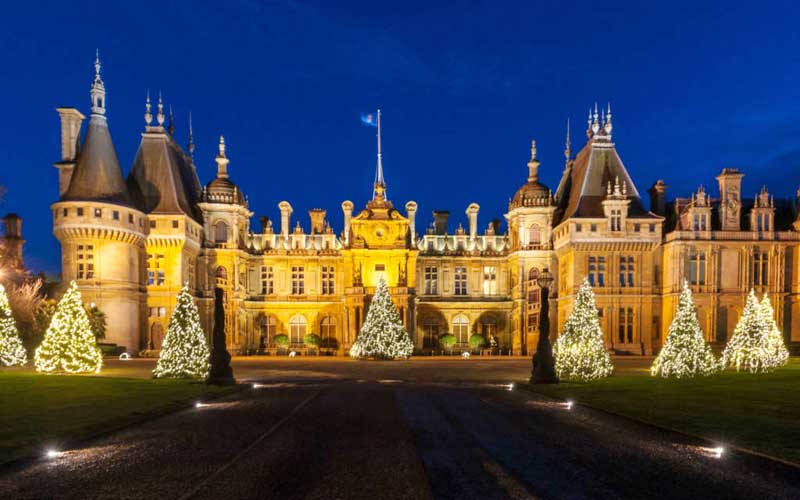 Wadddesdon Manor all decked out for Christmas. (Photo courtesy of Waddedon Manor)
Ferdinand's predilection for 18th-century France is reflected in the interiors, using boiseries or carved wall paneling from grand Parisian hôtels particulier and 18th- and 19th-century fireplaces and architectural elements to complement the Baron's collection of 18th-century French decorative arts. Exquisite royal porcelain created by Sèvres were placed on furniture which include important pieces by Reisener made for Louis XVI, Marie-Antoinette and the French royal family, as well as Louis XV's desk from his study at Versailles by Benneman. Floors were covered with Savonnerie carpets made exclusively for the crown and walls were hung with tapestries from the royal Gobelins and Beauvais workshops. Paintings featured 18th-century British full-length portraits by Reynolds, Gainsborough and Romney; 17th-century landscapes and genre paintings by Dutch Golden Age masters; and 18th-century. French fêtes galantes and portraits by Watteau and Boucher.
No expense was spared in making the house luxurious, delighting guests like Queen Victoria and Albert Edward, the Prince of Wales who stayed for the Baron's Saturday to Monday parties. Probably more than collecting, what gave him immense pleasure was showing off his treasures to admiring visitors who would also take a tour of the grounds with its beautiful gardens, aviary, deer pen, extensive glasshouses and dairy. But his greatest pride was his "Renaissance Museum," accessible only to his inner circle: A dazzling treasury of 16th-century and 17th-century curiosities and objets d'art in silver and silver-gilt, rock crystal, enamels, ivory, maiolica, jewelry and sculpture — a veritable Shatzkammer. This was the collection that he chose to bequeath to the British Museum which made a special room for it after his death in 1898, naming it "The Waddesdon Bequest." "Ferdinand had a fundamental belief in the flow of objects from private hands, where as he said, 'they can afford delight to only a small number of persons', to public ownership, where they could be widely enjoyed," according to Lord Rothschild, who now manages Waddesdon after inheriting it from James and Dorothy de Rothschild who took over after Alice de Rothschild, sister and heir of Ferdinand. This belief also guided James' decision to turn over the Manor and 165 acres of surrounding gardens and parkland to the National Trust upon his death in 1957. He also left the largest endowment by far of any received by the Trust for the maintenance of Waddesdon.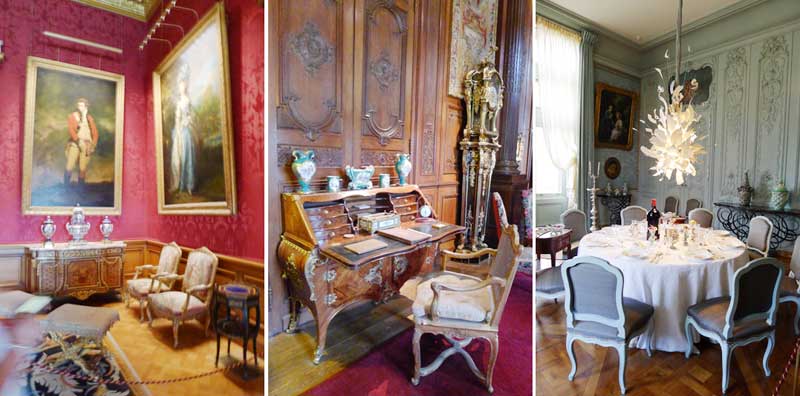 From Left. The Red Drawing Room reflects Baron Ferdinand's style of collecting and decorating, combining French 18th-century decorative arts like furniture made for the royal family and Sèvres porcelain with English 18thcentury portraits by Gainsborough. A writing desk and a long-case clock designed by André-Charles Boulle and Alexandre-Jean Oppenordt around 1714. The blue dining room with 18th-century Parisian wall paneling is given a contemporary whimsical touch with Porca Miseria, a statement chandelier of broken porcelain shards, by Ingo Maurer (2003)
This is the greatest gift for art lovers since few remain of the more than 40 Rothschild houses built across Europe. The world's major museums may possess works of art from Rothschild collections but these have now lost their context unlike at Waddesdon where they remain intact in their original home as conceived by Baron Ferdinand and his descendants, standing alone as living testament to this legendary family of collectors and builders.
* * *
Log on to www.waddesdon.org.uk for more information. Follow the authors on Instagram @ rickytchitov; Twitter @RickyToledo23 Facebook - Ricky Toledo Chito Vijandre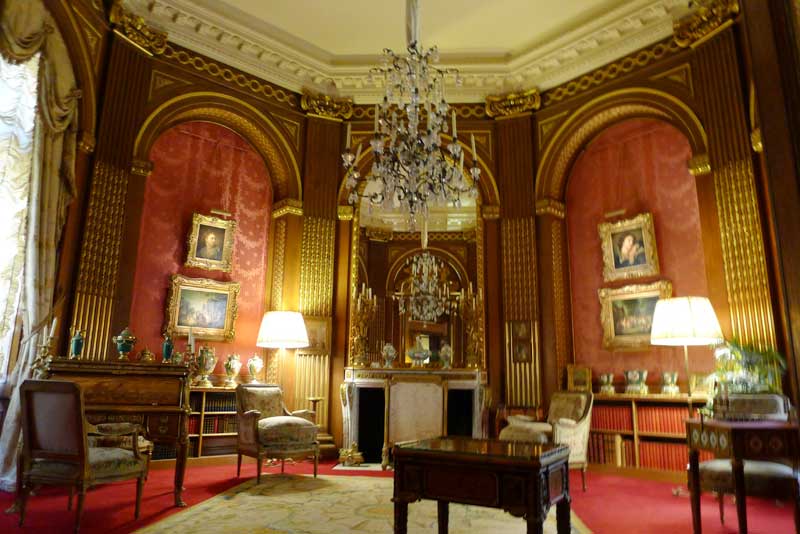 The Tower Drawing Room with neo-classical paneling inspired by classical Rome. The writing table in front was made for Marie-Antoinette in 1782 and the roll-top desk on the left for Marie-Adélaide, fourth daughter of Louis XV, in 1773; both by Jean-Henri Riesener.