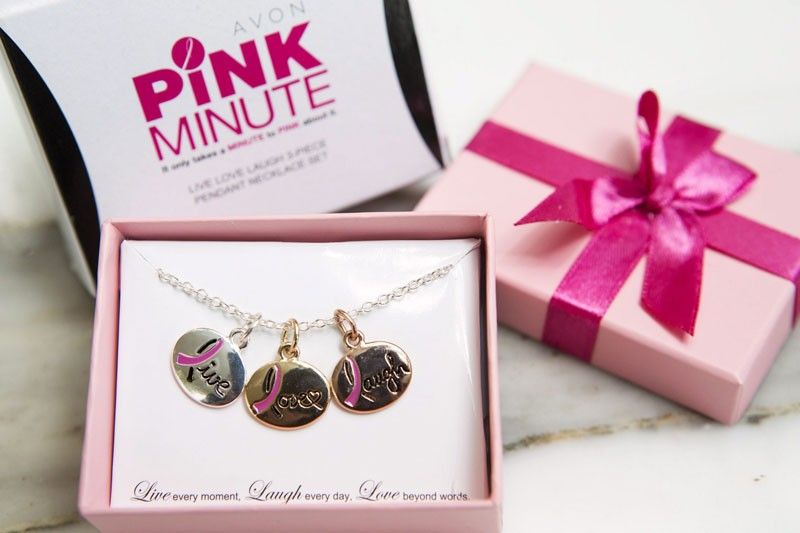 Symbolically lock out breast cancer and raise funds for the Avon - Philippine General Hospital Breast Care Center with the limited-edition Live, Love, Laugh necklace.
Avon Philippines gives breast cancer awareness a pink minute
Today, Avon celebrity ambassadors, sales associates and representatives and members of breast cancer support groups will gather at the Quezon Memorial Circle. The monument will be symbolically lit, joining the other Avon partner landmark locations SM Mall of Asia Globe, Manila Hotel, Manila City Hall, Eton Centris, PET Plans Building, and St. Francis Square which will be awash in pink light to highlight the need for action on breast cancer as part of Pink Minute, its annual breast cancer awareness campaign.
"Ensuring that no woman is left in the dark when it comes to breast cancer begins with reminding women to make breast self-exam a natural part of their daily routine," Avon Philippines general manager Razvan Diratian says. "It is a simple habit that can help save one's life because until now, the closest thing to a cure for breast cancer is awareness and early detection."
"We're the company committed to women. Majority of Avon representatives are women. For something causing so much sadness in their lives, it's a crusade that's closest to our hearts," adds Avon director of communications Faith Fernandez-Mondejar.
Avon has advocated the cause since the late 70s. In the Philippines, Avon holds education campaigns in partnership with the Philippine Cancer Society, fundraising campaigns, and the Kiss Goodbye to Breast Cancer Walk and Run events starting in 2002.
Avon Philippines general manager Razvan Diratian (left) and director of communications Faith Fernandez-Mondejar (right) flank their long-time crusade partner Philippine Cancer Society's executive director Dr. Rachael Rosario
Faith explains, "When you look at all these campaigns, at their heart is making people aware. We hope to make this campaign completely unnecessary. The closest thing to a cure that we have now is early detection and awareness."
Avon allows us to give the gift of hope through a meaningful piece of everyday jewelry, a limited edition silver necklace with three pendants that bear the words "Live." "Laugh." "Love." The phrase is a popular choice in inspirational messaging, but it's a cliche because it's message of positivity is crystal clear. In these pendants, they take on a whole new meaning as a reassuring pat on the back when gifted to a breast cancer warrior fighting for those very words every day, or like a medal for those who have survived. It's also a reminder for self-care for those who are not affected by breast cancer.
Retailing at P299, each necklace sold will give P50 to the maintenance of the Philippine General Hospital's breast cancer center, which provides health care and assistance to approximately 150 women a day, offering free breast health guidance, consultation, and check-ups.
It's crazy how even with companies like Avon advocating breast cancer awareness for decades the myths surrounding it have not changed. Does sleeping with your bra cause breast cancer? It does not. Does wearing underwire cupped bras cause breast cancer? No. Is breast cancer hereditary? "No. Only 15 percent," clarifies Philippine Cancer Society executive director and Avon's long-time crusade partner Dr. Rachael Rosario.
Rachael goes on to quote her most frequently fielded myths. "Pag pinaoperahan, mas kakalat? Hindi yan totoo. Pag may cancer ka na, wag ka na magpa treat. Lahat naman namamatay sa cancer. Hindi yan totoo. It's not a death sentence. We still have people who believe this because they see people who have their diagnosis late."
"Chances of getting cured are higher if detected early because the tumor is smaller, and the treatment will be lighter in a sense that you may not need chemotherapy. It's a case-to-case basis — you'd have to talk with your medical oncologist — but if it's very early, perhaps a lumpectomy (where you can remove the lump) or mastectomy (the whole breast) will take care of it. Lumpectomy is only possible when the tumor is small. Perhaps you might need some hormonal therapy. That's why we need to catch it early and increase the chances for a cure," she elaborates.
"We need to change the idea of women being uncomfortable about the self-examination. Women take care of a lot of people, especially as mothers, but we can't do that if we don't take care of ourselves. If we stay healthy, we can take better care of others."
* * *
The limited edition Live, Love, Laugh necklace is available through an Avon representative or shop online at avon.com.ph