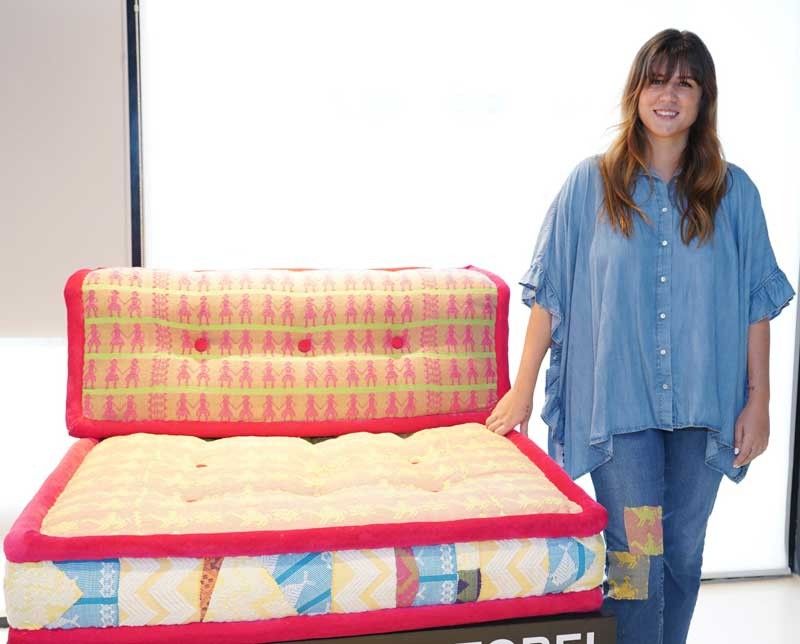 Paloma Urquijo Zobel uses inabel from Ilocos for her Roche Bobois sofa.
Photos by ERNIE PENAREDONDO
10 designers & artists reimagine an icon of Parisian design
Roche Bobois' classic 1971 Mah Jong sofa gets a modern treatment that ranges from Filipino traditional weaving to a nostalgic trip on a jeepney.
What do you with a piece of design that has withstood the whims of trends for almost five decades? You reinvent it with 10 creative collaborators, of course!
Roche Bobois' iconic Mah Jong sofa was an instant classic when it was released in 1971 and for the past 47 years it has become the brand's icon. Shaped like mah jong tiles that can be configured any way you want — whether as an armchair, a corner chair or a longer sectional — it was designed by artist and designer Hans Hopfer who created it on the premise that homeowners wanted the freedom to create their own seating landscapes.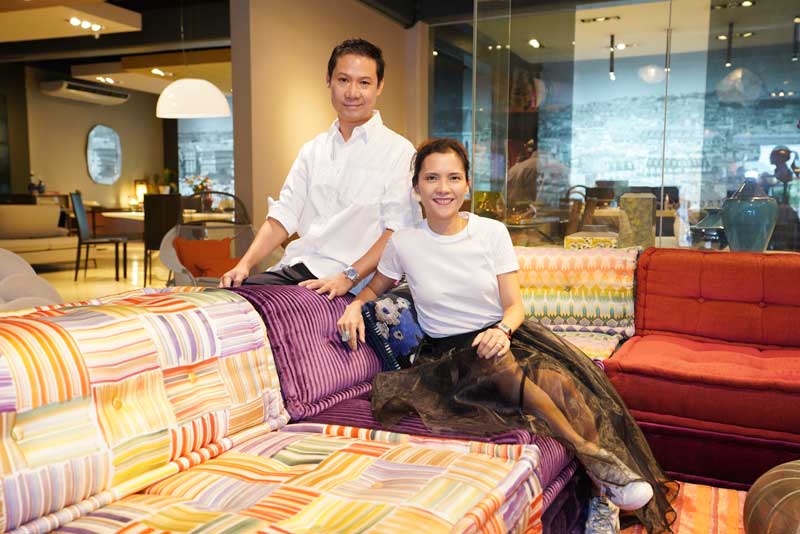 Roche Bobois Philippines' Eugene and Marga Lorenzana: The sofas are going to be auctioned on Sept. 19. at Whitespace, Makati.
One of the 1970s' most enduring designs, the Mah Jong sofa is so adaptable it can be a low sofa or a high sofa with the addition of another layer of seat, or it can even be a daybed.
Roche Bobois over the years has collaborated with fashion houses such as Missoni Home, Jean Paul Gaultier and Kenzo Takada to dress it up with their signature fabrics for limited editions.
This time, it collaborated with local designers and artists, namely Bobby Mañosa, Ed Calma, Bea Valdes, Vito Selma, Paloma Urquijo-Zobel, Chat Fores, Jojo Lofranco, Geraldine Javier, Costantino Zicarelli and Nikki Luna.
"We wanted to have a diverse mix of collaborators," explains Eugene Lorenzana, managing director of Roche Bobois Philippines. "We selected based on their achievements and how each has contributed to art, culture, design and even commerce. With their talent, passion, and individualism, all 10 collaborators reflect the spirit of the Mah Jong."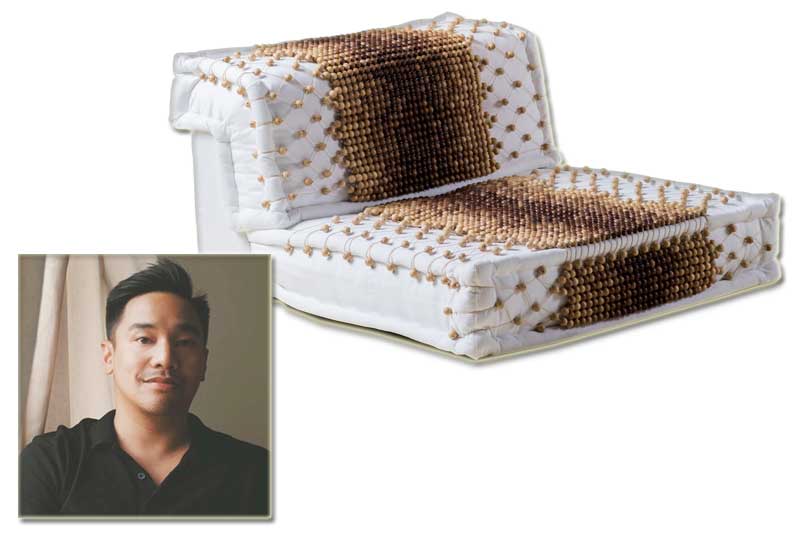 Vito Selma's cheeky use of beads harks back to jeepney drivers' beaded backrests.
Each one was given carte blanche to do whatever they wanted with the bare white sofa — and what wonderful iterations it has resulted in! If you're a fan of local design, you can tell which ones were made by the architects and interior and furniture designers, which ones were by fashion designers, and which ones were by artists.
The Architects & Designers
Architect Bobby Mañosa is known for his use of local material and his Mah Jong sofa reflects his philosophy of showcasing Filipino identity. His daughter, interior designer Bambi Mañosa, collaborated with him in creating a perch for the sofa — one continuous piece of woven rattan that serves as both a base and side table. "My dad likes to relax with a gin and tonic and so we designed this attached side table that also has a storage space for magazines or books for when you're reading."
Bobby Mañosa collaborates with his daughter, interior designer Bambi Mañosa.
The backrest and seat are covered with fabric bearing the yakan bunga pattern from Mindanao. It also features textile from the northern regions of Luzon with the cuabao motif's distinct diamond forms in linear patterns.
Architect Ed Calma, true to his minimalist bent, removed the piping that surrounds both the seat and backrest. "I wanted it to have an architectural idea on its surface without altering the design of the sofa. I started to sketch ideas on the sofa," he says. "The lines could have dimension to it in the form of irregular pleats. The chair ended up having some kind of armor, like an armadillo. I like the fact that it led me to invent a new way of upholstering a piece of furniture that I could use as a signature for my interior projects."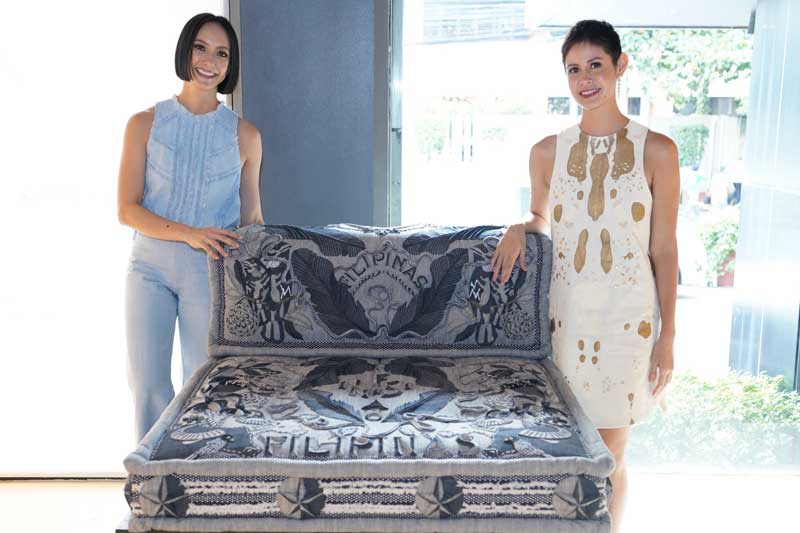 Bea and Marga Valdes with their denim sofa inspired by old postcards and Filipino symbols.
Interior designer Chat Fores literally took her mother's Japanese collection and draped them on the Mah Jong Sofa. "They're from the obis of her kimonos," she sys with a laugh. "I like creating things that are meaningful and close to the heart. Our childhood was surrounded by oriental culture and my mom has so many kimonos, I'm not sure if she will notice the missing obis. It's a sentimental tribute, which is important in my design practice."
Furniture designer Vito Selma kept the sofa in its bare form and added a design to give it a lighthearted and nostalgic treatment. He took inspiration from old jeepney drivers' backrests made of woven beads, slung over the driver's seat, to keep them from sweating. "I wanted to give people comfort while showcasing the sofa's raw beauty. I wanted to add a sense of warmth and contrast in texture to make my take on the Mah Jong, inspired by something quite iconic, too, to Filipino transportation culture. It's something an everyday Filipino or commuter can relate to," he says.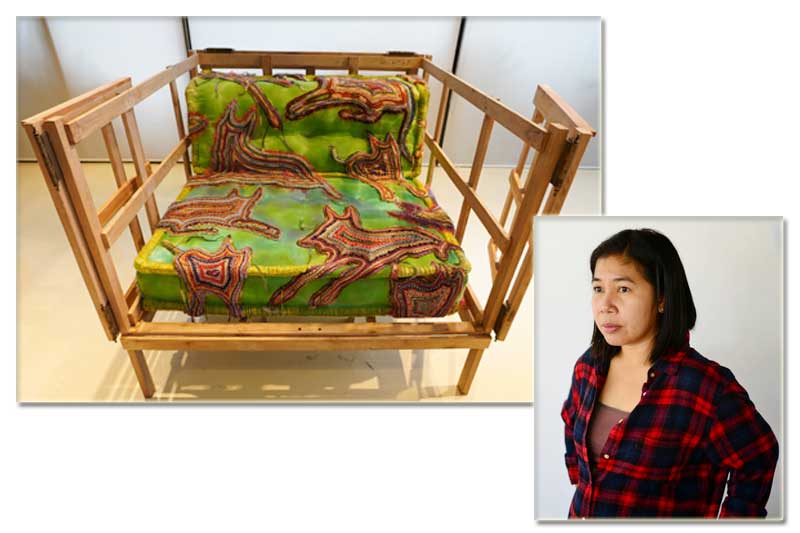 Geraldine Javier creates a piece with her new German Shepherd in mind.
The Fashion Designers
Fashion designer Paloma Urquijo-Zobel's named her Mah Jong sofa Corazon, after an inabel master weaver in Ilocos. Paloma's brand Piopio, known for repurposing traditional textiles into modern fashion, dressed the sofa in the same fabric. Inabel was a dying tradition in northern Philippines before it found resurgence with the interest of local designers, among them Paloma "It's our homage to the wonderful weavers of Ilocos and the Philippines," she says. "We worked closely with our master weaver to introduce new colors to the traditional Santiago pattern. We used retaso to fill the edges in keeping with our sustainability values. We want to show people that inabel can be funky and young," she says.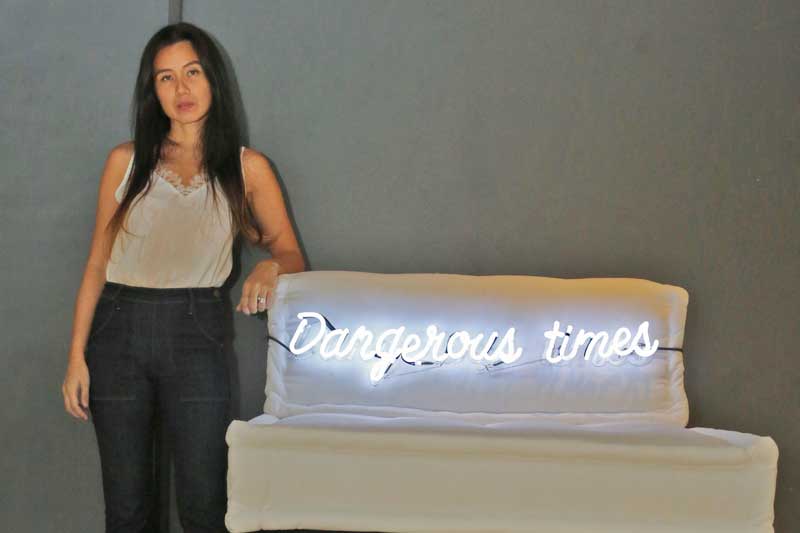 Nikki Luna expresses her political views on her chair.
International bag and jewelry designer Bea Valdes, who is known for her intricate craftsmanship, used denim and Filipino symbols found in old postcards and peso notes in her design. "Our sofa recalls vintage travel posters but done with our version of embroidery and fabric manipulation using denim and chambray to keep the playful and casual aspects of the Mah Jong Sofa. The appliqués are made by hand with hand-embroidered detailing," she says. Symbols include maya birds and banana leaves and the words Filipinas on the denim-and-chambray upholstery.
The Artists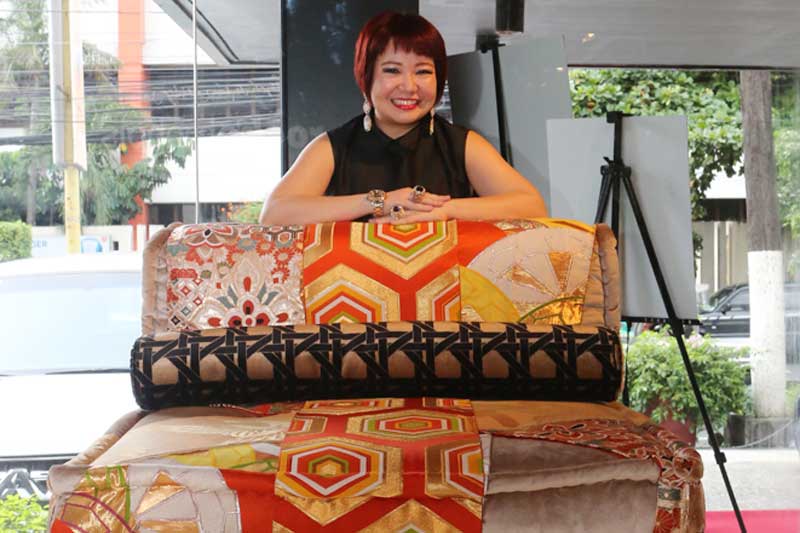 Chat Fores uses the obis from her mother's kimono collection to embellish her sofa.
Two artists had the same idea of using neon lights in their chairs. Feminist and human rights advocate Nikki Luna left the bare white sofa as is and added a neon light in white that spells out "Dangerous times." Nikki says, "Mah jong is a game of chance, but not everyone today has the chance to live, their future is cut short because they are killed. We hear and see people's lives taken away brutally. The chair is based on three core values: form, function, and more importantly freedom. How much freedom do we have now?" A strong critic of extra judicial killings, Nikki also rages against the lowering of the age of consent to 12. "A 12-year-old is a child!"
Jojo Lofranco retains his trademark abstractionism, depicting movements and forms on his Mah Jong sofa. "I wanted to blend its sculptural form and painting together to create a transforming and moving energy in one solid foundation. The challenge is how to put myself in it without bastardizing its signature because it's also a work of art," he says. The result is a yellow and black cover with a single strip of neon light on the seat.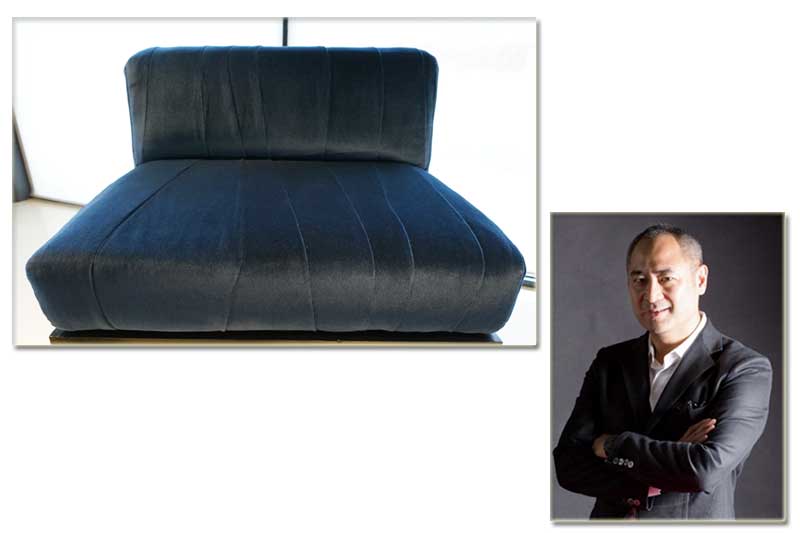 Ed Calma's "armadillo" upholstery for his Roche Bobois chair.
Costantino Zicarelli wanted to contrast the pureness when he got it to the dark and dirty result when he was finished with it. "The Sofa was so white and clean, I felt like it might be a 'waste' to work on it. But work is work, so my approach was to go the opposite direction: make it really dirty. My idea was to erase the white of the sofa with black."
Geraldine Javier stained the fabric and then applied patterns based on the poses of her German Shepherd rendered in colorful yarn. She also enclosed the sofa in wood like a crib for a baby or an enclosure for a puppy. Turning the Mah Jong sofa into her own version was a "communal activity, involving long, thoughtful, and skillful labor" like many of her other projects. "I oversaw the design and stained the fabric, and five others did the needle and woodwork. The shapes are based on the poses taken by my new dog, a soft-hearted German Shepherd. I hope people enjoy sitting on it," she says.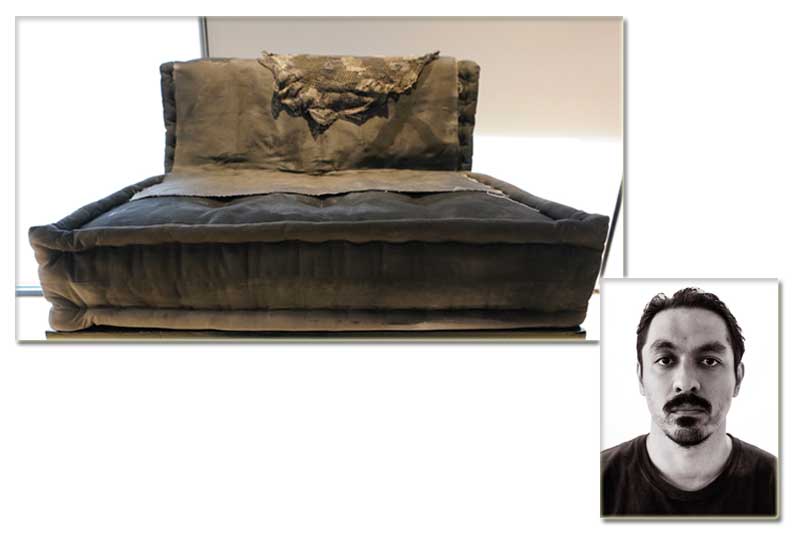 Cos Zicarelli "dirties" up the pure white sofa.
Roche Bobois' Eugene Lorenzana reveals that this is the first of planned collaboration. The next on will feature another piece from Roche Bobois. The 10 Mah Jong sofas will be auctioned at on Sept. 19. A portion of the proceeds from each will go to the artists' chosen charities including main beneficiary Asian Cultural Council (ACC) Philippines Foundation, Inc., PAWS, Tukod Foundation, and AHA Learning Center.
* * *
Visit the author's travel blog at www.findingmyway.net. Follow her on Instagram and Twitter @iamtanyalara.
The Roche Bobois Philippines showroom is located at 2100 Don Chino Roces Avenue Extension, Makati City. Open daily from 10 a.m. to 7 p.m.; call 519-8240 or visit https://www.roche-bobois.com/en-PH.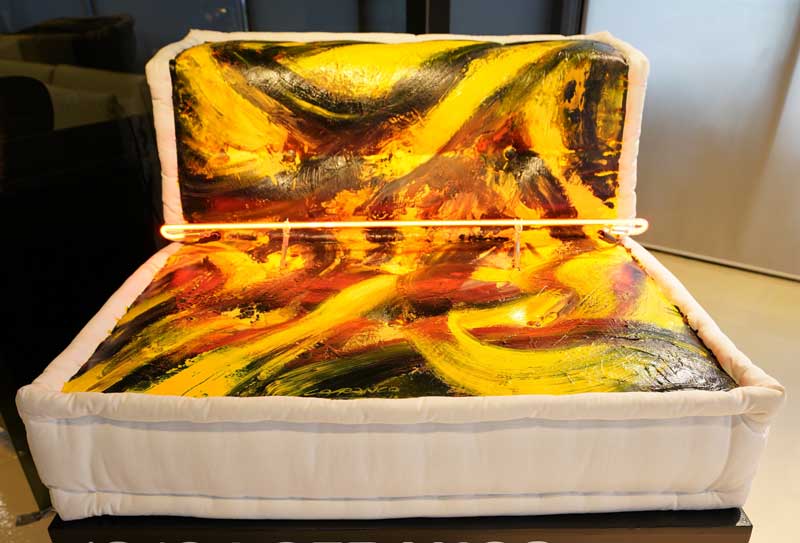 Jojo Lofranco brings his abstractionism to his sofa.