Home accessories, food & fashion at 33rd Negros Trade Fair
September 8, 2018 | 12:00am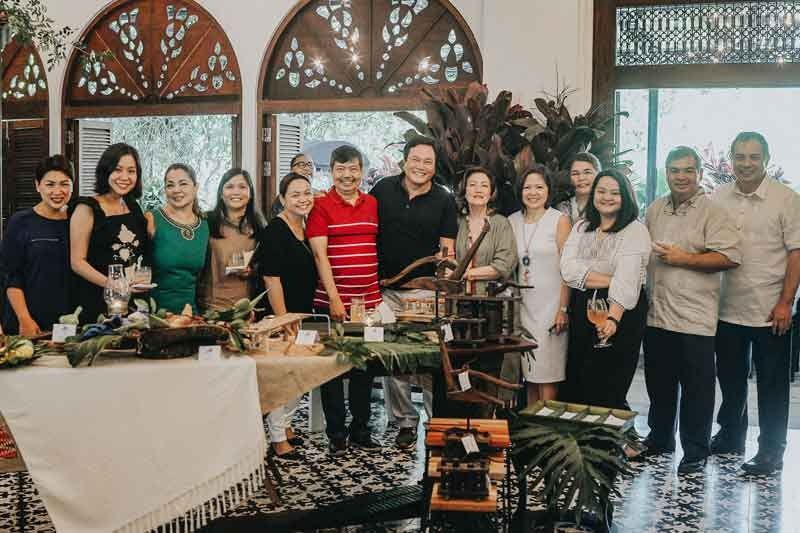 Nena Tantoco, Tony Boy Escalante and the Association of Negros Producers give a preview of all the good things coming from Negros to Manila from Sept. 26 to 30 in Glorietta.
You know it's a gathering of Negrenses when the cocktails have batwan (a souring ingredient used particularly in Negros for dishes like sinigang), the plate chargers are made of woven pandan leaves, the blouses are hand-embroidered, chef Tony Boy Escalante has cooked up a scrumptious feast for lunch, Nena Tantoco is the gracious hostess, and you hear friendly chatter in Ilonggo over lunch.
This was the recent scene at Antonio's restaurant, where the lovely Spanish colonial space that chef Tony Boy has created was filled with products from Negros' top manufacturers and food producers. The chef, who has his own farms to supply his restaurants (none of which is located in Manila), has been compelling gourmands to drive out of town to Alfonso, Cavite for his fresh cuisine and fresh air, was in his element (charming and chatty) as his staff served lunch that included salted cod al pilpil, salmon tartare, burrata salad, pork-ear salpicao, bottarga pasta and Portuguese-style seafood stew. And then there was that buffet table of raclette cheese and ice cream with flavors that included taho and panna drizzled with olive oil.
With such a delicious background, the yearly tradition of presenting the province's best products organized by the Association of Negros Producers (ANP) just keeps topping itself.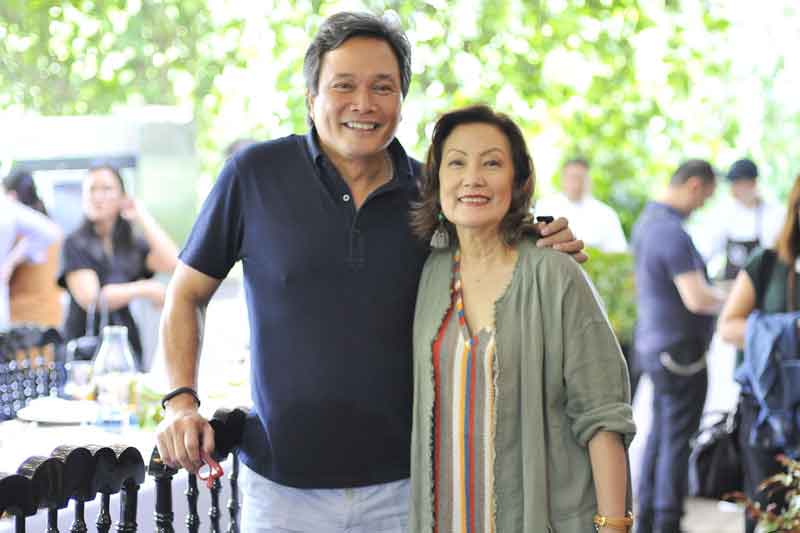 Bacolodians and supporters of the 33rd Negros Trade Fair Nena Vargas-Tantoco and chef Tony Boy Escalante, who hosted the launch at Antonio's with the Association of Negros Producers. The fair features home ware, food and fashion products, and is set for Sept. 26 to 30 at Glorietta Activity Center.
And we never get tired of hearing the story of how the trade fair started during the sugar crisis in the 1980s, when world prices dropped and many hacienderos lost their farms. The sugar bowl of the Philippines, Negros Occidental experienced widespread poverty as the prices further declined over the years. Fifteen Negrense women — housewives of hacienderos — got together and took up courses at the DTI in Manila to learn about making handicrafts and how to sell them.
After the first trade fair, it was as if Bacolod discovered a new kind of "sugar" — this time literally fashioned by hands. Until today, these manufacturers — some of whom have become exporters — and new ones continue to provide sustainable livelihood to the communities of Bacolod and Negros, and the trade fair has become the longest-running in the country. This year, the fair will be held from Sept. 26 to 30 at the Glorietta Activity Center in Makati.
Like in past years, food mostly makes up the bulk of the products and this year it's 65 percent with the remaining 35 percent split between fashion and home ware.
Chef Tony Boy has an explanation for why Negros' chefs and entrepreneurs are so successful. "People from Bacolod are outgoing by nature," he says. "And we inherently we like to party, to get together, and food is very much a part of that."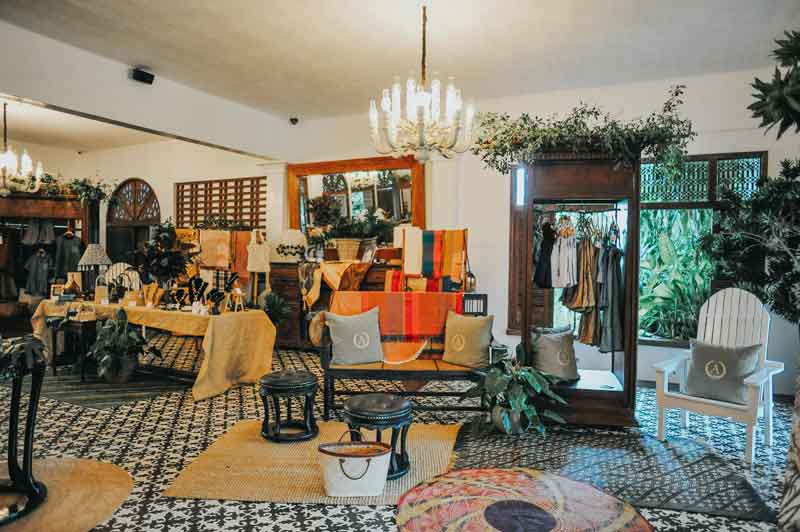 Antonio's Spanish colonial-era space is turned into a showroom of Negros' best products.
The chef describes epic meals and reunions with his family in Bacolod, including a time when "we started eating at 11 a.m. and stood up from the table at 9 p.m. My sister comes in at 1:30 bringing the lechon, panara and lumpia, we were already full but we'd still eat. Negros food is a mix of influences especially Spanish. Negrenses like to have 'real' food. My father would sometimes just say 'Let's have lechon' and we'd have it on an ordinary Sunday. One thing that differentiates our cuisine from, say, Kapampangan, is that we don't like sweet foods (except dessert) — that's why I never eat tocino as it is because it's sweet. I put Pampanga's Best tocino out in the kitchen overnight and then it tastes like it's fermented when I cook it."
He adds, "We also love to show other people what we can do with the materials in the province and so our handicrafts have become well known even if the producers start as small businesses."
Nena Tantoco, who curates this year's fair, agrees. A Negrense herself, she recalls vacations spent in her grandmother Lelay Manuela Soriano's house where the reunions and summer vacations revolved around food being cooked in the kitchen and feasts in the dining room. But also, there is that inherent pride in the province. "I've been supporting the Negros Trade Fair for years because they're my kababayans," she says.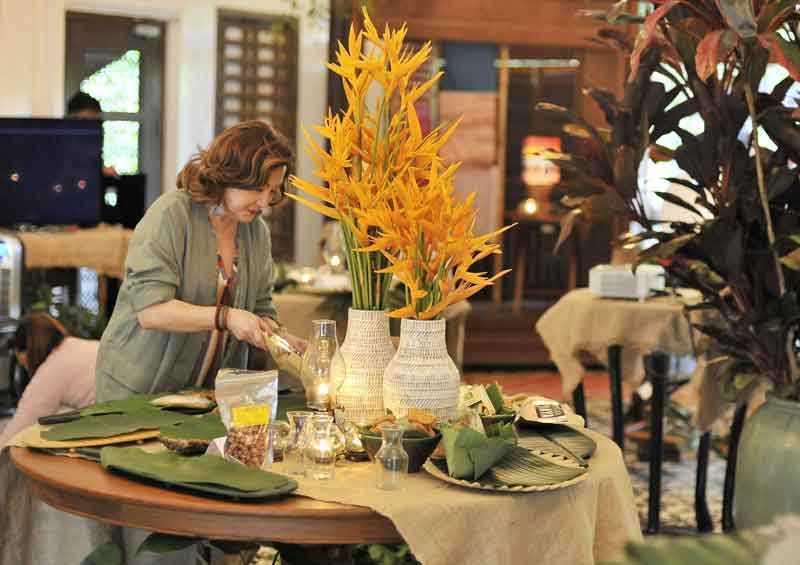 Nena Tantoco curates this year's fair, 65 percent of which are food products.
I've been seeing products from Negros in local and international fairs, sometimes without even realizing they're from the province.
One of my faves is Domesticity by Mariel San Agustin, a young entrepreneur who started the business as a social enterprise to benefit people in San Carlos City. I love her bathroom accessories and storage solutions made from woven materials. Most of all, I love her home scents. I told her last year that I brought her room spray when I embarked on a two-week solo road trip to the Balkans, to spray in hotels and Airbnbs that I rented to remind me of my house in case I got homesick. When I got home, it turned out that I missed the Balkan countries so much that I used the room spray to remind me of my road trip!
A manufacturer whose products I first saw in Frankfurt, Germany, is Mary Ann F. Colmenares who heads Artisana Island Crafts, which started exporting handicrafts in 2011 focusing on the mid-range markets. "We specialize in hand-woven natural fibers like pandan and nito mixed with ceramics, all made in Bacolod City," she says. Her main markets are the US and Europe for house ware, baskets, storage solutions and bags.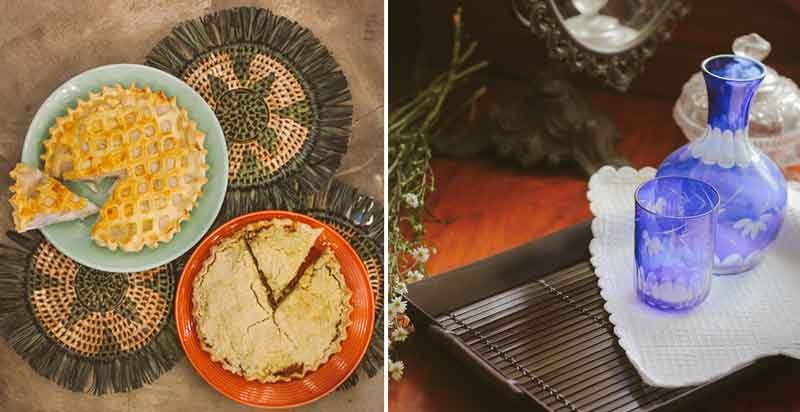 (Left) Chargers made of woven pandan by Artisana Island Craft hold buko and guapple pies by El Ideal. (Right) Bamboo tray by Dos Marias and crochet-edge tray liner by Milvidas
More home accessories to look out for are bamboo trays by Dos Marias and crochet-edge tray liners by Milvidas, which also does handwoven placemats; polycotton and abaca fiber napkins by Silay Export; mosaic crosses and décor by NVC; placemats by Vallehermoso Helping Hands; wood and metal napkin holders by Art Energy.
Negros Trade Fair pays tribute to the sugar industry by encouraging its exhibitors to make use of sugar, its components and byproducts. Look for buko and guapple pies by El Ideal; ensaimada by Felicia's; gourmet talangka and tuyo by Ading's; napoleones by Virgie's Homemade Products; and chorizos from old family recipes by Ereñeta-Manaloto Chorizo.
The trade fair will feature booths from various sectors such as natural and organic food, garments, fashion accessories, furniture, décor, house ware, agriculture and tourism. These sectors represent the alternative industries that provide for and sustain the people of Negros.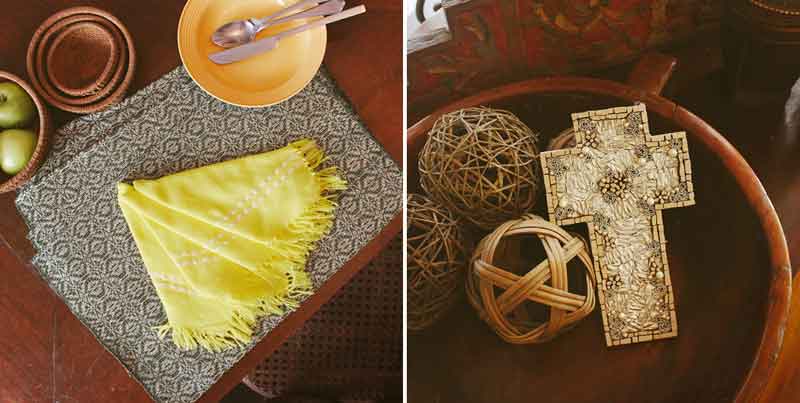 (Left) Polycotton and abaca fiber napkins by Silay Export and handwoven placemats by Milvidas. (Right) Mosaic cross by NVC
The fair also celebrates the partnerships among the Association of Negros Producers, local government units, Department of Tourism, Department of Trade and Industry and the private business sector.
* * *
Visit the author's travel blog at www.findingmyway.net. Follow her on Twitter and Instagram @iamtanyalara.
The 33rd Negros Trade Fair runs from Sept. 26 to 30 at the Glorietta Activity Center, Makati City.