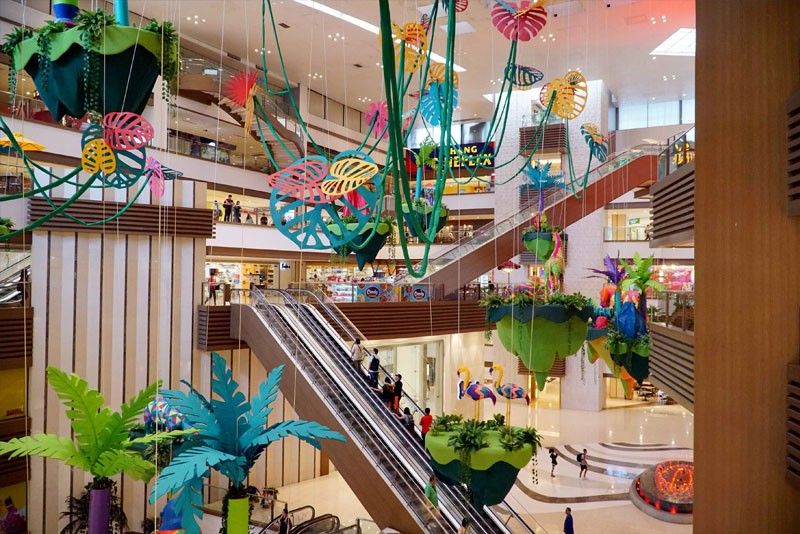 The lion un-sleeps tonight: From the main wing of Shangri-La Plaza Mall's Level 1 to the East Atrium, the mall is festooned with papier-mâché animals in a psychedelic Coco-like palette.
Safari meets psychedelia at Shangri-La Plaza
An orange elephant, a cubist rhino, a rainbow coalition of flamingos, lions and leaves. If you spot them inside a mall, you would think for a second that you were in some trippy safari of oh-so intensely groovy psychedelia filled with fantastical, folksy-artsy alebrijes suspended, presiding on islands of hue, or watching over us foible-prone humans (un poco loco, indeed). If this mall had piped-in music, you would instantly wish for some Jefferson Airplane, Grateful Dead or Santana with their vision-inducing guitars and bongos, absolutely more bongos. Oh, what the heck, let us head over to some of the mall's classiest restaurants and bars to have a few brews (or finally get that Cambridge Audio or iFi Audio gadget that we have always wanted in one of the mall's finest electronics shops — either Egghead or 5th Ave), because­ tomorrow never knows, so feed your head and oye como va.
All in the spirit (animal) of fun at Shangri-La Plaza Mall.
It is not at all unusual to see kids (and even adults) pose for selfies at the main wing of Level 1 with the towering giraffe, blue elephant with a striped trunk and a totally un-fierce violet cheetah — made out of papier-mâché, resin and cloth. The East Wing Atrium boasts a lion and giraffe near the space devoted to musical performances. (When I visited the mall, two musicians with classical guitars were reinterpreting pop songs into something quirkily baroque, making me wish for some exotic tea at TWG) The bridge to the East Wing is festooned with pink, yellow and orange leaves. Reminds me of the glass sculptures of Chihuly or the way the world turned weirdly surreal in Natalie Portman's Annihilation — only not at all weirdly surreal at The Shang, I should say, only as colorful.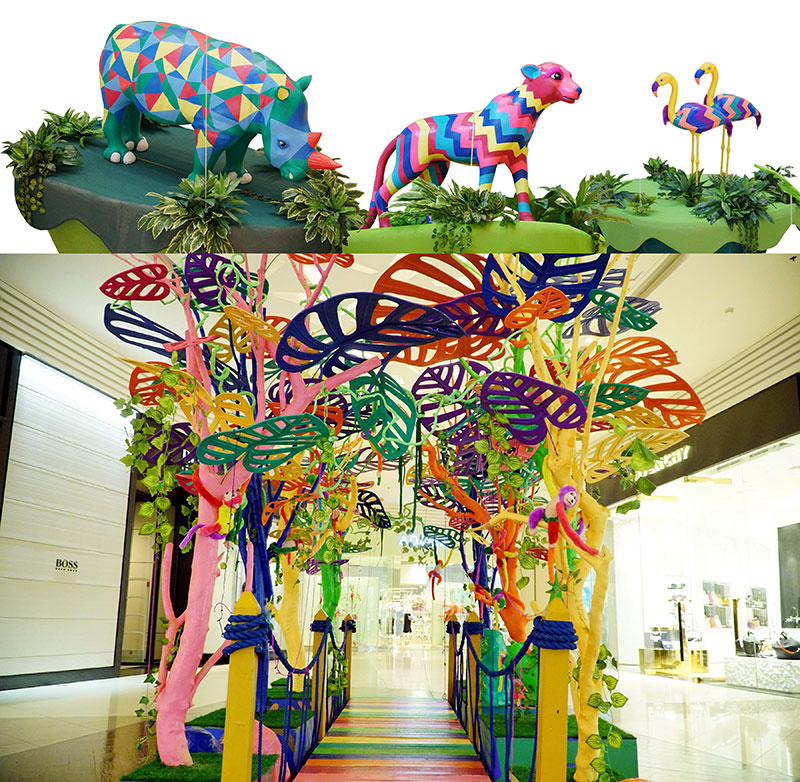 "It's not just the young ones who appreciate our summer décor," shares Lala Fojas, Shangri-La Plaza EVP and general manager. "Even the young at heart."
Shang Properties marketing director Milen Treichler explains, "Our mall décor has always been the talk of the town. Our Christmas displays always make the Nicest Christmas Trees or Most Interesting Christmas Décor list."
Last Christmas, one hundred stuffed reindeer hovered above mall-goers — Dasher, Dancer, Prancer, Blitzen, and Venison were all there. For Chinese New Year, there were two thousand lanterns to herald the Year of the Doggo. Last summer, it was Chocolate Wonderland, uniting all those sweet-toothed ones in the metro (a phalanx of dentists in their wake).
Fojas adds, "We do things that are unique and different because we have the capability of doing it." It is the sprawling atrium space that makes a difference for The Shang, the tall, tall ceiling also does wonders for décor. "We've done Camelot, The World of Children, a Fairies theme, the Faberge Egg display."
According to Treichler, they get a lot of reaction from tenants and customers, asking what the theme is for the year, what the installation is for the upcoming season.
Fojas explains that these artistically crafted motifs are in tune with the mall philosophy of going all-out when it comes to art. The good folks at Shangri-La Plaza consistently mount gigs for OPM artists (singers, jazz ensembles and even classical orchestras); hosts must-see film festivals organized by a bevy of countries (Eiga Sai by Japan, Cine Europa, Cine Latino spearheaded by the Embassy of Argentina, and the perennial favorite Silent Film Festival); and provides a place where Filipino visual arts can thrive (the cutting-edge Ateneo Art Awards is held at The Shang every year).
"True Faith, South Border, Up Dharma Down, Rivermaya, Ogie Alcasid, Basil Valdez, we had Joey G. (of Side A) in March," says Fojas. "For Mother's Day, we're bringing in Celeste Legaspi and Ryan Cayabyab on the baton with the ABS-CBN Philharmonic Orchestra."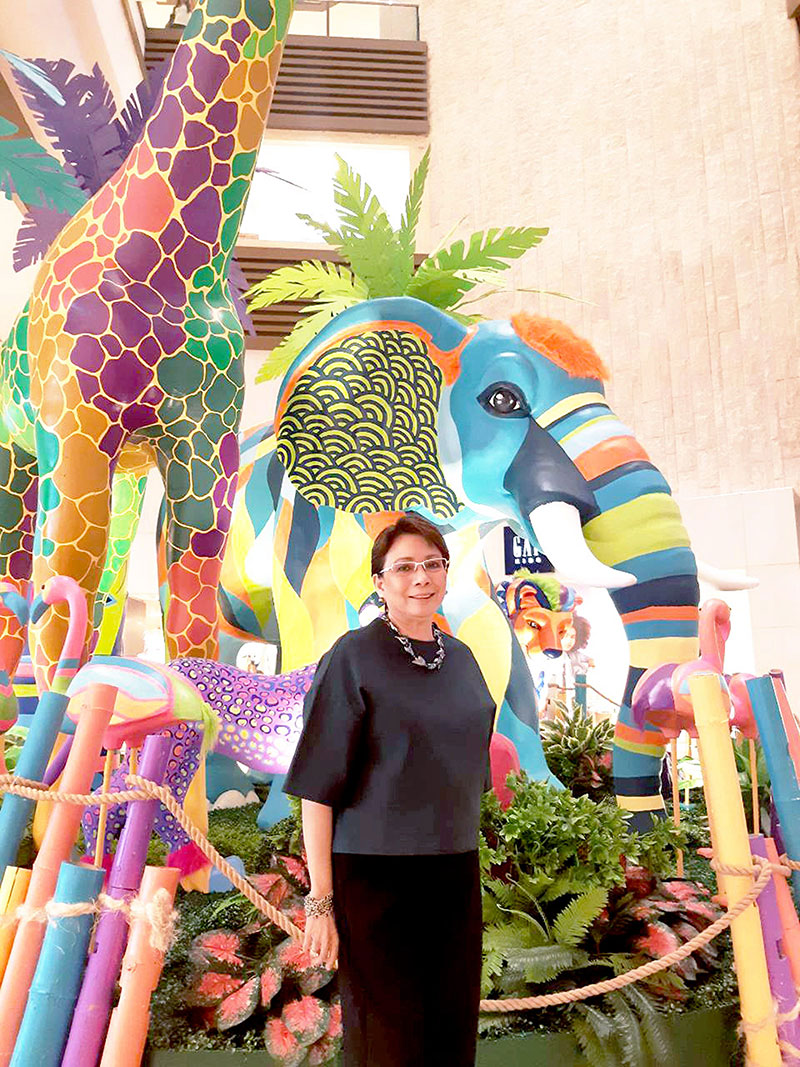 "From the very start, our mall culture centers on creativity," shares Lala Fojas, Shangri-La Plaza EVP and general manager, who is in her 18th year with Shang.
Fojas says that, even before her time, The Shang has been very active when it comes to the arts. "Repertory Philippines was here, so was Trumpets. Our core market loves art. They are more sophisticated and more discriminating in terms of the finer things in life. But we are a very welcoming mall — even our art and culture activities include those that are geared toward the mainstream." Even YouTube singing sensations (Keiko Necessario, Reese Lansangan and Gio Levy) get to perform at The Shang.
"We give these guys a platform so that they can be appreciated by more people," shares Fojas. It' a testament to how the mall adapts to the changing times — not just in terms of mall offerings (with more and more artisanal restaurants) or aesthetics (a constant stream of Instagram-worthy installations), but also in choice of entertainment. If anyone of these YouTubers started strumming (although far-fetched) the opening riff of I Am The Walrus or Blue Jay Way, that would be groovy, baby.
* * *
For inquiries, call 370-2597 or 98 or visit www.facebook.com/shangrilaplazaofficial. Follow the Shang on Instagram: @shangrilaplazaofficial (#ShangSummerSafari).